Of the 7.5 billion people in the world, 3.03 billion of them are active social media users.
Your customers are, obviously, among these users and they have conversations on social platforms every day. This creates an opportunity for you to listen to what they are saying and learn more about them.
And that's basically what social listening is — monitoring what customers are saying on social.
But it wouldn't make sense to just listen to what people are saying about you or your industry. If you're a good listener, you are learning, and if you're a good student, you apply what you know.
Koka Sexton of Slack once shared his journey with social media, where he explained how he sees social media as not just a platform to interact with people, but to build a pipeline of relevant customers to grow businesses.
I came across this idea of social networks. (…) At that point, the idea of leveraging social networks as a sales person was basically unheard of. My focus was optimizing that behavior. (…) I had the goal of building my pipeline and not building a brand or building a fan base.
It's not enough to listen or even watch your fan base grow, you need to use what you're listening to to grow your business.
What you need is a toolbox of the social listening strategies that can help you benefit from monitoring social interactions. How do you make the most of the conversations that happen about your brand and industry on social media?
Here are five social listening strategies to grow your business faster in 2018.
1. Send bottom-of-the-funnel customers to gated free trials, product pages or waiting lists
Like top-of-the-funnel buyers, bottom-of-the-funnel consumers are also always lurking around conversations about your industry, brand, or specific product.
These people have heard about your brand before.
And they're ready to buy. They just need a few questions answered.
So they ask questions like "Is there a version that will include xyz feature coming soon?" OR "Can your product do this specific thing?" If you're keeping tabs on conversations in your industry, you'll be able to pull these prospects into the fold.
In 2017, top car brand Audi had a tweet where a prospective Audi buyer (Godwin) asked if they had any new upgrades on a couple of their cars.
Audi responded saying the feature is coming in 2018, and sent the buyer a link where he could sign up with them to get updated once it's out.

Once the buyer clicks the link, Audi sends him to a well-designed landing page where he's being welcomed as a lead. The car brand gets his info and gets the chance to alert him once his desired feature is out in the market.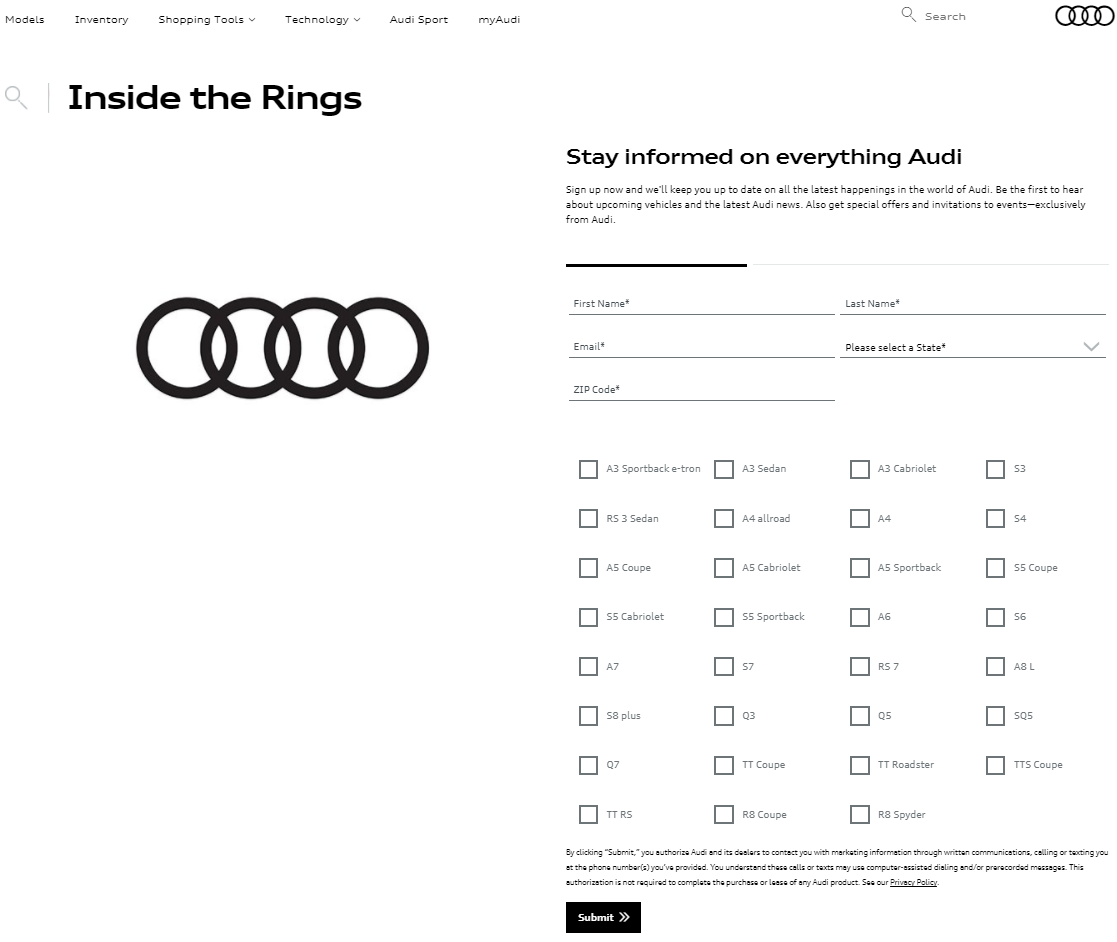 This is one of the best social listening strategies I've seen anywhere.
And there's one beautiful but quite hidden advantage here: 67% of Americans say they get at least some of their news on social media.
This means while Audi is responding to Godwin with a signup form to fill, there are probably other potential buyers around who have the same question Godwin asked and would sign up to get updates from Audi as well — via the same page Audi sent to Godwin.
This way, Audi is using social listening as a tactic to generate more leads for their new car upgrade coming in 2018.
Another example: Aaron Lee, Regional Manager at Agorapulse, recently tweeted that he was looking for a good web host for a new site. New web host provider, ChemiCloud, took the stage and introduced Aaron to their new hosting platform.
Image of Chemicloud Hosting tweeting to Aaron
It's a powerful social listening strategy to monitor these industry interactions and earn the opportunity to convert bottom-of-the-funnel prospects into actual paying buyers.
And if, like Audi, you don't already have the feature or exact product a potential buyer is asking for, have a well-designed page ready to convert the person into a lead — so you have the opportunity to draw them back to your business when it's time.
2. Refer top-of-the-funnel customers to ungated content (or any other value)
In social conversations in your industry, top-of-the-funnel (TOFU) customers are also always lurking around.
There's always someone hearing about your brand or product for the first time or just seeing conversations about your brand or industry. Unlike the customers represented in my #1 strategy above, these people aren't ready to buy anything; they only want to learn more about the matter being discussed — your product, brand or industry.
You can refer these customers to a piece of content, a handy tool, or any value that answers their questions and get them ready to buy.
Should you gate content (or any value at all) for TOFU customers?
Audi, in the example above, sent ready-to-buy prospects right from social interactions to a gated page; should you do the same for top-of-the-funnel customers? Not quite.
Picture this for a moment: you go to Twitter and find a promoted tweet that interests you. The tweet is from a brand you've never seen or heard of before, promoting a product you don't entirely understand. So you're curious. You want to learn more about about what's being promoted. You reply the tweet asking "How do I get started?"
To which the brand replies, "Go to [this url] to learn how to get started."
Would you click or not? You probably would. After all, you're the one looking for answers.
But on getting to the page, you find a form asking for your personal information. Would you give your information just to learn more about a product? You probably won't. Especially when you're just trying to see how to get started with a product.
If you were ready to get started, that's a different case, you'd sign up. But gating a page that'll teach you how to get started? Not ideal.
Landing page leader Instapage puts it this way:
"During the awareness stage, most prospects know very little about your brand and have yet to trust you. Removing the gate from content in this stage can improve your brand's visibility and enhance your credibility with prospects. As prospects move down the marketing funnel and are more interested in your business, they will be more likely to be willing to fill out a form in order to gain access to content like ebooks and webinars."
So it's best to make your tool, content or any other value ungated for TOFU people who just want to "learn more".
You'll also notice in the example above that Audi included a link in their tweet for top-of-the-funnel buyers to get more information about their available product (car).
Image of Audi Tweeting their new A8 and linking to a signup
The link takes TOFU prospects to a page that provides them with useful and intriguing information about the car. They learn about the different features of the car, like its new automated driving feature and interaction intelligence.
Remember, these are top-of-the-funnel customers from Audi's social listening efforts. The car brand could have just tweeted and let it end there. But no, they squeezed more juice from their social listening and moved interested buyers further in their purchase journeys.
3. Turn negative feedback into opportunities
Here comes the horrible bit of social listening.
If you weren't paying attention to what's being said about your brand on social media, you'd be safe — like a turtle with its head in the sand. But if you're listening, you would have to come across people who are not so pleased with your brand or product — AKA unhappy customers.
The study I cited earlier says 67% of Americans get news from social media. You can imagine how many people are watching when unhappy customers say things like these:
Image of Keyhole's Sentiment page
Want to listen to your brand social interactions this way? Try Keyhole.
But what you do after getting bad reviews is what matters the most.
Social media expert Kim Garst advises that…
While you don't have direct control over the reviews people leave, there are two ways you can indirectly improve them:(1) Listen to negative feedback and use it to improve your business, and (2) Encourage satisfied customers or clients to leave reviews. This will dilute the impact of any negative reviews you receive.
Much of the damage from negative feedbacks is salvageable. And, working with complaints can be an opportunity to prove you really care about customers. Since these conversations happen on social media, everyone gets to see how you handle critics — especially when you handle them timely.
Author of the bestselling book The New Community Rules: Marketing on the Social Web, Tamar Weinberg, mirrors the same idea about handling critics with finesse and timeliness:
For social customer experience, it's important to speak to users where they are and when they need you. It's not just about Facebook and Twitter complaints. It's about complaints that arise anywhere, including your own website.
However, it can be overwhelming to take note of every single piece of negative feedback, but the trick is to find the public embarrassments your company can do something about and handle the situation with finesse and style that impresses onlookers.
For example, JetBlue got a tweet from a customer who was complaining about being on a flight that had a bad headphone jack and a malfunctioning TV.

JetBlue responded with what clearly looks like more than just an apology; they offered to compensate the customer with a $15 credit for the inconvenience (once she can confirm she's the actual customer who had the experience).
Again, the beautiful thing about this is that everybody is watching. CrazyEgg cofounder Hiten Shah puts it this way — "We all should remember the social in social media. Otherwise it would just be media. Social media on the whole is all about people."
Enough said about negative feedback. What do you do with the positive news?
4. Retweet or repost positive feedback
When monitoring your social analytics, you'll come across encouraging and energizing feedback about your brand or product. What do you do with that kind of tangible evidence? Just be glad you got a good note? No, repost them (or retweet if it's Twitter). That's one of the most effective social listening strategies you can utilize.
Retweeting or reposting your customers' positive feedback is a great strategy because it reminds your followers of the awesomeness of what you're selling, and it will likely interest new leads who happen to hear others raving about you. And customer content, like reviews and positive feedback, yields as much as a 133% higher conversion rate.
Money saving app Piggybank does a great job at this. They repost the positive reviews they get from Twitter right on their Instagram page.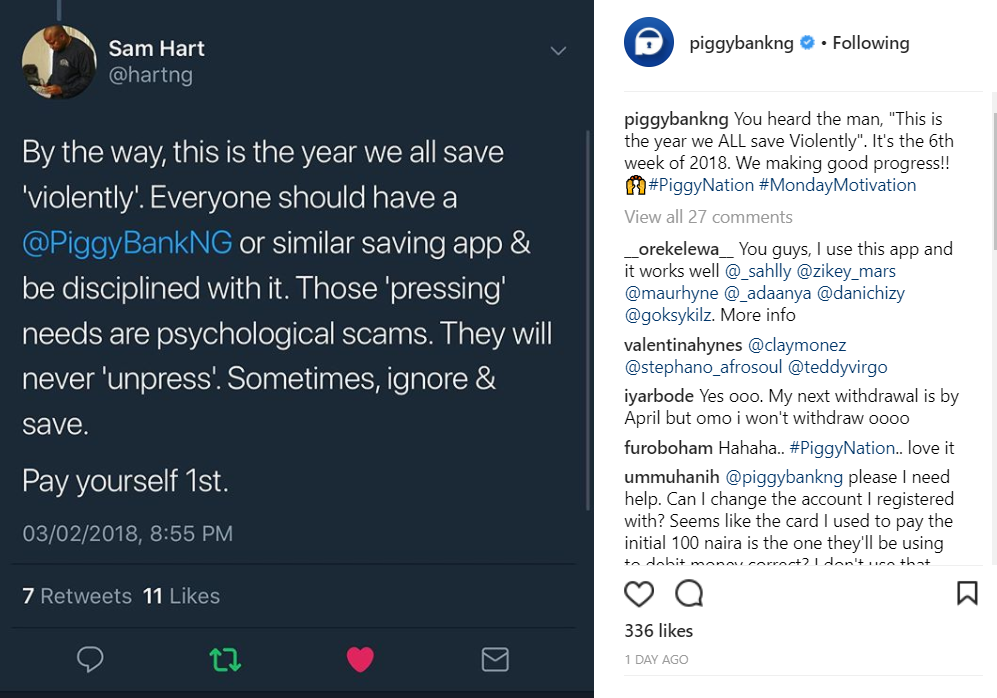 And since consumers resonate more easily with reviews from fellow consumers than from ads sent out by brands, Piggybank's happy customers see fit to testify to the customer review Piggybank posted…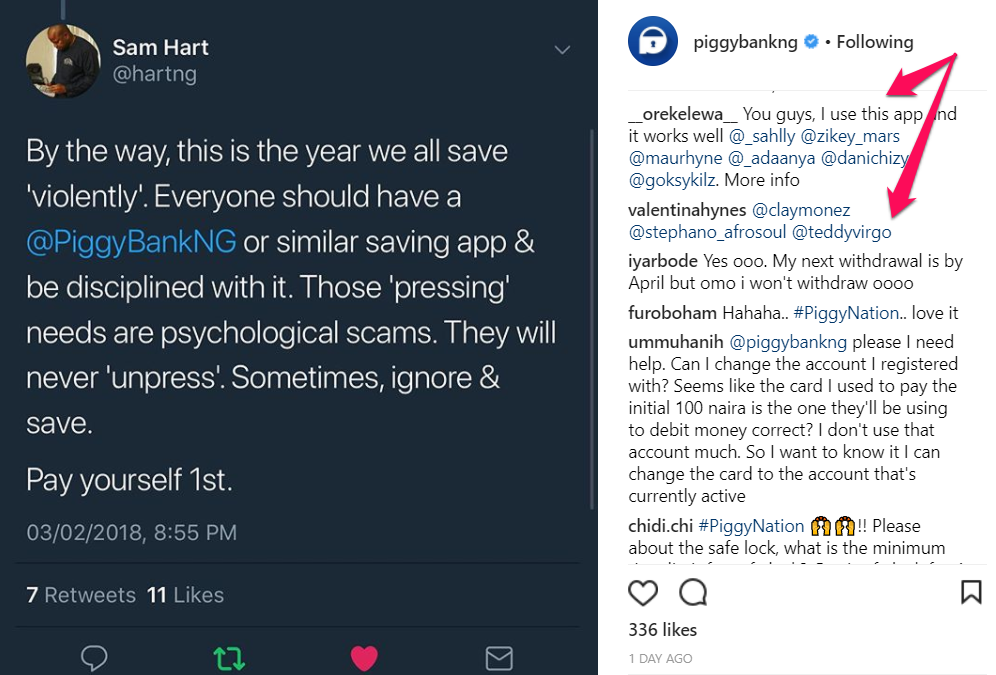 And there are also bottom-of-the-funnel customers asking how to get started; here's one: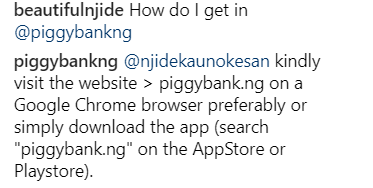 That said, you can't possibly repost every single positive feedback — especially if you're a huge business where your comments pile up in the hundreds and thousands.
But use the great ones. Using this as one of your core social listening strategies can put you on the good side of your customers and lead new folks into your funnel.
5. Use a social monitoring tool (with the right features)
After all's said and done, one thing that can make or break your social listening strategy is your social listening or monitoring tool. It's the single tool that your entire social listening strategy will be built on. Heck, there's hardly any campaign you'll run today successful without using some marketing technology.
A great social monitoring tool will:
Analyze the most engaging posts about your brand so you can leverage them.
Alert you when an influencer talks about you so you can leverage that too.
Tell you once a keyword or topic you're tracking is being talked about on social.
Will have all these functionalities in one platform.
There are several tools out there. We recommend Keyhole. Are we biased because that's our tool? Well, don't take our word for it.
Renowned marketing guru Neil Patel says: "You don't want to be the one that comes in late to the party after everyone's already left and moved on to the next big thing. You'll want to contribute when the topic is still hot so you can be a thought leader on the subject. You can easily accomplish that with a tool called Keyhole. This tool isn't free, but it does a lot of things others can't. And as a bonus, it's extremely user-friendly. Can you guess how to get started? That's right, sign up for (a free trial) account."
Conclusion
Conversations will always go on in your industry, and when they do, you want to join in and take advantage of the chatter.
Whether people are holding conversations directly about your brand, your industry, or your competitors, information is passing between people at high speed. You simply have to keep listening and monitoring.
The social listening strategies above reap your company lots and lots of benefits. Be proactive and take advantage of the tools out there to be a good listener. Take notice and look lively. Your business will be one of the best because you did.