Most social media managers and marketers make this mistake while promoting YouTube videos: slapping links to their videos on their other social media channels and calling it a day.
Fun fact: That's not the *only* way to promote your videos.
In this article, we'll teach you six tactics that you can use to promote your YouTube videos and drive the engagement and views you've always dreamt of. 
6 strategies for promoting YouTube videos
YouTube is home to millions of videos. And even if your video content is excellent, it gets harder every day for people to notice it in this sea of noise.
So, here are a few tactics you can use to promote your YouTube video, improve your watch time, and increase your reach.
Tactic #1: Optimize your videos for search
Imagine your YouTube video appearing in Google searches when someone types in a specific keyword. Your videos will quickly gain steam as you attract more organic views and a wider reach. Sounds idyllic, right?
For example, when you type the keyword "whimsical decor makeover" in the Google search bar, you'll see YouTube videos scoring the featured snippet and appearing on the top of the search engine results page (SERP).

Yes, they land above traditional organic search results (those blue hyperlinks to blog posts that we know and love).
What worked
These YouTube videos outranked their competitors on the first page of Google because they applied YouTube SEO best practices (like adding relevant keywords to video titles).
Let's take the example of Alexandra Gater's YouTube video, which appears in the second position.
The video has an optimized title and description with targeted keywords: whimsical living room decor, whimsical space, living room.
Because the video has these keywords in the title and in the video description, it's likely to boost the search results.
Also, the creator added chapters to her YouTube video, which helps the audience find the specific section of the video that they want to watch. It's as simple as clicking on the exact part of the video.
These small details make scanning the video easier for the audience and send positive signals to search engines.
How to implement
1. Identify the target keywords for your YouTube video and include them in your title.
2. Add a detailed video description and include backlinks to your social profiles, email list, blog, and so on. 
3. Add an automated video chapter to break our video into different sections to make your video watchable.
Tactic #2: Cross-promote your YouTube videos
Once you upload your YouTube video, your job isn't over. You should also promote your YouTube videos on other platforms.
For instance, try other social platforms, other communities your audience actively uses, or even your website.
The key? Identifying the platforms your audience is most active on and cross-promoting your videos on those specific platforms.
Is your audience active on Slack, FB, or Discord communities? Share the video on these channels.
Do you have a newsletter? Embed the videos in your newsletters and share them with your subscribers
Are you active on social media platforms apart from YouTube? Create a short post and share your video on social media.
Take a look at how this creator promotes her YouTube channel using a traditional LinkedIn post.
What worked
She shared a LinkedIn post highlighting a sample from a YouTube video. At the end, she directed the audience to click the link to watch the full video. 
How to implement
Pick the social media platform your audience is active on. In this case, we've chosen LinkedIn. Next, create LinkedIn content‌ — ‌a text post with details from your YouTube video. 
Highlight a few points from the video in your post and end the post with a CTA for the audience to watch the video.
💡Pro Tip #1: Brownie points for adding the link in the comments section. It encourages people to interact with your posts longer.
That way, you also direct ‌users to watch your video directly on YouTube (for the best viewing experience). That's the power of cross – promotion.
💡Pro Tip #2: Make sure to follow the basic format of writing LinkedIn posts‌. Include the hook, use bullet points and white spaces to improve the readability of your post.
And for those new to the industry, seeking guidance from online resources or marketing books for beginners can be a game-changer. These valuable sources offer a treasure trove of strategies and tips specifically tailored to those starting their journey in the digital marketing industry.
Tactic #3: Create video playlists
When all your videos are organized as playlists, it helps your videos get discovered and increases the video's watch time.
When the watch time of your video increases, YouTube's algorithm receives a signal that your content is worth publishing in the YouTube feed and comment section.
This coveted scenario increases your chances of drawing more viewers to your videos directly within the platform. You may even score a spot on the trending page.
So, don't skip this step. Organize relevant videos with similar topics under a playlist.
For example, Ranveer Brar, an Indian chef and content creator on YouTube, has neatly organized his videos (with custom thumbnails) under different playlists like "Noodles recipes," "Mango recipes," "Bread recipes," and so on.
What worked
Because these videos have similar content on the same topic, he's organized them under one specific playlist‌. These playlists make it easy for his subscribers to find recipes with similar ingredients or themes. 
How to implement
Look for YouTube videos you have created on the same topic. Next, identify what type of videos you want to list in one specific playlist. Then, define the name for your playlist and start adding the videos to the playlist.
Side note: Keep adding videos to your playlist as new videos fill your library.
Tactic #4: Create a YouTube video series
Categorizing your videos into playlists isn't the only way to increase your video's watch time. You can create a customized video series.
Through these video series, you can pick a specific theme or topic, divide it into different sub-topics, and create videos your audience is interested in.
These specific video series get the audience curious and encourage them to watch more of your videos and learn more. Think about breaking down each of your videos into smaller chunks. That way, your audience is bound to click on (and watch) the next video in the series without hesitation.
For example, Descope, a passwordless authentication solution, created an explanatory video around OAuth Implementation and the current flaw affecting Azure AD OAuth apps.
What worked: Because the video series revolves around passwordless authentication, viewers know that the video series is an educational one, which will help them understand the topic in detail. And they'll check back for more updates regarding the current flaw (and if a fix is in store). 
How to implement: Two elements of a video series perform well:
1. Topic of video series
2. Day and timing of publishing
When creating the video series, first decide on the main topic that you want to cover. For example, freelancing. Now, decide the sub-topics that you'll cover in each video. For example:
Part one: Talk about the skills needed to become a freelancer.
Part two: Share how you can find a niche.
Part three: Discuss how you can find clients through cold outreach.
Part four: Explain how to build your personal brand to get more clients.
Since you have defined the sub-topic for each video, it'll become easier to cross-promote the video and let your target audience know the value each part of the video will provide them.
Tactic #5: Leverage live streaming
There's nothing better than interacting with your audience in real-time. It builds a sense of community and increases engagement, helping you promote your YouTube videos.
Live streaming allows you to discuss the content of your videos, answer some questions, and build trust with your audience.
Take a look at the live streams Ali Abdal, a YouTube creator, hosted on YouTube's live stream.
What worked
Ali Abdaal hosted conversations with other experts and creators on his YouTube live‌stream. 
During the live show, the audience would interact with them through the comment section, share their views, and even ask them questions on the video (which improves engagement). Since people get engaged through the live stream, it's likely they'll go back to Ali's YouTube channel and watch his videos.
How to implement
Pre-announcement: Schedule your live stream a few days before uploading your video content. Promote a live stream on your social media platforms.
Engagement: Interact with your audience during live streaming, try answering some of their questions, and talk about the upcoming content to keep your subscribers hooked.
Storytelling: Share the backstory related to your content. What inspired you to create that video? Sharing such a story can make viewers more emotionally invested.
Call to action: Encourage your viewers to subscribe to your channels, share your videos, and turn on the notification so that they get reminders of your new or upcoming video.
Tactic #6: Collaborate with influencers
When you collaborate with influencers, your videos reach a wider audience, getting more eyeballs on your content. That means more people will watch your content and increase the video's watch time. The result? You can easily meet your marketing goals.
For example, HackerEarth collaborates with recruitment influencers and experts, where they talk about a specific topic‌ — ‌recruitment, hiring, and diversity.
What worked
Because the YouTube video features influencers, the influencers are likely to reshare the YouTube video on their respective platforms. And their followers tune in to hear their specific insights. 
How to implement
First, pick niche influencers. In this case, HackerEarth leveraged recruitment influencers. Next, decide how you want to collaborate with them. 
Do you want to give a shoutout to each other?
Or do you want to interview them on your YouTube channel?
Once this is done, promote the video on your channels. Ask the influencers to promote the YouTube video on their respective platforms. And voila. A chain reaction of engagement with your video.
Check your YouTube analytics to determine the best-performing influencers for your brand and double down on content with these creators.
Bonus: Audit your YouTube presence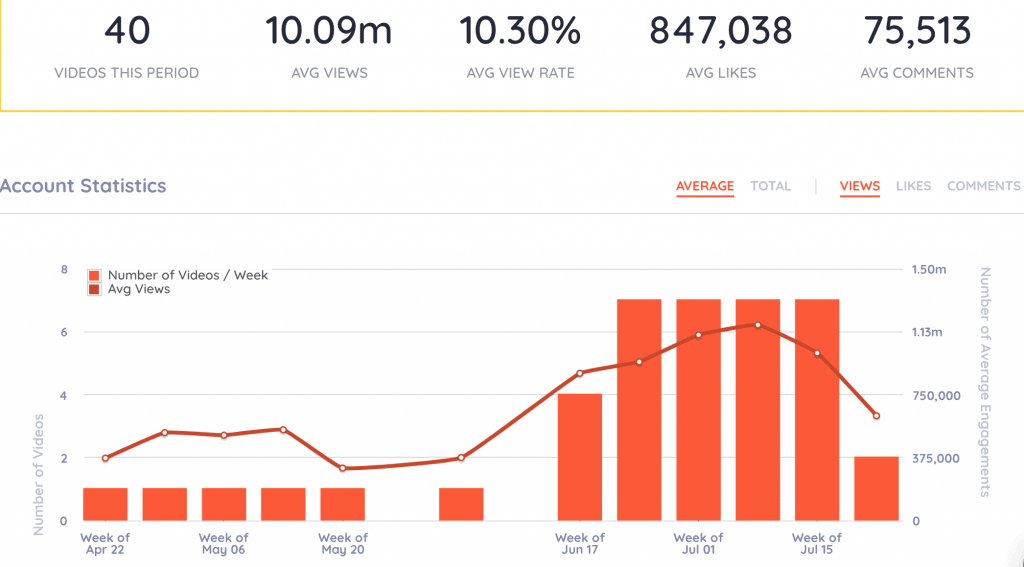 With Keyhole's YouTube analytics suite, you can drill down into your channel's performance, analyze how engaging your content is, track conversations that use the tags and hashtags you're interested in, and even get recommendations on how to increase engagement on your channel.
But that's not all – Keyhole also goes above and beyond to help you narrow down specifics, with YouTube hashtag analytics that are designed specifically for YouTube video tags.
Detailed channel performance: Get a comprehensive overview of your channel's performance, including metrics like views, watch time, subscribers, and more.
Engagement analysis: Analyze how engaging your YouTube content is by tracking metrics such as likes, comments, and shares.
Conversations tracking: Monitor conversations that mention the tags and hashtags you're interested in, providing you with valuable insights into what people are saying about your channel.
Hashtag analytics: Gain deep insights into the performance of your YouTube video tags, allowing you to optimize your content and improve discoverability.
Competitor analysis: Stay one step ahead of your competitors by uncovering their strategies, analyzing their engagement metrics, and identifying opportunities for growth.
Sentiment analysis: Understand not just what, but how people feel about your channel with Keyhole's sentiment analysis feature, which provides insights into the sentiment behind conversations related to your content.
Recommendations: Receive personalized recommendations on how to increase engagement and improve the performance of your YouTube channel.
With Keyhole's robust suite of YouTube analytics features, you can track and analyze the metrics that matter most, gain valuable insights, and unlock the full potential of your YouTube marketing efforts.
Final words
Promoting your YouTube videos the right way is crucial for expanding your video's reach and attracting more viewers to your content. It's like opening the gateway to a broader audience and potential subscribers.
Remember, every YouTube sensation begins with a single view. Your content could be next on the trending page with the right promotional push. Now, get out there and show the world ‌what you have to offer.
If you're ready to tackle cross-promotion of your YouTube videos, you can sign up for a free trial on Keyhole.
Author Bio
Guillaume is a digital marketer focused on handling the outreach strategy at uSERP and content management at Wordable. Outside of work, he enjoys his expat life in sunny Mexico, reading books, wandering around and catching the latest shows on TV.
Related Articles
2023's Top 6 YouTube Analytics Tools for Tracking Video Metrics
7 Best Tips To Grow Your YouTube Channel + Monetization Hacks
Frequently Asked Questions
1. Can you pay YouTube to promote your videos?
Yes, you can create simple ad campaigns to promote your videos using the Promotions tab in YouTube Studio. Or if you're looking for advanced options, you can go to the YouTube Ads features in Google Ads.
2. How much money is needed to promote a video on YouTube?
The price for YouTube video ads varies from $0.10-$0.30 per view (or per click). The average campaign costs $10 per day.
Cross-promotion on Facebook, LinkedIn, or Instagram can work wonders in promoting your YouTube channel.