The latest studies show that social media is the first touchpoint customers have with your brand.
In fact, customers are more likely to discover your brand through social media over a search engine. So it is more important than ever to optimize your social channels to ensure you're reaching (and engaging) your target audience.
But social media is a data beast!
You probably have an amazing marketing team but unless you have a team of data scientists tracking and analyzing all your social data, you will miss the key insights necessary to elevate your brand.
You can also invest in the right social media analytics tools and empower your marketing team to make the right decisions for running an optimized marketing campaign. Helping you put your brand in front of the right audience at the right time.
In addition, if you run multiple social media accounts, tracking the right metrics can improve your brand management, customer service, and experience, helping you grow your brand.
Now, it's important to choose a tool that fits your unique needs. To help you find the right one, we've gathered and updated our guide to the best 27 tools to use in 2023 & beyond.
1. Keyhole
Keyhole is a social media analytics tool that automatically collects social media data & creates reports for you. It excels at four key things:
Getting you inside the minds of your customers.

Simplifying your reporting so you can easily share results with your team.

Showing you what attracts your consumers' attention.

Saving you a huge amount of time as you don't have to crawl different social platforms looking for and reporting your social analytics

.
These are critical features to look out for when making social media analytics software comparisons.
As Neil Patel says, "This tool (Keyhole) does a lot of things others can't. And as a bonus, it's extremely user-friendly."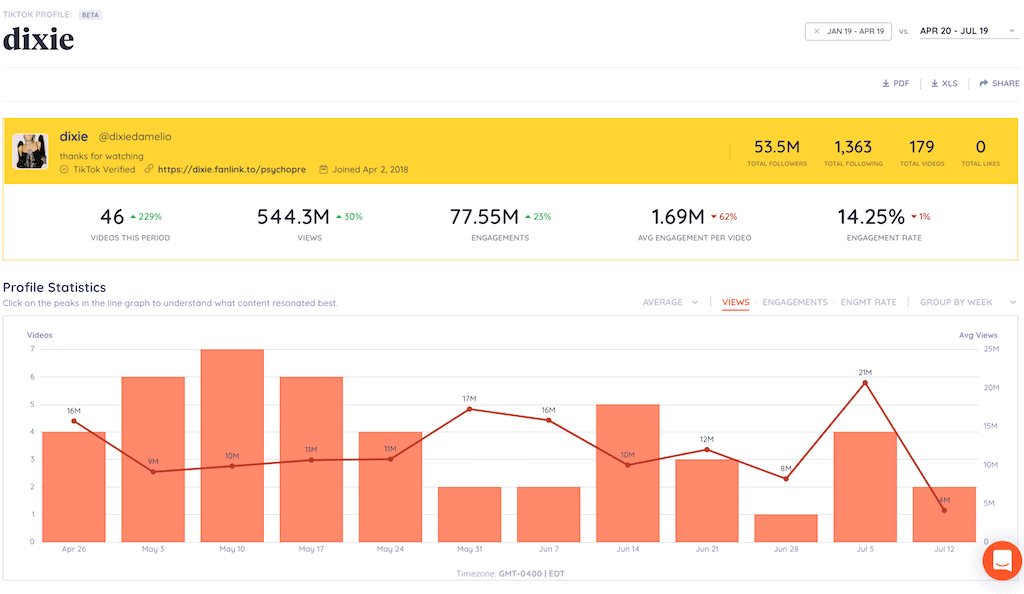 Using Keyhole, you can find, identify, track, and reach out to your influencers:

You can also conduct a detailed and in-depth sentiment analysis of social media posts over time: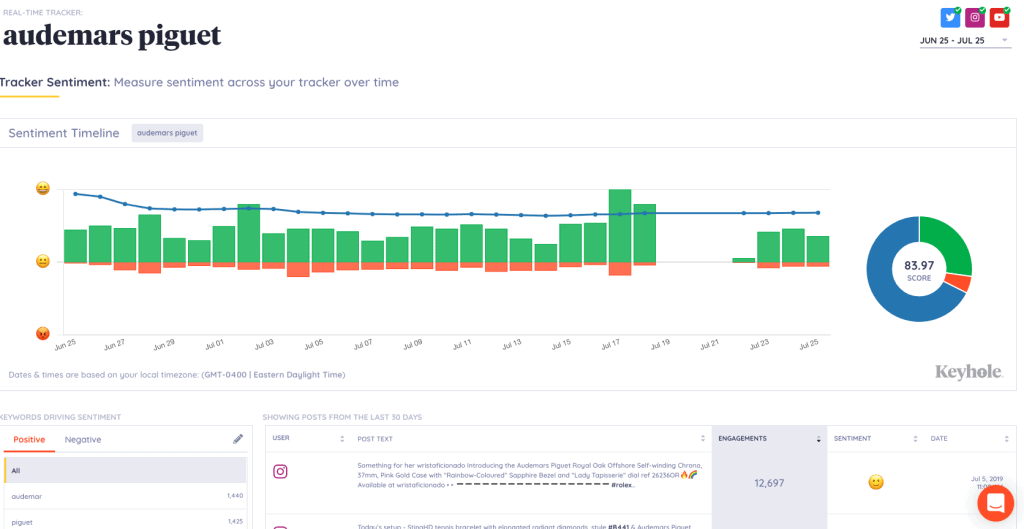 With Keyhole, you get to see the number of impressions, reach, posts, and engagements that certain accounts or hashtags are getting. You are also able to identify key influencers who get the highest engagement rates and the number of followers in specific industries and reach out to them right from the tool.
And if you ever want to know the demographics of your hashtag users or account interactors or followers, Keyhole shows you those as well — including the percentage of positive and negative sentiments of your followers.
Also, Keyhole customers can publish and schedule unlimited posts each month from all the accounts included in their plan. Managing anywhere from 3 accounts to unlimited accounts depending on your needs.
Why Our Customers Love Us
"Keyhole helps us track influencers and mentions. Dashboards are great – can use as is in reports. Supports influencer tracking and we use it to track corporate campaigns."

Lauren F, Founder & Strategist
"Keyhole is useful and user-friendly. Keyhole is an excellent tool for providing basic insights about social media accounts and tracking social media conversations. As a college professor, I have found it to be a great way to introduce students to social media analytics."

Kyle H, Associate Professor
Pricing: From $39/month
2. Social Champ
Social Champ is a one-stop, social media management tool that also enables users to analyze their social media performances with an attractive analytics tool!

The fact that users can get daily updated insights with an eye-catching graphical representation of all the major metrics, makes it a go-to choice for Startups, Entrepreneurs, Small Businesses, and Agencies.

Social Champ allows users to schedule posts, organize them in a Calendar, and later share, engage with the audiences, and offer post tracking with an exemplary analytics tool.
You can optimize the post performances with the best time-to-post feature. Generate and export reports in PDF, PDF, and CSV file formats.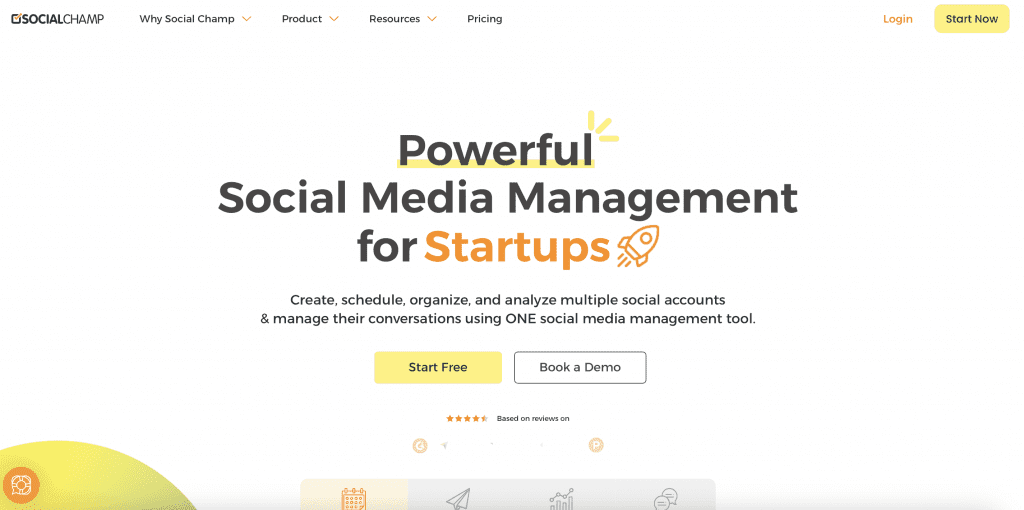 Pros: Analytics tool of Social Champ is for both free and paid plans where one can save time by tracking multiple social accounts with a single click. A wide range of dates to choose and compare the data from makes it stand-out.
Cons: The Analytics tool of Social Champ is only available on the browser and not on the mobile app.
Pricing: Starting from $29/month
3. Oktopost
Oktopost is focused on helping B2B brands manage, monitor, and measure all of their social media activities from a single platform.
Do you have global social media teams? Manage social media teams in more than one country all from one platform.
Social media management, social employee advocacy, and social media promotions are some of Oktopost's best features.
You can measure your social media marketing performance and optimize your efforts accordingly.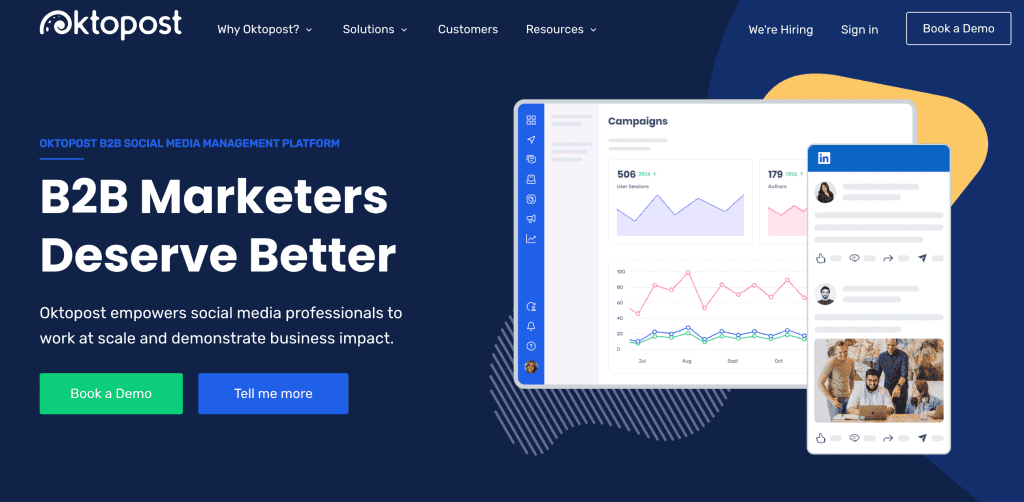 Pro: One huge Oktopost plus is that you can integrate other applications such as Google Analytics to access even more detailed social media marketing insights.
Also, did you know Oktopost has recently partnered up with Keyhole? Powered by Keyhole, Oktopost now offers advanced social listening capabilities as well as in-depth research and analytics required to remain competitive.
Con: Unfortunately, the platform does not have the ability to cross-post between networks.
Price: Available upon request
4. Social Status
Social Status is a specialized social media analytics and reports automation tool.
For that reason, the tool goes in-depth for tracking every available metric across all the main social channels including Facebook, Instagram, TikTok, YouTube, LinkedIn, and Twitter.
Metrics can be broken down into paid and organic, and posts can be segmented by theme via tagging. Follower demographics can be seen based on age, gender, country, and city.
Social Status also supports newer media types like Instagram Stories, Instagram Reels, and YouTube Shorts. Social reports can be exported to CSV, PDF, PowerPoint, and Google Slides.
Pro: Social Status is especially popular with digital agencies and brands who need to white label and customize different report templates for different clients or stakeholders.
Con: There are no publishing, scheduling, or listening features in Social Status since it is a dedicated social analytics tool.
Price: $29/month onwards
5. Vaizle
Vaizle is a Meta ad analytics, social media benchmarking, and reporting tool for startups and enterprises who need actionable insights in the simplest possible way.
You can get an in-depth analysis of your daily ad spend, latest trends, and top-performing posts along with easy-to-create customizable pdf reports. Vaizle also provides various free tools that provide ad analytics as well as social media analytics across Facebook, Twitter, Instagram, LinkedIn, YouTube, and Google.
It also provides daily insights across multiple variables in the form of graphs, charts, and numbers that aids you in improving your social media performance.
Vaizle is being used by 2000+ happy customers across 90 countries. Some of the few clients that used Vaizle to improve their overall social media performance are American Public Media, Rainbow Financial services, FTI Consulting, and IMCG Creative.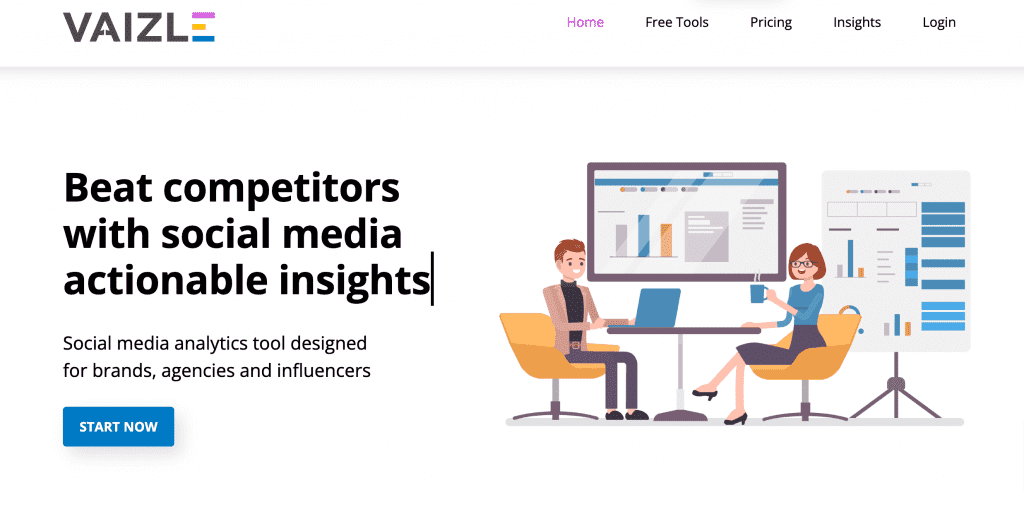 Pro: An easy-to-use Meta-ad and social media analytics tool that transforms data into actionable insights in a sorted and simplest possible manner.
Con: It does not provide a scheduling feature.
Price: $59 -$149 per month
6. Brandwatch
Data is huge these days and Brandwatch is all about it. They set you up with the right industry data to make smart marketing decisions.
Brand monitoring online has never been easier. Brandwatch provides you with in-depth insights into your target customers' thinking per time, which makes it super easy to sell to them.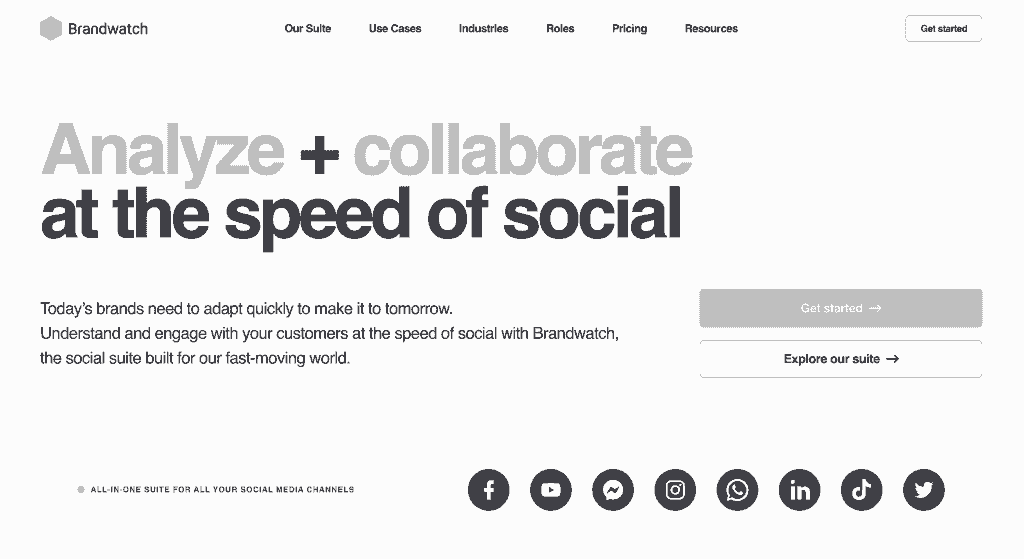 Pro: You can search the Internet for specific conversations about your brand, segment those conversations into categories, and analyze them to spot critical information. Additionally, they have an image analysis tool that can uncover logos.
Con: Brandwatch can be quite technical for someone new to brand monitoring tools and the query structure can be tedious. However, for someone with medium to expert experience, this is one of the best tools to monitor online brand mentions.
Pricing: $108/month onwards
7. BrandMentions
BrandMentions is another powerful tool for measuring your social media marketing impact.
From brand monitoring, reputation management, and business intelligence to competitor analytics, the tool provides you with relevant information about the success of your brand awareness campaigns.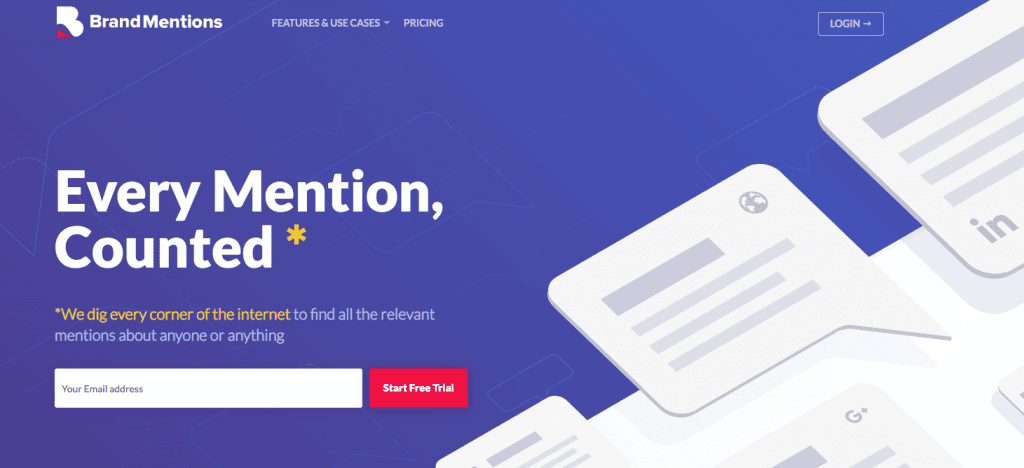 BrandMentions also provides real-time notifications; you get notified once your site gets a new backlink or is mentioned in places that matter across the web.
Pro: BrandMentions is a great option even for small businesses and is easy to use even for a novice.
Con: Be sure to include/exclude mentions based on keywords otherwise you'll get results that include spamming sites or results that are too generic.
Price: $99-$499 per month
8. Meltwater
Meltwater is the go-to social media tool if you want to focus on brand engagement, while also monitoring what is being said about you and your industry online.
This social media analytics tool can also help you connect with influencers and quantify your PR impact.
One of the best ways to drive engagement is by using influencers. Meltwater makes it easy to connect with and vet influencers for your brand. You can also use the tool to manage influencer relationships and measure their ROI.
And like most other social media analytics tools, Meltwater provides email alerts that matter and reporting capabilities.
Pro: The site has over 1 million influencer accounts that you can easily filter and sort. This makes prospecting new high-profile accounts that are relevant to your brand easy.
Con: Meltwater offers a limited number of users and you have to pay more for more users. Additionally, the price can increase easily for basic functions such as reporting.
Price: Available upon request
9. Reputology
A single customer can make a review on your product that impacts several other customers. Reputology helps you monitor and analyze your reviews online so you get to monitor, catch and handle bad customer reviews before it spreads like wildfire.

This social media analytics tool is particularly great for companies that have multiple reviews across multiple platforms because it lets you view all your reviews in one dashboard.
Pro: You can respond to the reviews straight from your dashboard without having to visit every review source; which saves you a whole lot of time, and ensures you respond to all reviews – or complaints – in a timely fashion.
Con: At the moment you can't reply to Yelp reviews within the software, which is unfortunate because Yelp is one of the most popular review sites.
Price: $180 – $2500 per month
10. TapInfluence
Without a doubt, influencer marketing has become one of the most effective ways to reach today's audiences.
But before spending a dime on any influencer, you want to measure the impact they actually have on your audience.
That's where TapInfluence comes in; it helps you find the right influencers (who have a real impact) for your business.
It can be difficult to determine what to pay your influencers or even what they should be doing for your brand. From intelligence about an influencer's reach and impact to their potential rates, TapInfluence can provide you with all this information.
Pro: TapInfluence allows you to create campaigns, schedule, manage, and track influencer deliverables. Also, you can monitor engagement analytics on your campaigns from the platform.
Con: There's still a lot of work needed to set everything up as the process is not fully automated. Also, Tapinfluence caters to enterprises, so the price is inaccessible for most agencies.
Price: Available upon request
11. SocialBee
SocialBee is an all-inclusive social media management tool that enables users to schedule, publish, and track their social media content across multiple platforms.
The tool offers a robust analytics module that helps users track and analyze all their social media data in one place. Users can view and monitor their page and post analytics and receive insights into their overall social media performance.
SocialBee's analytics module also allows users to track and compare their performance across multiple social media platforms, giving them a broad overview of their social media presence.
Pros: SocialBee's comprehensive features make it a valuable tool for those looking to optimize their social media performance.
Con: The platform doesn't offer the ability to create, schedule, and analyze the performance of your content using its mobile app.
Price: Starts at $19 per month
12. NetBase Quid
Want to know how people feel about your brand? Try NetBase Quid.
NetBase provides social analytics for brands.
Global brands like Taco Bell, Coca-Cola, and Yum! use this tool to track conversations around their brands on social and make important marketing decisions.
The tool analyzes consumer sentiment around your brand from social platforms, websites, forums, comment data, blogs, news, and review sites.
It also allows you to conduct social listening to understand your competitor's audience. Also, you can monitor your brand to know when certain key actions occur. It also provides you with customer experience analytics.
Pro: With these three functionalities, you can know exactly where your brand is getting love from, why customers are dissatisfied, and how you can intervene to get more people to love and trust your brand.
Con: NetBase Quid takes some time to grow on you as the various dashboard templates available are not as intuitive. Also, there is some limitation to the sentiment analysis tool.
Price: Available on request
13. Quintly
Do you want to know how your brand stacks up against competitors on social media?
Then quintly might just be right for you. Not only will you get a peek at your brand's social media marketing performance, but also see how it's performing against competitors.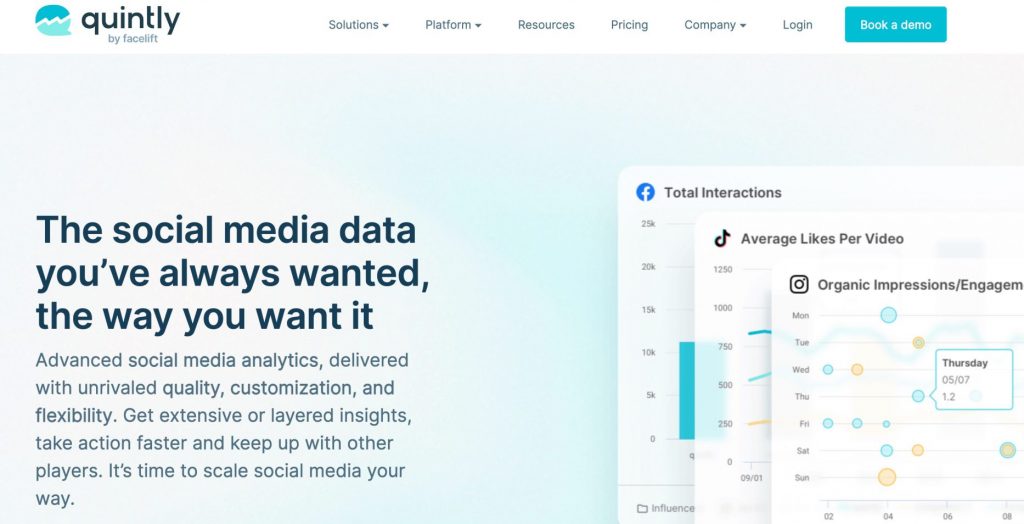 Agencies can use this tool as well; they use it for client management, reporting, centralized analytics, and influencer ranking. Media houses can also use quintly for managing their social media platforms as well as tracking relevant conversations and campaigns.
Pro: The tool is simple to set up and has a minimalist user interface, which makes it easy for even the least tech-savvy users to learn how to use it.

Con: The data insights provided can be a little ambiguous, so you may not be able to link ROI or see attribution from individual posts.
Price: $449/month

14. RivalIQ
Similar to many other social media analytics tools, Rival IQ helps you track your social media performance.
Rival IQ will send you alerts whenever your competitors post high-performing content, such as boosting social media posts. This gives you the chance to quickly respond before you start losing a chunk of your market share.
Rival IQ also lets you see what content your audience prefers to see, and helps you discover fresh and relevant content ideas.
Pro: Easy to conduct competitor analysis because of the alerts and the tracking you can implement with this platform.
Con: Rival IQ is competitively priced on a tiered structure which can get expensive if you want additional data.
Price: $239 – $549 per month
15. DashThis
DashThis is an automated reporting tool for marketers, agencies, and social media managers.
With this tool, you can create one dashboard that includes all your social media data and marketing data, automatically updated every single day!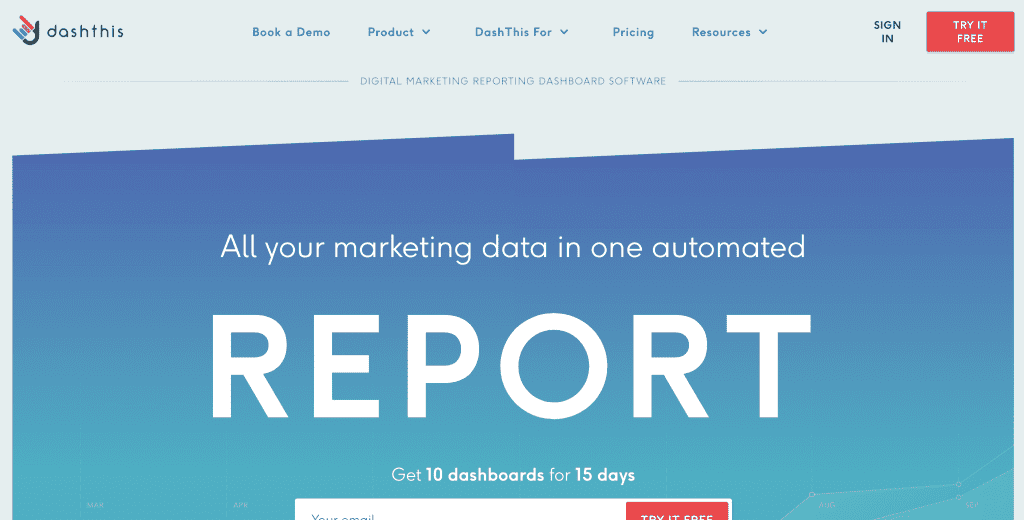 Native integrations include Facebook, Instagram, Twitter, LinkedIn, Youtube, Google Analytics, multiple SEO tools, and much more.
Pro: DashThis provides time-saving features to help you set up your dashboards in seconds like preset report templates, preset KPIs, and much more.
Con: Users reported that once your dashboards are set up, you can't change data sources manually, and require third-party assistance for any changes to your dashboard.
Price: $249 – $399 per month
16. Sprout Social
Brands like Adidas, Nordstrom, and Edelman use Sprout Social for social media analytics and management.
This tool lets you create social media calendars, schedule posts, and listen to relevant social media conversations.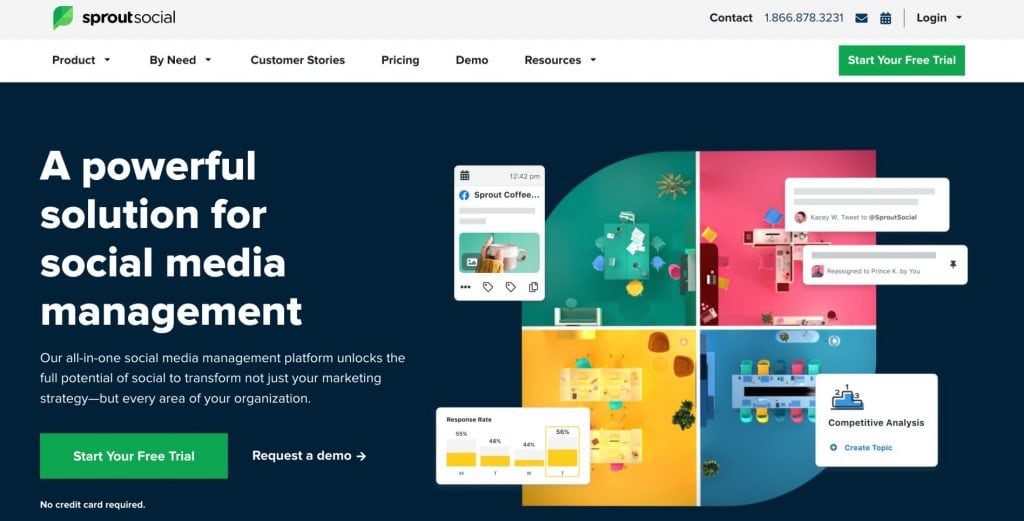 Sprout Social also provides an agency partnership program, where they partner with agencies — providing them with educational materials, reporting templates, and social media marketing strategies. But most importantly, it gives agencies exposure to brands that already use Sprout Social.
Pro: Sprout's publishing workflow supports multiple channels and has an intuitive link preview mode so you know exactly what you're posting.
Cons: Sprout has an á la carte pricing that makes it expensive if you want extra data such as more analytics. Also, reviewers experienced hiccups when posting on Facebook and Instagram.
Price: $249 – $499 per month
17. Emplifi
Emplifi lets you measure your social media performance, benchmark your results against industry players and report your entire social media activities.
Additionally, you can use this tool to publish, create personas, manage your communities, and generate analytics to help you create and optimize social content.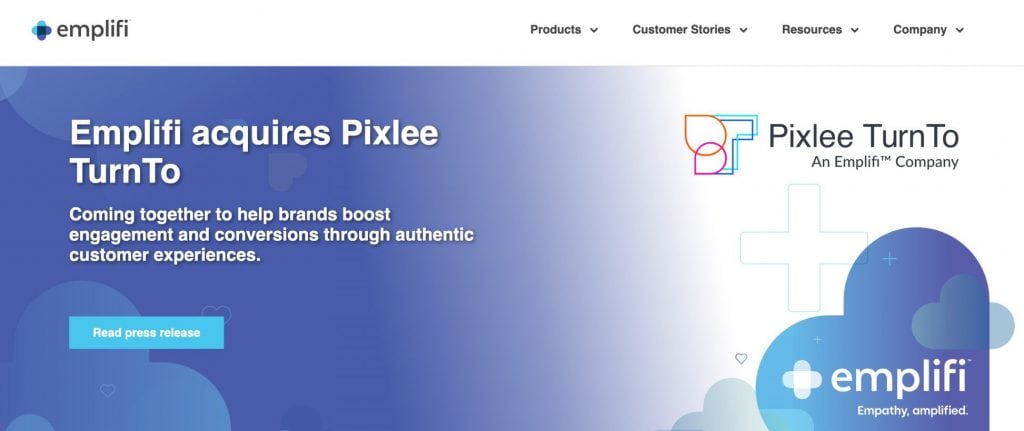 This social media analytics tool uses Artificial Intelligence (AI) to find your target audience on social, the content they're most interested in and the influencers they love. All of these make social media marketing and management easier and more effective for your business.
Pros: Emplifi makes automating your social media management easy by enabling you to know your popular content, the best times to post, discover new content, and even target and recruit influencers.
Cons: Lower-tier plans offer just a few months of history, which can be limiting if you're more interested in analytics.
Price: $240 – $480 per month
18. Brand24
Brand24 collects all the mentions about a keyword, product, or brand name on the web and provides you with a comprehensive analysis of it.
It shows you where your keyword has been mentioned, the ratio of positive to negative sentiments about it, top sources and users of the keyword, and related terms around it.
Pro: Brand24 has an attractive user interface that is very user-friendly and doesn't require a lot of technical knowledge to use it.
Con: The costs tend to add up when data quotas are exceeded.
Price: $119 – $299 per month
19. Mention
Used by brands like Asos, Microsoft, and Ogilvy, Mention is widely known, and as its name implies, as a social media reporting tool for tracking the mentions of specific terms online.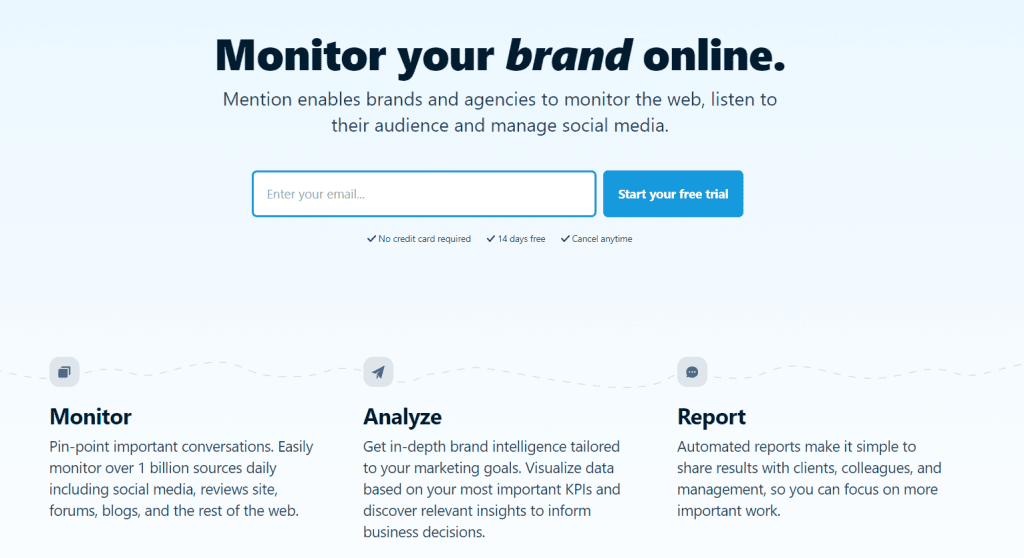 This social media analytics tool picks up mentions of the names of your competitors or their products, your brand or product name, relevant hashtags, and many more.
Mention also provides a feature that helps to see the different languages through which consumers talk about you or your competitors, including relevant timeframes and locations.
Plus, you also get to identify top-performing topics in your niche and repurpose it for your business.
Pro: Most platforms only engage with customers, but Mention engages with both customers and employees. This gives you more data to work with.
Con: Mention only shows data collected after setting it up. It doesn't collect sentiment from past activity, and there is no historical data available.
Price: $179 per month
20. Followerwonk
Followerwonk specializes in Twitter analytics.
It helps you search Twitter followers with the highest follower numbers, compare Twitter accounts, analyze any Twitter user's profile, and track changes in follower numbers — whether for your brand or a competitor's.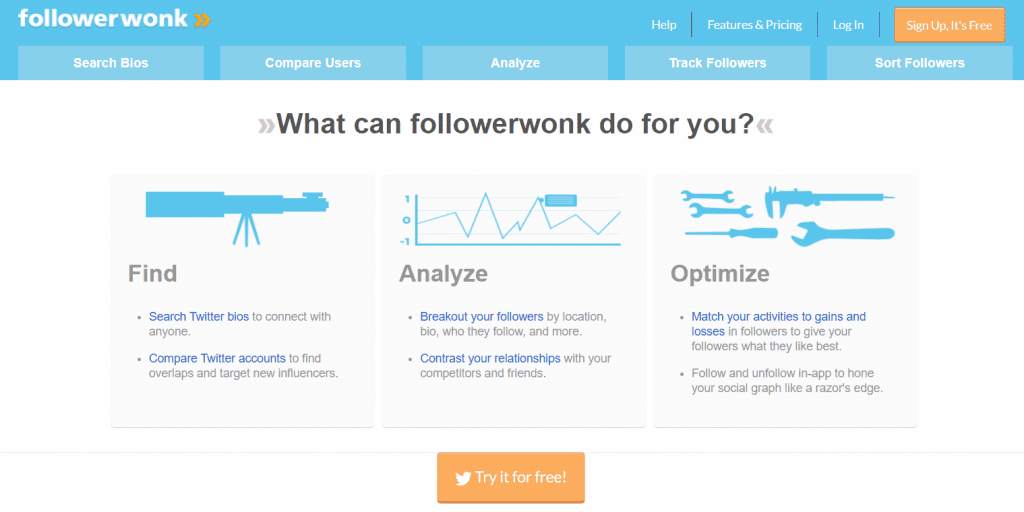 Pro: The Search Bio function allows you to search for influencers and potential clients within your industry and rank them by the number of tweets, followers, followed users, account age, and social authority.
Con: This free social media analytics tool only allows you to analyze accounts with less than 25,000 followers and you can only perform 50 searches, 20 analyses, and 20 comparisons per day and receive 100 results only per search.
Price: Free – $79/month
21. Iconosquare
With Iconosquare, you can measure the impressions and reach of your Facebook and Instagram posts and stories.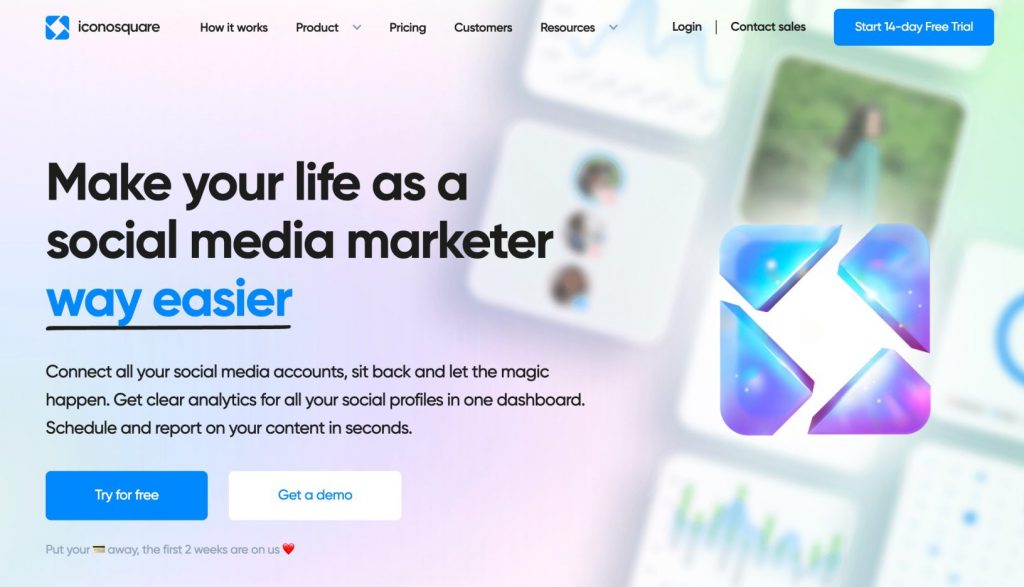 You also get to see when your customers are mostly online, so you can put out content only when they are most likely to engage with it. Making it a competitive social media analytics tool option.
Iconosquare also lets you monitor comments and respond to them, after which you can tick them as read so everything remains organized.
Pro: Iconosquare features are beautifully designed and easy to use. You'll love its advanced scheduling feature, customized Instagram feeds, and comment-tracking ability.
Con: The software does not separate paid and organic post analytics.
Price: $79 per month
22. Audiense
Audiense Connect is a great social media reporting tool from Audiense that helps you uncover details about your audience, discover relevant macro and micro-influencers, and call the best social media marketing shots.

Brands like DHL, Carlsberg, Puma, and Fox Sports use Audiense to discover audience segments relevant to their businesses and make smarter social marketing decisions — especially on Twitter.
Pro: Audiense Connect has brilliant social listening features that help you to understand what audiences are doing on Twitter. Advanced reporting is also really useful for creating events, hashtags, and industry reports.
Con: Audiense Connect offers limited features for lower-tier users, and pricing errs on the higher side for access to more features.
Price: $1499 per month
23. Tailwind
Tailwind lets you manage and analyze your Pinterest and Instagram efforts at scale.
You can discover content, schedule posts, monitor conversations, amplify reach, and analyze your social media performance on Pinterest and Instagram all with one tool.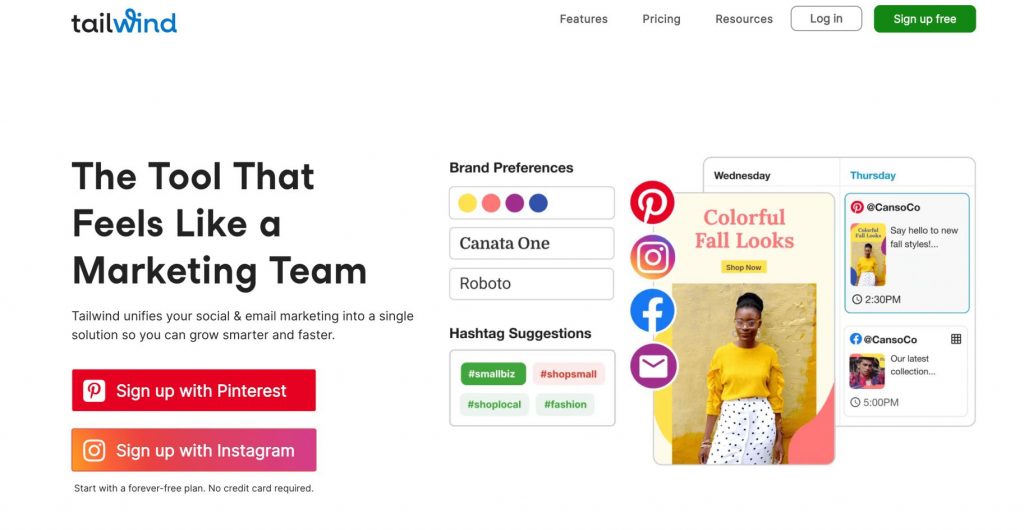 Trusted by over 2000 brands and agencies, including Walmart, eBay, and Unilever, Tailwind uploads your images in bulk and automatically optimizes your posts to be published at your users' most engaging times. Also, it uncovers information about your audience, which ultimately improves and measures results.
Pro: Tailwind's analytics are quite impressive. You get to see how many follow, re-pins, likes, etc., your page has gotten. You also get to see stats for individual pins so you can see what's getting the most love from your audience.
Con: Tailwind has many capabilities making the dashboard a bit overwhelming for some users. Also, it is extremely affordable
Price: $79.99 per month
24. Unmetric
Do you want to know how far your posts travel?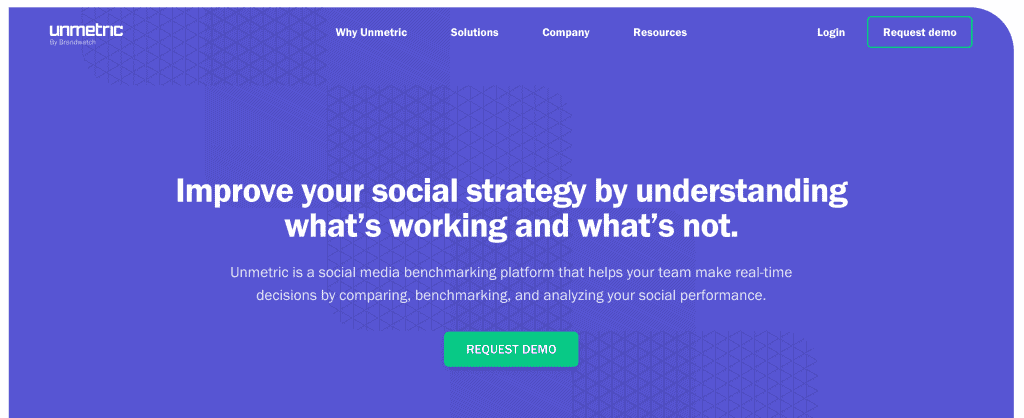 Unmetric helps you see the number of impressions reach and the overall engagement your social media posts get. It also shows you who your top influencers are, and allows you to monitor analytics in real time — helping you take faster marketing decisions.
Pro: You can quickly build reports based on keywords or hashtags and export these reports as PDF or XLS files.
Con: It lacks analytics for LinkedIn and TikTok.
Price: $1000 per month
25. Sociality.io
Sociality.io is an all-in-one social media management platform. The platform covers 5 different modules that every social media marketer needs: Publish, Listen, Engage, Analytics, and Competitor Analysis.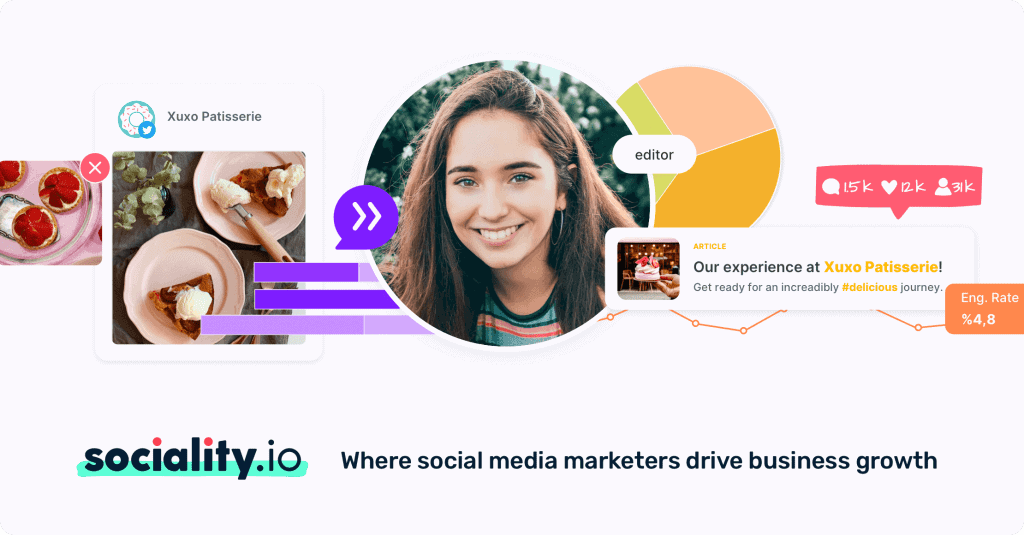 With its comprehensive and powerful social media reporting and analytics tool, you can easily streamline the social media reporting process, save time and help make data-driven decisions that drive results. Sociality.io gives you the insights you need to optimize your strategy and stay ahead of the competition.
Pro: Sociality.io covers the whole social media management journey in one single dashboard, starting from publishing your content at once, listening keywords and mentions of your brand, engaging with your audience, and creating comprehensive social media reports and competitor analysis reports.
Con: Sociality.io does not provide a scheduling feature for TikTok for now.
Price: Starts from $99/month with a 14-day free trial
26. Whatagraph
Built for marketing agencies and in-house marketers, Whatagraph lets anyone create a marketing report within minutes. Once you're done creating amazing marketing campaigns, this tool helps you report on the results by connecting to the marketing platforms you use.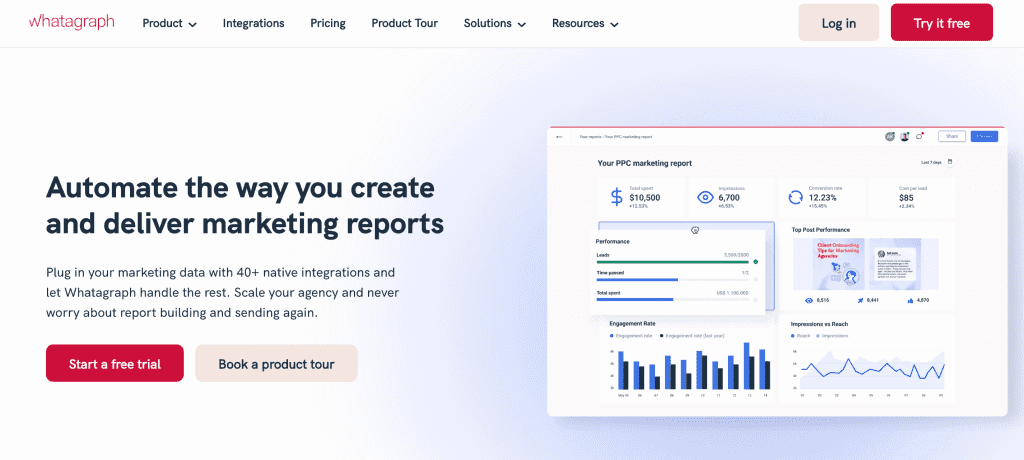 Speaking of which, there are 40+ data sources to connect to, including Google Ads, Google Search Console, Ahrefs, SEMRush, and many others. To get started, you can create reports from scratch or use one of the 100+ available marketing report templates.
Agencies will love the customization options as they can change all aspects of the reports, including the widgets and their placement, as well as elements such as colors and logos. You can go one step further and white label your reports, removing all Whatagraph branding.
Pro: Its ease of use, high degree of customization, excellent customer support, and large template library are praise-worthy.
Con: You have to opt for the annual pricing, and at $199 per month for the cheapest plan, things can get expensive
Price: From $199 per month
27. Statusbrew
Statusbrew is one of the top social media analytics tools that helps teams get insights in a way that can be used for benchmarking, decision making & smart future planning. It supports all major social channels like Twitter, LinkedIn, Facebook, Instagram, YouTube, etc. and saves you a lot of time and effort by providing you with a centralized platform.
You can build intuitive and data-rich reporting dashboards using 200+ metrics and share the reports as a PDF, CSV or even directly as live links. You also get summarized reports in your email on a daily, weekly or monthly basis.
You gain crucial insights and grasp a deeper understanding of your customers and target audience on social media via Statusbrew's reports.
Pro: The tool enables you to monitor social media conversations in real-time, uncovering patterns and insights in the data. Its social listening feature keeps you informed of the latest trends, competitors, and advancements in your industry.
It also facilitates better team collaboration by integrating with communication and business tools. Also, you can benefit from its AI-backed sentiment analysis to improve your customer experience management.
Con: Having so many metrics can sometimes confuse and overwhelm newer users. Some integrations have certain limitations and may not support all features.
Price: Starting from $129 per month
---
The Final Verdict
There's no one-size-fits-all answer for the best social media analytics tool; your best bet is to look carefully at each option, select the ones that suit your needs the most, and try them out.
With this list, you can see what each of the tools does, make a full comparison, select the ones that seem to suit your needs, try them out and make a concrete decision.
Keyhole helps marketers make data-driven decisions while streamlining their social media management efforts. On top of campaign tracking, influencer marketing, and social listening, now you can also use Keyhole's social publishing and scheduling, all in one platform.
Saving marketers an average of 5 hours a week on gathering and social media reporting data, Keyhole also saves marketers over $7,000 every year in manual work. Start your free trial today and get the metrics you need to get the most out of your social media strategy.
Frequently Asked Questions
Social media analytics tools are tools that will help you assess the performance of your presence across multiple social media platforms. They typically consist of dashboards with real-time performance metrics like reach, engagement, impressions, sentiment analysis, likes, shares, comments, mentions, etc.
Keyhole is one of the best social media analytics tool. The tool is incredibly easy to use and offers a compelling suite of features for marketers to scale their branding at an affordable price.
You can use the following social media analytics tools to retrieve your social media data:
1. Keyhole
2. Agorapulse
3. Oktopost
4. Brandwatch
5. BrandMentions