Smart social media marketers know that it's important to stay on top of trends, collect and gather insights, create audience-pleasing content and publish regularly. And yes! Doing all these things can take a lot of time.
At Keyhole, we want to empower social media marketers to simplify their processes as much as possible and keep them focused on making data-driven decisions. This is why we are so proud to release Keyhole Publishing this Wednesday.
Now, on top of planning a data-driven strategy, managing your social media campaigns, influencer marketing, and social listening, you can also schedule and execute your social content strategy.
All in one platform.
This will save you and your team hours of manual work every week. Also, having a single multi-solution tool will help you reduce costs. So, you're one step away from working smarter, faster, and more cost-efficiently.
Read on to learn more about our new social publishing feature or try it now!
Social publishing and scheduling in a heartbeat
Facebook
Twitter
Instagram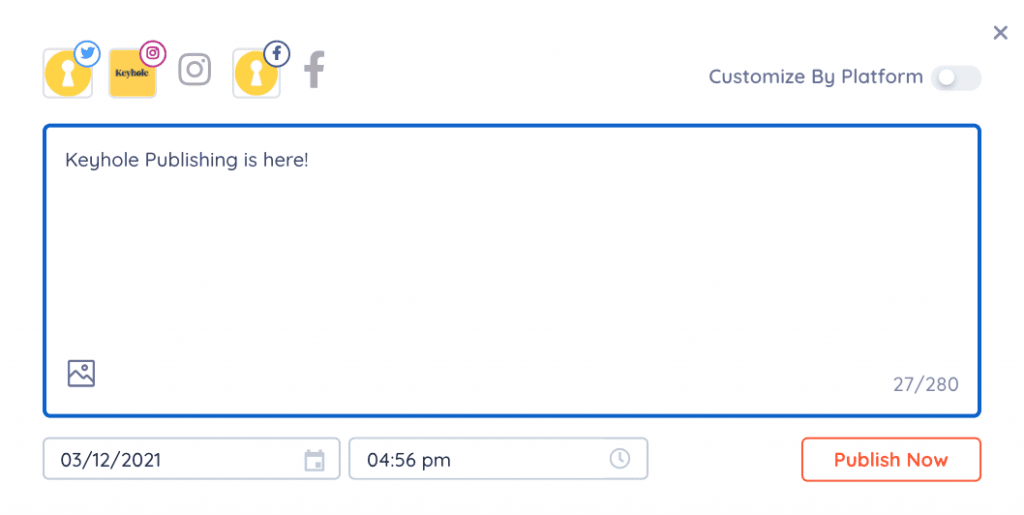 We know how much of a headache it is to manage many accounts. With Keyhole, you can schedule and publish all your posts from a single dashboard. Using fewer tools to use and simplifying your process will make it easier for you to focus on your social media strategy.
Also, Keyhole customers are able to publish and schedule unlimited posts each month from all the accounts included in their plan, which could be anywhere from three to unlimited. Talk to our team to customize your plan, and get a solution that fits your needs.
Social scheduling to optimize your posts for maximum engagement
Keyhole's profile analytics will tell you the best dates, times, and content to post to maximize your engagement. However, these may not always the best times for you.
Now, you can schedule your posts from your desktop or through the mobile app at the most convenient time for you, and feel relieved that they will be published at the best time.

Simplify team collaboration
At Keyhole we know that teamwork makes the dream work, and it often takes a village to perfect our social media post. Collaborate with your team within the platform to create and schedule posts.
Say buh-bye to sending multiple rough drafts back and forth.
If you've used Keyhole before, then you know that we are as user-friendly as it gets. You don't have to re-train your team or follow lengthy tutorials to get the most out of Keyhole. If you don't believe us, check it out for yourself with a free trial.
Aside from being user-friendly, Keyhole will help streamline your social media insights and your social media output. And so, you'll be able to measure each post with side-view analytics and see how your posts impact your overall social media strategy.
Take it from one of our superstar customers:
With Keyhole Publishing, we have been able to schedule our campaigns in advance across our multiple social media accounts, without losing the focus of our primary goal. It saves us time and helps us work together to create opportunities for meaningful engagement with our audience. Working with a clear social media calendar has helped us see holes in our campaigns even before the launch date. I would recommend this to anyone who is trying to engage consistently online.

Adam Clarke, Digital Engagement Manager at The People's Church
What are the best practices for scheduling and publishing posts?
Use Keyhole's profile analytics to inform your content strategy. Get the insights you need to get better results from your audience, including best times to post, best content type, best hashtags to use, and many more.
Plan and visualize your social media content strategy. Having a calendar view will allow you to map out all your posts, which will help you see your strategy at work and identify content gaps.
Collaborate with your team. Make use of your team's talents, whether there is a pun genius, a creative wizard, or a spelling-bee champion – having more eyes on your content is always a good idea.
Analyze your posts, repeat what works, and ditch what doesn't. Keyhole gives you insights from each post, as well as your social strategy across platforms. This way, you'll always find new opportunities to learn and improve.
Take advantage of Keyhole Social Publishing with any of our plans to manage your social media strategy and execution on the same platform. Do you need enterprise-grade profile analytics? Speak to our team and we'll create the perfect plan for you.
---
Keyhole is a Social Listening & Influencer Marketing Solution that helps marketers unlock data-driven insights. On top of measuring and managing your social media efforts, Keyhole creates simple, beautiful reports that you can share with your team and clients. Start your free trial today and get the insights you need to get more from your social media strategy