Do you know your social media efforts are hiding a wealth of information? And if you know how to analyze your social media, you can unearth this data.
But how does it help, you may ask?
For starters, social media data help you understand your audience, pinpoint well-performing strategies, and weed out the incompetent ones.
In fact, marketers use social data for various purposes. Studies have shown that 56% of marketers use social data for understanding their audience. Another 49% to develop creative content and so on.
Overall, social media analysis helps you achieve your social media goals, proves what's working and what's not, and eventually maximizes your ROI.
Hence, understanding what social media analytics are, how to interpret them, and how to use them to increase traffic and sales is just as important as implementing any social media strategy.
In this post, we'll shed light on how to comprehend social media analytics and use the data to scale your business and rise above the competition.
Let's get started.
Social media analytics is the collection and analysis of data shared on social channels to measure the performance of your social media accounts — and improve your strategies. A typical social media analytics report looks like this: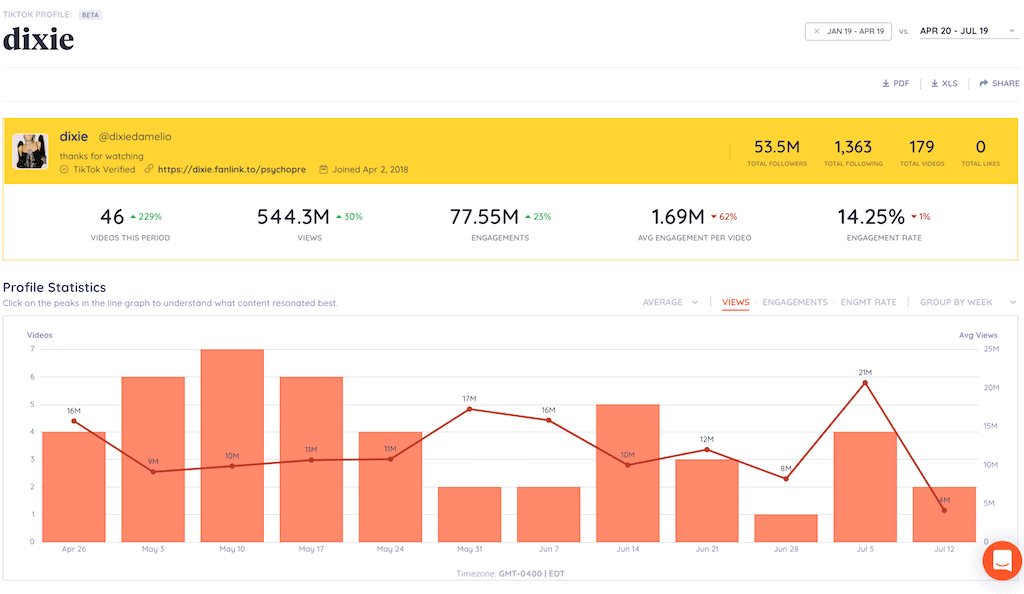 Social media analytics goes beyond broader metrics such as likes, follows, clicks, retweets, previews, and impressions gathered from social networks.
As you know, social media is about people sharing their lives with others. With social media analytics, marketers get a peek into users' lives and fetch valuable data to understand them better based on their interests, behaviors, and even demographics. This takes us to our next question: how is social media analytics different from web analytics?
Social media analytics vs web analytics
The main difference between the two is that social media analytics collects demographic and behavioral data from social media networks, while web analytics gathers data from a particular business website.
In other words, web analytics measure your website's traffic to give you insights into how users are interacting with your website. Whereas social media analytics gathers information from social channels to help businesses make sense of users' attitudes and customer sentiments.
All those posts you share, the interactions they generate, the comments they receive, and other activities get together to form useful data. Social media analytics can benefit your social media marketing in many ways, such as:
1. Craft a personalized customer experience
As we discussed before, social data helps you understand your audience. For instance, it tells you what customers want and at what time. These insights allow you to create targeted content and post them when your fans are most active to influence their purchase decisions.
2. Improve your strategic decision-making
You may not be able to create the best strategy in your first attempt. But you can figure out your mistakes with the help of social media analytics. You will know which social media strategies generate results and which ones are lagging. Hence, your decision-making skills will improve throughout your social media journey.
3. Boost ROI
The key goal of every social media post, retweet, or share is ROI. When you understand which efforts aren't working, you can tweak your strategies accordingly to enhance the performance of your campaigns and overall ROI.
As you see, social media analytics work like peeling back an orange to get the segmented fruit within. The insights extracted from social media analytics can power many parts of your brand strategies. However, you need to use social media analytics tools to get the essential metrics.
Social media analytics tools are software used to gather and monitor the performance data of your social media accounts. These tools deliver a graphical dashboard and data visualization to help you understand social media presence at one glance.
Each social media network has its own analytics tool. For instance, Twitter has Twitter Analytics, and Instagram has the Account Insights platform.
While there are many tools available to perform analysis; however, it's essential to know what you should measure precisely and why. This will save you from the paralysis of loads of information and help you adjust your social media strategy to meet your goals.
Here are the key performance metrics to track and get the answers to your social media marketing questions.
Measuring your social media account performance is key to understanding where your social media strategy is working and bringing ROI and where it needs a fix.
Followers growth: It measures the total number of new followers on your social media account at a particular time. It helps you understand how many people are engaging with your brand. More followers equal more eyes catching your content.
Engagement rate: It's a metric used to track how actively involved people are with your content and how effective your campaigns are. It includes user interactions such as likes, comments, and social sharing. A higher engagement rate indicates you are creating valuable content, while a low engagement rate signals content improvement.
Here's how you can calculate the engagement rate.
Social media posts' performance and top posts: Analyzing social shares like comments, engagement rate, clicks, and more, on your posts tell you which posts are receiving maximum engagement and which ones are going in vain. You can use this data to extract top-performing posts and design a better content strategy.
Types of posts: There are different types of social media posts, including written posts, images, videos, and so on. To consistently produce engaging content, you must understand which types of posts resonate with your audience and are performing well on which platform. For instance, you may find out your images are doing wonders on Instagram and written posts are more effective on LinkedIn.
Mentions: It measures how many times your brand name is mentioned on social media accounts. Each time a user talks about you (e.g., post a comment mentioning your brand), you receive a social media mention. People can post positive or negative comments about your brand. Tracking mentions will help you leverage positive comments and take care of negative ones.
Audience analysis gives you a deeper understanding of your current and potential customers to help you improve customer experience, brand perception, and marketing strategy. Let's see the metrics you need to research your social media audience.
Followers location: Knowing where your audience lives will give you insights into how people belonging to a different region are talking about your brand, product, or relevant topics. This will guide your next content strategy or product promotion.
Gender: Is your audience male or female? Answering this question gives you some basic knowledge of your audience and their gender-based choices.
Audience by follower count: It's a ratio dividing the number of your followers by the number of people you're following. A massive follower count results in more impressions and reach. It leads to more engagement and further audience growth. If you keep analyzing your follower count, you can find multiple ways to keep your followers growing.
Keeping an eye on your social media accounts and comparing their results help you understand what works best. You can increase your efforts on result-oriented accounts and tweak your strategies on low-performing ones.
Engagement rate: Notice which social media channels have the most engagement, such as more likes, shares, and comments.
Followers growth: What is your total number of new followers on each of your social media accounts in a specific time period? Tracking it helps you understand the platforms where your prospects are most active.
Post type comparison: Your social media success depends on the success of the content you post. If you compare your posts between multiple networks, you'll notice that some posts are far more engaging than others. For instance, you may see LinkedIn written posts are generating more results than tweets.
Benchmarking against competitors
Competitive benchmarking tells you where your business stands against your competitors. A set of predetermined metrics show the performance of your social media strategy against your competitors. It will help you identify growth opportunities and uncover ineffectual social strategies.
Engagement rate comparison: Pay close attention to your competitor's engagement rate. Are they getting consistent engagement on their content? Do they share written posts, images, slides, or videos? Such insights help you find loopholes in content (either your's or competitor's) and fill them up with a better strategy.
Followers insights: Study competitors' followers and their social media profiles to get a general idea of the audience demographics your competitors are tapping into. Compare the results with your buyer persona to ensure you target the right audience.
Top Posts: Analyze their top-performing posts and use them to generate better content ideas that resonate well with your audience.
Analysis of paid campaigns
You need to know what are the most important metrics you should track to measure your social efforts and run optimized paid social media campaigns.
Here you go:
Clicks: Clicks are a popular social media metric that counts the number of users who click your social ads. This metric represents an interested visitor you should target.
Click-through rate (CTR): It measures how many people click your social ads to know more or buy. CTR tells you how effective your social ads are in driving people to your products or services.
Cost per engagement (CPM): It's a pricing model where advertisers pay when users interact with their campaign, like by taking the survey or signing up for a free trial. CPM shows the effectiveness of your ad in luring people to take action.
Campaign ROI: It shows the amount of value you generate from your social media efforts. ROI tells you the overall effectiveness of your campaigns and helps you fine-tune your strategy to enhance returns as you move forward.
Customer support and community management
Customer support is about addressing your prospects' issues and offering your content, products, or services as a solution. While some companies prefer the new ways such as chatbots or social media to provide support, others still trust business phone providers for more professionalism and reliability.
Below metrics will allow you to offer customer support and build community:
Brand mentions: Brand mentions are events when your brand is mentioned in social media posts, reviews, videos, comments, or other pieces of content. Monitoring them lets you find what people are talking to you and if they need your assistance.
Posts related to your brand: Tracking posts relevant to your brand topics help you stay informed about the audience and industry. You can analyze topics your audience is most interested in and how you can support them more with your offerings.
Sentiment analysis
Sentiment analysis shows how people feel about your brand on social media. It collects and analyzes the posts people share relevant to your brand to extract emotions and opinions. A high number of mentions may look great at first glance. But if they are full of negative comments, you need to take care of them before they ruin your online reputation. Thus, sentiment analysis helps you tweak your brand messaging and products as per consumers' opinions.
Influencer analytics
Influencer analytics analyze and evaluate an influencer's reach and performance to help you find the influencers that work best for your target market.
Influencer vetting: Analyze the influencer's audience, such as the number of followers, audience size, age, gender, and so on, to ensure they have followers resembling your prospects.
Influencer posts' performance: Measure the volume of traffic an influencer's post receives along with clicks and comments. It helps you identify whether they're a good fit for your campaigns and have the potential to drive conversions.
Influencer campaign ROI: It determines the overall effectiveness of your influencer marketing campaign. Plus, ROI helps you adjust your strategy to produce desired results.
At this point, you know which metrics matter the most. Now let's see how to track them quickly.
Imagine you export separate data from Facebook, LinkedIn, and Instagram. You are trying to put the jigsaw puzzle together, but you are lost in hoards of data.
Or imagine all your data is pulled together on one dashboard, telling the story of your social media performance at one glance. Sweet times.
Introducing Keyhole, a social media analytics tool with a live dashboard that brings all the data together in one place.
Here are six steps to track social data with Keyhole.
Step 1: Auto-collect data
Keyhole auto-collect all the social media metrics your business or clients care about, including engagement, reach, impressions, and more, to show you the impact of your social media marketing.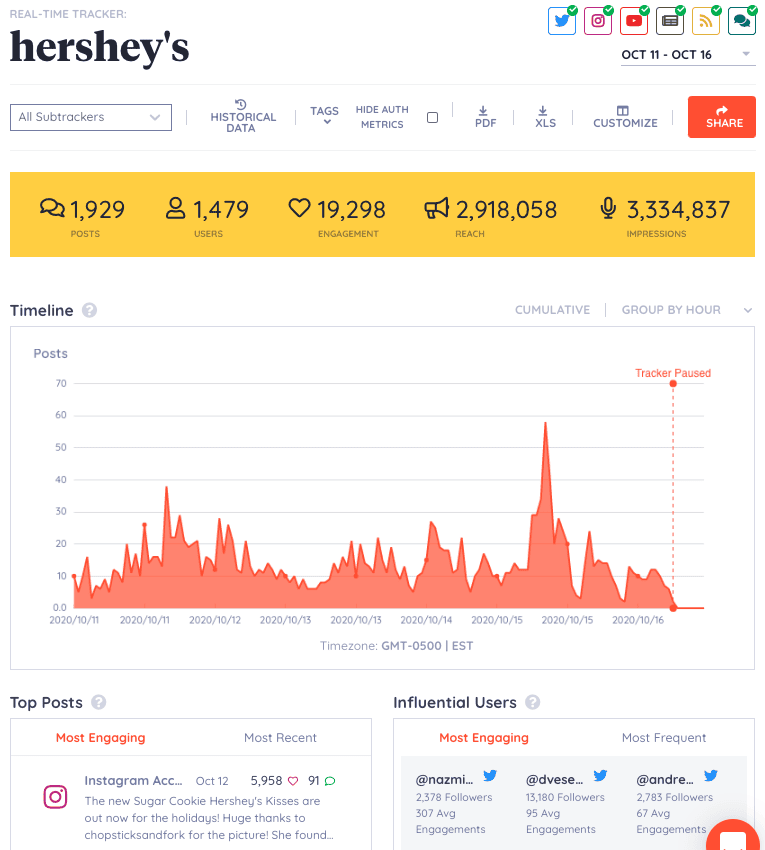 Step 2: Set benchmarks
Before you jump on building social media strategy, it's crucial to set some goals. It could be anything like increasing sales or brand awareness. Keyhole will track your benchmarks to help you make the necessary adjustments along the way. For instance, if your goal is to grow engagement, Keyhole will measure your posts' results to analyze the ideal time to post on social media and the optimal post length.
Step 3: Create social media reports
Keyhole automatically generates social media reports within minutes, showing you the overall performance of your social channels. Hence, you don't need to waste time creating spreadsheets and manually entering data. The icing on the cake is Keyhole reports are visually appealing and understandable at first glances, like this: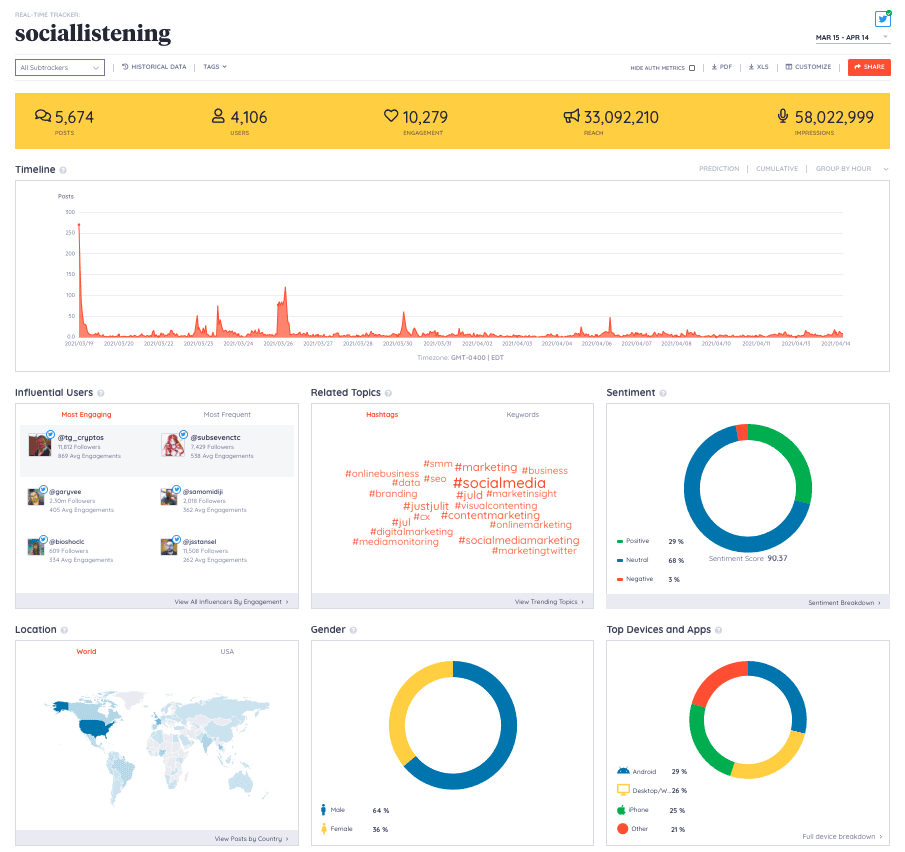 Step 4: Analyze the data to optimize your social media posts
Keyhole provides historical data reports you can use to analyze your social media posts. You can examine which content goes viral and why users react instantly to specific trends but ignore the others. Use these insights to design an effective social media content strategy.

Step 5: Create and share the dashboard
Keyhole's live dashboard takes seconds to deliver the latest reports. You can share them with your boss, team, or clients. Or download these visual charts in PDF, or Excel format, or as URL sharing.
To get the most out of social media analytics, make sure you use the right tool to track the results and make accurate decisions. Do you need a helping hand with metrics or tools? Book a demo call now with our social media analytics expert.
---
Related Articles:

Top 25 Social Media Analytics Tools: The Definitive Guide
Top 7 Social Media Competitor Analytics Tools For Marketers And Agencies
---
Frequently Asked Questions
Social media analytics is the collection and analysis of data shared on social channels to measure the performance of your social media accounts — and improve your strategies.
Social media analytics is crucial for the following reasons:
1. Craft a personalized customer experience
2. Improve your strategic decision-making
3. Boost ROI
The best social media analytics tool is Keyhole. It gathers and monitors multiple social media accounts in a real-time dashboard to help you understand your presence at one glance.