This Social Media Monitoring Tools List has been updated as of November 2020
Social media monitoring is the act of paying attention to what is being said on social media. That is, what is being said about your brand, your campaign, your competitors, your product, tending topics, etc.
In recent years, we have come to understand that social media monitoring is your brand's first line of defence against a potential crisis.
Also, proper social media monitoring can give you a better understanding of your audience's wants, improve your customer service, keep tabs on your competitors and find opportunities to raise awareness.
In a world where 340 million tweets are posted every day, it's impossible to keep track of what's being said without some help. And this is where social media monitoring tools come into place.
Social media monitoring tools allow marketers to do the following:
Get quality audience data.
Take relevant actions, based on the data collected, to keep or build a good reputation and drive ROI.
Save time, as all your social media analytics are available to you in one platform.
But which social media monitoring tool is the best for your brand?
It can be tough to pick one — with so many enticing promises from each solution.
What you need is a resource that provides you with quality insights about each tool.
Well, look no further; here's a guide showing you the top 25 best social media monitoring tools that are worth considering:
---
Related Topic: A Brand's Definite Guide to Social Media Listening
Jump Links:

1. Keyhole
2. BrandWatch
3. Glean.info
4. Digimind
5. Google Alert
6. Hootsuite
7. Falcon.io
8. Meltwater
9. Mentionlytics
10. Sprinklr
11. Mention
12. NetBase
13. Nuvi
14. SharedCount
15. Social Mention
16. Brand24
17. TalkWalker
18. Awario
19. ZoomSphere
20. Sprout Social
21. Iconosquare
22. Followerwonk
23. Audiense
24. Tailwind
25. Union Metrics
1. Keyhole

Brands like Google, Alibaba, L'Oreal, H&M, and Mashable, trust Keyhole's analytics. Keyhole is a social media analytics solution allowing you to track hashtags and keywords to monitor relevant conversations online.
Keyhole's social analytics dashboard gives you an instant rundown of what your brand's health looks like. So, you don't have to look too deep before seeing key analytics like total impressions, engagements, impressions, and posts.
Looking for a tool that allows you to tap into your customers' minds, gives key information on your brand, and turns raw data into actionable insights that inform your strategy and accelerate critical decision-making? Then Keyhole might be exactly what you need.
Best of all? 
Not only does the tool allow you to track @mentions and customer conversations across social media, blogs, and forums. It will also give you key analysis into relevant topics, sentiment analysis, demographic breakdown, and surface the top influencers in the conversation.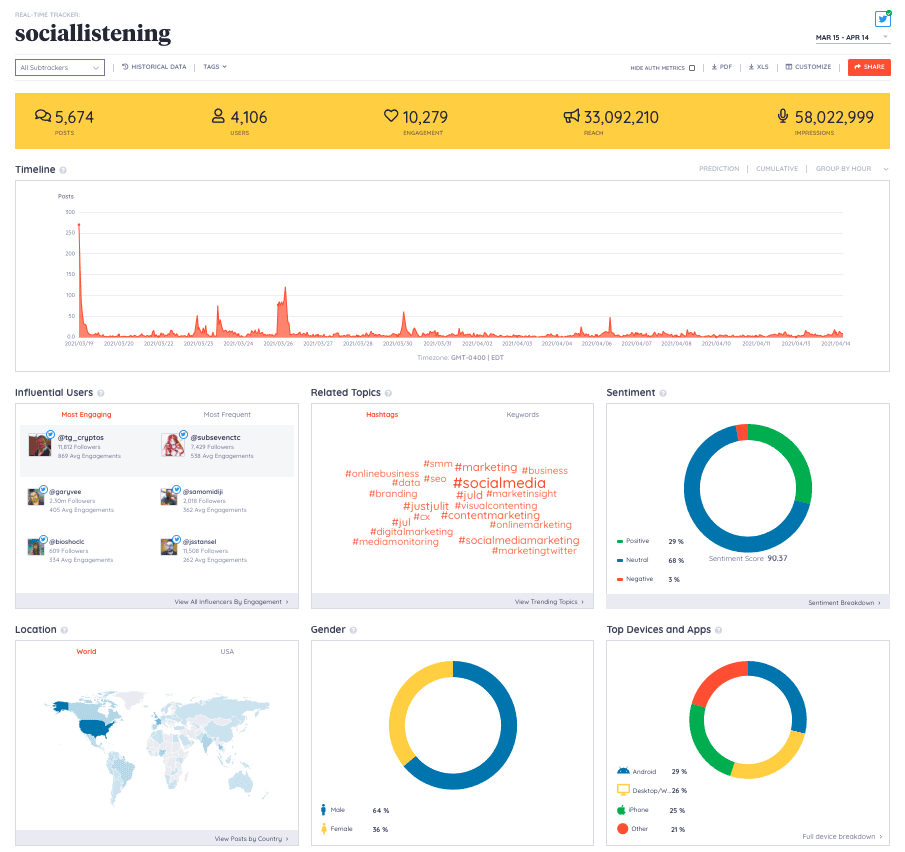 Also, Keyhole was designed to best position our clients to succeed, and in any business knowledge is power. This include knowing your audience and your competitors.
With Keyhole, users can monitor all their competitors at the same time, getting key benchmarking metrics as well as competitive intelligence to help them beat the competition.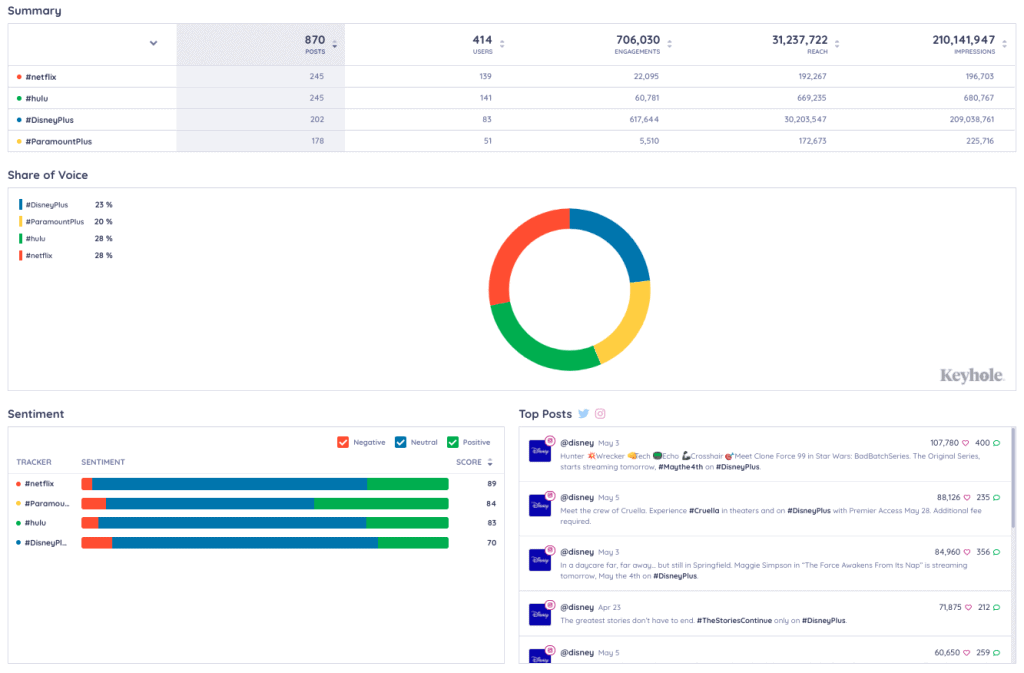 The best part is how easy Keyhole makes your life. Neil Patel describes it this way: "This tool (Keyhole) does a lot of things others can't. And as a bonus, it's extremely user-friendly."
Now, on top of planning a data-driven strategy, managing your social media campaigns, influencer marketing, and social listening, you can also schedule and execute your social content strategy with Keyhole's Social Publishing.
Pros: The data reports are comprehensive, but also simple and easy to understand. It's an affordable tool that keeps everyone in the know about ongoing conversations, brand health, and competitor performance.
Price: Starts at $79 USD per month. You can view various plans and pricing here.
Ready to test Keyhole for yourself? – Start a Free Trial
2. BrandWatch
BrandWatch is a social listening & analytics tool that helps you dig out relevant data from blogs, forums, as well as social media and news or review sites. Basically, this tool tells you what/how your customers talk about your brand online.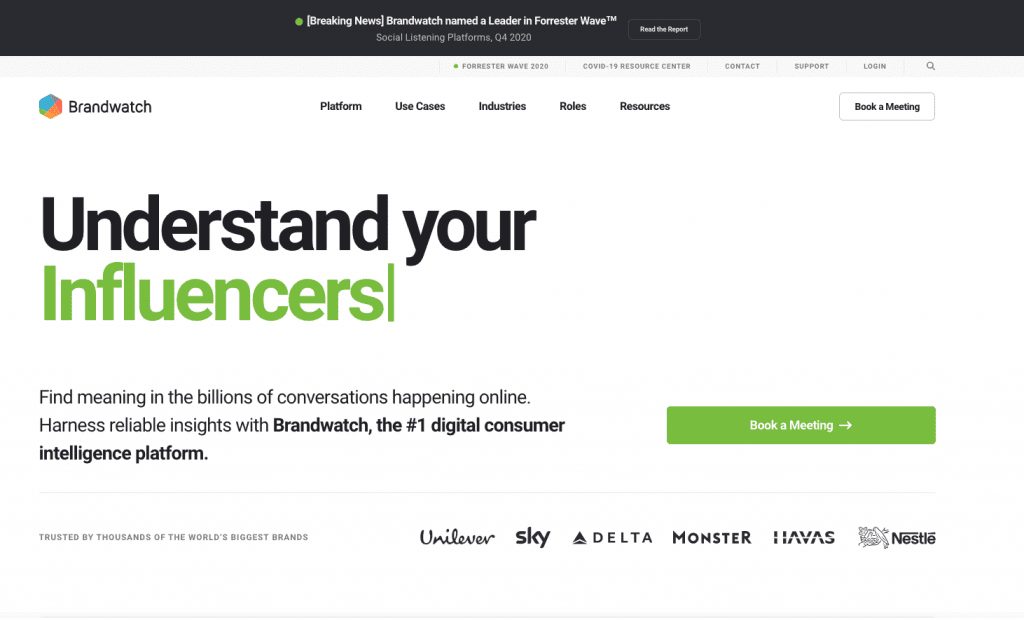 You can use BrandWatch to get an overview of your brand mentions' volume and compare it with competitors. Also, you can monitor brand sentiment in real time, and find out who your audience (demographic) is and what topics they are interested in.
It also provides a data visualization tool that lets you bring your data to life. That is, your data can be represented in the form of graphs that make hard stats and numbers easy to understand.
Pros: A flexible, highly customizable social listening tool. The data visualization feature makes data easy to understand and share.
Cons: There is a steep learning-curve in getting the software running properly. Also, the loading time is reportedly slow.
Price: Varies based on mentions per month and historical data access.
3. Glean.info
Glean.info is a market intelligence and social media monitoring tool that gets audience data from social media sites, online news, blogs, message boards, forums, and photo/video sharing sites.
Similar to Keyhole and BrandWatch, this tool also lets you see your share of voice on social. That is, the percentage of your brand's mentions against that of your competitor's.
Here's what gets even more interesting: Glean.info alerts you when your brand gets mentioned on a fake news site.
They monitor new posts on 2,000 fake news sites and alert you as soon as your brand gets mentioned; this helps you handle bad press before things get out of hand.
Pros: Integrated access to social media insights. Customizable alerting system.
Cons: Fairly expensive, so may not be accessible for everyone.
Price: Varies based on the number of services you need and keywords you want to track. The price for one service starts at $299 USD per month.
4. Digimind
Digimind is an intelligence software that provides a beautiful visual representation of your brand's social performance.

This tool also allows you to monitor your own social media posts and run competitive analysis. That is, checking how your brand and/or product stacks up against industry rivals.
The platform gives you an understanding of your brand's online reputation, as well as relevant consumer insights.
You're also able to access your data via Digimind's mobile app.
Pros: Monitors thousands of internet sources to collect brand intelligence.
Cons: Users reportedly find it difficult to backtrack and find previous stats and information. Also, it can become time-consuming to go through all the posts to find relevant information.
Price: To request a custom quote, contact Digimind directly.
5. Google Alerts
Google Alerts is super useful for you if you're looking for a basic monitoring solution.
It scans through the web and tells you when your brand or product gets mentioned.
You can choose which sources you want to be receiving alerts for — whether blogs, news sites or forums —and the languages you want to get alerts for.
Pros: An easy and free to use mention tracking solution.
Cons: Only contains basic functionalities so it's not the most well-rounded tool.
Price: Free.
Did you know that Keyhole users reported that the automated analysis and reporting save them at least 5 hours every week?

Start your free trial today
6. Hootsuite
Hootsuite isn't just a social media management software; it also monitors relevant conversations on social media, and provides relevant insights.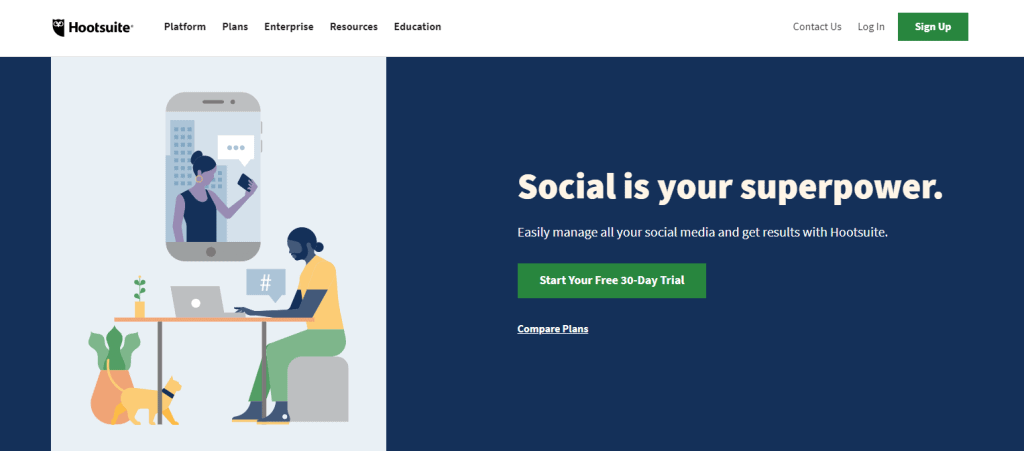 Aside from tracking key topics and brand mentions. You can also analyze your performance on social media and measure your results against competitors. This can help spot trends, patterns and optimize your social media presence.
With Hootsuite, you can separate conversions from your paid and owned media, and filter out conversations by keyword, language and location.
Pros: Manage your entire presence on social platforms from one place.
Cons: Higher price than other alternatives. Lower-tiered packages do not include social listening, analytics or benchmarking.
Price: $29 USD – $599 USD per month.
7. Falcon.io
Falcon.io is an all-in-one social management tool that helps you plan your content calendar and manage your inbox across different platforms. Also, you can create and schedule ads, and monitor your brand's impact on social.
The platform was built to assist social media marketers with social listening, customer engagement, content marketing and audience management.
Its social listening feature allows you to keep tuned into online conversations and trends, track your campaigns and discover top influencers that are engaging with your brand.
Falcon.io supports all the major social media such as Facebook, Instagram, YouTube, LinkedIn and Twitter, and makes their sentiment analysis available in multiple languages
Pros: Intuitive user experience. Great social listening functionality.
Cons: It comes at a hefty price, so it is not available to smaller businesses.
Price: Essentials available at $129 USD per month. Contact Falcon.io to inquire about their custom packages/pricing for larger organizations.
8. Meltwater
From tracking brand mentions to monitoring campaigns in real time, Meltwater gives you a rundown on conversations about your brand on social media.
Meltwater's AI engine helps you listen to relevant social media conversations, and gather historical audience data to make more informed marketing decisions.
Moreover, the platform enables you to dig deeper into your audience insights. Allowing you to discover the exact segments that are engaging in conversations related to your brand, and identify significant influencers among them.
Similar to other tools on this list, Meltwater offers a social media management functionality. It enables you to plan and schedule posts and engage with your audience via a centralized inbox.
Pros: A great tool to identify media contacts and influencers in your industry.
Cons: Pricey, especially considering the limited number of users for the cost you pay.
Price: Contact Meltwater for pricing.
9. Mentionlytics
Mentionlytics is a web and social media monitoring tool that can track both mentions and keywords across websites, news sites, social media, community forums, etc.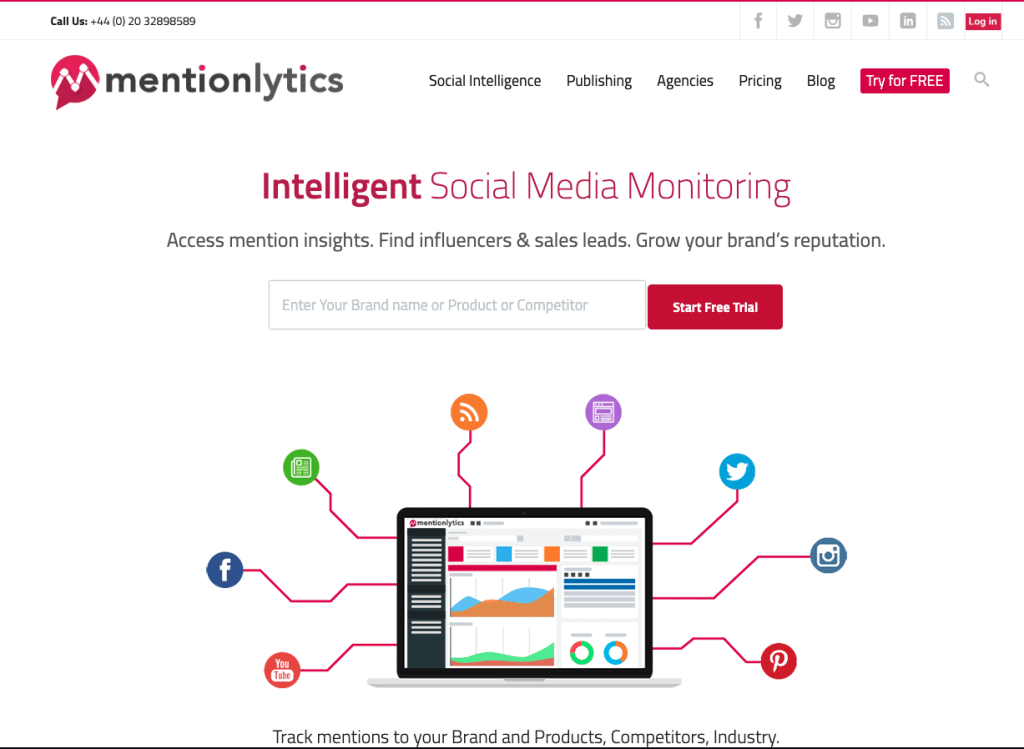 It tracks relevant information pertaining to your brand, competitors, products, etc., and presents it in a user-friendly dashboard.
The platform also uses its "Social Intelligence Advisor" to give you data-driven advice and insights. For example, the most important mentions, best posting times and identifying trolls.
Pros: The interface is user-friendly. Speaking of friendliness, Mentionlytics' customer service has a great reputation because of their promptness and effectiveness when responding to customer questions.
Cons: Users reported some difficulties using the keyword search, which led to getting irrelevant results.
Price: Basic plan starts at $39 per month and packages can go up to $299 per month.
10. Sprinklr
Sprinklr is a powerful social media management tool that also provides a social listening feature.
The Modern Research feature helps you gain broad, historical and deep real-time views of global conversations, topics, and influencers driving your market – all in one place.
Like many other similar tools, this software helps you benchmark your social media performance against your competitors. Even more, they help you track crises before they arise so that you are able to make informed decisions.
Pros: Great for social listening as well as to moderate comments/messages across different social media profiles and inboxes.
Cons: Paid-ads performance has to be manually added, as it doesn't get automatically pulled and inserted into the reports. Advanced features can get pricey.
Price: Contact Sprinklr to request a custom quote.
11. Mention
Mention helps you monitor online conversations and track mentions of your brand, product, industry, or campaigns.
This keeps you on top of important conversations around your business so you're able to join in on these conversations when it matters the most.
Mention enables you to filter the conversations you want to monitor by language, source and date. Also, you can refine your alerts by adding or removing certain keywords.
You can then, visualize your marketing data, and automate your reports to share the results with key stakeholders in your business easily.
Pros: It's easy to set up and use to find relevant conversations and brand mentions all over the web.
Cons: Tracking campaigns can be difficult to set up without extra support from a support rep. Limited functionality for lower-tier subscribers.
Price: Paid plans start at $25 per month and plans range upwards of $450 per month.
12. NetBase
NetBase provides many customer experience features, which include social media monitoring. It uses a natural processing language engine to generate an accurate understanding of human language across 199 languages.
The NetBase LIVE Pulse solution gives you real time insight into trending topics, top terms/hashtags, allows you to set and track goals, integrate paid metrics, and more.
In NetBase's own words: "You will gain a deep understanding of customer preferences, passions, and behaviors to drive your customer experience initiatives and make smarter, faster business decisions."
Pros: Great tool for keeping on top of brand health and customer sentiment.
Cons: Steep learning curve – training might be required. Also, the price can get steep if you require in-depth data.
Price: Plans are customized – contact to learn pricing options.
13. Nuvi
From social media publishing to monitoring, Nuvi takes care of it all for you.
Nuvi is a robust customer experience management solution – their Listen tool allows you to monitor more than just hashtags. It helps you monitor keywords, URLs, topics, social media handles and more.
This tool allows you to spot trends and identify opportunities to increase your reach, as well as build better experiences for your customers.
Nuvi also gets you audience data from Twitter, Instagram, YouTube, Reddit, Facebook, VK, Stack Overflow and an ever-updating list of 3 million+ blogs and RSS feeds.
Pros: Relatively easy to use. Good sentiment analysis with accuracy of up to 80%.
Cons: Unable to collect and analyze historical data.
Price: Contact Nuvi to discuss a unique plan.
14. SharedCount
SharedCount tracks popular content in your industry. Just insert a URL into the tool and it will show you how many shares the content has gotten so far.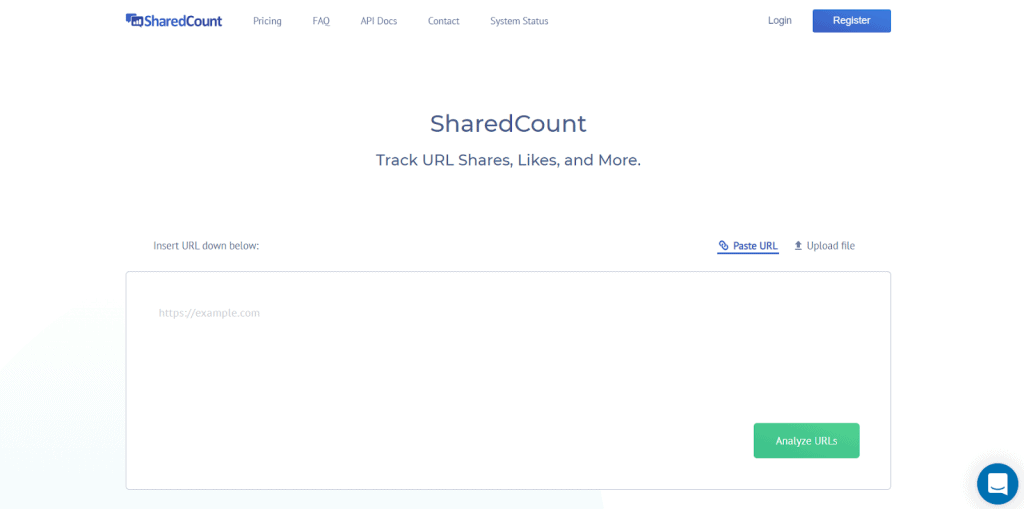 This tool also allows you to analyze URLs in bulk and export them as CSV files.
Pros: Provides an easy way to analyze the popularity of your content through URLs.
Cons: As of 2020, it only works with Facebook and Pinterest.
Price: $40 USD per month to upwards of $640 per month
15. Social Mention
Social Mention is a real-time social media analytics tool. It collects and compiles user-generated content (UGC) from the web into a single platform.

Let's say we want to see the audience data around the #ArtificialIntelligence hashtag; Social Mention provides you with instant, data-rich reports about what's going on around your query.
It also shows the ratio of positive to negative sentiments, the percent of reach, and the strength of your searched term on social media.
In addition, it gives you insights on the passion around your query; that is the likelihood that users will keep talking about your query repeatedly.
Pros: A social analytics tool that's free to use. Helps to predict future engagement based on existing data.
Cons: Sentiment score is not always reliable, and the interface is outdated.
Price: Free.
 Pro tip: Knowing your own audience is great, knowing your competitors is even better. All of the social metrics you need to understand (and beat) your competitors with Keyhole's Comparisons feature.

Try Comparisons Today
16. Brand24
Brand24 is another social listening tool, that makes brand reputation management simpler and easier.
This tool lets you track mentions, and even gives you a visual representation of ongoing conversations about your brand using a Discussion Volume Chart.
Like most of the top social listening tools, Brand24 allows you to dig deep into your reports to analyze sentiment to determine whether your brand was mentioned in a positive or negative context
Also, it helps identify key influencers in your industry. It makes it easy for you to join in on conversations across various channels, directly from the platform.
Pros: A user-friendly tool that simplifies social listening. Customized alerts for brand mentions make it easy to stay on top of online conversations about your brand.
Cons: It may be hard to accurately predict customer sentiment and the historical data is not very reliable.
Price: Starting at $49 USD per month.
17. Talkwalker
Talkwalker is a social analytics platform that enables you to monitor brand sentiment and oversee your overall brand health.
The Conversation Clusters feature provides you with AI-based data that lets you find hidden connections between trending conversations, discover conversation drivers, and understand the core customer needs that start and move conversations in a particular direction.
Talkwaker also gives you a 360 view of your owned and earned social media content, including your brand, product or competitor mentions offline.
You can use the tool to detect emerging themes, identify market gaps and serve more relevant content and offers to your customers.
This lets you understand the best influencers for your specific brand or product. All these help you account for what exactly comms bring to the table at your organization.
Pros: Real-time social monitoring and rich social insights.
Cons: Large amounts of data make it hard to master and prioritize what insights are important. The price is also inaccessible for many businesses.
Price: Starts at $6000 per year.
18. Awario
Awario is a web monitoring tool that crawls 13 billion pages everyday to get important data about your audience.
These insights include number of mentions, sentiment analysis, top influencers across different channels, and status/progress analytics.
It also offers a social media customer support service that lets you be there right when your customers need your help.
Providing you with an intelligent alert system, the tool lets you know as soon as an important conversation starts gaining traction.
This helps you prioritize customer support requests based on the impact they can have on your business.
Pros: Great for monitoring brand mentions and keeping track of online conversations. Possible to track unlinked brand mentions all over the web.
Cons: A steep learning curve. Also, the price can escalate quickly.
Price: $29 — $299 USD per month.
19. ZoomSphere
ZoomSphere is an all in one social media management tool comprising a scheduler, workflow manager, social media analytics, reporting & benchmarking, Facebook leads manager, and mentions monitoring.
The tool provides over 150 different metrics related to all the major social networks. It also provides you with competitor analysis so you can see how you rank compared to your competitors.
The tool allows you to collaborate with your team, and set when and where to publish your social media posts.
Pros: Covers various social channels. Shows customer interaction history and helps you benchmark your performance.
Cons: The social listening feature doesn't include sentiment analysis.
Price: Different pricing for each tool. Social Media Analytics costs $89 Euros per month, Social Media & Web Monitoring – $149 Euros per month. For more information on pricing, see https://www.zoomsphere.com/pricing.
20. Sprout Social
Sprout Social is a comprehensive social media monitoring tool, helping brands to better understand their audience and inform their social strategy with actionable insights.
Their social dashboard feature gives you an instant rundown of what your brand's health looks like by showing basic analytics like total impressions, total engagements and total link clicks.
Sprout Social's social listening feature gives you an overview of the keywords and hashtags your audience associate your brand or product with.
It also allows you to monitor sentiment and set up alerts for when critical conversations start gaining traction on social media.
Pros: Robust analytics. And it allows you to respond to mentions/messages directly from the platform.
Cons: The standard licence doesn't include the social listening feature.
Price: $99 — $249 USD per month.
Creating accurate, download-friendly reports that you can share with your team just didn't seem like enough, so we made them fun to use and incredibly easy to interpret. 

Get your first Keyhole report today.
21. Iconosquare
Iconosquare is a social media management, analytics & scheduling platform for Facebook and Instagram.
As most other social media management & listening tools, it gives you an overview of your stats and performance across Facebook and Instagram via a unified dashboard, helps you plan and moderate conversations across your different accounts, and enables you to schedule and publish content automatically without having to babysit your content promotion all the time.
Pros: Easy to use once it's set up. Allows you to track certain feeds/hashtags and automate giveaway entries.
Cons: Works with Instagram, Twitter and Facebook only. The set-up process can be a pain.
Price: Starts at $29 USD per month. Custom plans available.
Platform-Specific Tools
22. Followerwonk (Twitter)
FollowerWonk is a great social listening tool for brands that want to dig deeper into their Twitter audience data.
You can find out anything with this tool: from who your followers are, where they're located and the times they mostly tweet – to the most relevant influencers in your industry or niche.
Their most used feature is the Twitter bio search. FollowerWonk provides you with Twitter profiles that are all valid, current and refreshed every 30 days.
Best of all? You'll get all the info that interests you packed in amazing social graphs that allow you to immediately benchmark your Twitter performance and identify opportunities for improvement..
Pros: Allows you to analyze your presence & your competitors' presence on Twitter. Also, it helps you understand who your followers are, and enables you to find the most suitable influencers and estimate campaign reach.
Cons: Supports only Twitter.
Price: Paid plans start at $29 USD per month.
23. Audiense Connect (Twitter)
This is a tool from Audiense that provides you with detailed information about your Twitter audience. Audiense also provides a social insights platform.
From creating your own custom Twitter DM chatbots to tracking your performance on the platform, the Connect tool does a great job helping you understand your audience.
Pros: A good tool for companies that want to enhance their Twitter marketing through real-time audience insights.
Cons: The free plan comes with very limited features. It only supports Twitter and can get expensive compared to other platforms that support different social media platforms.
Price: Free plan available. Paid plans start at $79 USD per month.
24. Tailwind (Pinterest and Instagram)
Tailwind is known as the number 1 Pinterest/Instagram social scheduling tool. Aside from scheduling posts, italso allows you to discover content ideas, monitor conversations, amplify your reach, and analyze your performance on Pinterest and Instagram.

An interesting and unique feature is Tailwind Tribes, which allows you to connect with like-minded people and content. This can help you grow faster and "activate your community".
You can also automatically optimize your posts to publish when your audience is most active on Pinterest and Instagram. More importantly, this tool provides rich analytics that help you monitor conversations and analyze your performance.
Pros: Simple, user friendly interface. Low learning curve.
Cons: Platform-specific. The Instagram tool is still not as developed as the one for Pinterest.
Price: $9.99 USD per month per platform.
25. Union Metrics (Twitter)
A social intelligence tool for Twitter, Union Metrics gives you insight into trending conversations, brand mentions, campaign performance, competitor data, and historical data to inform your decision-making.
The platform offers a couple of free tools, including the Twitter Snapshot, which allows you to generate quick reports on recent Twitter activity related to a topic/keyword. You'll be able to measure the potential reach and impressions to gauge the virality of your posts.
Used by over 300,000 marketers, the software helps you monitor posts about your product, brand or industry in real time. This way you're getting the full gist of relevant stories as they unfold.
Pros: Clean, clear reports. Very easy to find top hashtags and contributors.
Cons: Doesn't integrate with many platforms – it supports only Twitter.
Price: Starts at $49 USD per month.
---
The Final Verdict
With so many social media platforms available, it can be a nearly impossible task for marketers to measure their brand performance, without the help of third-party tools that simplify social media management & listening.
Thankfully, there are a number of social media monitoring tools that automate the process and provide analytics about your audience, brand and campaign performance.
These tools can also allow you to keep track of trending topics, ongoing conversations, and respond to negative sentiment in a timely manner – before things get out of hand.
So now you know which are the 25 best social media monitoring tools out there. All you need to do is pick the one that suits your marketing needs and budget.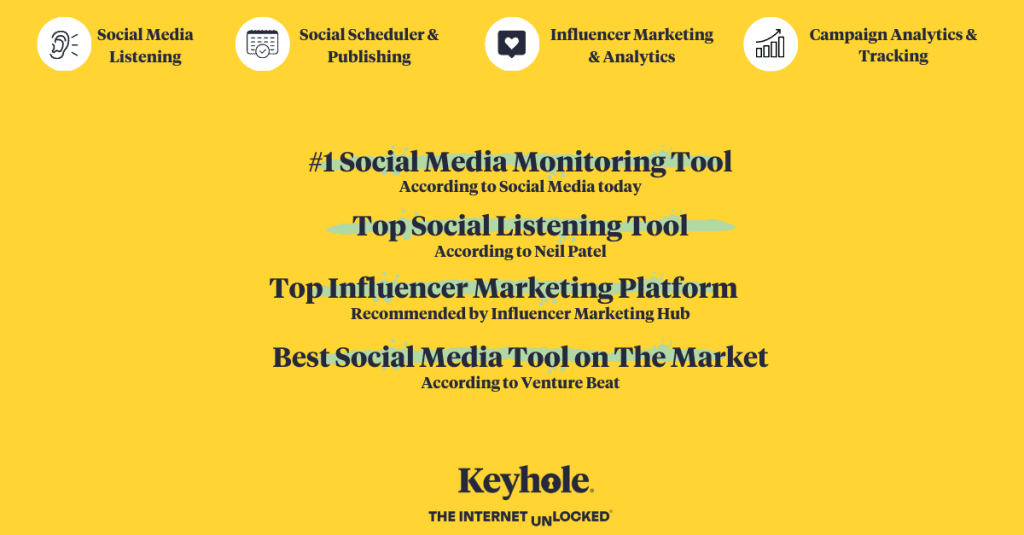 ---
Related Articles:

Top 29 Social Listening Tools for Marketers in 2020

Top 25 Social Media Analytics Tools: The Definitive Guide
---
Keyhole is a real-time conversation tracker that provides keyword + hashtag analytics and profile analytics across platforms such as Facebook, Twitter, and Instagram. Get started for free here.