Social media management has evolved to an extent where you need tools to automate mundane tasks such as scheduling, planning campaigns, competitor monitoring, managing analytics in real time, and so forth.
Right from ideation, creating a social media calendar to measuring the impact of campaigns over spreadsheets can be a nightmare, leading to errors. Instead, a social media management tool tracks everything over a single dashboard.
Sprout Social is one of the oldest and most popular social media management tools available today. However, for businesses with varied needs and budget constraints it may not be the right choice. This is why companies are opting for Sprout Social alternatives.
Let's dive in.
Why use Sprout Social alternatives?
Sprout Social is an all-in-one social media management platform used by agencies, marketers, and social media managers to automate their workflow and streamline their social media publishing.
Here are the pros and cons of Sprout Social
| | |
| --- | --- |
| Pros | Cons |
| Helps to manage all major social media platforms. | The learning curve to operate Sprout Social as it is not simple for first-time users. |
| Integrates with your CRM. | User-based pricing makes it expensive for larger teams. |
| A robust reporting and analytics feature. | Not suitable for beginners and users who are not familiar with social media management tools. |
| Well-organized dashboard. | Reports cannot be customized or white-labeled. |
1. Keyhole
Keyhole is a real-time social media and analytics reporting tool that automates your social media reports, freeing you from the worry of preparing and updating reports on spreadsheets. What makes Keyhole more than just an average reporting tool is that it can save you hours of manual work, while providing shareable reports.
As one of the best Sprout Social alternatives, Keyhole tracks and aggregates your brand's metrics across all social media channels, monitors your campaigns and measures the performance, understands how your hashtags are performing, and tracks and compares influencer reporting.
Key Features
Comprehensive dashboard: Keyhole lets you create a live dashboard that can be shared with your team and clients. You can deliver real-time within a few clicks and in seconds.
Analyze your social media accounts: It can report across all social media accounts, automatically updating the metrics, with no human intervention required.
Gain competitor insights: The tool enables you to identify the strengths and weaknesses of your competitors while providing an understanding of what works best for them.
Tip: Users can add profiles of clients and influencers for automated tracking on Keyhole. Also, using Keyhole's sentiment analysis, brands can track conversions to participate in and get insights into public opinion.
Pricing
Keyhole offers three pricing modules to choose from.
2. SocialPilot
SocialPilot is a cost-effective tool for professionals, small teams, and agencies that helps manage social media, schedule posts, and analyze results.
One of the best features of SocialPilot is its Social Inbox which manages and responds to all Facebook comments and messages across all accounts. The layout is simple to use and offers easy navigation with great analytics.
Key Features
Social media post scheduling: The automated post scheduler with a post preview tool is great. SocialPilot lets users schedule posts in different time zones with the simple drag-and-drop calendar, making things even more convenient.
Performance reporting: SocialPilot offers marketing analytics reports for your business accounts. You can visualize the data in a clear visual format, and see the top influencers that interacted with your posts.
Tip: A flexible and intuitive interface makes the social media management tool SocialPilot a great Sprout Social alternative for small businesses, startups, and marketing agencies.
Pros
Connects with all major social networks
Offers Canva integration
Cons
Fails automated Instagram posting
Limited support options
Pricing
SocialPilot is available with monthly and annual subscriptions with four price options.
3. AgoraPulse
Social media management tool AgoraPulse covers possibly everything needed for social media marketing, monitoring, and management. Streamlining the creation and publishing of social media content, allows marketers to manage multiple social media channels from a centralized dashboard. AgoraPulse currently integrates with Facebook, Instagram, LinkedIn, Twitter, and YouTube.
Key Features
iOS and Android apps: The most significant feature of Sprout Social alternative AgoraPulse that sets it apart is its mobile app. The app offers access to social media reports on the go and enables notifications alerting the users in real time.
Canva integration: In the case of a single-person media marketing team, Canva integration streamlines the social media design workflow as there is no need to switch to another window or export and save designs.
Tip: AgoraPulse is great for mid-sized agencies and businesses as it is priced for growing teams.
Pros
Offers the ability to edit copy for each platform with an easy posting feature
Navigating between accounts is easy
This tool focuses more on ease of use with intuitive interfaces
Cons
Does not offer Pinterest connectivity
You can't use it to schedule posts
Pricing
You can choose from a free plan to Pro, Premium, and Enterprise pricing levels.
4. Statusbrew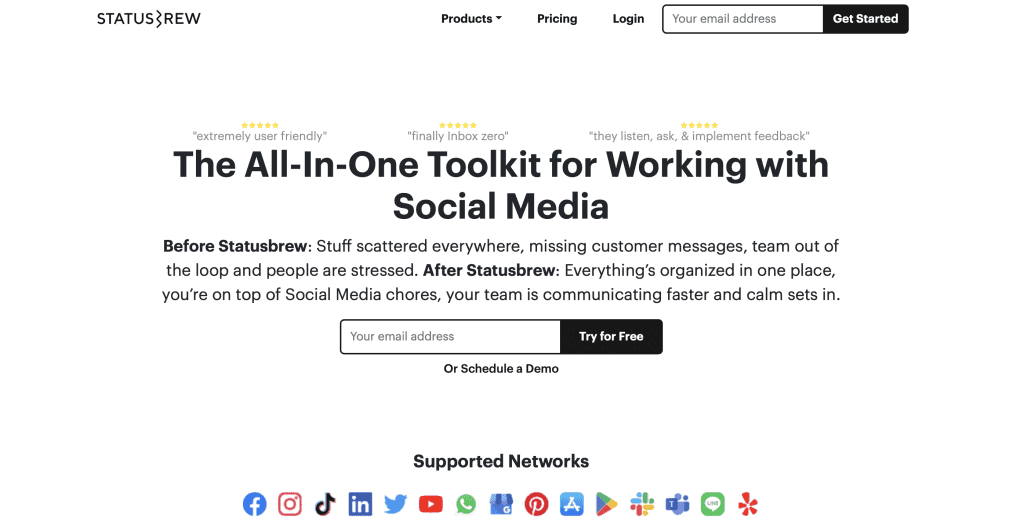 Statusbrew is a robust social media marketing suite with a higher rating than Sprout Social, according to G2. What makes them different from the Sprout? Well, we would say nothing except their flexible pricing, which is compatible with every size of business. Additionally, the adoption of this platform is simplified by their Customer Success team.
Key Features
Social Engagement & Reporting: Statusbrew has a unified inbox that supports conversations for major networks including Facebook, Instagram, TikTok, LinkedIn, Twitter (now X), YouTube, Pinterest, GMB, WhatsApp, App Store, Play Store, and Yelp (coming soon). You can monitor, respond, react, and automate multiple time-efficient actions to easily handle bulk conversations.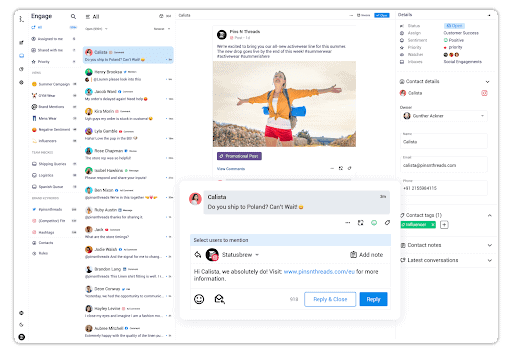 Customizable reports: With over 200+ metrics & KPIs, you won't miss any crucial data from your business POV. Reports are available in the form of easy-to-customize templates.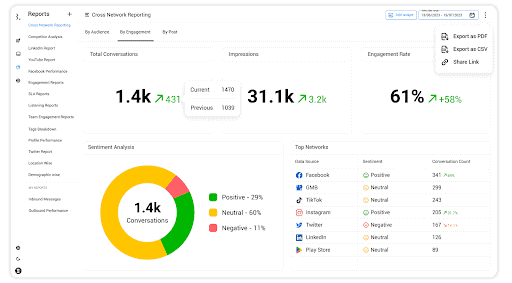 Team Collaboration & Permissions: Working with a social media team demands collaboration to improve overall productivity. You can drop internal notes, incorporate content approval workflow, and a collaborative calendar to upscale your team collaboration without compromising on security of your social accounts.
Tip: To maintain data privacy, you can share customized permissions with each user.
Pros
Fast customer support and value of money
User-friendly interface
Integrate with Salesforce, HubSpot, and more
Cons
You can't edit IG stories from Statusbrew
Their mobile app doesn't have the option to set up automations
Pricing
Statusbrew offers you with multiple pricing tiers with free trial options.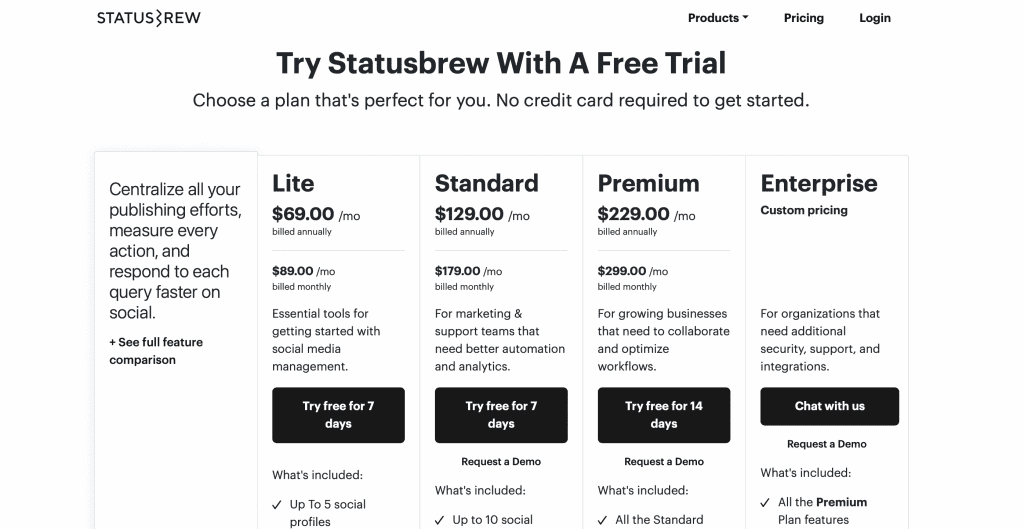 5. Iconosquare
iconosquare is a social media analytics and management tool used by over 10,000 businesses and agencies to make insightful and data-driven decisions using intelligent analytics.
It allows in-depth reporting and analysis for Facebook, Instagram, Twitter, LinkedIn, and TikTok and helps take strategic decisions based on concrete data.
Key Features
The media viewer allows you to see each post's performance and manage comments at a single point.
The social media monitoring feature allows you to listen and engage with your audience and respond to tags and comments in real time.
Tip: You can schedule regular reports of your competitor's performance, which most Sprout Social alternatives do not include.
Pros:
As a Sprout Social alternative, it offers TikTok analytics which most social media management tools except Keyhole still lack
You can set up custom feeds to monitor content from specific Instagram accounts
Cons:
The separation of paid and organic results is not great
Historical data for Instagram is unavailable
Pricing
iconosquare offers three price levels: Pro, Advanced, and Custom.
6. Kontentino
Kontentino effortlessly combines the creation and publishing of posts in a social media planner. This social media management, monitoring, and analytics tool is easy to use and is reported to save almost 40% of the user's time on operational tasks.
Key Features
The easy drag-and-drop feature allows bulk approval and bulk scheduling from the calendar.
The collaboration feature allows the team to comment and plan the social media content together right next to the live post preview.
Tip: Sprout Social alternative Kontentino is a good choice for agencies and marketers managing social media for several clients.
Pros
It presents all the upcoming posts in a calendar view and enables you to find holes in content easily
Excellent timesaver allowing you to schedule posts on up to 55 Facebook profiles with one click
Strong customer support from the Kontentino team in case a user faces a difficulty
Cons
You can't tag a personal LinkedIn profile
Pricing
Kontentino allows you to choose from three different packages or can even customize pricing according to your needs.
7. Hootsuite
One of the major challenges faced by social media managers is managing all their messages in one place. Sprout Social alternative Hootsuite helps social media marketing agencies to easily create, curate, schedule, and publish content from a single dashboard.
In addition, users can easily create and preview engaging, on-brand posts using the "Composer." Content libraries and image editing tools help social media marketers save time that would otherwise go into creating visuals to match each social media network's requirements.
Key Features
Whether your goal is building awareness, boosting engagement, or driving traffic to your social media profiles, Hootsuite gives you actionable insights on the best time to post.
The social media analytics feature lets you measure the effectiveness of your social media strategy and further turn it into execution with meaningful and actionable insights.
Tip: The Hootsuite impact feature allows users to calculate the ROI on their social media investment.
Pros
Hootsuite allows you to manage GMB listings and posts across multiple listings at once
You can schedule posts for all platforms at once and customize each post individually
Cons
It does not provide data on the businesses' Facebook response time
Complex functionalities and few integration capabilities with CRM make it potential down
Pricing
Hootsuite offers various plans starting ranging from $49-$599/month.
8. SocialBee
SocialBee is a versatile tool designed to simplify the complexities of social media management. SocialBee allows users to create, schedule, publish, and track their content while monitoring their inboxes.
Although it has a multitude of functionalities, two standout features make SocialBee an exceptional Sprout Social alternative. SocialBee offers an AI post generator designed to assist in content creation and content recycling features that enable users to reuse their best posts.
Key Features
The calendar-like posting schedule allows users to manage posting schedules across various social media profiles, ensuring a cohesive strategy.
Gain a clear overview of your next 100 scheduled social media posts, ensuring a consistent and well-planned content strategy.
Analyze the growth of your social media accounts and assess the performance of your posts with insightful data and analytics.
Tip: Different platforms have distinct user expectations and engagement styles, so use SocialBee to customize your posts for each social media network individually.
Pros
Integrates with all major social media platforms
Has a social inbox that allows you to respond to comments, mentions, and messages
Cons
Doesn't have a mobile app for scheduling
Pricing
SocialBee has 3 standard plans.
Conclusion: The best Sprout Social alternative…
Investing in the right social media management tool is vital as your brand scales. If you're looking for a Sprout Social alternative, what you need to assess is your requirements, budget, and the current state of your business.
Social media management tool Keyhole is one of the best Sprout Social alternatives for marketers and social media agencies handling multiple clients. It saves you hours of manual work by simplifying your reporting, generates beautiful reports within seconds, uncovers your competitor's social media strategy, and delivers real-time reports for more than 100,000 brands. Book your free demo.
Frequently Asked Questions
Keyhole is one of the best social media analytics tools. As a SproutSocial alternative, Keyhole has advanced features at a fraction of the cost.
The key social media analytics features are:
1. AI-driven sentiment analysis
2. Identify industry trends instantly using QuickTrends
3. Social listening and hashtag tracking
4. Influencer analytics
5. Campaign monitoring
Is Keyhole better than SproutSocial?
Yes. Keyhole is better than SproutSocial in many ways:
1. Keyhole's pricing starts from $39/month whereas SproutSocial starts at $299/month.
2. Keyhole allows the monitoring of 5 accounts and supports three platforms along with PDF exports in the basic pricing plan.
Keyhole vs SproutSocial: Which is better in 2023?
Keyhole starting at $39/month is ideal for small businesses and freelancers.
SproutSocial starting at $299/month is suitable for agencies and SMEs.
If you're looking for the best social media analytics tool, Keyhole is the best option.