Finding influencers has become much easier over time – especially with the explosive growth of social media and information that is now available.
You can use available data from social networks and social media analytics tools to rank their influence objectively.
Using hashtags will bring your influencer marketing to the next level by filtering out influencers based on your contextual needs.
For example, if you're looking for influencers to promote the Audi A4, you don't need to use generic users who are influential in 'cars' — that's too broad!
Instead, hashtags like #AudiA4 can help you find influencers with true reach and power over their audience to promote the Audi A4.
Want to learn how?
This article will walk you through some simple methods to find influencers on Instagram, Twitter and Facebook using hashtags.
Why Does Your Brand Need Influencers?
Before we get down to business, let's first take a look at why influencers are important for your business.
When you work with influencers, you not only tap into their audience, but also their audience's network.
Because of their huge influence, influencers can help increase your social media reach exponentially, drive rich traffic to your website, and most importantly sell your product through their recommendation or by sharing their experience.
If you're still on the fence about influencer marketing, here are five statistics that will convince you:
Hashtags are, no doubt, one of the best ways to find influencers for your marketing campaign.
Why is that so?
Tracking which hashtags influencers are using gives you valuable information that will better inform your influencer marketing strategy.
For starters, hashtags can help you better understand the conversation themes that influencers want to be a part of. This lets you know what influencers care about.
When you reach out to your preferred influencers, you will know exactly what to offer them so that they'll want to work with you.
Hashtags also give you a glance inside of the influencer's strategy, giving you the chance to know what they think is currently trending in your industry.
Hashtags can also give you useful competitive data. Taking a look at brand or campaign-specific hashtags that influencers are using within their posts will help you know which influencers are working with your competition.
When it comes to using hashtags to find influencers to partner with, you have to be strategic in the way you do it. Not all hashtags will be useful to you. Here's a guide on how to select your hashtags.
These are hashtags created using broad and common terms that are specific to your niche.
Such hashtags convey exactly what your content is all about without forcing the reader to guess. For instance, #fitness for sports brands and #wanderlust for travel-related accounts.
Branded hashtags tell you directly about the brand. Most brands use their brand name as standalone hashtags. For instance, #Audi.
Most brands tend to neglect location hashtags, but they are quite helpful in finding influencers interested in your area of business. They are especially fantastic for brick and mortar businesses and travel brands. Location hashtags help increase the scope of your post reach.
Most influencers bank on special days like Mother's Day, Halloween, Valentine's Day, etc. to promote their content.
Using these hashtags to find influencers can fetch you amazing results especially if you're planning a celebration-related or holiday related influencer campaign.
Now, let's get down to business…
Instagram
If you're looking to find social influencers, Instagram is a great place to start.
Instagram has grown to be larger than Twitter, and is definitely a tool you should incorporate into your social strategy if you haven't already.
Recent updates on Instagram have Instagram influencer marketing more effective. Instagram TV (IGTV) for example, allows users to create videos up to 60 minutes long. Influencers can now use IGTV to offer in-depth product reviews, tutorials and 'how-to' series.
Another great update is the ability to schedule Instagram posts and IGTV up to six months in advance. This means that you can plan an influencer publishing schedule to release regular collaborative content.
But not every consumer is using Instagram.
According to statistics, the majority of consumers active on Instagram are aged between 18 and 24 years. Therefore, find influencers that resonate with this young demographic if they are your target audience.
So how do you find influencers on Instagram?
One simple way to find social influencers on Instagram is to search for relevant hashtags, such as #AudiA4, and take a peek at the profiles of images that appear in the Top Posts of the hashtag.
You can also use a tool like Keyhole to track hashtags and sort results by highest number of engagements or likes.
You can peruse the profile and compare against metrics such as engagement to determine if they are a viable fit.
When checking their profile, you can also check to see if they have an email on their profile, identify as an influencer, blogger, or have their own website.
Twitter
Twitter is another lucrative platform where you can find influencers.
Many users use Twitter as a direct distribution method, sharing their thoughts, opinions, and resources such as blog posts.
To use Twitter to find influencers, use the search bar and type in the relevant hashtag you'd like to search.
We'll continue to use #AudiA4 as our example.
You'll see a timeline of tweets for that particular hashtag. Twitter defaults to displaying the top search results, but you can also sort by latest Tweets, people, photos, and videos.
You can scroll through the list and begin to find influencers for your brand.
Some key metrics to examine when identifying influencers on Twitter are engagement, including Retweets and Likes.
You can click on their profile to learn more about the user, and examine metrics such as their follower count.
Facebook
Facebook is another great platform to use for influencer marketing. The social platform is continuously making updates that seem to be favouring brands if used well.
For instance, you can now use Facebook Live to broadcast live video on multiple platforms at once. So Live streams by your influencers can now be seen by more audiences around the world.
Influencers can now host Watch Parties and tag branded content partners. Additionally, if you host a Watch Party with an influencer, you will both be able to see the metrics making it possible to measure your ROI.
When it comes to using hashtags to find influencers on Facebook, you might have to dig deeper because hashtags on Facebook are typically used less in comparison to platforms such as Twitter and Instagram. However, there is still a plethora of opportunities to find influencers on Facebook.
In the Facebook search bar, type in the hashtag relevant to your industry that you want to search.
You will see all posts show up. You can choose to filter the search results by who the posts are coming from, post type, tagged locations, date posted, and more.
Explore a users profile to determine if they are a suitable influencer for your campaign.
Using hashtags to find influencers on Instagram, Facebook, and Twitter will help identify users who may already be positively engaging with your brand, and will be a good fit for your marketing campaigns.
You can also use Keyhole to identify top influencers within a tracked keyword.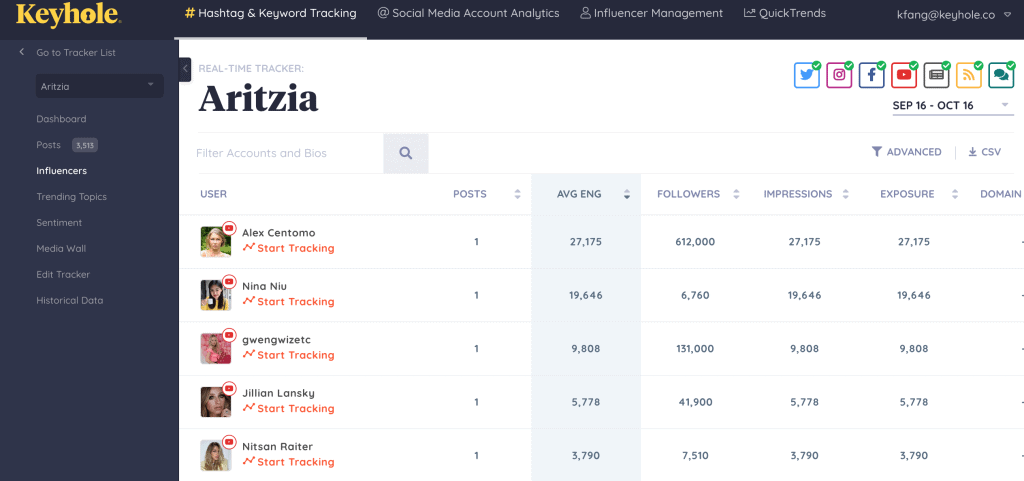 Criteria to Select the Best Influencers
Now that you know how to use hashtags to find influencers on the top three social platforms, let's see how to select the best influencers for your campaign.
1. Build a Long List of Influencers
Take a look at the influencers that you were able to find using hashtags and compile an influencer database. Your database should include influencer names, social footprint, personal performance metrics and contact information.
2. Examine their Reach Metrics
Next, categorize your influencer based on reach, which is defined by the audience size. Consider the following categories:
Celebrity: Celebrities tend to have a large audience size. However, they also tend to have a less engaged audience.


Macro-influencer: Macro-influencers build their online personal brands to attract large fanbases. Many have a significant presence and are often approached by brands for sponsored posts. The advantage of using macro-influencers is that they have a distinguished voice and brand aesthetic.


Micro-influencer: Micro-influencers, unlike macro-influencers, have a smaller following of less than 10,000 but their audience is highly engaged. Just like macro-influencers, micro-influencers build an online following by sharing specific content that speaks to their audience.
3. Consider Relevance
After you've looked at influencer reach, the next thing to look at is relevance. Relevance measures the contextual fit for your brand. Who from your list would be most relevant to your audience?
To answer this question, use brand personas to determine who is appropriate to engage with based on the categories and topics they are discussing. Select influencers who naturally connect to your mission, topics, product or service.
4. Identify the Level of Engagement
Once you've narrowed down your list to the influencers most relevant to your brand, go further down to influencers with the most committed and engaged following. Follower engagement speaks to the influencer's authenticity.
5. Personality
Influencers become close business associates during the campaign. You, therefore, want to work with people who are reliable, honest, and professional.
6. Vet the Content
Lastly, you want to work with influencers whose content fits your brand. Does the influencer post content that would speak to your audience?
Be vigilant when vetting content for obscenity, profanity, highly political posts, and competitor mentions, as these may make your campaign could quickly backfire. Use an influencer tracking tool to have a transparent view of your influencer's posts, and analytics.
Best Practices For Reaching Out To Influencers
Once you've selected the right partners to work with, you have to reach out to them and request for them to partner with you. Remember, just because you're interested in working with an influencer does not mean they'll want to work with you too. How you approach them will help convince them to work with you.
Here's how to do it.
1. Establish Brand Goals
Before you start reaching out to your chosen influencers, you must establish the goals of your influencer marketing strategy. Are you looking to increase sales, heighten your brand awareness, or grow your social engagement?
For your influencer marketing campaign to succeed, it's vital that you create clear objectives, develop a clear message, and determine the campaign's potential ROI before approaching influencers.
2. Engage with Influencers
Before reaching out to influencers, follow them on their various social media channels. Engage with their content and their audiences. Show an interest in what they do. This will make starting a conversation with them much easier.
3. Personalize your Outreach Approach
Once you're ready to start a conversation with the right partners, tailor your invitation for participation to what you've learned about them. Use the research you've done so far to solidify the relationship.
4. Be Part of the Conversation
Don't leave all the work to your influencers. When you partner with influencers, make an effort to take part in the conversation during the influencer marketing campaign. Produce valuable content for your blog, share your opinion on topics trending in your industry, etc. This will drive organic traffic to your campaign and give it more relevance.
Wrapping Up
Using hashtags to find influencers on Instagram, Facebook, and Twitter will help identify users who may already be positively engaging with your brand and will be a good fit for your marketing campaigns.

---
Related Articles:

How Do I Measure Hashtag Performance?

How Much Instagram Influencers Cost: A Guide to Influencer Marketing Pricing
---
Keyhole is a real-time conversation tracker that provides keyword and hashtag analytics for Twitter and Instagram. Get started for free.