Your social media success depends on how well you are able to listen to what your audience is saying about you, your competitors and your market in general.
This is what social listening and social media monitoring is all about.
With data and insights extracted from your social listening efforts, you are able to know your customers better and improve your marketing strategy.
Are you using a tool like Brandwatch, but find it a little too pricey or just out of your budget?
We're bringing you five top Brandwatch alternatives that will get you the results that you need.
1. Keyhole
What makes Keyhole one of the top Brandwatch alternatives is that it has the same features as Brandwatch, but it's cheaper.
Keyhole is a powerful monitoring tool that lets you monitor hashtags, keywords, URLs, topics, social media handles and more.
Keyhole allows you to track mentions and keywords across news, blogs and forums, in addition to social media accounts.
These insights help you understand who your followers are, and who your competitors' followers are. This way, you are able to give them content they will appreciate.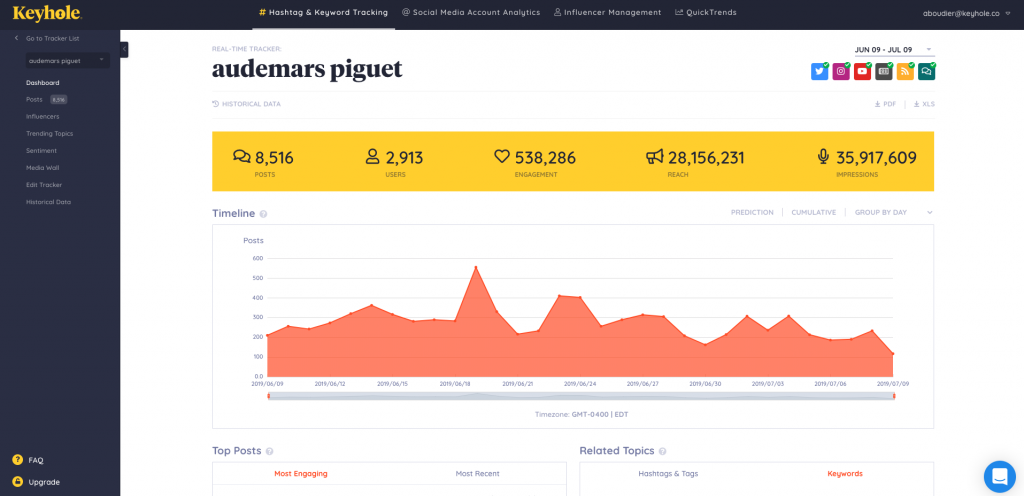 It doesn't end there.
Get social media account analytics for Instagram, Facebook, Twitter and YouTube. With these analytics, you'll know what you're doing right and how to keep growing your accounts over time.
Spy on your competitors with Keyhole. Get to know how many followers they have, their engagement numbers and who is leading the conversation in your industry, and why.
Keyhole will also show you influencers, sentiment, and trending topics derived from the mentions collected.
Pricing: Keyhole offers a free trial and 3 pricing tiers. Keyhole's Account Analytics plan starts as low as $29/month, and the Enterprise Suite is $999/month.
2. Hootsuite
Hootsuite is another one of the best Brandwatch alternatives that lets you bring all your social media marketing efforts into one dashboard.
The Hootsuite dashboard enables teams to collaboratively schedule updates to Facebook, Instagram, Twitter, LinkedIn, Pinterest, among others.
Monitor how specific search terms are performing in real-time. This is especially handy if you want to see how certain keywords perform in your industry so you can add or drop them from your marketing campaign.
Hootsuite is also handy for tracking brand mentions, campaign results and industry trends.
Pricing: Price starts from $19/mo to $599/mo depending on the number of social profiles and users.
3. Mention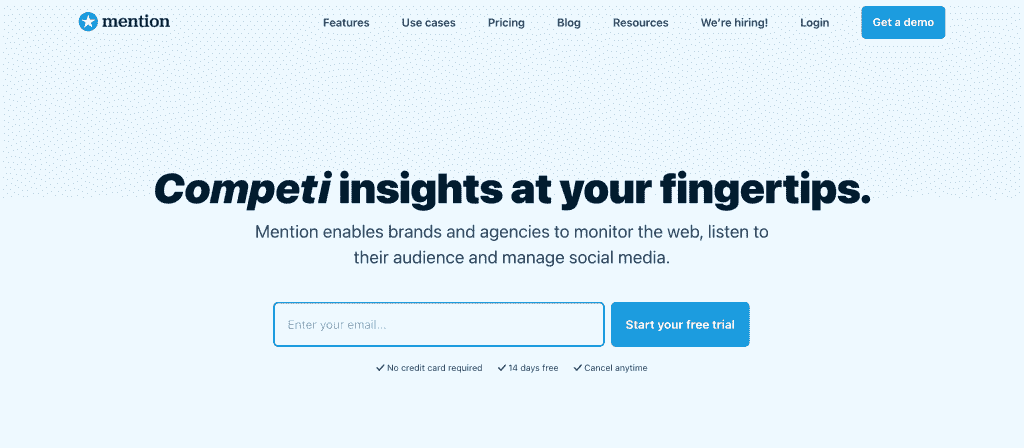 Mention will monitor brand mentions on social media.
You can monitor your company name, your competitor, or a business-related phrase and see what people are saying – in real-time.
You can respond to these conversations right from your Mention dashboard as long as you've connected your social accounts. This is a good way to show your audience that you're listening to them and build your brand reputation.
Pricing: Price starts from $25/mo up to $450+/mo depending on the number of alerts, mentions and social profiles.
4. Falcon.io
Want to do more than monitoring and listening using just one tool?
Try out Falcon.io.
This is a SaaS platform that allows you to conduct social media monitoring, publish social media content, manage your customer experience and generate analytics all from one place.
Falcon.io aims at enabling marketers to deliver more personalized brand experiences to their customers.
Pricing: From $129 month for single users and small teams.
5. Sprout Social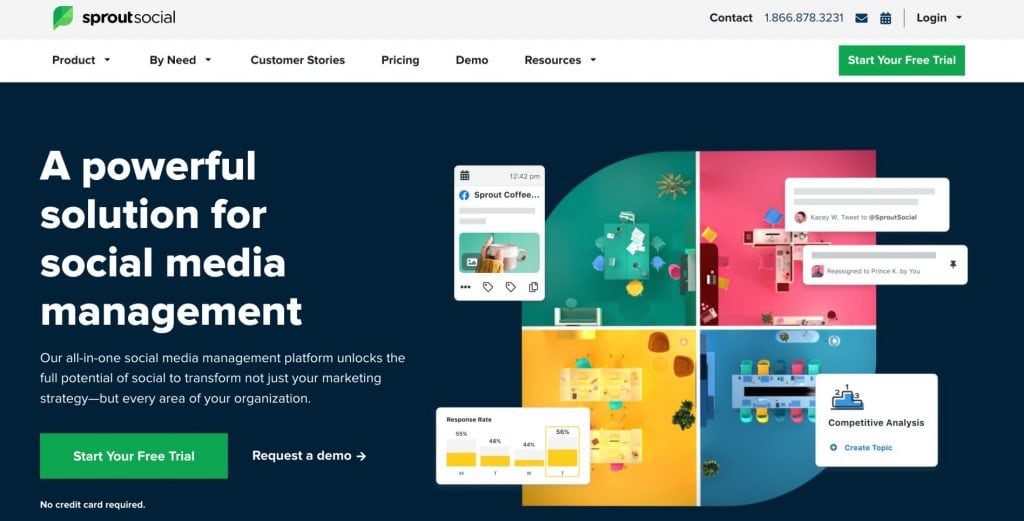 Grow your social media following and increase your customer base with Sprout Social.
With Sprout Social, you can monitor your platforms, engage new and old fans, measure performance and grow your brand online.
If you want to see how you stack up against your competitors, then you'll love Sprout Social's engagement feature that shows social engagement trends by day and time. It also provides you with engagement analytics from your competitors.
Pricing: Starts from $99 per user/mo for 5 social profiles and $249 per user/mo for 10 social profiles.
Amidst all the noise online, your target audience is trying to say something to you.
Listen to them and give them exactly what they want.
Any one of these top Brandwatch alternatives is the magic wand that you need to do this effectively!
---
Keyhole is a real-time conversation tracker that provides keyword and hashtag analytics for Twitter and Instagram. Get started for free and search your brand.