Social media monitoring is a non-negotiable part of any successful marketing and sales strategy, and thankfully there are plenty of tools that allow you to collect and analyse social data to inform your decision-making.
Looking for a social media analytics solution that allows you to track conversations, find influencers and keep up to date with your competitors' activities, but Meltwater is too costly?
Or, are you already a Meltwater user and looking to switch to a more affordable platform?
Below we've listed the top Meltwater alternatives you can use to stay on top of your social media accounts, without breaking the bank.
1. Keyhole
Keyhole tops our list of Meltwater alternatives as it offers the same features at a much more affordable price.
As a specialised hashtag tracking & social analytics solution, Keyhole allows you to keep track of your mentions and analyse the conversations about your brand across the most widely used social media platforms as well as forums, blogs and the news.
With Keyhole, you'll be able to understand customer sentiment, identify and replicate your top performing content to maximise engagement, as well as measure the impact of your influencer marketing campaigns.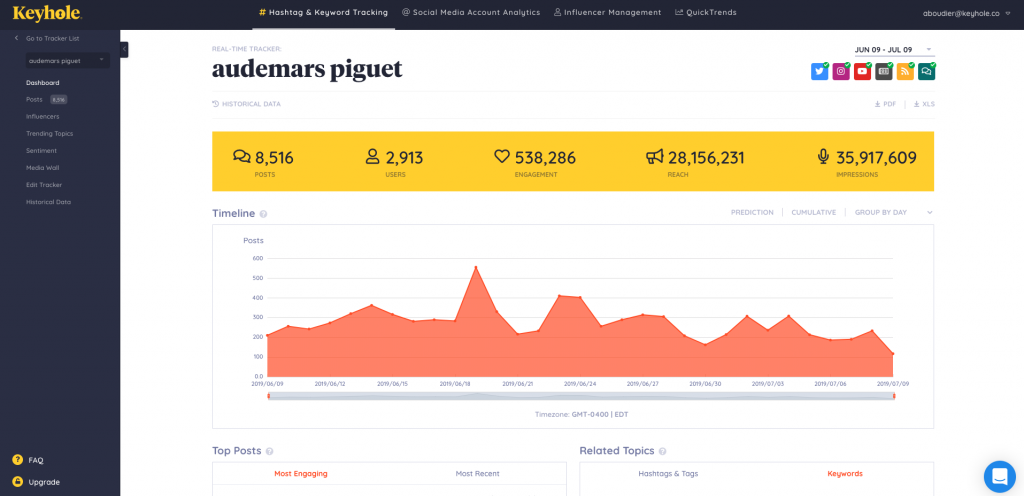 Moreover, Keyhole enables you to keep pace with the trending topics in your industry by showing you the hashtags that are starting to gain momentum, as well as the conversations that your competitors are having online.
Best of all? You can collect all your findings in simple, easy-to-understand reports and share them with key stakeholders in your organisation.
Pricing: Keyhole offers a free trial and 3 pricing tiers. Keyhole's Account Analytics plan starts as low as $29/month, and the Enterprise Suite is $999/month.
2. Mention
Mention is a social media listening and publishing tool that allows you to listen to online conversations and plan your posts so that they reflect the latest industry trends and audience interests.
Mention has two solutions: Listen and Publish.
Mention's publishing solution allows you to create and manage your social media content calendar from one place.
Mention's listening solution enables you to keep tabs on your competition and track key metrics in your industry to stay informed of trending topics and measure the impact of your campaigns.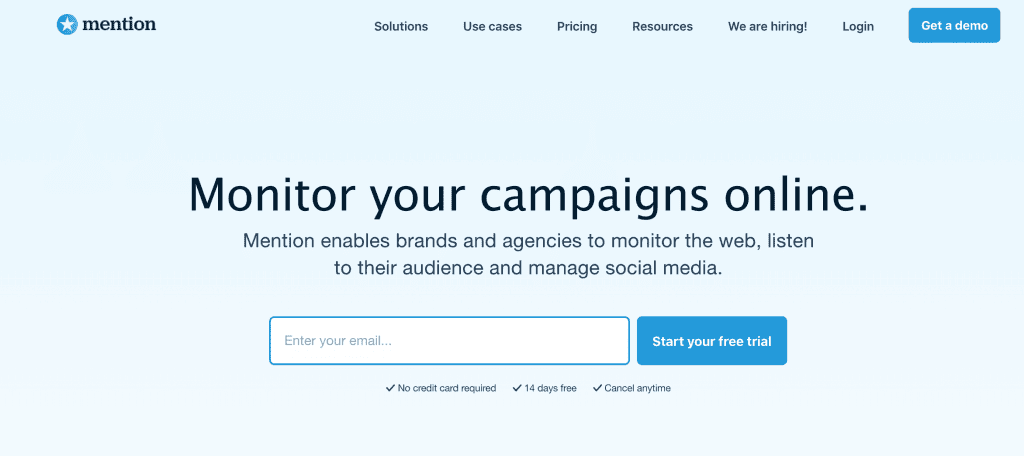 Mention will send you daily recaps as well as email notifications whenever there's been a peak of mentions of your brand.
Pricing: Mention offers 4 pricing tiers, including a free plan for one user. Their individual plans start around $25/month and their enterprise plans start at $450/month.
3. Sprout Social
Finally, Sprout Social is another Meltwater alternative that allows you to monitor your brand hashtags in real-time, track post and campaign performance and uncover trends in social media growth.
Sprout Social allows you to organise your messages and access all your social media inboxes in one place as well as manage your content calendar. You can also use the tool to benchmark your stats against your competitors', and by getting the Listen & Inform add-ons, you can monitor and analyse topics that are trending on Twitter.

Pricing: Sprout Social offers a 30-day trial and 3 pricing tiers. Their plans range from $99-249 per user.
Which Meltwater Alternative is the right choice for you?
These top Meltwater alternatives we included in our list are all robust tools that can inform your decision-making and allow you to understand the type of content that resonates with your audience.
As a result, this improve your chances of increasing engagement and helping to reach your other marketing goals.
So which one should you choose?
It all depends on your needs.
Looking for a specialised solution that gives you really detailed information on your brand reputation online? Then, Keyhole would probably be the best choice.
Want to track online conversations and plan your social media posts from one platform? In that case, you would probably try Mention.
Want to bring clarity to your inbox and don't mind paying extra to get a couple of social listening add-ons? Sprout Social is probably what you want.
The bottom line is, there are a myriad of tools out there that are more affordable than Meltwater and make social media monitoring affordable to everyone – even small businesses with small budgets.
---
Keyhole is a real-time conversation tracker that provides keyword and hashtag analytics for Twitter and Instagram. Get started for free and search your brand.