Instagram has emerged as one of the most powerful social media platforms for businesses of all sizes. With over 1 billion monthly active users, it's the 5th most visited website in the world. Instagram has become a go-to platform for brands looking to reach a wider audience, build their brand, and drive sales.
But with so many businesses using Instagram, it can be tough to stand out and make your mark. That's why having a solid Instagram marketing strategy is essential for success.
In this ultimate guide to Instagram marketing, we'll walk you through everything you need to know to create a winning strategy, from optimizing your profile to creating engaging content to using paid advertising.
Let's dive in!
What is Instagram marketing and why do I need it?
Instagram marketing is one aspect of the digital marketing process that uses the popular social media platform, Instagram, to promote a brand, product, or service. The app has become an essential marketing tool for any business.
The platform's visual nature allows you to showcase your products or services so potential customers see with their own eyes what you're all about. This goes a long way in increasing brand loyalty and customer engagement.
Outside of regular photo or video posts, Instagram offers various features, such as Stories, Reels, IGTV, and shoppable posts, that can be used to create a comprehensive marketing strategy.
How to create an Instagram business account
Creating an Instagram business account can provide numerous benefits for your brand or business. The biggest reason is you'll get access to Instagram's business tools which provide valuable information about your audience and the performance of your content. You can use this data to improve your marketing strategy and make data-driven decisions.
You can create an Instagram business account in several simple steps:
Download the Instagram app on your mobile device and open it.
If you already have a personal Instagram account, go to your profile and tap the three horizontal lines in the top right corner. Then, tap on the gear icon at the bottom to go to your settings.
Scroll down and select "Switch to Professional Account."
Select "Business" as the type of account.
Connect your Instagram business account to your Facebook business page.
Complete the profile information and choose a category for your business.
Review and agree to the terms of service and privacy policy.
That's it. Now you're ready to start marketing your business.
How to develop your Instagram marketing strategy
Like most strategies, keeping your Instagram marketing strategy simple will benefit you most in the long run. Here are five basic steps:
Define your goals. Determine what you want to achieve with your Instagram marketing (increasing awareness, generating sales, etc.). Choose one or two goals.
Identify your target audience. Define your ideal customer persona and consider what types of content they would be interested in and what their pain points are.
Research your competition. Analyze what your competitors are doing on Instagram, including their content strategy, posting frequency, and engagement rates.
Choose your content themes. Decide on the types of content you want to post, such as product photos, lifestyle shots, or user-generated content.
Create a content calendar. Plan out your content calendar in advance and consider when to post based on your audience insights.
Take a look at some of the best digital marketing certificates to level up and build a killer Instagram marketing strategy.
10 tips for Instagram marketing that actually work
Now that you've formulated your goals, identified your audience, and know what types of content you want to share, you can integrate these 10 tips into your marketing strategy.
1. Optimize your profile
All 10 tips here in some way optimize your Instagram profile. Here, we'll just talk about optimizing your profile for search.
Including a primary keyword in your name and username can enhance your chances of appearing in relevant searches. Profiles that have the keyword in their name, username, or both show up in search results, as seen in the image below for the keyword "dog walking."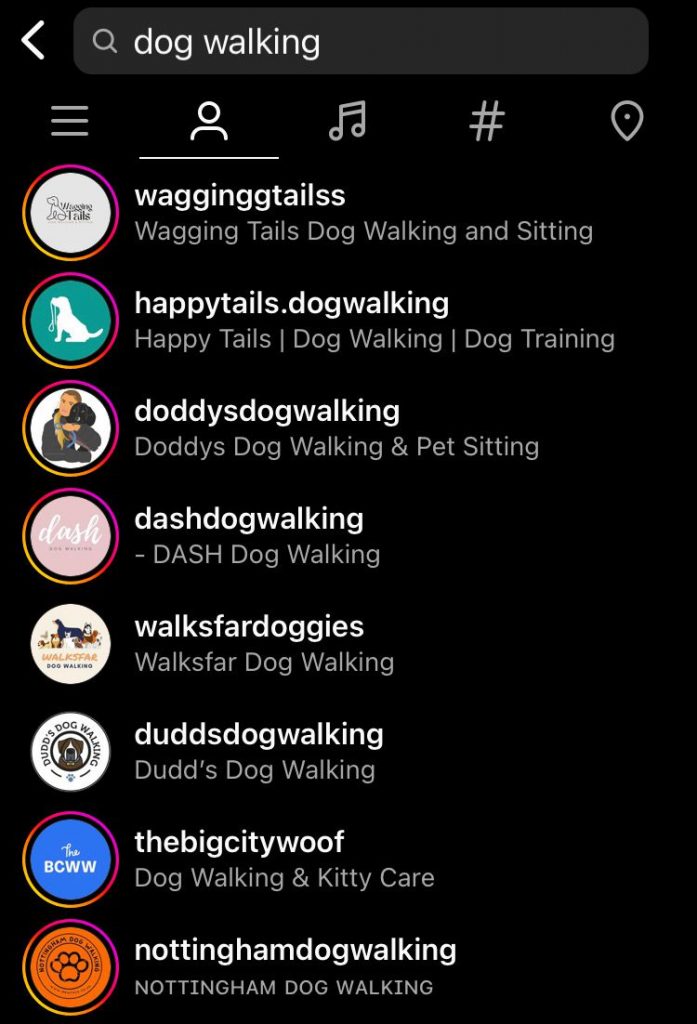 Your bio is also the best place to add keywords you want to rank for. You also use any relevant secondary keywords to describe your business.
2. Create high-quality content
Content is king. Especially on Instagram. But your primary content here is not words. It's images and videos. This is a good thing for marketing. Users retain 95% of a message watched on video compared to only 10% of what they read.
Starbucks has always been top-notch at creating amazing visual content. Doesn't this post make you want to hop in the car and head in?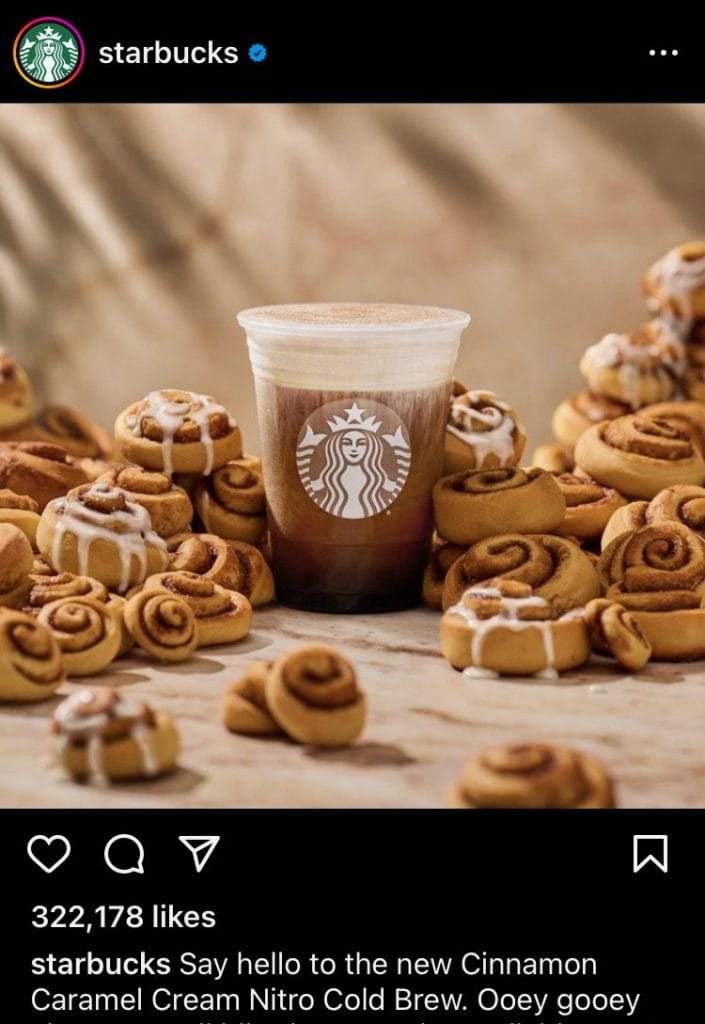 Sometimes it's hard to know what content is "high-quality." Not everyone can easily post pictures of gooey cinnamon rolls. Enter our social media campaign monitoring tool that reposts your best content on the fly and captures how people respond to your content, so you can measure the performance of every campaign and grow engagement.
3. Post at the right times
Ever feel like you're just guessing when it comes to knowing when is the best time to post on Instagram? Well, wonder no more.
While knowing the best time to post is not an exact science, research has shown there are two best windows throughout the day. A study from Later indicates it's from 9 am to 11 am, while Sprout Social calls for 10 am to 2 pm.
If you're like most busy marketers, you're not always at your desk doing nothing during those hours. That's where a scheduling tool comes in handy. Schedule, publish, and optimize all of your social media posts in one place with Keyhole's Social Publishing.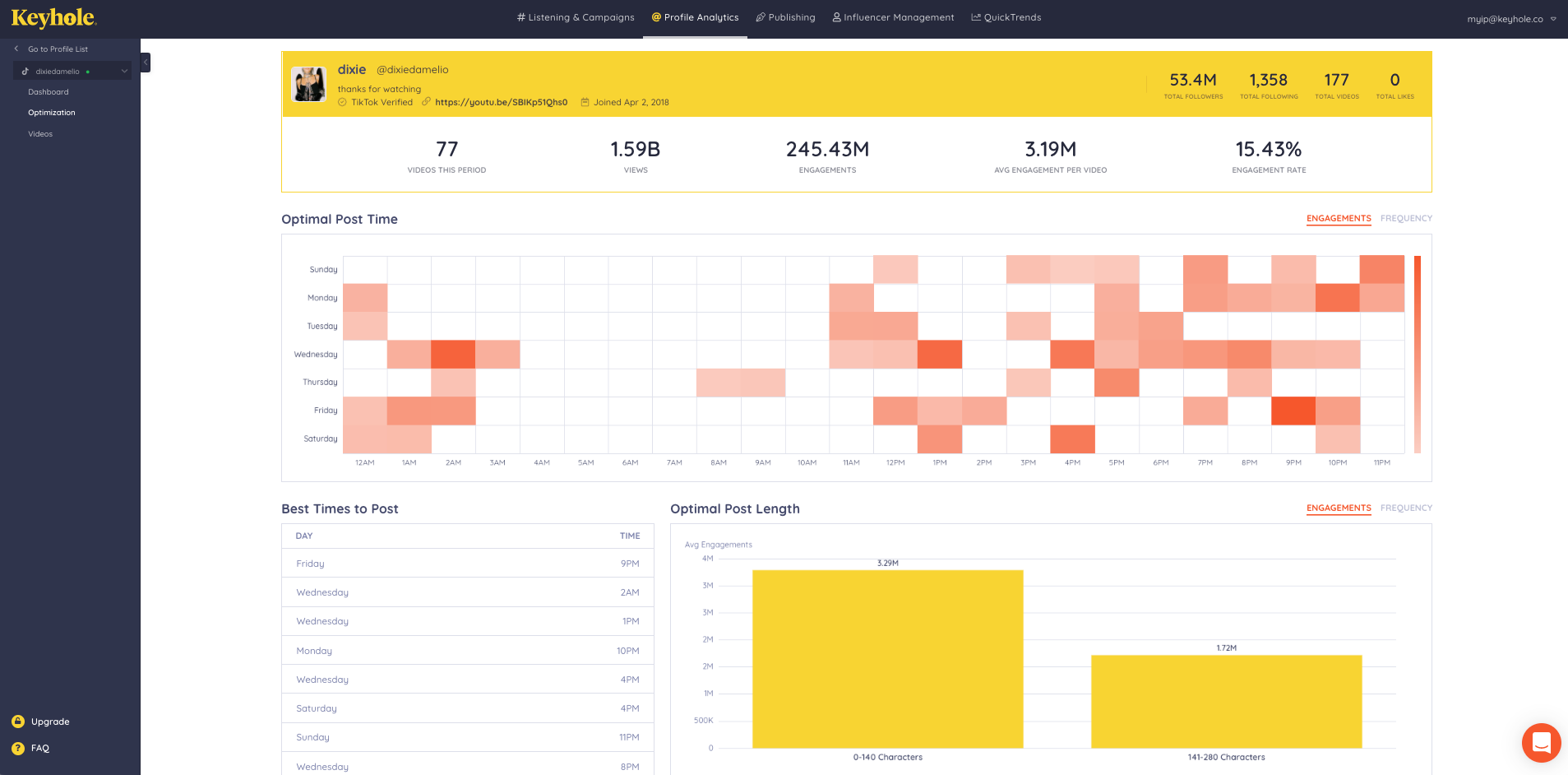 Knowing the right time to post is important.
Experiment with unlimited posting on Instagram with Keyhole and know your best time to fetch engagement and genuine interaction. Watch out for your competitors and see their posting strategy. Devise a plan accordingly after analyzing their top posts, engaging media types, top hashtag suites, and more.
Using relevant hashtags on Instagram can help increase the visibility and discoverability of your posts. Using specific hashtags that are relevant to your post will help your content reach the people who are interested in that topic. For example, if you're posting a photo of a vegan meal, use hashtags such as #veganfood, #plantbased, and #vegandinner.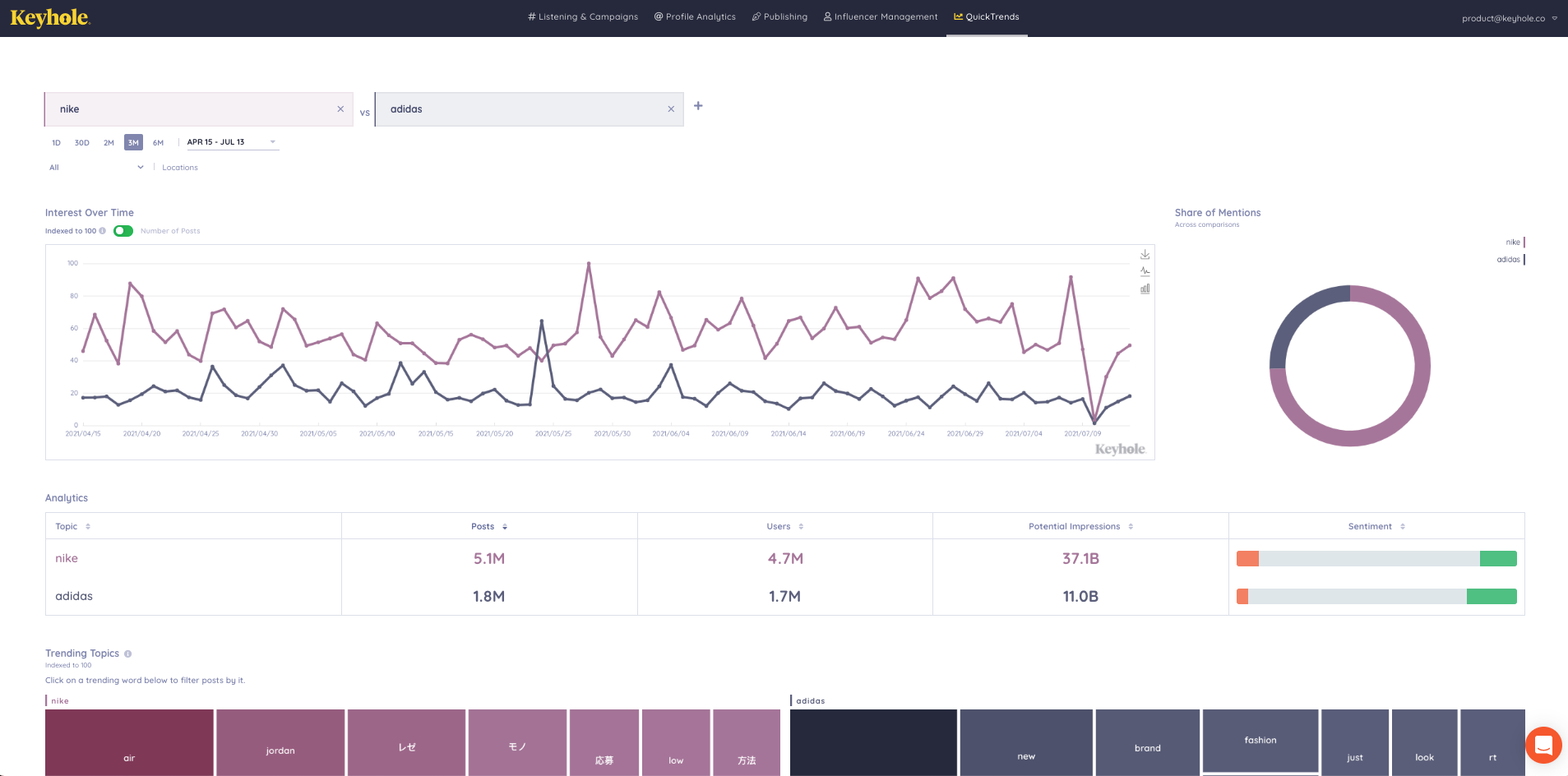 Track your hashtags and know if they worth adding to your posts and whether or not you'll hit your campaign goals. It'll also introduce you to the most successful influencers within your industry before others do. That way, if they're crushing it, you can connect with them.
5. Use Instagram Stories and Reels
Stories and Reels are powerful tools to showcase your products or services in a visually appealing and engaging way. They allow you to regularly share valuable and entertaining content to stay top-of-mind with your followers. Use Stories and Reels to highlight your product's features, benefits, and unique selling points. You can create short videos, product demos, or behind-the-scenes glimpses to generate interest and drive engagement.
Stories and Reels also allow you to create narratives around your brand, share user-generated content, or provide valuable tips and insights. Use the storytelling features, such as stickers, text overlays, and polls, to make your content interactive and engaging.
Just remember that Stories only last for 24 hours. So if you want to keep its content, save it in your "Highlights" so followers can access it forever.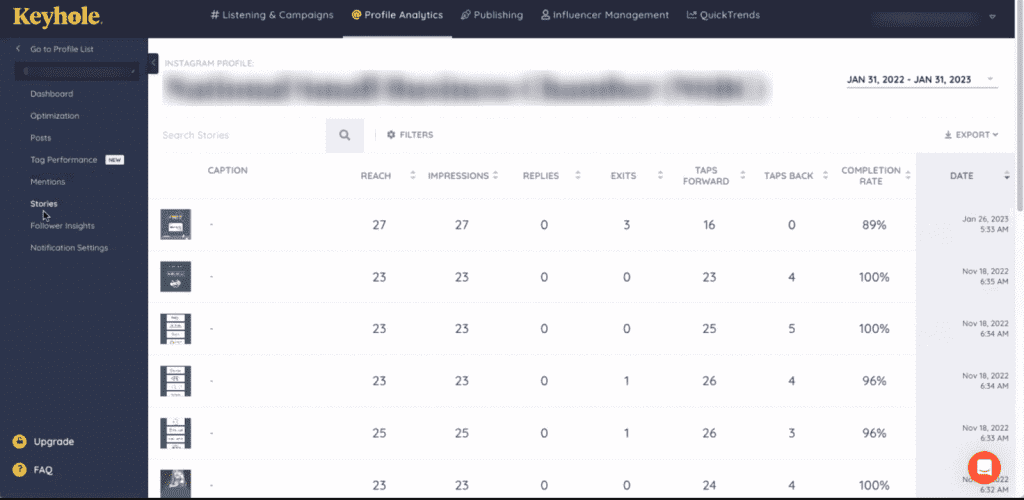 Expert Tip: Use Keyhole to see detailed stories and reels analytics to know what type of content your audience likes the most.
6. Interact with your followers
This tip should go without saying (but we'll say it anyway). If you're going to take the time to put content out there and, hopefully, watch followers engage, then interact with them! Like their comments, respond to their questions, and thank them for their positive posts.
Your followers want to know you're human. So, as much as you can, be one.
7. Leverage user-generated content
Social proof is one of the best ways to gain more followers and increase business. People want to do business with companies they trust. Trust is easier to gain when real people speak highly of what you do. Getting and posting reviews is one of the best ways to leverage user-generated content.
The Patel Firm in Texas does a great job of this on their Instagram page (@thepatellawfirm), using client reviews.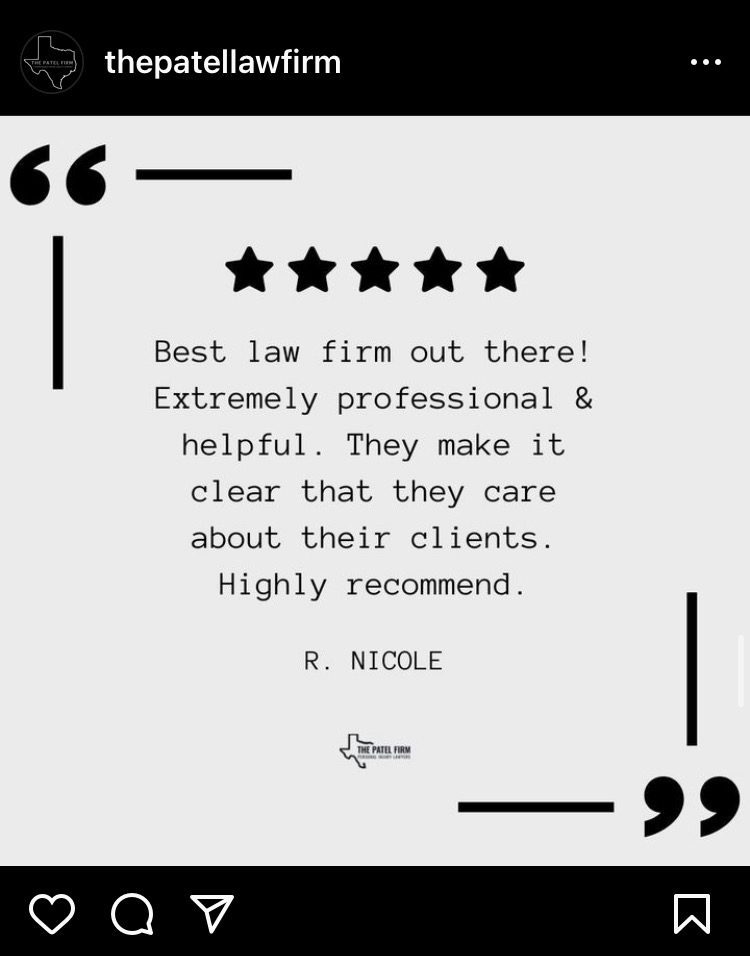 Go a step further and ask customers who have a great experience to post a photo or video review on their profile. If you have a physical store, an easy way to get this content is to use a QR code generator and use a QR code that links to your Instagram account and print it out on a flier right by your checkout station. Just ask people to scan it and tag you.
8. Partner with influencers
Influencers typically have a large following on Instagram, which means that partnering with them can help your brand reach a wider audience. This can be especially beneficial if you're trying to target a specific demographic or niche.
When an influencer promotes your product or service, it can lend credibility to your brand. People trust the opinions of influencers they follow, and if they see that an influencer they trust is promoting your brand, they are more likely to take notice.
Also, remember to verify an influencer before partnering with them since fake, bot-fueled accounts are unfortunately very common, and act as a gateway to multiple other Instagram scams.
Keyhole's Influencer Tracking shows you how each influencer impacts their campaign goals.
9. Run giveaway contests
Everyone loves free stuff. Giving away a product or service or experience is an excellent wait to increase engagement and attract new followers. 91% of Instagram posts with 1,000+ comments are contests.
Be sure to give away something people want (hopefully an awesome product of yours!). Ask people to enter by liking, commenting, and sharing and watch new followers flow in.
Suja is a juice company that ran a themed giveaway around Christmas, which makes it relevant and engaging in December.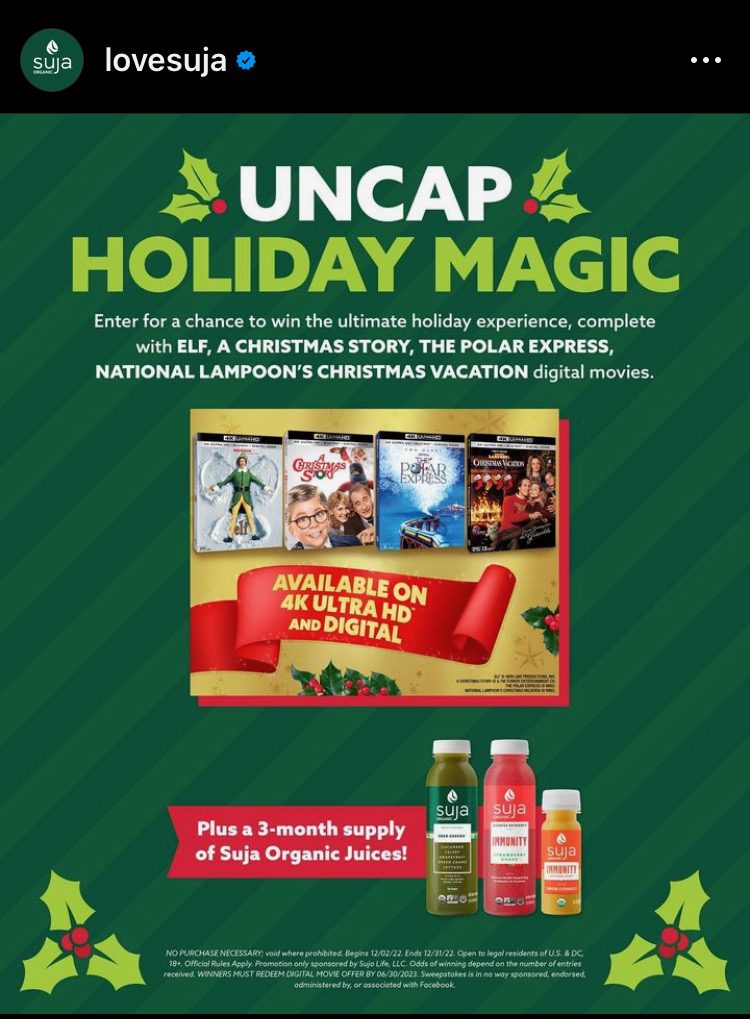 Here's a pro tip. After your giveaway ends, send discounts or special offers to everyone who entered. Those who didn't win will feel like they won something and it could help to ramp up your post-contest sales. You can do this via email like eCommerce stores do.
Every eCommerce business needs to send transactional emails like order confirmations. This is done through SMTP software that automatically triggers the email when the action is taken. Similarly, when someone signs up for your giveaway, you can use SMTP software that triggers a welcome email. This is a great way to get Instagram users to engage with you on a new platform.
10. Create lead ads
Creating Instagram lead ads (also known as promoted posts) on Instagram can be a great way to expand your reach and connect with new potential customers.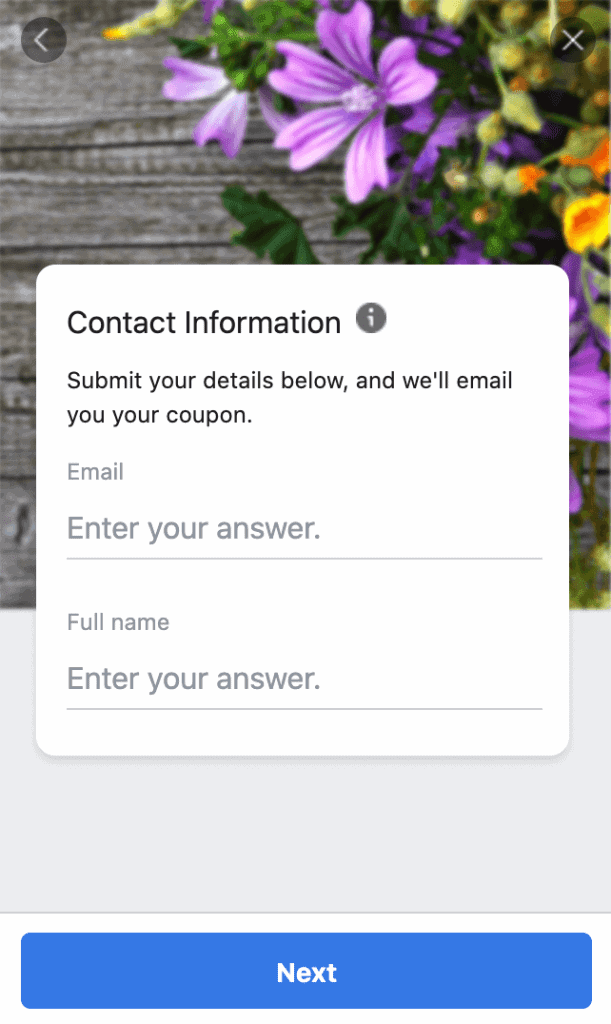 Compared to conventional sponsored posts, lead ads have a higher conversion rate since they pre-fill forms using profile information the user has already provided on Instagram. The use of forms allows companies that ask the right questions to have a great list of potential leads that tend to have a higher lead score.
It is also a better marketing strategy than sidebar banners which can get blocked by ad blockers.
With lead ads, you can target specific demographics, interests, and behaviors. This way your posts are seen by people who are most likely to be interested in your product or service. By targeting the right audience and optimizing your ad spend, lead ads can deliver a higher return on investment compared to other forms of advertising.
How to use Instagram analytics
You probably get a huge rush when you post something you think it's going to rock your corner of the social media world.
You may get half a million likes. You may get 10. But do you know why?
By tracking your Instagram analytics, you can uncover valuable insights into what resonates with your target audience, when they are most engaged, and how your account is performing overall.
You'll need this for your overall content marketing strategy. It's important to take into account the patterns and trends revealed by Instagram analytics.
On your profile, tap the menu icon (the three bars). Then tap "Insights." From here you'll be able to filter your timeframe and view basic data like accounts reached, accounts engaged, and total followers. You can expand each of those categories to see further data.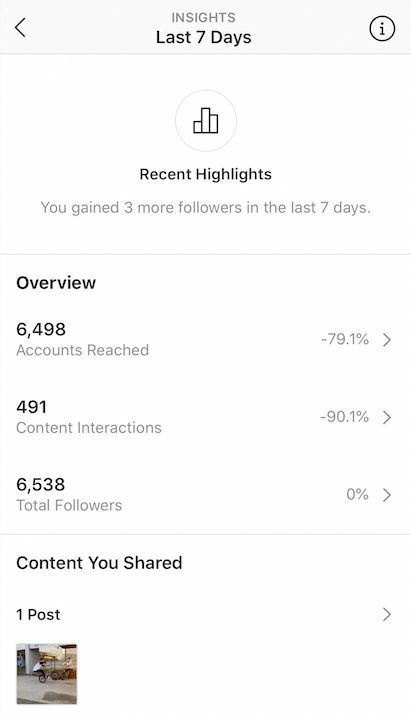 That's just scratching the surface, of course. If you want a deep dive, check out our ultimate guide to Instagram analytics.
Final words
Instagram marketing can be a powerful tool to help you reach a wider audience, build your brand, and drive sales. By following the strategy and tips outlined in this ultimate guide, you can create a winning Instagram marketing strategy that will help you stand out in a crowded marketplace.
Remember to optimize your profile, create engaging content, use hashtags, engage with your audience, and leverage paid advertising to maximize your results. With dedication, creativity, and a solid plan, you can achieve your Instagram marketing goals and grow your business on this popular social media platform. Get started today with a free trial of Keyhole and watch your Instagram presence soar.
Author Bio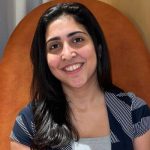 Freya is an SEO consultant that helps brands scale their organic traffic with content creation and distribution. She is a quoted contributor in several online publications, including Business Insider, Fox Business, Yahoo Finance, and the Huffington Post. She also owns CollectingCents- a personal finance blog that she grew from the ground up.
Related Articles:
6 Instagram Contest Ideas For Your Next Giveaway
14 Instagram Analytics Tools [Free Included] To Track IG Metrics In 2023
Frequently Asked Questions
1. What is Instagram marketing?
Instagram marketing refers to using the social media platform, Instagram, for promoting a brand, product, or service. It involves creating and sharing engaging content, building a community of followers, and utilizing Instagram's features to connect with and engage with a target audience.
2. How do I start marketing on Instagram?
The first step to marketing on Instagram is setting up your Instagram business account. After that, you'll want to optimize your profile, define your target audience, and develop a marketing strategic plan. At this point, you're ready to begin creating content and engaging with your followers. Consider using targeted ads to reach more people. Finally, don't forget to take advantage of Instagram's analytics tool to track your performance and improve your strategy.
3. What are the best ways to promote my business on Instagram?
There are many tactics you can use to promote your business on Instagram. So it's worth experimenting with different approaches to find what works best for you. In general, however, the top three ways to promote your business on Instagram are creating high-quality content, using relevant hashtags, and partnering with the right influencers for your brand.