Latest Social Media Updates 🗞️
1. Twitter's historic rebranding introduces an 'X' logo. The move is towards visionary plans to include broader product offerings and AI-powered features. 
2. TikTok tries to rope in Twitterati with the latest text-only post feature. Now, users can share text posts with 1000 characters, stickers, and backgrounds. 
3. YouTube is taking on TikTok in style, bringing in features like collabs and Q&A stickers to Shorts. Now creators can spice up their content and reach more folks than ever. 
HIGHLIGHT

𝕏 monthly users reach a new high in 2023
Gold Nuggets & Resources🖊️
1. 8 Best Google Alerts Alternatives For Brand Mentions And Industry News
2. What Is A Good Follower To Following Ratio For You?
3. 5 Best Examples Of Brands Using Social Media For Customer Service
Bonus: Mastering the art of brewing, this brand has the recipe for success. Sip into the secrets and uncover the ultimate social media strategy of Starbucks. 
ChatGPT Prompt Idea (copy this for later 😉): Generate [number] social media campaign ideas that can increase sign-ups to the monthly newsletter. The audience comprises [target segment]. The tone should be [funny/formal/professional]. The theme should be around the [trend].
Case Study 🎉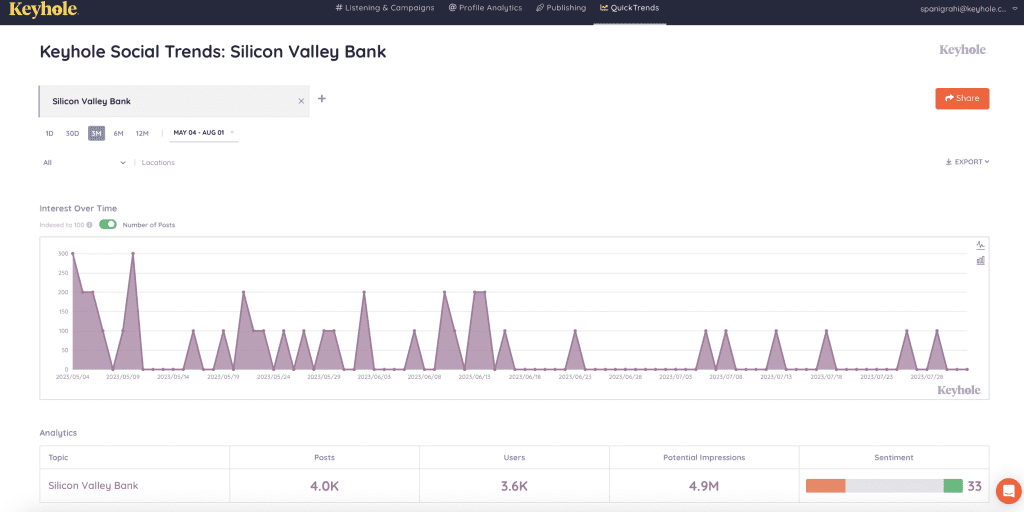 BACKGROUND
Melissa Fares is a social media reporter for Reuters. Based in the New York office, she covers stories that affect — and are affected by — social media trends. She uses Keyhole analytics to track breaking news, develop story ideas and supplement articles with comprehensive data.
PROBLEM
Melissa wanted to discover which hashtags and keywords were trending about breaking news stories but encountered a few hiccups.
As journalists compete to break the news while social trends rapidly grow and pass, Fares needed a tool to monitor online conversations in real time. Platforms that don't offer live tracking can't keep up with a newsroom's fast pace, she said.
Covering state, national and international news creates a need to know where social media trends develop and gain steam.
Unraveling the context of social media trends was what helped Fares add detail to her articles and think up other story ideas.
Therefore, she needed to monitor online conversations and track related hashtags and keywords while identifying influential users.
UNTIL SHE FOUND KEYHOLE
"I really do value Keyhole. It was one of the first platforms that I came across for navigating the social Internet, and it's proven to be highly user-friendly and a pure joy to use. I even use it in my free time."
Keyhole helps Melissa by:
Monitoring real-time and historical Twitter data, ensuring she gets the complete picture of a given trend or event
Generating keywords and hashtags related to her tracked terms, helping her research new story ideas
Tracking user demographic data such as gender and location, indicating which types of audiences would be most interested in potential articles
Measuring user influence, revealing if certain accounts have triggered or changed the course of a conversation
RESULT🎉
"(Keyhole) is everything a journalist wants to use in a breaking-news situation since it's quick and easy to use. You want to spend time on Keyhole. It's fun. It's exciting."
Unlike other tracking tools, there is no need to authenticate your Twitter or Instagram account when using Keyhole. You don't have to fill out a complex form to start your search. It's easy, simple, and reliable.
Want to scour the net like a pro 🥅? 👉 Read the full case study
Was TwitterX a mistake?🫣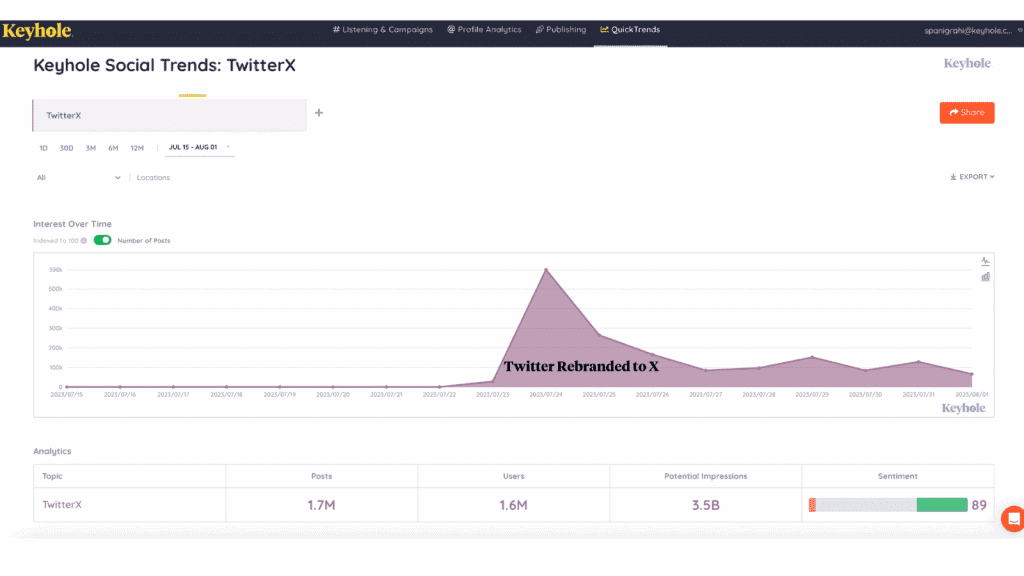 As Threads struggled with its newly gained fame, Twitter shook the net with a surprising and completely unimaginable move.
It did what no brand of that stature could even dare think about: REBRANDING! Over the weekend, Twitter officially rebranded its signature blue bird to a stylized 'X'. The logo was crowdsourced in just 24 hours.
New York Times reports, "In one fell sweep, Elon Musk has essentially wiped out 15 years of brand value from Twitter and is now essentially starting from scratch." Some studies also estimated that Twitter might lose up to $20 Billion in brand value.
Will Twitter, sorry X, revive and beat the odds? Here's what the trend looks like for the last 15 days.
Total number of posts shared: 1.7M
Total posts shared at peak hour: 597.50K
Total impressions: 3.5B
Sentiment Score: 89
Top trending posts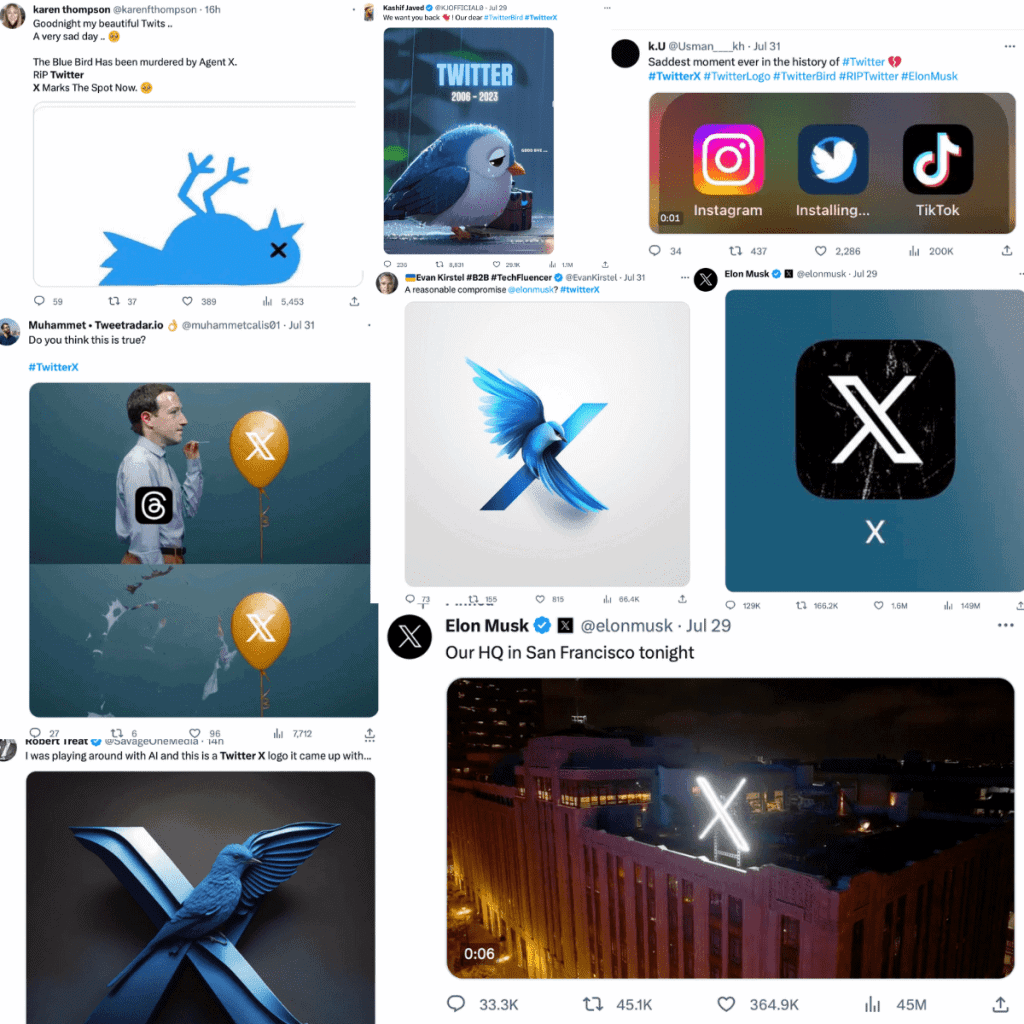 Must-see Campaign 👀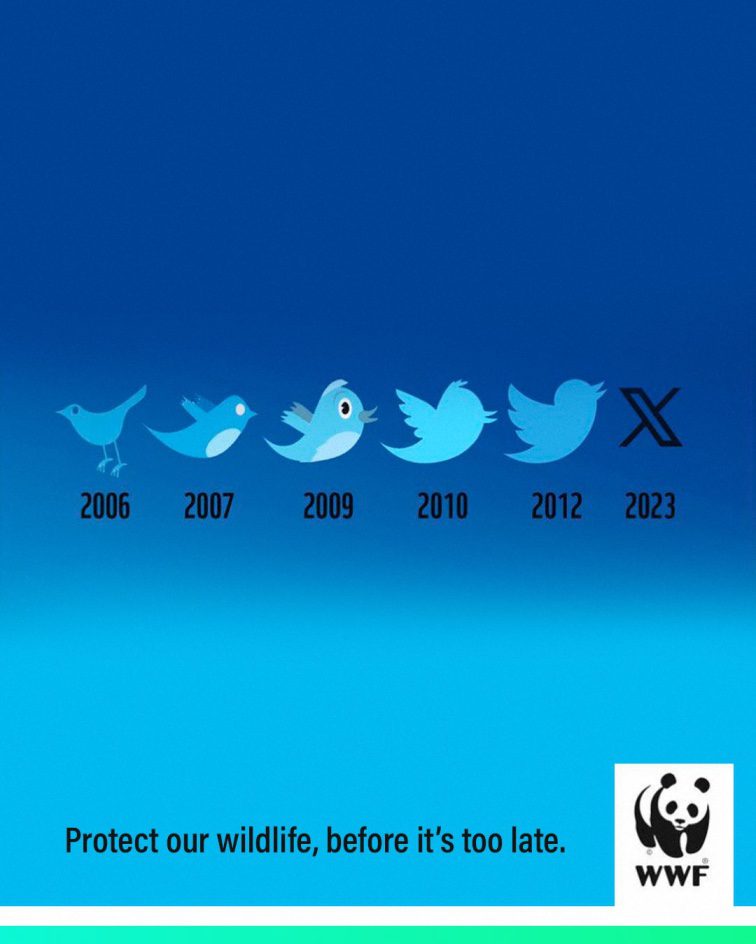 WWF Deutschland's Clever Extinction Awareness Campaign
Tweet Tip ✨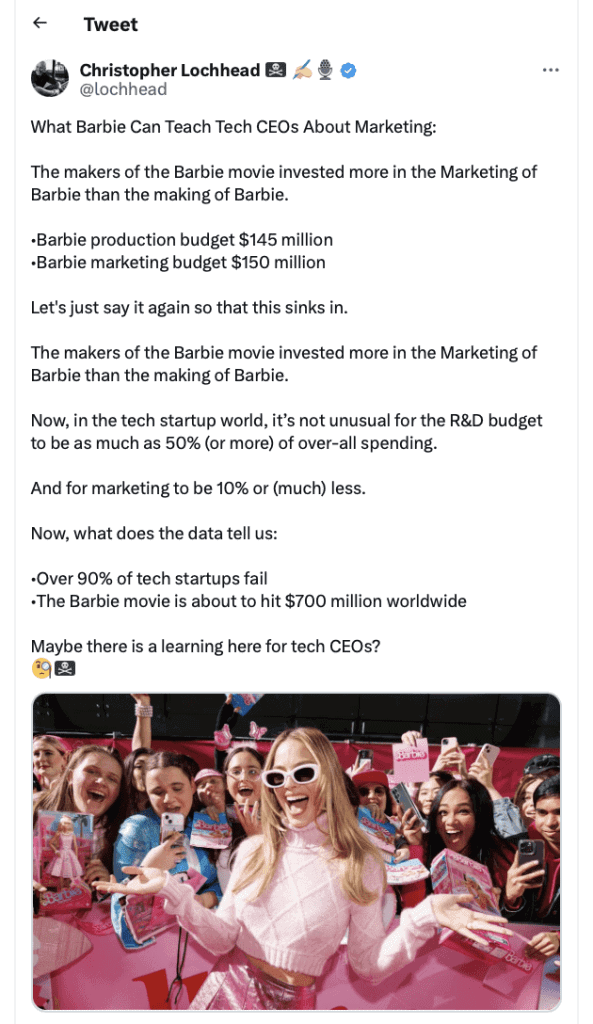 Meme Squad 💪
Fresh stock for meme-loving marketers: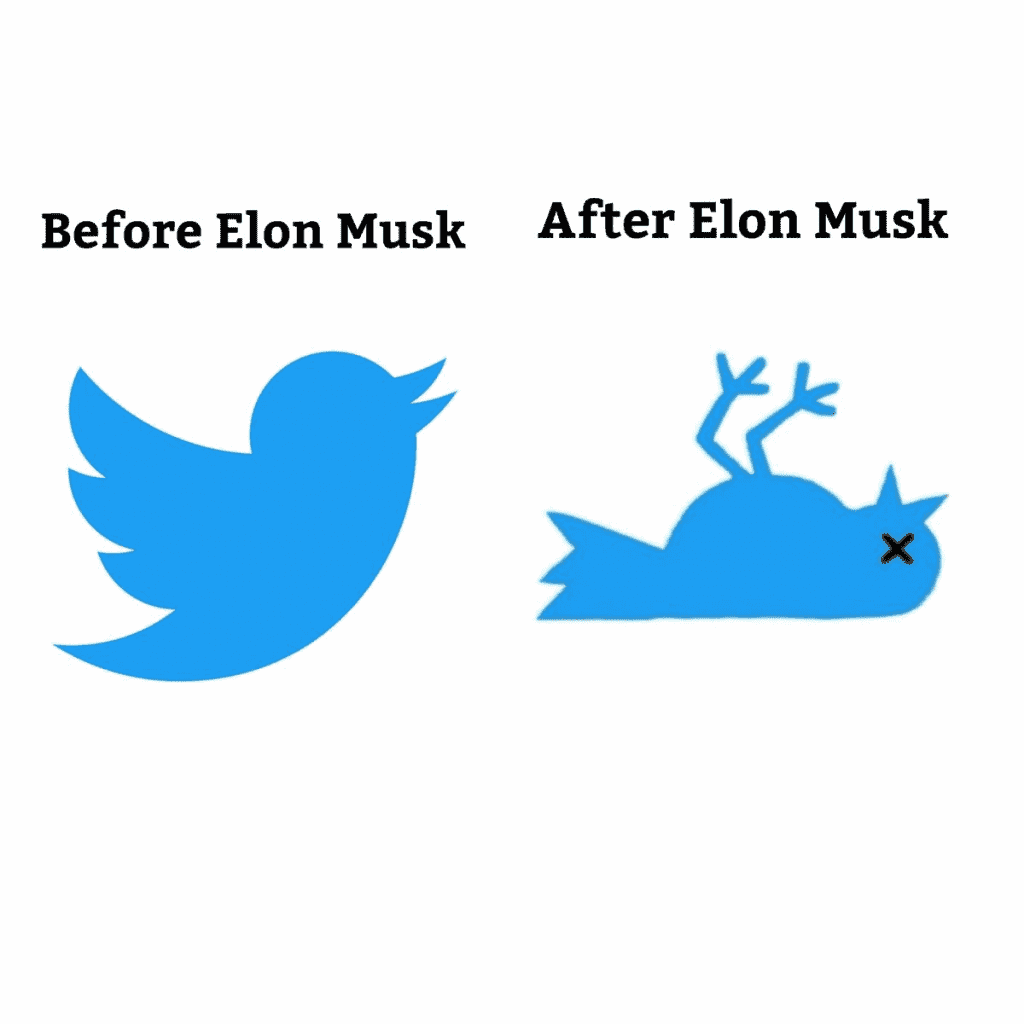 Lovin' it? 💛
Share Social Media Keynotes with your favourite coworkers & friends and let them enjoy these handpicked insights as well. Follow us on social media for more exclusive Keyhole content.