Like, follow, engage, earn – Instagram is easy, right?
Or… not.
Sometimes it may seem that you work and work on your Instagram account to try and reach new audiences, have more followers, and have more comments, but all you end up with is… radio silence.
Without a doubt, standing out on Instagram is more complex than it ever has been before. Instagram has over 2 billion active monthly users. So, the expression one in a million chance doesn't even begin to apply here because it's literally one in two BILLION. Crazy, right?
Studies also show that adults spend an average of 30 minutes per day on Instagram. In the grand scheme of things, that is actually a significant amount of time. The key factor is being able to reach them during that window.
That's why it is so important for you to take a step back from your day-to-day duties on Instagram and conduct an Instagram audit to see where you can improve and what you need to do to reach the next level.
In this article, we will learn 10 steps to conduct an Instagram audit and what Keyhole may do to help.
Prepare yourself
#1 Define your goals
The first thing you need to do before even glancing at your Instagram page is to really prepare yourself for the audit.
Make yourself familiar with social media campaigns and what you liked or didn't like about them. Look at your favorite brands and analyze what you like so much about their branding.
Once you have done that research, start defining your goals and key performance indicators. What do you hope to achieve from this Instagram audit?
If your main goal is to increase your followers and engagement, create a spreadsheet with what steps you have taken to reach those goals. These metrics can be literally anything, but some ideas are the number of posts per day, the number of boosted posts, content engagement, etc.
If you are a business owner whose goal is to generate more sales, your key performance indicators may look a little different than someone just growing their personal brand. You should focus on your reach, engagement, and sales activity, among others.
Each brand's goals and key performance indicators will be different than one another's because every brand is unique. The main takeaway is that your Instagram activity needs to align with your marketing and business objectives.
Conduct a visual audit
Instagram is a social media outlet where everything is pleasing to the eye. You want everything to look good and flow well together whenever you scroll your feed. There are a few things you should make note of during your audit.
#2 Aesthetics
When someone goes and looks at your Instagram content, you want them to see a unified and aesthetically pleasing look that matches your brand.
Take ColourPop's Insta feed as an example. The makeup brand leans heavily into pink or other bright colors, and the entire feed flows well. The brand understands that a big part of customer experience is how someone views its brand and interacts with it.
When you look at your feed, do you find that everything is mismatched or that content has a similar theme?
#3 Branding
Branding is a huge part of a company's success. Your main goal should be that when people see your logo, they immediately think of your brand. Think of Ikea as an example; whenever you see that blue and yellow logo, it is probably the first brand that comes to mind. That means that their branding initiatives were a success.
88% of consumers say that authenticity is a key factor when deciding what brands they like and support. So, being yourself and real with your clients will really make you stand out against all the other brands.
If you have employees on staff, you also want to pay attention to your employer's branding. What your employees say and post about you matters. If customers see posts or tags from your employees on Instagram, they will probably want to click and find out what your employees have to say about you. With the right branding and great employees, they will find some fantastic things.
Check out your content
One of the biggest things you should conduct an Instagram audit on is your content. That's where the real meat is (or should be) and where you want to reel customers in for more and more of your brand.
#4 Tone
Setting your brand's tone is an essential part of your branding and, subsequently, content. Studies show that 25% of people can recognize a brand simply by its unique voice.
If you have an e-commerce business, for example, your tone could probably be more lively and playful.
A company that offers law firm SEO services, however, will focus on a more authoritative tone. Law Rank is an excellent example of this. It provides law firm SEO services, is a very well-known brand within the law industry, and has established its voice as a warm, authoritative tone.
#5 Caption
Take a good look at your captions. It should not matter whether they are short or long as long as they are engaging and include some kind of call to action at the end. Adding emojis helps increase engagement.
The main thing you should audit here is your brand tone and grammar. Every caption should stay true to your brand tone, regardless of the topic. Grammar should always be perfect for building trust with your clients.
With Instagram, the more hashtags you have, the better! Up to 30, that is. Studies show that if you use more than 11 hashtags on a post, you will have 79% more interactions.
Find hashtags that flow well with your content or are trending at the moment. Consider creating your own branded hashtag and including it in all your posts. After a while, your customers will catch on to your hashtag and start using it as well.
#7 Bio and Photo
Your bio and photo are the first things people see when they visit your Instagram page. This is why it is so important to have a personable bio and an impactful photo.
Analyze if your bio and photo match where you want your brand to be. Do they set the tone for who you are and what you do? If not, then they should be the very first things you update.
Audit your administration
You can post the best photos, captions, and hashtags, but if you are not administering your Instagram account well, then it really won't matter. Every Instagram audit should take a look at the things below.
#8 Posting frequency
How often you post directly relates to how well your brand will do on Instagram. Social media algorithms change with time, just as everything else, so be sure to check on statistics a few times every year.
Currently, studies show that you should post on Instagram 3 to 5 times a week and 2 times daily on your stories. What you post can be a mix of carrousels, photos and reels. As long as you are posting within the recommended rate, you should see an increase in your engagement.
#9 Interactions
Analyze how your Instagram interactions are doing. Interactions are anything people do to, well, interact with your brand. This could be likes, comments, shares, etc.
If you need to, scout out your competition and use some competitor analysis tools. See how you rank against them and what they do right.
Learn how to use your Instagram professional dashboard to take a deep dive into statistics and see the best ways your customers interact with you.
#10 Engagement
Account engagement refers to the number of users you have reached and those who have interacted with your content in some way.
Obviously, you want these numbers to steadily increase and constantly rise.
Some quick and easy ways to increase engagement for your brand is to consider having takeovers or giveaways.
Takeovers are when a social media influencer spends a day on your brand's story posting stories and giving customers a new view of your brand. An engaging takeover if you have a store or e-commerce website, for example, would be to have this person shop at your store and post about the whole experience.
Giveaways are also a quick and easy way to increase engagement. As people enter their names and other people's names to participate, your post garners a lot of attention and you gain a lot of engaged followers.
How to use Keyhole to conduct an Instagram audit
Keyhole will give you everything you need to make data-driven social media decisions. This social media monitoring tool can provide real-time insights into your social media accounts and how well it is or isn't doing.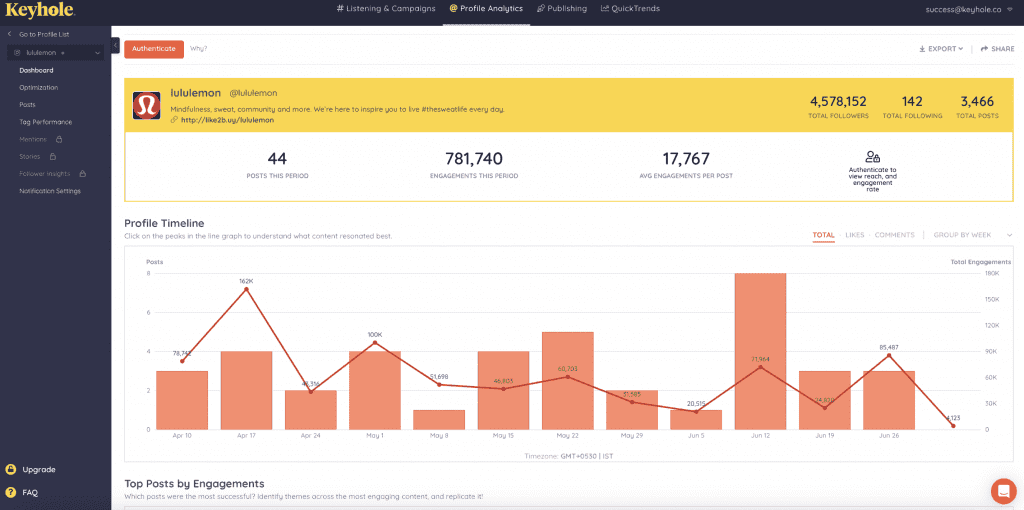 With Keyhole, you can use social media monitoring to grow your brand. You will be able to listen to conversations that will help you understand and engage your audience. You will also be able to keep tabs on competitors and industry trends and get key consumer insights.
Our publishing and scheduling feature allows you to schedule your posts to go out at any time of the day and also recommends the best times for you. Its profile analytics feature will help you analyze and audit your Instagram and other social media accounts, all from the same platform.
Through Keyhole, you will also have access to our influencer analytics so you can analyze how well a specific campaign did and how it impacted your campaign goals.
Through one platform, you can access so many insights and features that will make conducting an Instagram audit a breeze!
Final thoughts on conducting an Instagram audit
Staying successful is not something that comes naturally to any brand, and Instagram is no exception. It takes hard work and dedication to always stay ahead of the crows and be innovative within your sector.
You should regularly conduct Instagram audits to really dive into what is working or not working with your brand. When conducting an audit, ensure you are very thorough and covering all your bases to really capture the data you need to make effective decisions.
By conducting an Instagram audit, you will learn what areas for improvement you have and what you should focus on. This will allow you to immediately take action and start leveling up your Instagram account and, subsequently, your brand to the next level.
To make your Instagram audits a breeze, check out Keyhole's unique platform that will facilitate any and every audit. Try a free trial today!
Author Bio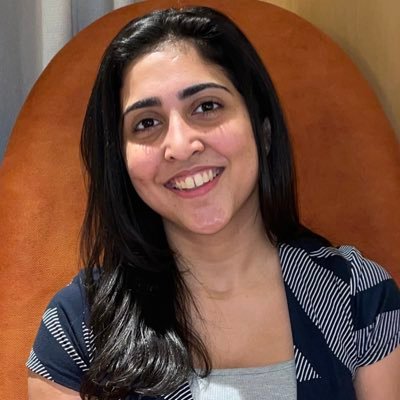 Freya is an SEO consultant that helps brands scale their organic traffic with content creation and distribution. She is a quoted contributor in several online publications, including Business Insider, Fox Business, Yahoo Finance, and the Huffington Post. She also owns CollectingCents- a personal finance blog that she grew from the ground up.
Related Articles
How To Create Monthly Instagram Marketing Strategy Template
2024's Top 14 Instagram Analytics Tools for Tracking IG Metrics
Frequently Asked Questions
1. What is an Instagram audit and why is it important?
An Instagram audit is a comprehensive analysis of your Instagram account to assess its performance, identify areas for improvement, and develop strategies for growth. It involves evaluating key metrics like follower growth, engagement rates, content quality, and brand consistency. An audit is crucial because it helps you understand what is working and what isn't, allowing you to optimize your Instagram presence and achieve your goals.
2. How long does an Instagram audit typically take?
The duration of an Instagram audit can vary depending on the size and complexity of your account, as well as the level of detail you require. On average, a thorough audit can take anywhere from a few hours to a few days. It involves analyzing various aspects such as content, engagement, hashtags, follower demographics, and competitor analysis. The more comprehensive the audit, the longer it may take.
3. What benefits can I expect from an Instagram audit?
An Instagram audit can provide numerous benefits. By evaluating your account's performance, you can identify areas of improvement, optimize your content strategy, and increase engagement. Additionally, an audit helps you gain valuable insights about your target audience, allowing you to tailor your content to their preferences. You'll also be able to identify areas where you can differentiate yourself from competitors and develop a unique brand identity. Ultimately, an Instagram audit helps you maximize the impact of your account and achieve your social media objectives.