Hold on!
Did your competitor's post go viral, but are you struggling with dwindling likes? Or are you absolutely clueless as to why competitors are outranking you?
We get that frustration! Despite having a solid strategy in place, you will see a discrepancy in performance.
As per recent surveys, 90% of the Fortune 500 companies use competitive intelligence to their advantage. At the same time, 56% of executives keep an eye on their potential competitors and make plans to conquer new markets in the following three years.
These power stats reveal how crucial competitor analysis is as a part of rudimentary marketing. But you can soar high with the right set of tools.
There are tons of competitor analysis tools for accomplishing a specific goal. However, not knowing which tool to use for what purpose will land you in a fog.
Before we introduce you to our top recommendations, let's first see how this vital course of action pays big time.
Why do you need competitor analysis in the first place?
If you were going into battle, would you charge in blindly without knowing anything about your opponent? Of course not!
You'd want to know their strengths, weaknesses, and strategies so you could come up with a plan to defeat them. The same goes for business – you need to know your competition inside and out if you want to come out on top.
Competitor analysis tools can help you do just that. These tools allow you to track your competitors' marketing efforts, pricing strategies, and customer reviews. You can see what's working for them and what's not and use that information to improve your own business.
Let's say you run a small coffee shop and need help to attract customers. Use a competitor analysis tool to see what other coffee shops in your area are doing.
You find out that a competitor is offering a loyalty program that's really popular with customers. You could then implement a similar program at your shop to attract more customers.
That's just one of the many instances where competitor analysis can be super handy. Here are some advantages of why you should invest in competitor analysis for guaranteed brand growth:
1. Identify market gaps
Discover gaps in the market that your brand can fill. This can help you offer something unique and valuable to your customers, which can lead to growth.
2. Improve product development
By understanding what your competitors are doing well and what they're not, you can improve your own product development. You'll be able to create better products that meet your customers' needs.
3. Stay ahead of trends
Keeping an eye on your competitors will let you stay ahead of trends in your industry. Be proactive in your business decisions and get your brand grooving to the beat.
4. Improve pricing strategies
Observe your competitors' pricing strategies and know how much your customers are willing to pay for your products or services. Then, set up competitive prices to attract more customers and increase your overall revenue.
5. Benchmark performance
Monitoring competitors' performance metrics will help you benchmark your own performance. This can help you set goals and track progress toward growth.
6. Anticipate threats
Anticipate potential threats to your business, such as new entrants or changes in the market. Be prepared for these threats and minimize their impact on your growth beforehand.
Now that you know the umpteen opportunities that prompt competitor analysis can unlock let's get you in action.
7 competitor analysis tools you can leverage right away
It's difficult to determine the exact category count of competitor analytics tools. But with the common goals of branding, here are the major ones with our top recommendations.
1. SEO competitor analysis
SEO is the first step towards growing any brand organically. However, it's not enough to simply optimize your own website for search engines – you also need to keep an eye on what your competitors are doing. That's where an SEO competitor analysis tool comes in.
By using a proper tool, gain valuable insights into your competitors' SEO strategies. See what keywords your competitors rank for, how much organic traffic they're getting, and what content performs best for them. This information will help you spot the leaks in your own SEO strategy.
Check for what keywords your competitor is ranking for, and if you are not targeting it, consider creating content around those keywords to capture some of that traffic. Or if you see that a competitor is getting a lot of traffic from a certain type of content (such as infographics or videos), go ahead and experiment with creating similar content to see if it resonates with your audience.
Recommended tool: Ahrefs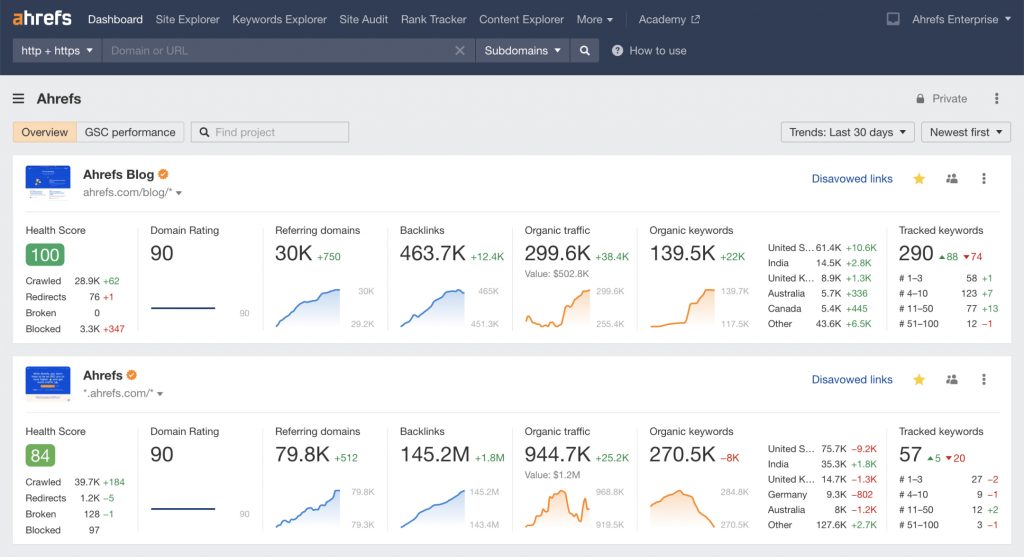 Pricing: $99-$999/month
Ahrefs is a top pick for SEO competitor analysis tool for several reasons. Firstly, it provides a comprehensive set of tools for analyzing competitors' SEO strategies.
With Ahrefs, you can analyze their competitors' backlink profiles, identify top-performing pages and keywords, and track search engine rankings. It also has a large database of indexed pages to get a complete picture of your competitors' online presence.
Here are the top features of Ahrefs:
Analyze any website's backlink profile, organic search traffic, and top-performing pages and keywords.
Research keywords with accurate search volume data, keyword difficulty scores, and advanced metrics.
Find the most popular content in any niche, track social shares, and analyze top-performing articles' backlinks and organic traffic.
Monitor your website's search engine rankings over time and track your progress against competitors.
Identify technical issues on your website and get actionable recommendations for improvement.
Set up alerts for new backlinks, lost backlinks, and mentions of your brand or competitors.
Compare the backlink profiles of up to multiple websites and identify link-building opportunities.
Sarah G
I mainly use Ahrefs for keyword research and monitoring and for this it is an amazing tool and great for both long-tail and general keyword discovery. This in turn can help with blog research and both informational and conversion-based terms.
Evelyn A
Ahrefs is a user-friendly interface that provides a significant amount of data regarding a website's SEO, conveniently organized into reports. The backlink and organic keyword reports are my faves.
2. Social media competitor analysis
Social media is indispensable for building brand awareness, engaging with customers, and driving traffic to your website. But just posting content on social media and hoping for the best won't do. Watching out what your competitors are doing is essential too. That's where a social media competitor analysis tool comes in.
Such tools show what types of content your competitors are posting, how often they're posting, and how their audience engages with them. This will help you ideate your social media strategy for better engagement rate and reach opportunities.
For example, if you spot your competitor getting loads of engagement on their Instagram Stories, try experimenting with similar content types to see if it resonates with your audience. Or, if you see that a competitor is using Twitter to provide customer support, consider doing the same to facilitate your customer service.
Recommended tool: Keyhole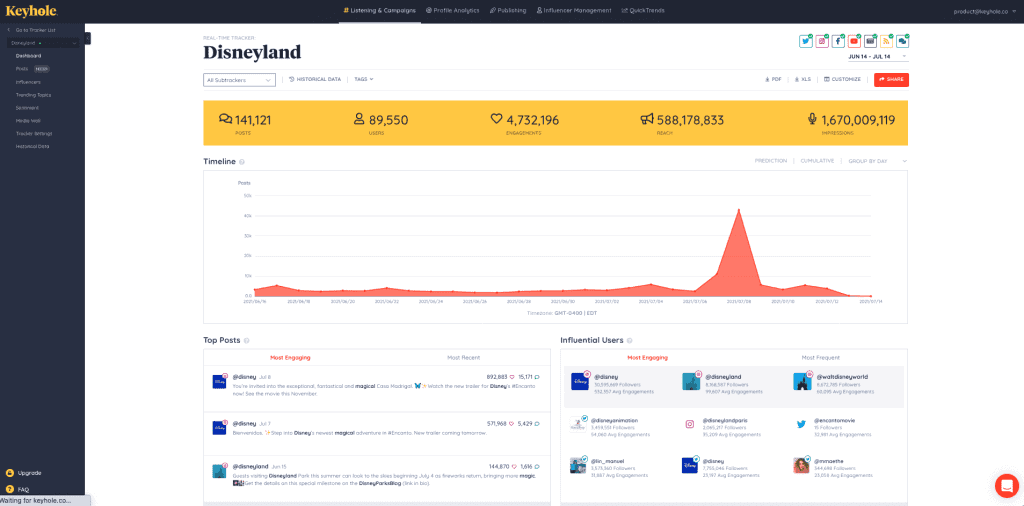 Pricing: Starts from $79/month
Keyhole is a powerful social media competitor analysis tool with many benefits to getting you that competitive edge on social media. Its social media monitoring features studies competitors' campaigns, influencers, and social media strategies. Track social media metrics, uncover competitors' strengths and weaknesses, and take advantage of them.
Keyhole also provides real-time data and analytics to monitor competitors' social media activity as it happens. Stay up-to-date on their latest social media strategies and adjust your own accordingly. The platform even provides a visual dashboard that is intuitive and shareable, allowing you to easily track hashtags, keywords, and accounts in one go.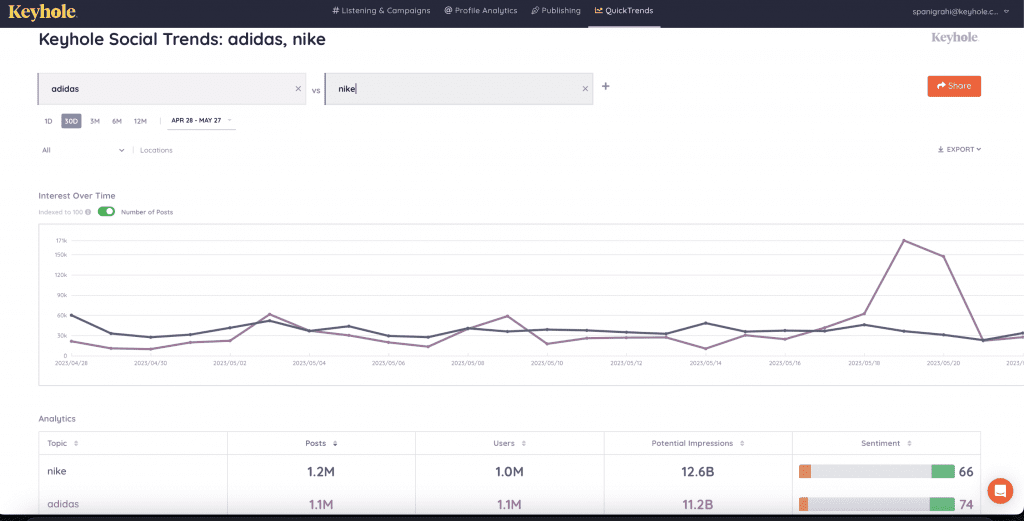 Use Keyhole's QuickTrends feature to identify trends and patterns across multiple social media platforms quickly. Notice a particular hashtag is trending? Just add that to QuickTrends and see its popularity breakdown.
Not just competitors, track anything that's generating a lot of buzz on social media and select the time range. You'll get an idea if the trend is worth the hop.
Here's a list of features that make Keyhole an excellent choice:
It offers comprehensive social media monitoring features to track hashtags, keywords, and accounts across various platforms.
Monitor various social media metrics, including engagement rates, sentiment analysis, and audience demographics.
Schedule unlimited posts on top social media platforms at the optimal time to share for better reach.
Identify potential partners for influencer marketing campaigns and track their performance.
Reports can be customized and exported in various formats, including PDF and Excel.
Keyhole uses machine learning and natural language processing to provide automated sentiment analysis of social media conversations.
Set up customizable alerts for specific keywords, hashtags, or accounts.
It also provides historical data analysis to track trends and patterns over time.
It offers API integration with various third-party tools, including Slack, Zapier, and Google Sheets.
Tasmy G
I like how easy it is to generate my analytics report for my social media channels. The hashtag tracker is particularly useful and the insights have proven to be of great use for our campaign.
Maria S
I like that I can track outside web mentions of what other people are saying about my company, as well as the ability to find influencers based on who is already talking about our company. It is also great to have one dashboard in which I can follow high rate analytics for all of our social domains, instead of jumping from each individual platform.
3. Content marketing competitor analysis
Content marketing is the prime activity of every marketer. And competitor analysis is an essential part of content marketing to understand and create a strategy that sets them apart.
By analyzing competitors, create content to outdo them. Attract new customers and retain existing ones by adding more value than your competitors.
Additionally, competitor analysis gives you an idea of what is working in their industry and what is not. It also helps to shortlist what type of content in what tone is trending on their website, like video marketing, website copy, feature sets, and more.
Recommended: BuzzSumo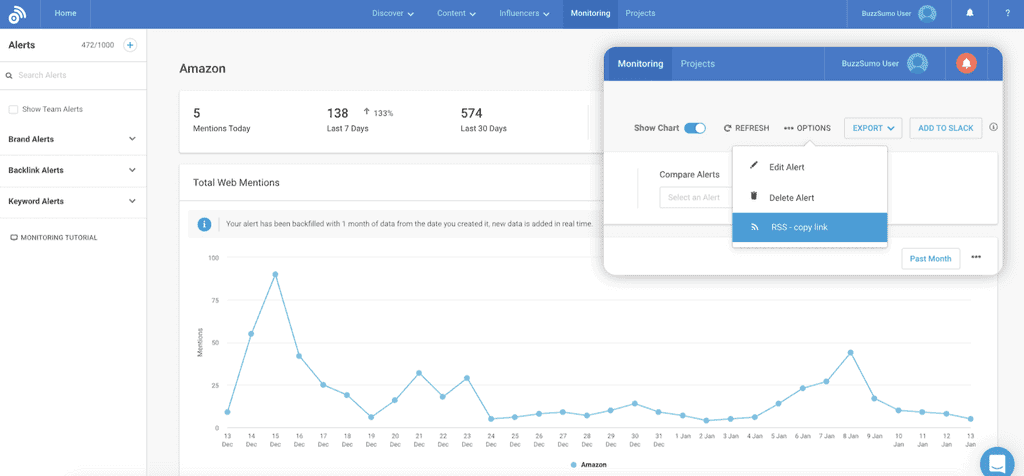 Pricing: $119-$999/month
BuzzSumo is a great tool for content marketing competitor analysis. Know the most popular content in your industry, track competitors' content, and analyze your own content's performance. With BuzzSumo, see which topics resonate with your target audience and identify key influencers.
Additionally, BuzzSumo offers a range of features that make it easy to monitor competitors' content, such as alerts when new content is published and the ability to track social media shares. Get insights into the content performance across different social media platforms, making creating optimized content for specific platforms easier.
Here's a feature list that makes BuzzSumo a great choice:
BuzzSumo analyzes content performance across different social media platforms.
Identify key influencers in a particular industry or niche to build relationships with these influencers and amplify content.
It can send alerts when new content matches specific keywords or topics to stay on top of industry trends and breaking news.
Get detailed insights into the backlinks of a particular website or piece of content for link building and improve search engine rankings.
BuzzSumo offers a range of reporting options, including customizable reports tailored to specific needs and goals.
Stephen F
The content suggestion tools make it very easy to find topics with maximum potential reach for one's posting and alliances. It's very useful to be able to know what else is going on.
Zahabiya K
The best part is analyzing backlinks using keywords. It really helps us know the competition and create strategies accordingly. Also, it has many other useful features which I think are better than other sites like Niel Patel.
4. Competitive pricing analysis
Competitive pricing analysis is essential for a brand's growth as it helps to understand the market dynamics. By analyzing competitors, a brand can experiment with its own pricing strategy and gain a competitive advantage.
Such analytics help a brand to identify areas where it may be overpriced or underpriced compared to its competitors and adjust its pricing accordingly. A brand can attract more customers and increase its market share by staying competitive with pricing.
Competitive pricing analysis is also vital in product development, so you know what new products or services can be introduced.
Recommended: Prisync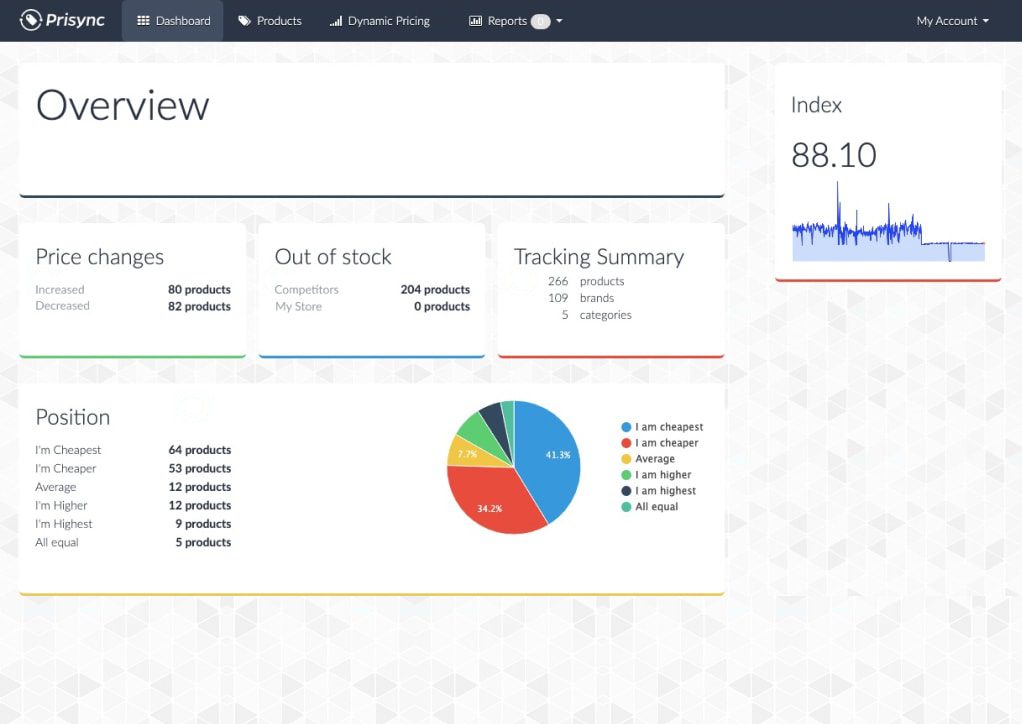 Pricing: $99-$399/month
Prisync is an amazing competitive pricing analysis tool due to several reasons. Firstly, you can track your competitors' prices and product assortments in real-time, giving you a dynamic market view. Use it and stay competitive by adjusting your prices accordingly.
It offers daily or instant notifications for price and stock changes to respond quickly to changes in the market. You also get detailed Excel reports to identify trends and make informed decisions about pricing strategy.
Prisync also boasts proactive customer service, with 24/7 online support staff available to answer any inquiries.
Here's why Prisync is a preferred option for competitor's pricing analysis:
Prisync provides a detailed analysis of competitors' pricing strategies.
It monitors the performance of products in terms of sales, revenue, and profitability.
Customize your dashboard to suit specific needs and preferences.
Track competitors' prices and product assortments in real time.
Get daily or instant notifications for price and stock changes to respond quickly to changes in the market.
Mark S
We love the way Prisync keeps us informed regarding our pricing compared to competitors. The dynamic pricing function takes a bit of time to work out, but really is helpful. Dealings with staff, both pre-sale and post-sale have been very positive.
John C
We've been using Prisync for about 3 years and they've been brilliant to deal with the whole way through. Their support is faultless and the platform itself is very intuitive to use and maintain.
5. Product feature competitor analysis tool
Product feature competitor analysis is for digging out the top product features of competitors. As a brand, you can identify areas where you can improve your products, differentiate yourself from competitors, and gain a competitive advantage.
This analysis can impact areas where you may need to catch up on your competitors and adjust your product offerings accordingly. You can attract more customers and increase your market share by staying competitive with product features.
Explore areas where competitors are weak and develop products or services that meet customer needs and stand out in the market.
Product feature competitor analysis is a valuable tool to improve product offerings, increase market share, and drive growth.
Recommended: G2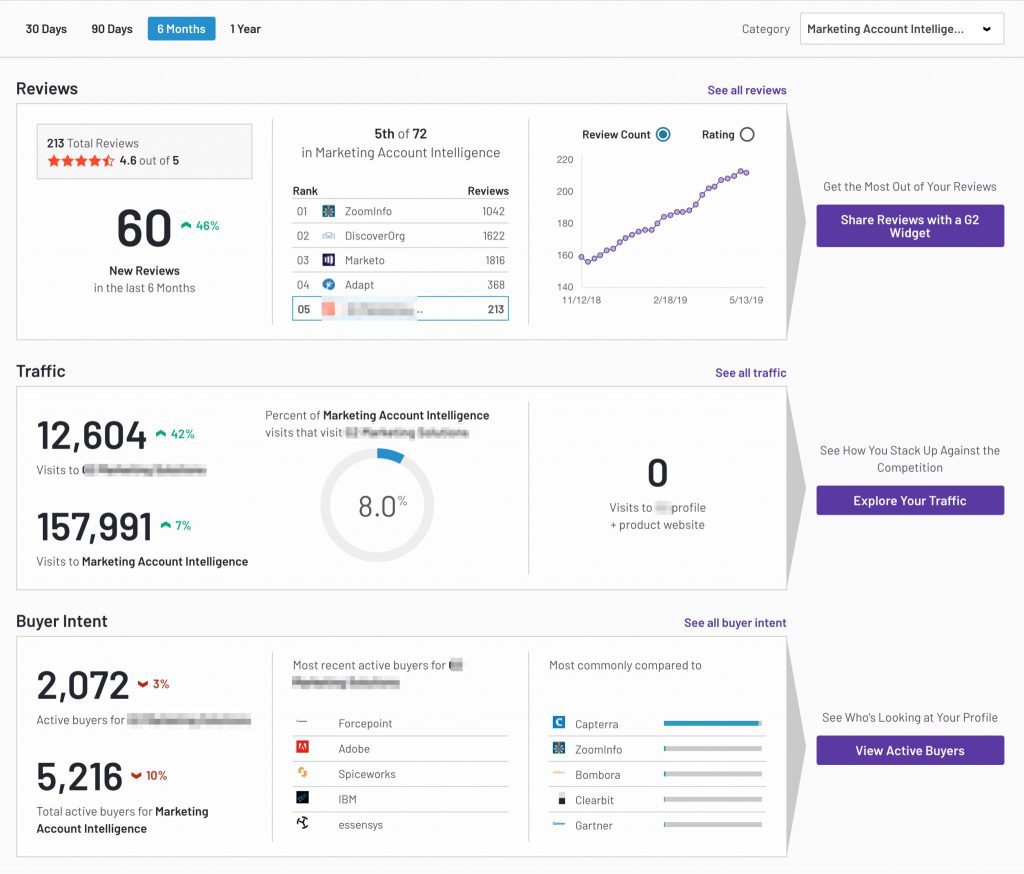 Pricing: On request
G2 is a popular choice for product competitor analysis due to its extensive database of user reviews and ratings for various products and services. Know how to compare your products to your competitors regarding customer satisfaction, features, pricing, and more.
It offers a range of tools and features for product analysis, including customizable dashboards, real-time data updates, and API integration with other tools. It provides a comprehensive market intelligence platform that includes competitor analysis, customer feedback analysis, and win-loss analysis.
With its extensive database of user reviews and ratings, customizable dashboards, and market intelligence platform, G2 is a comprehensive solution for product competitor analysis.
Here are some features that make G2 the first choice:
It has an extensive database of user reviews and ratings for various products and services.
Customize dashboards to suit your needs and preferences, including the ability to track competitors, monitor customer feedback, and analyze market trends.
It provides real-time data updates for product analysis to stay up-to-date on changes in the market and adjust product offerings accordingly.
G2 offers API integration with other tools to automate product analysis and integrate with existing workflows.
Get a range of reporting and analytics tools for product analysis, including customizable reports, data visualizations, and trend analysis.
Mark C
G2 marketing solutions help people to choose what application they would buy by providing reviews from all users who have experience with a certain application.
Jake S
I use G2 to collect customer reviews. As a Customer Marketer, that stuff is like pure gold to me. Both from a product feedback standpoint and from a market perception standpoint, nothing is more valuable than a constant influx of customer reviews.
6. Customer feedback competitor analysis
Customer feedback and competitor analysis are critical to branding to understand what your ideal customers want, what they like and dislike about a brand, and how they perceive it compared to competitors.
You can use it to improve the brand's products or services, customer experience, and overall reputation. Know your competitor's strengths and weaknesses compared to your brand.
Learn what works and what doesn't, and develop a unique and effective branding strategy that sets them apart from competitors like you.
Recommended: Trustpilot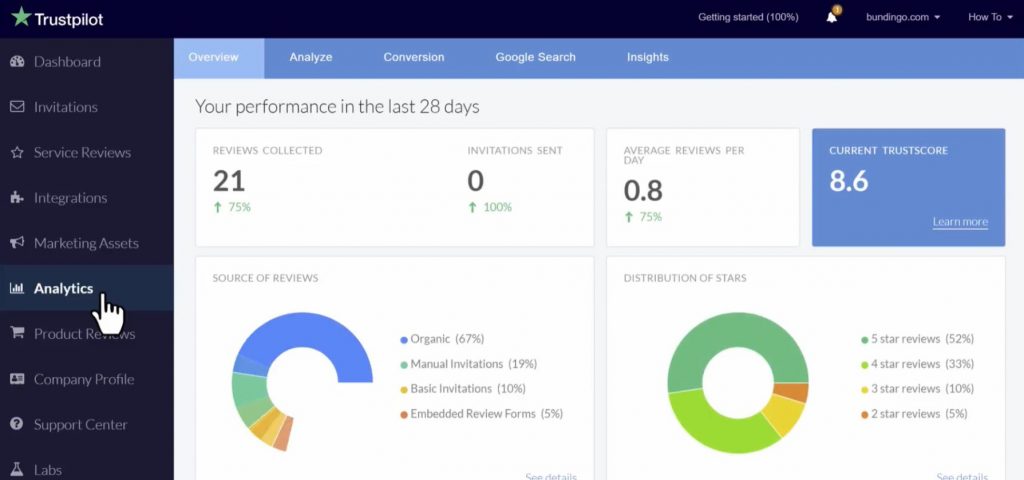 Pricing: $250-$999/month
Trustpilot is good for customer feedback and competitor analysis because it provides a variety of tools to analyze overall brand performance and online reputation. Trustpilot's Review Insights tool uses machine learning and artificial intelligence for sentiment analysis of reviews across a broad range of categories.
Trustpilot's TrustScore overviews customer satisfaction across all Service and Location reviews while comparing performance to your competitors. It also collects and displays customer reviews on your website and social media channels to help build trust with potential customers and improve online visibility.
Here are the features that make Trustpilot an excellent tool:
Collect customer reviews through various channels, including email invitations, website widgets, and SMS messaging.
Manage your reviews, respond to reviews, report fake reviews, and flag inappropriate content.
Get an overview of your online reputation and compare your performance to competitors.
Engage with customers, send review invitations, respond to reviews, and resolve customer issues.
Sachin
You will get honest reviews on this site, so you will have confidence in buying or using any product. Consumers will be pleased if they get the same product as per reviews, and yes, you will get the same service as per reviews on the Trustpilot website.
Alan T
Quick and easy to start using. Requesting reviews is easy and fast and the process to leave reviews is also simple, streamlined and very easy.
7. Product marketing competitor analysis
Product marketing analysis combines all the analyses mentioned above. It blends the games of the Product and Marketing teams into one, providing you with a complete picture of the landscape you operate in.
When you're planning your strategy, it's crucial to keep an eye on your competitors' websites, social media, PR strategy, features they release, etc. Tracking these changes will benefit you a lot. The 360-degree approach of monitoring every facet of your competitors is a key component for success.
Recommended: Kompyte
Pricing: Available upon request
Kompyte is a competitive intelligence tool designed to provide real-time insights into changes occurring on your competitors' websites and social media platforms. Updates to pricing pages, the introduction of new features, social media announcements, and a multitude of other developments are seamlessly reflected in your dashboard.
These real-time insights not only help you come up with better offers for your clients but enable your sales team. The competition has never been more straightforward.
The following features make Kompyte an excellent choice:
Competitor monitoring in real-time to stay on top of the competition
Detection of changes through an automated alert system
Tracking of market share in real-time
Benchmarking capabilities to make sure you're on track.
Advanced reporting options that save you lots of working hours
Sales battle cards are updated in real-time which helps your sales team to amplify the game.
Jesse L
We love the ability to benchmark and track our competitor's marketing efforts in Kompyte. We get a clear picture of what our key competitors are doing in real-time, We evaluated the three best tools in this bracket, and Kompyte was clearly ahead. Onboarding has been well managed, well prepared and has set us up for success.
Eric S.
Kompyte is a great resource for us, as it allows us to check one source as opposed to searching multiple websites. We primarily use Kompyte to create customizable battle cards for our sales team to reference. Kompyte helps us save time and allows our sales team to quickly access useful information that helps them close deals.
Ready to beat your competitors?
Competitor analysis tools are like a spy in your pocket – they give you all the intel you need to come out on top. By using a comprehensive tool like Keyhole, dig out winning strategies from your competitors and leave them behind with your sound presence.
Since more than 4 billion people are actively using social media, we highly recommend starting with social media competitor analysis and using Keyhole. Take its free trial and gain a competitive edge instantly.
So, don't let your competition get the best of you – arm yourself with the right tools and lead the race. Sign up for Keyhole's free trial and start exploring all the benefits it has to offer!
Related Articles
Top 5 Online Reputation Management Tools For Transforming Any Crisis To Opportunity
7 Steps For Effective PR Crisis Management In 2024
Frequently Asked Questions
1. What is a competitor analysis tool?
A competitor analysis tool is a software or platform that helps businesses analyze their competitors' strategies and performance. These tools can provide insights into areas such as SEO, social media, content marketing, pricing, market research, web analytics, and more. By using competitor analysis tools, businesses can gain a competitive advantage and make data-driven decisions.
2. Why is competitor analysis important?
Using competitor analysis tools can help businesses identify areas to improve their strategies, gain insights into their competitors' strengths and weaknesses, and make data-driven decisions. By using these tools, businesses can stay ahead of the competition and adapt to changes in the market.
3. What are some popular competitor analysis tools?
There are many competitor analysis tools available on the market, including Ahrefs, Keyhole, BuzzSumo, etc. These tools offer a range of features and capabilities, from social media monitoring to web analytics to market research. The right tool for your business will depend on your specific needs and goals.