Let's not pretend anymore. Creating content is tough, even when you know your target audience and customer segment in and out.
You reach a saturation point when it comes to topics you need to cover and talk about on your website and social forums.
But did you ever wonder how the best industry leaders always seem to conjure a vital issue to address? Their undisputed secret lies in keyword monitoring tools.
Yes, you will be astonished to know that keyword monitoring is not just a spying technique but your ticket to boost your branding, sales, and revenue.
But here's the catch. Only a handful of people know what and how to track keywords.
In this blog, we are going to spill the beans. You will know exactly what keywords you should focus on and what kind of benefits you will reap. Post that, we'll also review a couple of keyword monitoring tools that you can use right away.
Let's start with the basics though.
What is keyword monitoring?
Keyword monitoring is when you keep track of certain brand-relevant or high-search volume keywords to see what people are searching for. This can help businesses understand what their customers are truly interested in.
Let's say you have a company that sells video games. You can leverage keyword monitoring to see what games people are searching for the most.
If you notice that a lot of people are searching for "best multiplayer games", you might decide to focus on creating more multiplayer games to meet that demand.
You can also look for top contenders who are in the same space as yours. See what their customers are praising and giving feedback about. With such a simple drill, you can easily find opportunities and make the cut.
Now that's just one of the many wins you get to enjoy with keyword monitoring. Let's see a couple more.
What are the different types of keyword monitoring?
There are several types of keyword monitoring techniques based on your final intent. Some of the most popular use cases of keyword monitoring are:
1. Competitor analysis
Want to know what your competitors are doing? Try to figure out what keywords they're using. For example, if you have a clothing store and you notice that your biggest competitor is using the keyword "affordable fashion", decide to use that keyword too to try and attract some of their customers.
2. Trend analysis
Keep in check what's popular right now and use those keywords to get more traffic. For example, if you notice that many people are searching for "sustainable fashion", you might decide to use that keyword to attract people interested in that topic.
3. Content optimization
Have a site but are clueless about spiking your organic traffic? Figure out what keywords your ideal target audience is searching for. For example, if you have a blog about cooking and notice that many people are searching for "easy dinner recipes", you might use that keyword in your blog post titles and throughout your content to attract more readers.
4. Brand monitoring
Keep track of what people say about your brand online, and try using those keywords to improve your image. For example, if you notice that many people are complaining about your customer service, you might use keywords like "great customer service" to show that you're improving in that area.
5. PPC advertising
If you use paid advertising to promote your website or product, keyword monitoring will save you bucks. It can help you figure out which keywords to target in your ads to get the most clicks and conversions.
6. SEO optimization
Do you regularly optimize your website to rank higher in search engine results pages? Keyword monitoring will reveal which keywords to target in your content to improve your rankings.
7. Social media marketing
Get more out of your social media presence to promote your brand. Keyword monitoring can connect the dots to what people are saying about your brand on social media, so you can respond accordingly.
8. Product development
Keyword monitoring is an underrated tool to find what products or services people are interested in. For example, if you notice that a lot of people are searching for "vegan protein powder", you might decide to develop a new product that meets that demand.
9. Market research
Keyword monitoring is another effective market research tactic that involves gathering information about your target audience. By monitoring your audience's keywords, you can gain insights into their interests and preferences.
10. Reputation management
Lastly, eliminate all chances of risking your reputation by monitoring your brand's online reputation and taking steps to manage it. Keyword monitoring lets you identify negative reviews or comments about your brand, which you can then address to improve your reputation.
We bet you can't resist the temptation now. So here are a handful of ways to kick start with keyword monitoring.
What are the different ways of keyword monitoring?
There are a few different ways to monitor keywords, each with pros and cons. Let's take a look at some of the most popular methods:
Social media monitoring tools: They allow you to track a set of keywords on popular social media platforms like Twitter, Facebook, and other platforms. This is purely for monitoring what people are saying about your brand on social media.
SEO tools: They can track your website's rankings for specific keywords over time. This is best for understanding how your website performs in search engines and identifying areas for improvement.
Competitor analysis tools: They facilitate you to see what keywords your competitors are ranking for and how much traffic they're getting from those keywords. Such competitor analytics tool is great for identifying new opportunities for your own website or product.
Web analytics tools: They let you see how much traffic your website gets from specific keywords. This can be a game-changer if you want to understand what keywords drive the most traffic to your website and optimize your content accordingly.
You surely wouldn't want to put all your eggs in one basket. That's why we recommend investing in multiple tools for holistic surveillance of your online status.
6 best keyword monitoring tools you should be using right away
We understand it's not feasible to manage tons of tools just because they have some value. We researched, so you don't have to.
Here's a list of tools, having both free and paid keyword monitoring tools that can scale your business from multiple marketing channels with thorough monitoring.
1. Google Alerts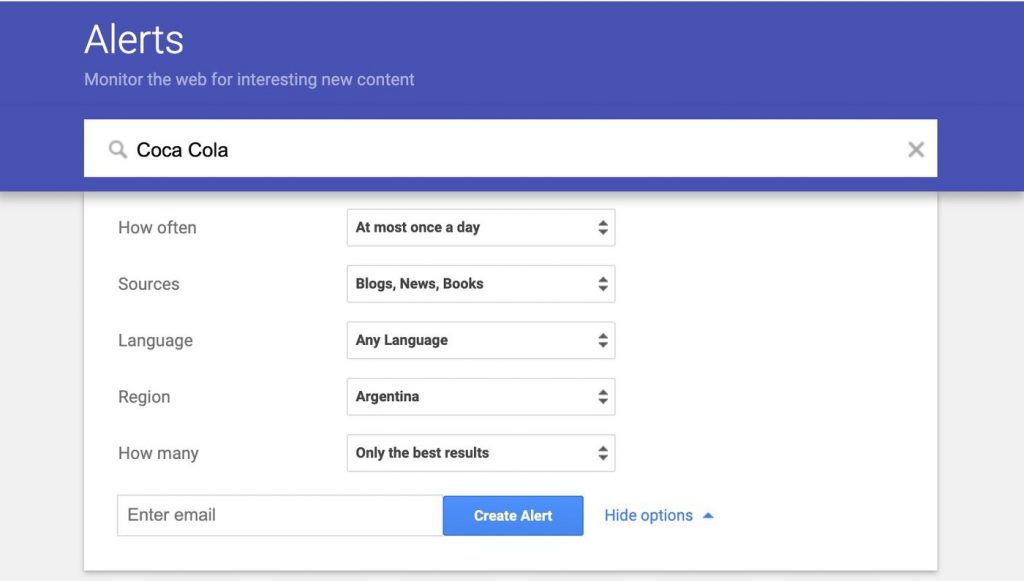 Pricing: Free
Google Alerts is a free online tool by Google to monitor the web for specific keywords or phrases. Just create an alert for any keyword or phrase you want to track, such as your brand name, your competitors' names, or any other topic you're interested in. Whenever new web content is published that matches your alert, you'll receive an email notification with a link to that content.
Google Alerts is amazing for monitoring your brand's online reputation, keeping track of industry news, or staying up-to-date on any other topic you're interested in. It's easy to set up and use, and it's completely free. You can create as many alerts as you want and customize them to your specific needs.
Pros
You can customize alerts by choosing specific keywords, sources, and frequency of alerts.
Google Alerts is a free tool for beginners in keyword tracking.
Fernando M
This app works to be aware of what you like the most or what you are most interested in, for me it has been beneficial since I receive alerts about things that have interested me.
Cons
Google Alerts is limited to sources that Google tracks, which mostly includes web news and blogs.
It may not capture all mentions of a brand, as it relies on Google's search algorithms to find relevant content.
Nastazija B
It can be annoying at times when you are in the middle of doing something or especially when you are on the phone and you hear the alert notifications in the background.
2. Ahrefs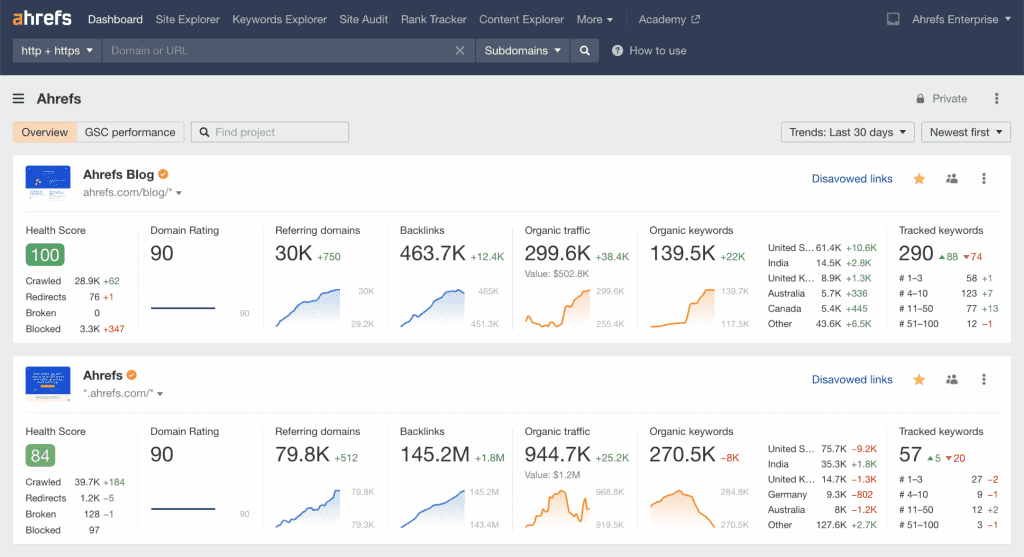 Pricing: $99-$999/mo
Ahrefs is a popular SEO tool that provides a suite of tools for keyword research, backlink analysis, content analysis, and more. Loved by marketers, SEO specialists, and website owners to improve their website's search engine rankings and overall online visibility.
Ahrefs's remarkable keyword monitoring feature lets you see which keywords your competitors are ranking for, as well as how much traffic those keywords are driving to their websites. Bridge on the gap and steal their customers by keeping an eye on them.
Pros
Ahrefs has a large and up-to-date backlink database for insights into your own backlink profile and that of your competitors.
Its audit feature lets you identify and fix technical SEO issues on websites, improving search engine rankings and user experience.
Nirav Sampat
Ahrefs can perform keyword research helping me find low-competition keywords to rank quickly.
Cons
Ahrefs' pricing plans are relatively expensive compared to other SEO tools on the market, making it less accessible to smaller businesses.
Ahrefs does not offer social media analytics or monitoring features, which may be a drawback for those managing social media presence alongside SEO efforts.
Its keyword tracking feature is limited to a set number of keywords, which may not be sufficient for businesses with large keyword portfolios.
Katie Goh
New and lost referring domains links are a bit confusing as well. I've never seen any tool do this chart in a way that makes sense. Dramatic rises and losses tend to send people down the wrong path of investigation. A weighted version (based on DR) would likely be more useful.
3. SEMrush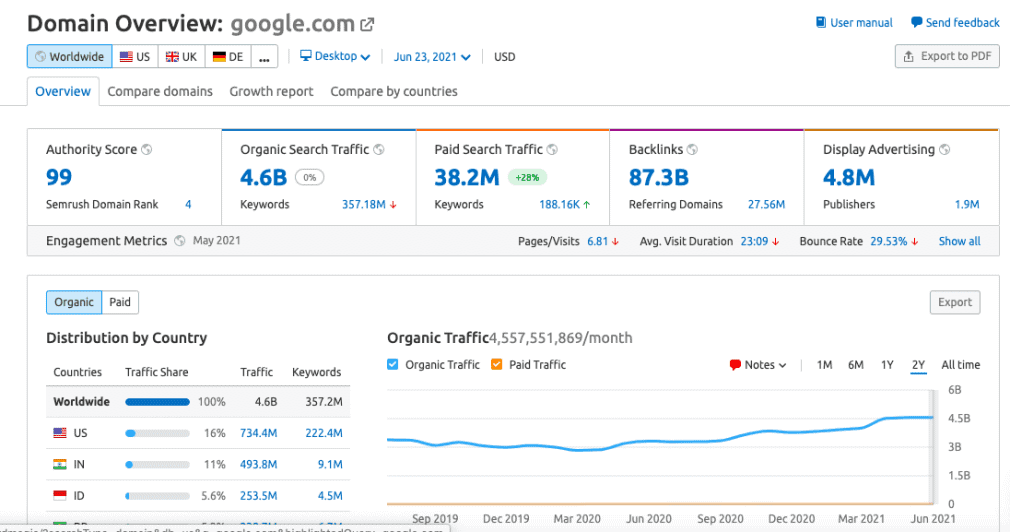 Pricing: $119.5-$449.95/mo
SEMrush is an all-in-one digital marketing tool that provides a suite of tools for SEO, PPC, content marketing, social media, and market research. Its keyword monitoring tool shows which keywords your website is ranking for, as well as how much traffic those keywords are driving to your website. This information is handy when optimizing your website's content and improving your search engine rankings.
The tool also has features for PPC advertising, content marketing, social media monitoring, and market research. It's also known for its user-friendly interface and comprehensive reporting, making it easy to analyze your website's performance and track your progress over time.
Pros
SEMrush offers detailed data on search volumes, keyword difficulty, and related keywords to identify high-potential keywords for SEO and PPC campaigns.
It provides excellent customer support, with a range of resources and a responsive support team to help businesses with any questions or issues.
It shows detailed data of competitors' backlink profiles, top-performing content, and keyword rankings.
Anil Ceri
I used Semrush for keyword tracking, keyword analysis, backlink monitoring, and trends for the main months. I follow up my websites to understand each section of problems to solve and get better results. I can set an audit for my website to learn its health and after the audit, it is quite easy to navigate between sections to solve your website problem.
Cons
SEMrush's backlink database is not as comprehensive as some other SEO tools.
Its social media monitoring features are limited compared to dedicated social media monitoring tools.
Katie Wojciechowski
The auto-generated reports don't get nearly as specific with drilled-down info as I would like. It seems the options are broad but shallow. Especially compared to how good some of the visuals and tables are in-app.
4. Keyhole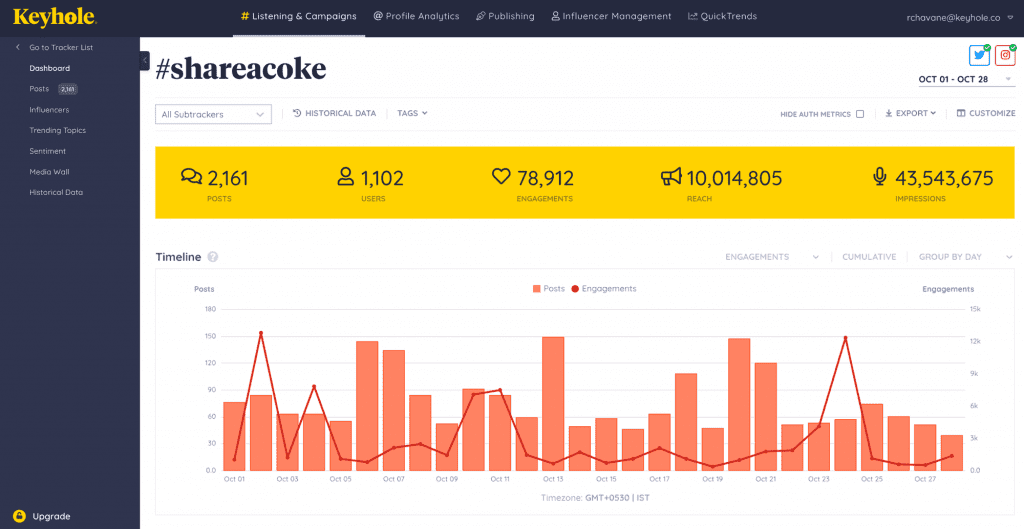 Pricing: Starts from $79/mo
Keyhole is a perfect keyword monitoring tool due to its real-time tracking and monitoring capabilities, comprehensive dashboards, and reporting. Right under social listening, add trackers with your brand name, product name, or any relevant keyword, and Keyhole will track it for you.
Get real-time alerts of who mentioned those so you can participate in conversation and engage with your audience. The best part is it also analyzes sentiment so you get an idea of what your customer is feeling without even reading through the entire post/comment.
Another quick tip here is to track your profiles and get a brief overview of your top posts and comments on social media. Plus, you can have an eye on competitors and track their comments or keywords so you sneak into their handle and steal their leads.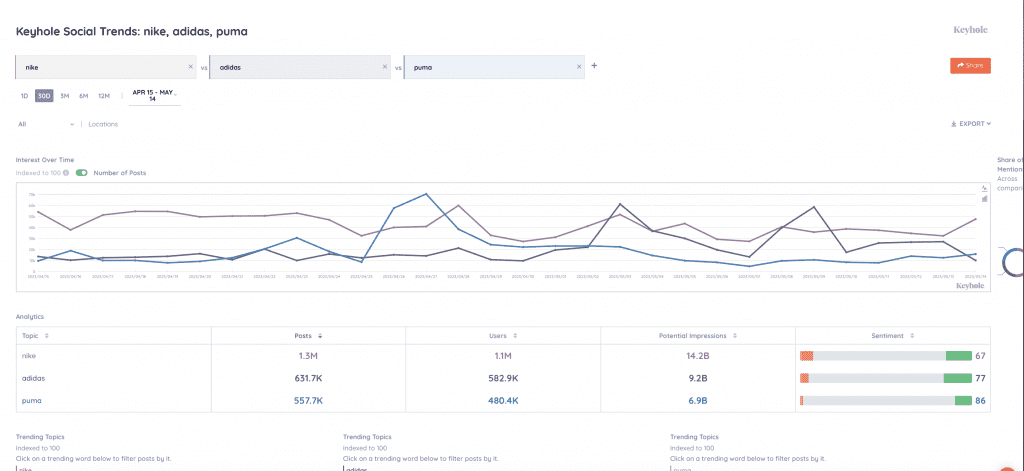 Lastly, Keyhole's QuickTrends is one of the best features that lets you compare any keyword and monitor its popularity and trend. This is a powerful tool if you wish to know where your brand stands in the market.
Why is Keyhole a perfect tool for keyword monitoring?
Keyhole provides real-time monitoring of keywords and hashtag performance across multiple social media platforms.
It offers a range of analytics and reporting features, including sentiment analysis, engagement metrics, and demographic data.
You can set up customizable alerts for specific keywords and hashtags, and never miss an important conversation or trend.
Track competitors' social media activity and gain insights into their strategies and performance.
Annelise L
I've been using Keyhole almost since the beginning and what I love best is the flexibility in the data that can be tracked and captured. It has made evaluating ROI of different campaigns and tactics much easier.
Tasmy G
I like how easy it is to generate my analytics report for my social media channels. The hashtag tracker is particularly useful and the insights have proven to be of great use for our campaign.
5. BuzzSumo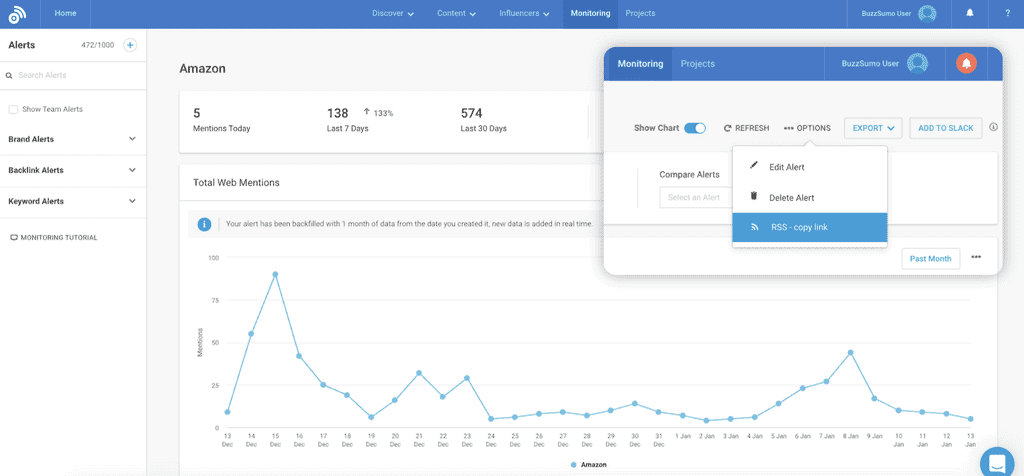 Pricing: $119-$999/mo
BuzzSumo is not a traditional keyword monitoring tool, but it can be used for keyword monitoring in a different way. You can enter a keyword or phrase related to your niche and see what content performs well on social media platforms. Discover popular topics and keywords that you can use to create your own content for more traffic.
It also offers multiple keyword ideas that can be used for keyword monitoring. In this way, you can identify newer ones to monitor and optimize for and stay ahead of the competition in your industry.
Pros
BuzzSumo provides detailed data on the most popular content in a particular niche or industry.
You can identify influencers in your industry and track their social media activity.
Its domain comparison feature allows you to compare your content performance with their competitors'.
Brittney Collier
The best part about BuzzSumo is its insight on SEO/keywords. The platform lets you know which keywords relevant to our products have been searched most frequently. By figuring out how prospects are searching for content like ours, we're able to improve the language we use to target them.
Cons
BuzzSumo's pricing plans are relatively expensive compared to other content marketing tools on the market.
Its databases are not as comprehensive as some other SEO tools.
The data only goes back a few years, which may be a drawback if you wish to analyze long-term trends.
The interface is cluttered and overwhelming too.
Jazmine Helena
The interface could be improved as some of the references to text are specific to how a certain company may mention it.
6. Spyfu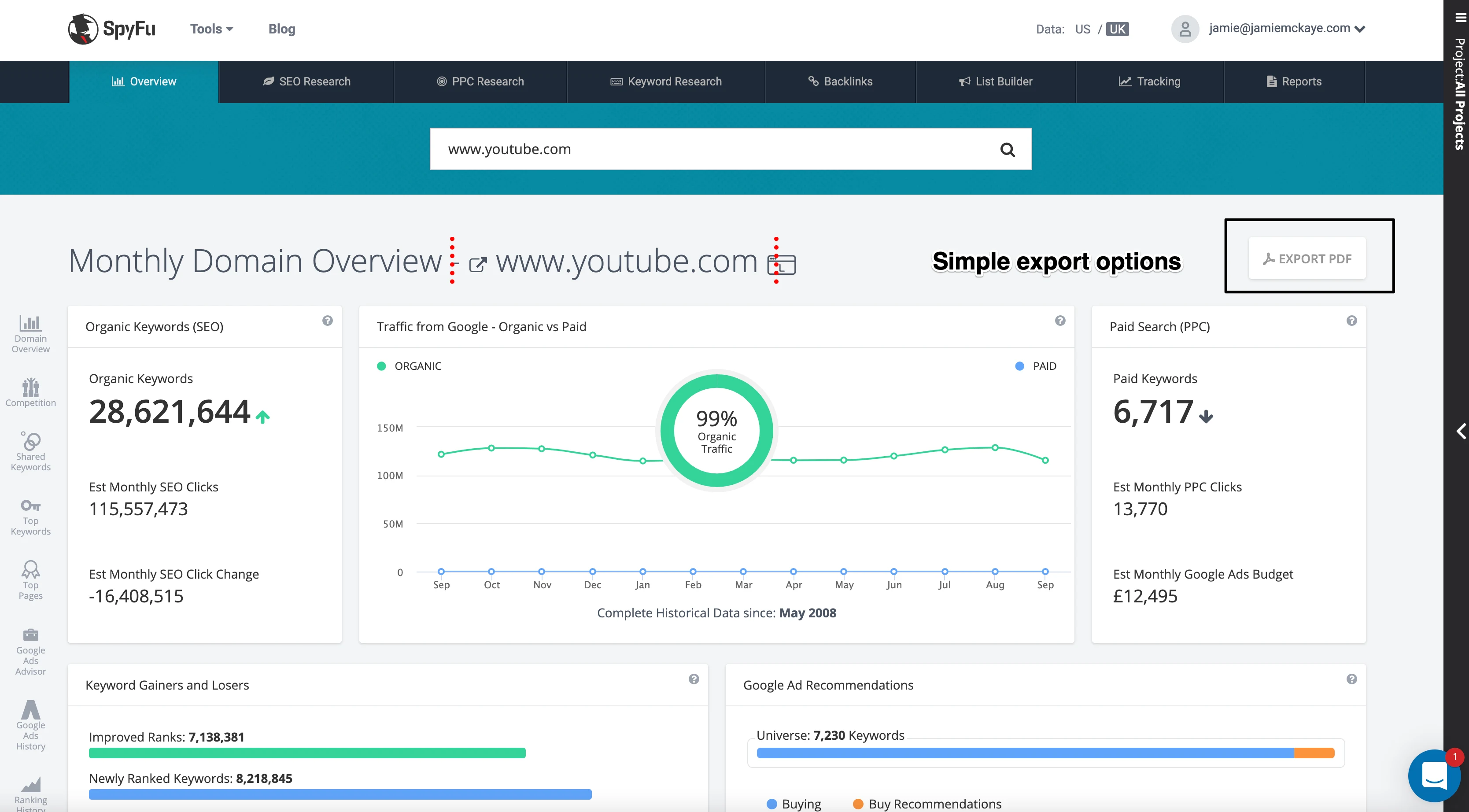 Pricing: $39-$299/mo
SpyFu is a web-based search analytics tool that provides insights into competitors' search engine optimization (SEO) and pay-per-click (PPC) strategies. With SpyFu, you can research competitors' organic search rankings, their top-performing keywords, and the ad copy they use for PPC campaigns.
Compare your site's performance with those of your competitors in terms of website traffic, keyword rankings, backlink profiles, and advertising campaigns. Know the best practices and strategies that are working in your niche. Find profitable keywords for their SEO and PPC campaigns with insights into search volume, cost-per-click (CPC), and competition level for any given keyword.
Pros
You can easily identify high-potential keywords for SEO and PPC campaigns.
It lets you analyze competitors' PPC campaigns, ad copy, and keyword rankings.
George Louis
Finds the best keywords for our clients. By showing what keywords are going to cost, how many searches per month, etc. it allows us to plan budgets more accurately.
Cons
Social media monitoring features are limited compared to dedicated social media monitoring tools.
The reports and data visualizations are limited in terms of customization.
Johny Norris
KW groupings could be broken down further in the SEM overview with costs & click frequency. Sometimes data does not transfer from one tab to another when reviewing a particular domain.
Find the right pick for your brand
Keyword monitoring tools are a must if you want to stay ahead of the competition. By tracking keywords and hashtags, you get an unfair advantage when it comes to engaging with your audience.
As mentioned before, we encourage you to try out multiple tools. There are many options available, but Keyhole stands out for its comprehensive features and real-time social media monitoring. If you wish to take your keyword monitoring to the next level, we highly recommend trying Keyhole.
It offers a free trial, so you test its features before committing. Sign up today and see it for yourself.
Related Articles:
Nike's Social Media Strategy: A Deep Dive Into Campaigns & Statistics
7 Tips To Create Engaging Visual Content On A Budget
Frequently Asked Questions
1. What are keyword monitoring tools?
Keyword monitoring tools are software or online services that help you track and analyze specific keywords or phrases on search engines, social media platforms, and other online channels. These tools allow you to monitor your brand's online presence, track your competitors, and identify trends or opportunities in your industry.
2. How do keyword monitoring tools work?
Keyword monitoring tools use various techniques to track and analyze keywords. Some tools use web crawlers to scan search engines and websites for specific keywords, while others use APIs to access social media platforms and other online channels. Once the tools gather the data, they organize it into reports, charts, and graphs, allowing you to visualize and analyze the information easily.
3. What are the benefits of using keyword monitoring tools?
Keyword monitoring tools help businesses in many ways, such as:
-Monitor your brand's online reputation and respond to negative comments or reviews
-Identify new opportunities for content creation and marketing campaigns
-Track your competitors' online activities and adjust your strategy accordingly
-Measure the effectiveness of your SEO and PPC campaigns
-Stay up-to-date with the latest trends in your industry