While the average person may not want to know everything that's said about them online, that information is invaluable for any company.
But there's a lot of chatter out there, so sifting through all of those mentions manually would be an impossible task for many brands.
That's what sentiment analysis tools are for. They capture everything that's being said about you and tell you how your audience feels about your brand in real time.
In this blog, we'll cover the basics of sentiment analysis tools, and why every company should use them.
Then, we'll give you a list of the top sentiment analysis tools on the market in 2020, including the pros and cons of each tool.
We hope you feel positively about that!
Jump Links

What is a sentiment analysis tool?
Why should you use a sentiment analysis tool?
1. Keyhole
2. Awario
3. Brand24
4. BrandMentions
5. Brandwatch
6. Clarabridge
7. Critical Mention
8. Digimind
9. Lexalytics
10. Mediatoolkit
11. Mention
12. Mentionlytics
13. Monkeylearn
14. OpenText
15. Rapidminer
16. Repustate
17. Social Searcher
18. Socialbakers
19. Statusbrew
20. Quick Search by Talkwalker
21. Union Metrics
Bonus: Free Tools
Start tracking sentiment analysis today

What is a sentiment analysis tool?
A sentiment analysis tool is a piece of software that assesses the intent, tone, and emotion behind a string of text.
In a marketing context, sentiment analysis tools are used to assess how positively or negatively your audience feels about your brand, products, or services. The tools help analyze social media posts, chat messages, and emails.
Sentiment analysis tools are powered by machine learning and natural language processing. These tools scan strings of text for words with positive or negative connotations and then assign a sentiment score to the text.
More sophisticated sentiment analysis tools are able to differentiate positive and negative feelings about different topics within a single sentence. Take the following example:
"I love their products but I'm not a fan of their recent ads."
In this context, a sentiment analysis tool would be able to identify that this person feels positively about your products, but negatively about your recent ad campaign. Overall, it would likely classify this as a neutral statement.
Why should you use a sentiment analysis tool?
Without a sentiment analysis tool, candid feedback from your customers is just being lost into the ether. By using an automated system, you can pull everything that's said about your brand online into a convenient dashboard to track customer feedback.
Without using a sentiment analysis tool, it can be easy for your team to focus on only the most memorable negative or positive feedback. Follow our guide to learn more sentiment analysis uses and best practices.
An automated tool gives you a bird's eye view of audience sentiment over time, allowing you to directly track your efforts to sway public sentiment.
Now that you understand what makes a sentiment analysis tool so valuable, let's explore the top tools available in 2020.
1. Keyhole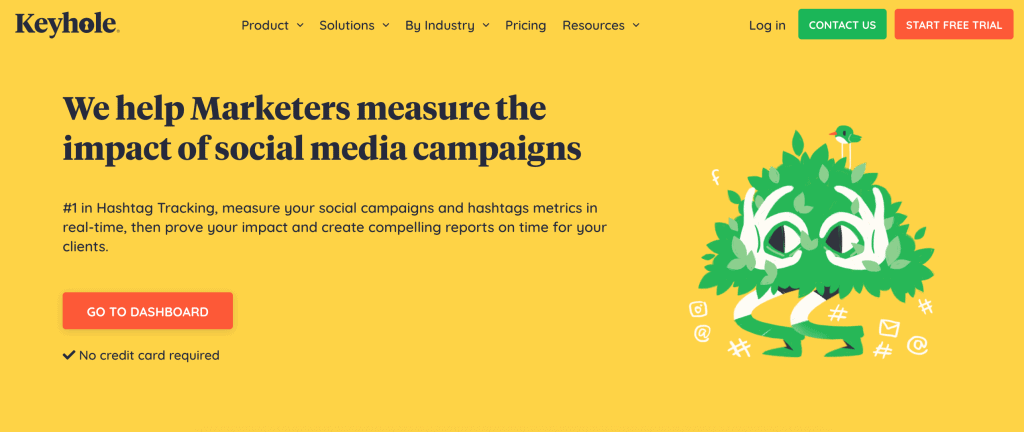 Keyhole is a complete social media analytics and management platform that allows you to track sentiment analysis in real time.
From the sentiment dashboard within Keyhole, you can see the number of positive, neutral, and negative posts mentioning your brand, keyword, or hashtag—filterable by social media platform.
You can see all posts during a timeframe, sorted by sentiment, and a list of keywords that are most often used in positive or negative posts. Also, you can enter your own positive, negative, or neutral keywords to more accurately track audience sentiment.
On top of sentiment analysis, Keyhole also offers influencer tracking, social listening, and social publishing.
Pro: Its unique hashtag tracking capabilities allow you to track the sentiment around a hashtag or keyword.
Con: Keyhole is a focused social and brand monitoring tool, so it doesn't offer some of the deep text mining features of enterprise-level solutions—which aren't needed by the majority of marketers.
Pricing: Starts at $49 USD per month after a free trial. You can view all Keyhole pricing plans here.
2. Awario
With Awario you can track sentiment of brand mentions in near real-time. It also includes other social listening tools like influencer tracking.
Pro: Awario has a unique social selling feature that allows you to track people complaining about your competitors, or people looking for recommendations in your niche, allowing you to easily identify leads.
Con: Especially compared to alternatives on this list, Awario has a steep learning curve.
Pricing: Awario starts at $29 USD ($49 CAD) per month.
3. Brand24
Brand24 is a brand monitoring tool that allows for 24/7 monitoring of mentions across the web.
It automatically tracks sentiment across social, news, blogs, videos, forums, and reviews, with the option to manually change the sentiment score.
Pro: The platform shows you the influencer weight of each mention, so you know which brand mentions to focus most on.
Con: For the price, you're not receiving as many features as many of the competitors on this list, and many users report the interface as challenging to use.
Pricing: Brand24 starts at $49 USD per month.
4. BrandMentions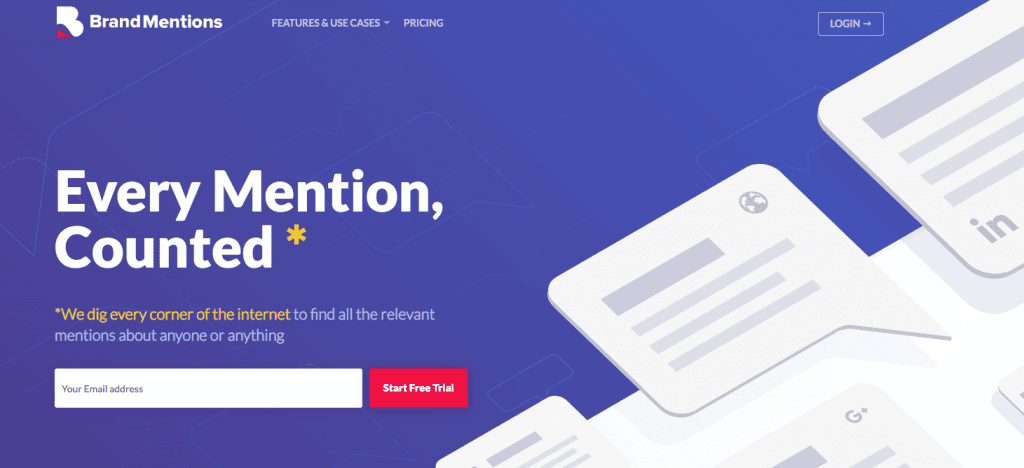 BrandMentions, like the name suggests, tracks your brand… mentions. On top of basic sentiment analysis monitoring, it also offers competitor tracking and reputation management features.
Pro: It allows for integration of website analytics into your reporting.
Con: Users report BrandMentions gets hard to use once you have a large number of mentions.
Pricing: BrandMentions starts at $49 USD per month.
5. Brandwatch (and Hootsuite Insights)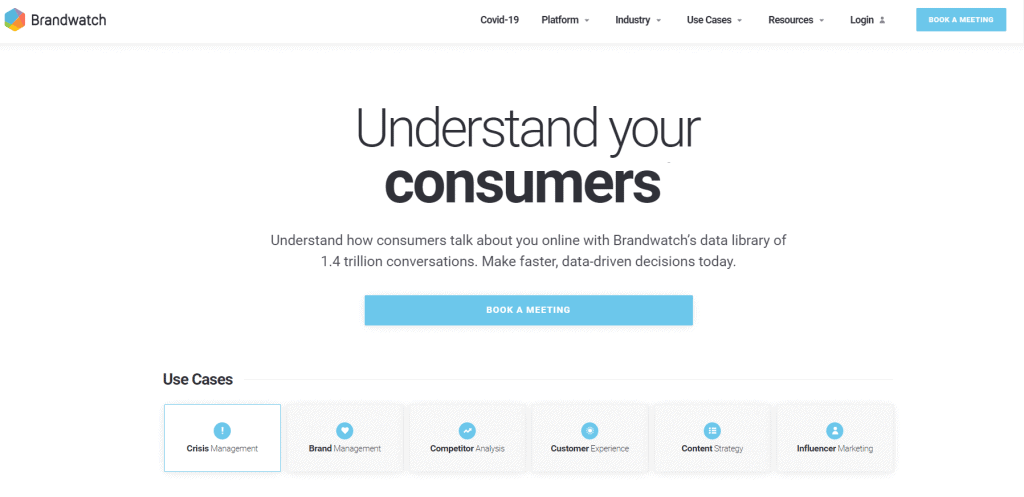 Brandwatch is one of the heaviest hitters in the social media analytics space. With Brandwatch, you can monitor brand mentions, campaigns, competitors, trends and top authors, and audience sentiment.
It is available as part of the Hootsuite Insights platform.
Pro: Brandwatch offers impressive image brand mention tracking, where their AI identifies pictures uploaded featuring your brand logo. Also, it offers a boolean keyword search to dive deep into your target keywords.
Con: Unfortunately, it is one of the priciest sentiment analysis tools out there.
Pricing: $1,000 USD per month (as previously listed by PC) or included with Hootsuite Insights.
6. Clarabridge
Unlike the previous tools on the list, Clarabridge is a customer experience management platform, which allows you to track customer sentiment both on social and in your customer service platforms.
Pro: The sentiment analysis engine combines lexical and grammatical approaches to offer an 11-point sentiment scale that is more nuanced than the majority of the tools on this list. In other words, it allows you to identify customer intent, effort, and emotions.
Con: While Clarabridge is deep, it's more of an all-in-one CX suite and isn't as easy to get up and running as pure social media monitoring tools.
Pricing: Clarabridge does not disclose their pricing without a demo.
7. Critical Mention
Critical Mention is a complete media monitoring tool, allowing you to track mentions on news platforms, social media, and even television. However, its social media monitoring tools offer basic sentiment analysis data.
Pro: This is the only tool on this list that allows you to track TV mentions, which should draw your interest if your brand is often mentioned on air.
Con: Their sentiment analysis and social media data is fairly basic.
Pricing: Pricing starts from $29 to $99 per month, according to Fit Small Business.
8. Digimind
Digimind is a social listening and intelligence platform that allows you to track brand reputation, influencers, trends, and campaigns.
It uses brand sentiment tools allow you to track your overall brand sentiment vs. your competitors.
Pro: Its Top Reputation module lets you see what your customers are searching for when they search for your brand.
Con: According to user reviews, the tool is tough to navigate for beginners.
Pricing: Digimind does not make its pricing public. According to G2, they offer custom pricing based on what features you sign up for.
9. Lexalytics
Lexalytics is a text analytics platform that uses natural language processing to track the sentiment around your brand.
Pro: Their NLP-powered social monitoring tools have been trained on mountains of social data, so they can even understand hashtags, slang, and poor grammar. Lexalytics also tries to identify why your customers feel positively or negatively.
Con: Lexalytics is deep on data, but it's less of a turnkey solution than the others on this list.
Pricing: Pricing for Laxalytics is not published.
10. Mediatoolkit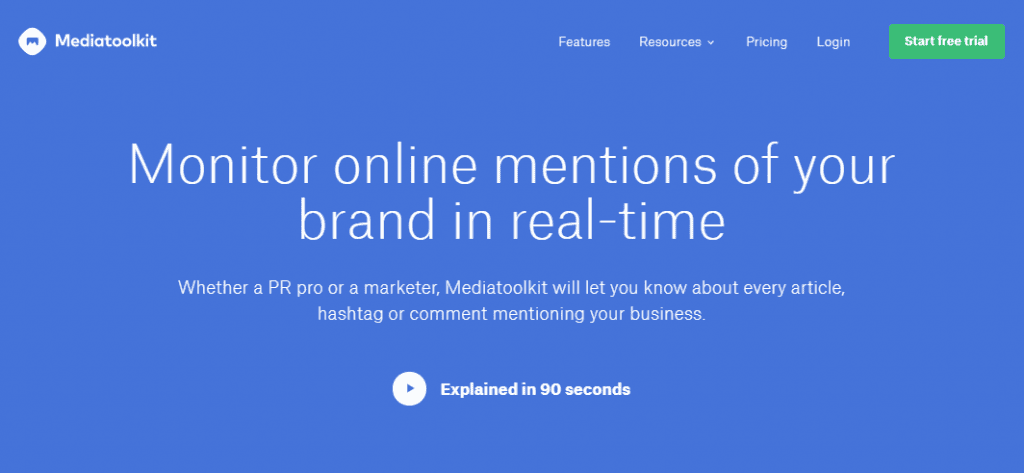 Mediatoolkit is another social monitoring tool that tracks mentions on websites, review platforms, and social sites. Additionally, it offers sentiment analysis as part of its data analysis dashboard.
Pro: With Mediatoolkit, you have the ability to filter mentions by location and language.
Con: For a fairly bare bones monitoring tool, the pricing is higher than similar competitors.
Pricing: Pricing starts at $117 USD per month.
11. Mention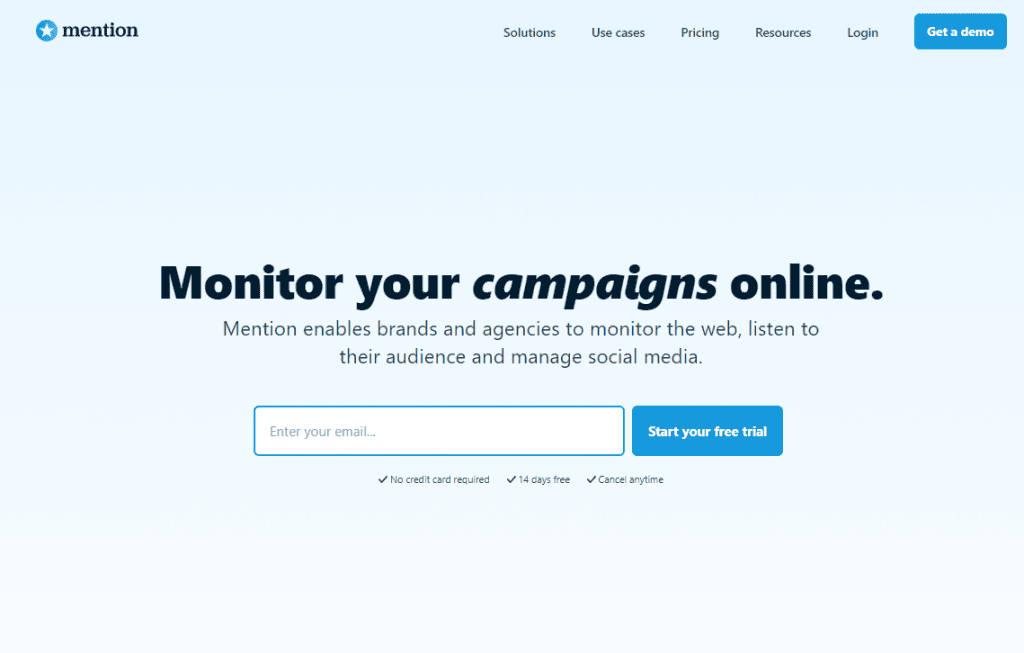 Mention is one of the most popular social media monitoring and management tools. In addition, its sentiment analysis feature allows you to filter mentions by source, language, country, keywords, and influence score.
Pro: It is also a social publishing platform, so you can manage your analytics and publishing schedule in one place.
Con: Mention has restrictions on how many mentions you can track per month, so the price can quickly add up if you have lots of mentions.
Pricing: Sentiment tracking is offered with a plan starting at $83 per month.
12. Mentionlytics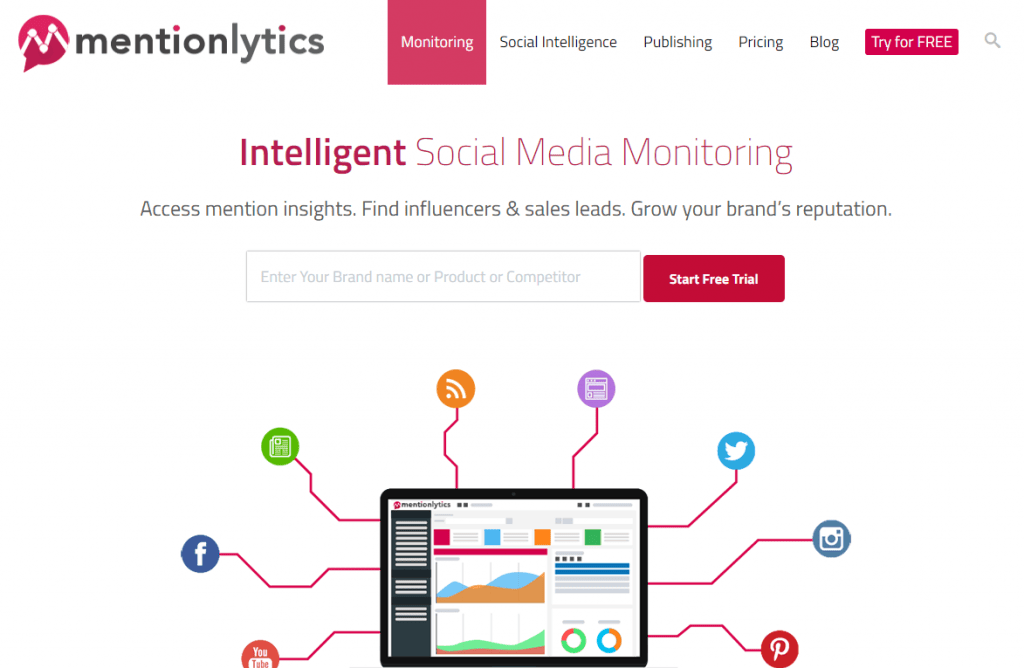 Not to be confused with Mention, Mentionlytics is another social media and reputation monitoring tool with fairly standard listening features.
Pro: On top of AI-powered features that allow you to identify fans and trolls, Mentionlytics lets you reply to posts directly from the platform. Its sentiment analysis tools also work in all languages.
Con: User reviews claim that Mentionlytics's software has an outdated UI design, but according to their responses, they have a new beta interface in the works as of late 2020.
Pricing: Pricing starts at $39 USD per month.
13. MonkeyLearn
MonkeyLearn is a text analysis and data visualization suite that provides sentiment analysis templates customized to different platforms, whether it's social media, reviews, or surveys.
Pro: It uses pre-trained sentiment analysis models, but also allows you to train your own model with industry-specific data (without having to know how to code).
Con: MoneyLearn is a little more manual, as you have to upload your data into Google Sheets or connect their platform to your database through their API. It's also far pricier than a social media monitoring tool.
Pricing: Starts at $500 USD per month and up.
14. OpenText
OpenText offers many information management and data solutions, one of which includes text mining and content analytics.
Moreover, OpenText goes beyond a typical monitoring tool and allows you to analyze text content from internal documents, emails, social media, web pages, and more.
Pro: If you're in need of extremely robust data mining, it doesn't get much more detailed than this.
Con: This is an enterprise-grade tool that won't be accessible for the majority of marketers.
Pricing: OpenText does not make their pricing public for their enterprise platform, which includes the text mining and content analytics.
15. Rapidminer
RapidMiner is another text mining tool that allows you to track sentiment from unstructured data, including social media mentions, online reviews, call center transcriptions, patent filings, and more.
Pro: The platform offers fraud detection by looking for irregularities in spoken and written text.
Con: While RapidMiner is deep on data tools, it's far less intuitive and convenient for typical social media sentiment tracking.
Pricing: RapidMiner packages start at $2,500 but they offer a free version of the software that is fairly limited.
16. Repustate
Repustate is a robust sentiment analysis tool, offering topic sentiment analysis, aspect-based sentiment analysis, and data dashboards.
Additionally, the platform can pull sentiment from customer data, employee data, or any other platform if you connect it to their API.
Pro: It has multilingual capabilities, and offers the option to program slang or alternate meanings into the AI.
Con: Because Repustate is a pure sentiment analysis tool, it doesn't offer many of the social media monitoring capabilities of other tools on this list.
Pricing: Repustate starts at $299 per month but the costs vary based on your needs.
17. Social Searcher
Social Searcher is a very basic social monitoring tool, offering mention tracking, language recognition, analytics, and sentiment analysis.
Pro: It is extremely affordable compared to other tools.
Con: It's affordable for a reason, as its features are fairly minimal beyond basic tracking.
Pricing: Pricing ranges from free to €19.49 per month.
18. Socialbakers
Socialbakers is a powerful all-in-one social media marketing platform that includes social media management, measurement, research, reporting, customer case, influencer marketing, and listening tools. In addition, it offers sentiment analysis across multiple online channels.
Pro: They have pretty impressive collaboration and approval flow capabilities.
Con: Because Socialbakers is an all-in-one tool, it's pricey if you're just looking for sentiment analysis or social listening capabilities.
Pricing: $200 USD per month and up according to G2.
19. Statusbrew
Statusbrew is another all-in-one tool for the entire social journey, including social media management, monitoring, analytics, and customer care
Pro: The platform has many useful features for marketing teams, including workflow management, automatic conversation assignment, and campaign management.
Con: Its sentiment analysis features are only available for the Professional and Enterprise plans.
Pricing: $499.00 USD per month for the Professional plan, which includes sentiment analysis.
20. Quick Search by Talkwalker
Quick Search by Talkwalker is a robust social media search engine that allows you to track KPIs like engagement, mention volume, sentiment, demographics, and geographies.
Moreover, as a part of the larger Talkwalker suite, it offers a range of social media analytics.
Pro: Quick Search has content ideation features that allow you to identify trending themes, topics, and emojis that are popular with your audience. Like Brandwatch, they also offer brand image and video recognition.
Con: Talkwalker's robust feature set comes with a hefty price tag.
Pricing: $9,600 USD per year ($800 per month).
21. Union Metrics
Union Metrics is a social media analytics tool that offers real-time mention monitoring, sentiment analysis, and helpful insights like the best time to post your content.
Pro: As their name suggests, Union Metrics has a huge wealth of helpful social media metrics and attractive dashboards.
Con: Sentiment analysis isn't available on the platform until their top pricing tier.
Pricing: $199 per month for their Marketing Team price tier.
BONUS: Free sentiment analysis tools
If you're just looking for quick sentiment analysis of a string of text, there are plenty of free tools out there to get the job done quickly, including:
However, you'll find these tools don't offer the long-term analytics capabilities that you can get from a true sentiment analysis tracking tool.
Start tracking sentiment analysis today
Tracking sentiment analysis is the first step to crafting a smarter marketing strategy that truly listens to what your audience is telling you.
To start tracking sentiment analysis today, start your FREE 7-day trial with Keyhole.
---
Related Articles
---
Keyhole helps marketers make data-driven decisions while streamlining their social media management efforts. On top of campaign tracking, influencer marketing, and social listening, you can also schedule and publish your social media posts, all in one platform.
Our customers report that Keyhole saves them 5 hours a week on gathering and reporting data, which translates into over $7,000 saved every year.
Start your free trial today and work smarter, not harder.