Have you ever come across a website that doesn't have any social media icons? Chances are, you haven't. These social media icons point website visitors to the brand's social media pages so they can connect with them through multiple channels.
And now with social media playing such a huge role in our everyday lives, you can now see these icons virtually anywhere – from marketing material to business cards.
But before you start plastering on any social media icon that looks good to you, there are a few things you need to consider. Among these is legality, because these social media icons are still registered trademarks.
This post gives you an in-depth look at how social media icons can help with your branding and marketing efforts, how you can legally use them, and more. Let's get started.
First, let's take a look at the potential of these social media icons and just to what extent you can use them for your business. These icons play a critical role in social media branding, as they help direct your target audience towards your brand's social media pages.
In other words, you direct the attention to your brand's social media and bring in new followers.
The best part is that you can use social media logos for both online and offline marketing. Here's a quick look at the different use cases of social media icons in branding and marketing:
1. Adding them to your website
Display social media icons on your website and help visitors discover new ways to connect with your brand. Also, don't forget to use unlimited bandwidth VPS provider to offer a fast journey for your visitor.
Icons make it easier to add social share buttons to your content and encourage more content shares. Each button will have an icon of the relevant social media platform, so your audience knows exactly where they can share the piece of content.
These buttons allow people to easily share the content on social media with just a few clicks rather than having to open a new tab on their browser and pasting the content URL manually.
This makes them much more likely to share, further boosting your visibility and enhancing your overall content strategy.
On your blog, you can just add social share buttons at the end of each piece or on the left-hand panel. On YouTube, you can also use the annotations feature to add a clickable social media icon encouraging people to follow you.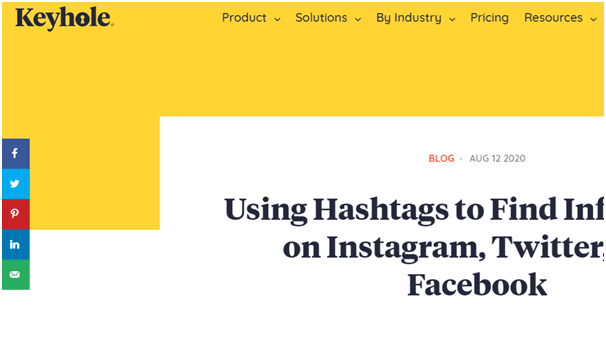 Provide your email recipients with other ways to connect with you by including social media icons in your email signature. This could be a great option for brand representatives that work directly with customers and vendors alike.
For brand newsletters, you can add social media icons linking to your brand's social media pages.
4. Using them in your print collateral
The uses of social media icons aren't just limited to online use; you can even use them in your print collateral such as fancy business cards, agency print ads, or real estate brochure designs. Adding icons in place of text where possible will help the design look great because you get to save some space and minimize clutter.
Since you can't hyperlink on paper, you'll have to include the URL or handle that will direct people to your social media page. For example – facebook.com/keyholeco or @keyhole.co.
As mentioned earlier, social media icons are still registered trademarks so there are restrictions on how you can modify them. That means you can't use a pink and orange icon pack just because those colours align with your brand's visual identity. You also need to keep the brand guidelines in mind for each social media icon:
Facebook
Key brand guidelines for Facebook:
Make sure the "f" logo is in Facebook blue or white. If this isn't possible due to technical limitations, stick to black and white.
Do not deconstruct or modify the "f" logo in any way by changing the colour, design, or scale.

The icon should be similar in size to neighboring icons.

Avoid animating or representing the logo in physical form.
Instagram
Key brand guidelines for Instagram:
Only use the icons provided in the Brand Resource Center. You can either get a multicolour or a black and white version of the Instagram glyph.

Although Instagram recommends that you show the glyph in either black or white, you have the freedom to change it to any solid color. But you may not change other aspects of the design.

Always maintain the icon's set proportions and make sure it's never smaller than 29×29 pixels.

Maintain a clear space around the glyph that's at least one-half of its size so it doesn't compete with other visual or text elements.
Twitter
Key brand guidelines for Twitter:
You may only show the icon in Twitter blue or white. In case of printing limitations, you may get permission from Twitter to display the icon in black.

Do not modify the colour in any way such as using a different colour, adding gradient and other special effects, or filling it with patterns.

Do not make any modifications to the icon such as changing its orientation, skewing, rotating, or stretching it, adding other elements, etc.

While Twitter recommends using the icon without a container, you have permission to use it with a circle, a square, or a square with rounded edges.

Do not animate or anthropomorphize the logo.
LinkedIn
Key brand guidelines for LinkedIn:
The easiest way to remove the background from an image is by using a remove background API. If that's not possible, you may use a solid, light background instead.

The icon should always be displayed in colour through digital mediums. In case of technical and printing limitations, you may use the icon in solid black.

Do not make any modifications to the icon provided by LinkedIn. You may not change any aspect of the icon including its colour, shape, and proportions. So you can't alter, distort, or remove any design element.

The icon should be at least 21px tall on screen or 0.25" tall in print applications.
Playing with Instagram highlight icons
With all these brand guidelines to keep in mind, you have limited space to play around with the official icons for social media platforms. The last thing you want to do is stir up some legal issues because you decided to use some modified social media icons on your website.
And if you've seen some of the free icon packs available online, you might have noticed that a lot of them don't meet these guidelines.
On the bright side, you do have other options to channel your creativity and showcase your brand personality through social media. For instance, you have the freedom to play around as much as you want with the icons for your Instagram Highlight covers.
Uploading icons on your Instagram Highlight covers will allow you to follow a uniform theme on your Instagram page. This makes it easier to maintain your Feed aesthetic and brand visual identity.
Here's how your Highlights will look without a themed cover. It's not necessarily bad, but it can get a bit messy, especially if you want to maintain a consistent aesthetic for your Feed. These random images will, without a doubt, be an eyesore compared to the rest of your Feed.
Here's how your Highlight covers will look if you use icons that follow a specific theme. You can see the massive difference in visual appeal between the two. And each cover has an icon that's relevant to the Highlight category. For instance, Highlights for "Gift Thrift" have an icon representing a gift and "Contact Us" has an icon representing a waving hand.
As mentioned above, you need to follow specific brand guidelines when using social media icons for your business. And that puts limitations on colors, shapes, and overall aesthetic. So although there are plenty of free social media icons available online, the safest bet is to download them directly from the brand.
Here are the top sources to download official social media icons for free so you can use them legally:
Get the permitted Facebook logo directly from the company's Brand Resource Center.
Get the official Instagram glyph icons directly from the company's Brand Resource Center.
The official Twitter icon is available for free download from the company's Brand Resources.
The LinkedIn Brand Guidelines page lets you download the official social media icons for free.
As for the icons on your Instagram Highlight covers, you'll find several places to download them for free. You can also create your own using multimedia content creation tools such as Canva and Visme. Check out the top icon packs you can download for free:
1. 20 Instagram highlight icons by Denis
Artist Denis shares a set of icons representing items that can fit into different categories. It maintains a consistent and minimal black and white sketch design with a pale blue background.
2. Floral Instagram highlights
This icon pack from freepik follows a fall colour scheme, implementing earthy shades of brown, cream, grey, and green. A minimal floral sketch represents each icon.
3. Instagram highlights stories food icon pack
Food bloggers, chefs, and restaurateurs alike will love this icon pack representing different food items such as donuts, burgers, corndogs, fries, and more.
4. Free Instagram stories highlight icons from Later
Later offers a set of free Instagram Highlight icons that you can customize to fit your brand's visual identity. The icon pack comes with minimalist graphical elements that can fit into various categories.
5. Gray Instagram highlight covers by cappuccino and fashion
Mommy style blogger Madeline shares a set of icons for your Instagram Highlight covers in a minimalist, grey theme. This comes with 20+ icons that can fit into a variety of categories.
6. Minimal highlights covers in green
If grey isn't your colour, you can also opt for this minimalist icon pack in cool and earthy green. The graphics represent various objects and themes to fit into multiple categories.
7. Instagram highlights stories shopping icon pack
For retailers, this solid black shopping icon pack might be just what you need for your Instagram Highlights. You have icons representing various objects such as wallets, shopping carts, customer representatives, and more.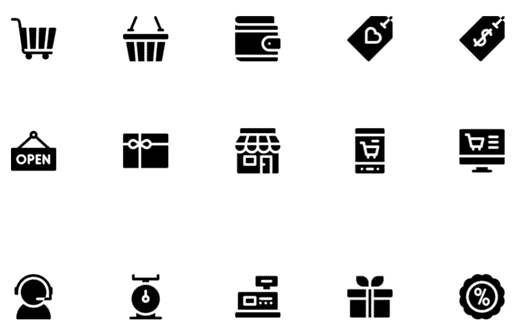 8. Blue splash covers
If you like something more colourful, you might also like this blue splash icon pack. It includes several basic white icons with a splash of blue in the background.
9. Instagram highlights stories travel icon pack
For Instagram influencers who travel frequently and for travel-related businesses alike, this travel icon pack would make the perfect Instagram Highlight covers. It includes cartoonish and brightly coloured icons representing travel-related items such as trains, planes, palm trees, mountains, and more.
10. 60 Instagram highlight icons by Denis
Designer, Denis offers another set of free Instagram Highlight icons representing a wide variety of categories. This pack maintains a minima light blue and white theme with simple black outlines.
Bonus: Flaticon
Flaticon, is one of the most popular online libraries for icons, social media icons, animated icons, stickers, and other digital assets. With 8.2M+ vector icons & stickers, it has been popular among designers, marketers, and entrepreneurs looking to add universally recognizable icons to their designs.
The designs come from hundreds of designers from across the globe. And Flaticon also has a contributor program where designers can contribute their icon and sticker designs and earn from them. So, if you are looking for ways to enhance your UX Design, this is a resource that's hard to miss.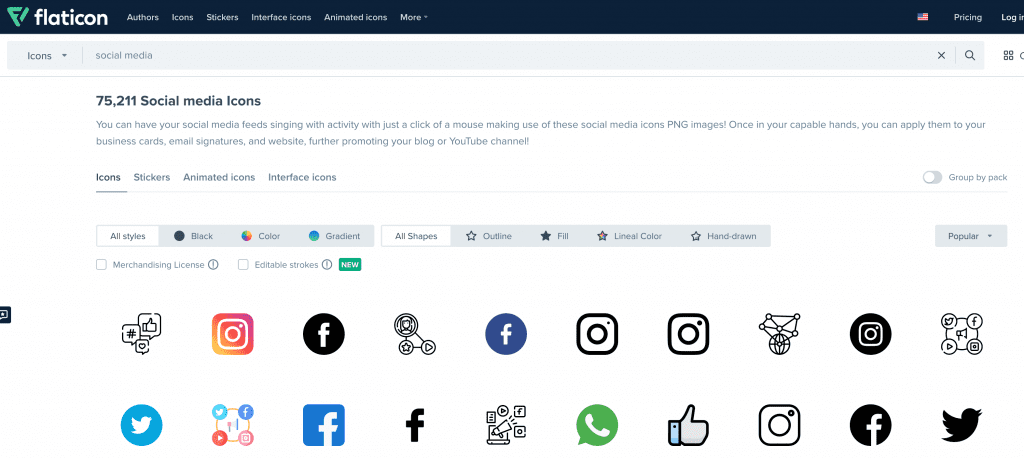 Now that you're armed with the essential brand guidelines and free download resources, you're just about ready to start making the most of social media icons. But before that, make sure you follow the best practices below:
1. Maintain uniform space and size
Make sure that all the social media icons you use are of the same size. And don't forget to evenly space them out so that they don't compete with each other. This not only follows the brand guidelines of different social media platforms but also looks great design-wise.
2. Minimize clutter
Don't clutter up the space with too many icons or you could end up overwhelming your audience. Instead, pick out up to five icons leading to your brand's most important social media pages.
3. Make sure your brand is the main focus
Avoid making them larger than your own brand logo. Your brand should be the main focus, and any social media icon larger than your official logo will overshadow it.
4. Place icons strategically
Although your social media icons shouldn't be the main focus of the page, they should still be prominently visible if you want to attract new followers. Most companies place them at the bottom of the page, so you can follow the same tactic. But don't make them too small that everyone misses them when they visit your site.
Social media icons may play only a small role in your overall branding and marketing strategy. But the smallest things can make all the difference between a well-established social media marketing strategy and a developing one. And social media icons help you paint a complete and professional picture in the eyes of your audience.
In addition, you can strengthen your social media strategy by routinely tracking your performance and looking for optimization opportunities.
The Keyhole Social Media Account Analytics tool comes with robust features to help you with this. It provides you with a complete breakdown of your follower demographics and offers suggestions to improve your strategy such as optimal post length and best time to post.
So make the most of your analytics insights and the tips we've provided here to build a powerful social branding and marketing strategy for your business. And don't forget to sign up for a Keyhole free trial to strengthen your efforts.
---
Related Articles:

What Instagram Stories Metrics Should I Track?
Instagram Messages: How Businesses Can Engage Their Audience & Tools to Manage Your Inbox
---
Frequently Asked Questions
Here are the uses of social media icons in branding and marketing:
1. Adding them to your website
2. Encouraging content shares with social share buttons
3. Including them in your newsletters and email signatures
4. Using them in your print collateral
Here are 10 sources for free social media icons:
1. Facebook Brand Resource Center
2. Instagram Brand Resource Center
3. Twitter Brand Resources
4. LinkedIn Brand Guidelines Page
1. 20 Instagram Highlight Icons by Denis
2. Floral Instagram Highlights
3. Instagram Highlights Stories Food Icon Pack
4. Free Instagram Stories Highlight Icons from Later
5. Gray Instagram Highlight Covers by Cappuccino and Fashion
6. Minimal Highlights Covers in Green
7. Instagram Highlights Stories Shopping Icon Pack
8. Blue Splash Covers
9. Instagram Highlights Stories Travel Icon Pack
10. 60 Instagram Highlight Icons by Denis
Some of the best practices to use social media icons are:
1. Maintain uniform space and size
2. Minimize clutter
3. Make sure your brand is the main focus
4. Place icons strategically