Hashtags – you might've spotted them nestled in the image captions of your Instagram feed, in the content of a Facebook story, or perhaps you've seen them highlighting the latest trends on your Twitter or TikTok feeds.
On whichever social media platform they reside, hashtags have undoubtedly become an integral part of the current social media landscape.
These small but mighty symbols are defining how users communicate, share ideas and raise awareness. When applied through a relevant strategy, hashtags can be a powerful tool for boosting organic reach and engagement.
They empower businesses and individuals alike to evolve into strong, recognizable brands. Ready to find out more? Let us take you through our guide on how to create an efficient Instagram hashtag strategy.
What is an Instagram hashtag strategy?
Instagram hashtag strategies feature the calculated use of hashtags within the body of a post to improve reach.
Hashtags on Instagram are a calculated way of categorizing, tagging and organizing your posts, directing the platform to serve your content to the most relevant user bases, who may be searching for them directly or following a particular hashtag.
They're a way to ensure users are seeing only the most relevant and high-quality content in line with their interests, with leading content prioritized in search results and across the Explore tab.
Establishing your hashtag strategy ensures your posts are seen by the most relevant, high-value users. In addition, hashtags allow you to develop a brand identity, encourage community communication and run user-generated content campaigns.
There are a number of ways the use of hashtags on Instagram can benefit your brand, whether you're an established business, a newly launched startup finding its customer base or an aspiring influencer.
Instagram is an extremely popular and powerful platform, and harnessing its potential can have a remarkable impact on your ability to build an online presence, develop cultural influence and improve your conversion rates.
Hashtags give you the opportunity to reach some of the platform's most engaged and content-hungry users, without having to divert from your usual content strategy.
1. Engagement
One of the most efficient ways to get your content in front of new users is to add a hashtag to your post. Hashtags allow users to discover content related to their interests quickly and easily.
By coupling the power of niche-specific hashtags with strategic utilization of influencer marketing platforms, you can attract a wider audience base, including specialist consumers who are more likely to convert. Influencer marketing platforms allow you to collaborate with influencers whose followers align with your target demographic, ensuring your content reaches the right people at the right time.
This not only fosters valuable user relationships but also enhances your brand's engagement. This engagement provides a launching point for fruitful user relationships. While hashtag engagement might not directly translate in terms of shares or likes, the visibility it offers your content builds familiarity and tells the platforms to show users more of your content, further developing brand awareness and leading to conversions. Adopting a CRM software for Ecommerce can help you to keep track of the relationships made through hashtag engagement.
2. Conversion rates
Hashtags are a priceless eCommerce tool. Leveraging Keyhole's products even allows you to track any hashtag, keyword or Instagram profile.
Stores can significantly improve not only their reach, but the value of each website visit through the use of Instagram hashtags. For growing eCommerce enterprises, hashtags represent a way to reach customers seeking alternatives and engaged shoppers eager to latch onto the latest trends.
Hashtags can be used to drive fresh traffic, run competitions and directly boost sales during down periods. From user participation to appearing alongside trending search terms, hashtags are one of the best ways to get in front of valuable users who use the platform as their primary shopping tool.
Much like stories and verification icons, hashtags are yet another example of the way Instagram has pivoted from a creator-based platform into one that works to massively benefit eCommerce stores.
3. Competitor analysis
Curious about your competitor's Instagram footprint? Hashtags are a great way to decipher this.
Hashtag research determines who your competitors on the platform are, the kind of content they're producing and the hashtags they're using to promote it. It's highly likely that you and your competitors use overlapping hashtags, especially local competitors and industry leaders. Hashtag customer research offers the opportunity to compare and contrast content strategies.
For example, beauty rivals Sephora and Beauty Pie both belong to the same industry, but use Instagram hashtags in different ways to communicate with their audience.
Having noticed an increase in negative comments, Sephora posted an Instagram reel to promote kindness, and included a #HeartsNotHate in the post caption. The use of one powerful and catchy hashtag, coupled with a visual reel, allowed the brand to communicate their message in a concise and engaging way.
Instagram followers who then wanted to support Sephora's positive message were able to reuse the #HeartsNotHate hashtag in the comments section.
Beauty Pie has also taken the time to observe audience behavior and effectively communicated with their followers through an Instagram reel combined with hashtags.
Unlike the previous Sephora example, one particular Beauty Pie Instagram post used not just one hashtag, but multiple. The reel addressed some of their audience's frequently asked questions about the Beauty Pie brand.
The post's caption included the following group of 8 hashtags: #beautypie #ilovebeautypie #luxuryskincare #luxurymakeup #luxurybodycare #advandeskincare # beautybusiness #beautyindustrysecrets. Using a variety of hashtags that distinctly represent your business offerings can help to attract engagement and visibility from potential customers that could be most interested in pursuing your specific service.
Hashtags also offer a way of establishing where your content would thrive. The key to an efficient Instagram hashtag strategy isn't just to use the most popular hashtags, but to find underutilized options where you might be able to engage with a niche, underappreciated audience fertile to advertising.
From here, you can begin to foster a community and learn what characterizes successful communication for your brand while building a loyal base. For more secure hashtag research and implementation, consider using a reliable VPN for iOS to protect your online activities.
3 ways to establish your Instagram hashtag strategy goals
Establishing your Instagram hashtag strategy goals requires significant consideration regarding content production, timing, brand image and tracking. Here are three key tips for establishing your Instagram hashtag strategy goals.
1. Conduct thorough, conclusive research
Without conclusive research, you'll struggle to make effective decisions regarding your hashtag strategy.
Begin by looking into hashtags your target audience already operates within. You may not need to think outside the box or create an original hashtag. Latching onto an existing trend is a great way to establish your brand and appeal to an existing engaged base, giving you more time to focus on content development.
Tools such as Hashtagify will allow you to identify the top-performing hashtags related to your industry, along with insights into how users are actually interacting with them.
Ideally, you should look to utilize a mix of broad and niche-specific hashtags to keep your reach broad, but not lose the core audience who will directly impact your metrics. Keeping things too broad will result in posts being lost amongst spammy content and other brands vying for attention.
2. Assess your brand's pain points (and successes)
Evaluating a brand's previous successes and failures on social media platforms is essential for building effective Instagram hashtag strategies going forward.
For example, if you found users were viewing your content but failing to follow your page or click through to your site, consider using branded hashtags or adding further branding to your posts, ensuring users make the connection.
Understanding weaknesses within your previous campaigns can help you to avoid the use of irrelevant or ineffective hashtags, coupled with what you've learned from competitors and user research. This way you can also establish pain points directly associated with the platform, such as your content not being suitable for an Instagram audience or translating into short-form reels and stories. These pain points and potential successes should serve to dictate every element of your campaign.
3. Organize and track progress using tools
Executing an efficient Instagram hashtag strategy requires organization and the ability to track the success of your campaign.
Utilizing project management software tools is essential, as they give you key insights into the particular elements of your campaign. For example, data visualization tools such as the Timeline view found on project management software can help social media managers to view and assess the outcome of their strategy in a digestible format. This offers a holistic overview of the actual success and action of users utilizing your hashtag the Explore page cannot. 
Additionally, this kind of progress tracking makes it easier to deploy more effective Instagram hashtag strategies in the future. Without successful examples to point to, it can be hard to get a project that requires the research, content creation and tracking that a hashtag strategy does, especially on a platform as competitive and inventive in terms of content as Instagram. Having the data to point to is integral.
Example of an effective Instagram hashtag strategy
Instagram hashtag marketing is effective not just because it's a great way to get your business noticed, but to reinforce branding and awareness.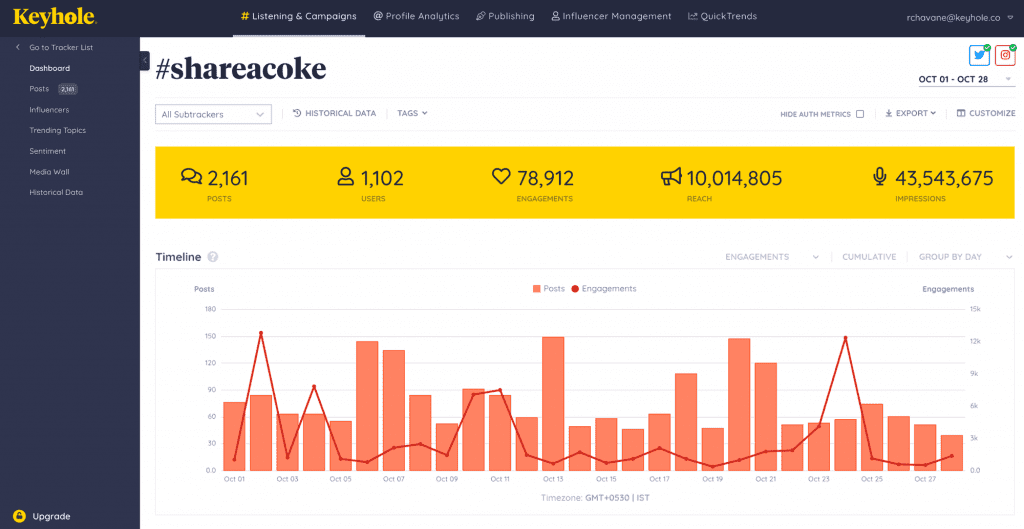 Take the Coca-Cola #ShareACoke campaign. Through it, one of the most established brands in the world was able to combine real-world and online marketing to improve brand awareness, while relying solely on user-generated content. By launching named Coke bottles in 2011, Coca-Cola was able to encourage users to share images of themselves with the bottles and tag friends they had found bottles for.
More recently, the Barbieheimer campaign serves as an example of how businesses can latch onto organic engagement to further boost their reach and build excitement around the product.
Originally seen as competitors due to their concurrent release dates, social media users excited for the films Barbie and Oppenheimer organically transformed the marketing of both films by suggesting audiences see both as a 'double-feature'.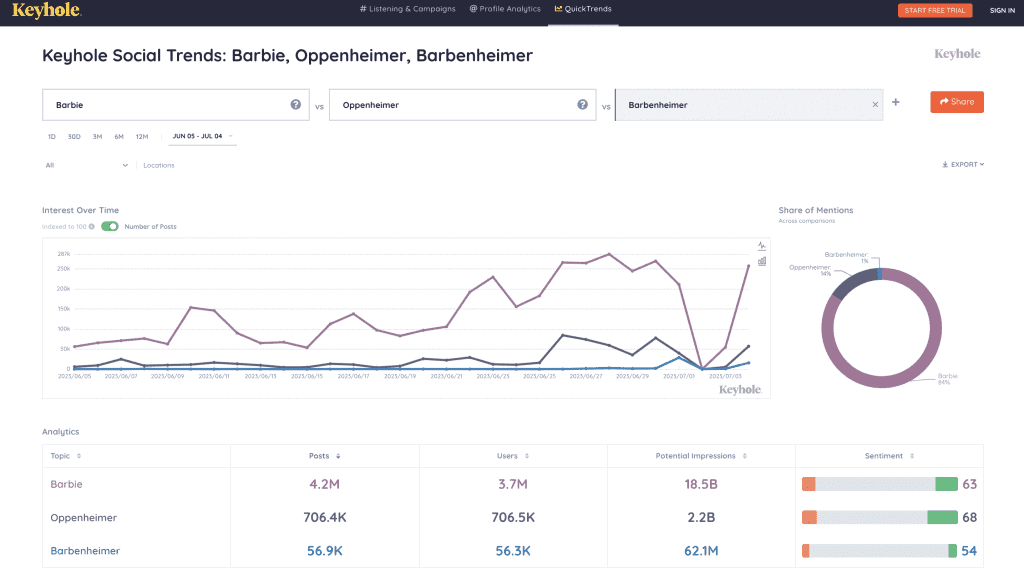 This gave birth to the #Barbieheimer trend, which studios latched on to as a means of encouraging users to share their theatre experiences while offering media outlets a snappy phrase to discuss the phenomenon.
How to implement your Instagram hashtag strategy
So, how do you go about implementing your Instagram hashtag strategy?
The key is to establish what success looks like for you. If this is your first time using Instagram hashtags, experimentation might be the goal. However, as you go on, success will be defined by a specific number of shares or interactions on a post.
In short here are the crucial implementation steps of an Instagram hashtag strategy:
Establish campaign goals
Conduct hashtag research (language, audience, engagement rates, market share)
Consider branded or non-branded hashtags
Monitor performance and engagement rates
Optimize placement, content and posting frequency (consider Instagram stories)
Encourage user participation
Keep to a consistent strategy
Hashtags occupy a complicated space in the digital community. While hashtags might not possess the cultural cache they once had, they have taken up a practical new space as one of the most versatile and effective digital research and selling tools, changing the game for influencers, eCommerce stores and marketers across the world.
Why not check out Keyhole's free trial unlock key social media insights for your business.You could track social media profiles, hashtags and keywords, visualize trends across multiple platforms and access data to help your business grow.
Final words
Tracking your Instagram hashtags can be just as important as implementing a strategy.
No matter how much time you spend establishing your goals, it can be useful to monitor and evaluate whether or not you're actually meeting those goals and fulfilling your long-term strategy. Keyhole allows you to track hashtags across varied social networks in one single dashboard.
This tool can help you measure the impact of your Instagram hashtag strategy, and prove its value in real time using effortless reporting.
Related Articles
How To Run An Instagram Audit In 10 Easy Steps
2023's Top 14 Instagram Analytics Tools for Tracking IG Metrics
Frequently Asked Questions
1. What is the 3 hashtag rule?
The 3 hashtag strategy focuses on applying the most relevant hashtags to your content, namely the who, what and why. When advertising a product, you may want to offer three hashtags for the target audience, three hashtags for the product you're trying to sell and three problems it solves.
The strength of hashtags depends on the platform you're using them on. Hashtags are much more powerful on Instagram than they are on Facebook. The type of content you're creating will also impact the usefulness of hashtags. While they are a great tool for getting eyes on your post, they can make them feel inauthentic and sometimes out of step with current social marketing trends.
Simple hashtags are the most popular in 2023, with posts often opting for quantity over quality when it comes to hashtags. These terms are often very general, with #love, #photooftheday and #fashion being some of the most popular to this day.