This year has been a heck of a ride for everyone. However, savvy brands have risen to the occasion giving us great takeaways about social media trends that are here to stay.
Which social media strategies were the most successful in 2023? How can these help inform our social media strategy for 2024?
We'll reveal the top 5 strategies you can implement, along with marketing tactics that will guarantee success throughout the year.
Social media strategies in 2024
According to the social media statistics, there are 4.8 billion active social media users as of 2023.
Translated into numbers, last year alone, 227 million new users have joined social media platforms worldwide.
With social media exhibiting an upward trend several years in a row, it's clear why brands invest a lot of time and effort into creating an effective social media strategy.
Effective social media strategy consists of a series of steps that reflect your goals and what you plan to achieve on social media.
Noting down your goals into a comprehensive social media strategy will allow you to track your success and identify areas of improvement.
Naturally, for a social media strategy to be effective, it has to take into account the latest social media trends…
… which is where we come in.
Below, we'll share a couple of social media tips that will help you run more effective marketing campaigns. Also, a a side effect you will build better customer relationships and ensure that you make the most out of your social media efforts in 2024.
1. Use contests to get and stay on the radar
You've surely stumbled upon a social media contest in the past, or maybe even organized one yourself. There's a reason why so many brands have included these to their social media strategy.
Social media contests are a proven way to get the word out, get people interested in what you offer, and boost your followers count.
Over the past couple of years, social media contests have been especially effective when done in a collaboration with an influencer.
More brands are making the shift towards enhanced customer service and two-way communication. Makes sense, contests and giveaways will remain as relevant as ever, but their main goal will no longer centre around increasing the number of likes and followers alone.
Instead, brands are actively starting to use contests as another way to provide something of value to their audience. Allowing them to not only get on the radar of potential consumers – but stay on the radar as well.
See how Kool-Aid used a fun contest as part of its Halloween social media strategy to interact with thousands of potential customers and become part of their conversation.
Increase brand awareness and remembrance
Drive more traffic to your website/blog/social media platform
Get to know your audience
Educate potential customers
Get people to test your products
Reward your loyal customers
… and more!
Most importantly, you don't need to sell physical products to organize a contest.
Are you a growth specialist helping people who want to start their own business? You can offer a free 30-minute consultation call, or free access to your mini-course.
Or maybe you're a public speaking coach helping people to grow their business through speaking? Why not run a contest and offer some of your resources for free to the lucky winner?
You can use several contest formats including, but not limited to: follow to enter, tag a friend to enter, like to enter, comment to enter, share to enter, vote to enter, take a photo to enter, or any combination of these call to actions.
Neil Patel has discussed this into more detail, so make sure to check out his blog How to Use Contests and Giveaways to Get User-Generated Content.
2. Create deeper connections with video
You've surely noticed that various social media platforms have added more features for you to share video updates with your audience.
YouTube is huge right now, Instagram Live encourages its users to share instant updates, and longer form content with IGTV, and of course, there's the incontestable power of TikTok.
Over time, we have witnessed how visuals drive more engagement, and video enables you to talk to your users directly – making a deeper connection. For making unique eye-catching content you should use different video editing apps and then share videos with your audience.
One of the most powerful ways to drive more engagement and get immediate reactions/feedback is through live streaming on social media. For instance, live streams allow you to cover events, pick or announce contest winners in real time or create buzz around a product during its launch phase.
Because everyone can learn how to use graphics software to improve content quality. In addition, you can find detailed instructions for simple needs in Google, such as how to resize an image in the Adobe Illustrator guide.
Check out how one of the leading agile project management tools, Asana, is using videos to show their users and potential customers ways to use their tool to improve productivity.
And of course, many brands marketing to younger audiences have already started adopting TikTok.
For example, look at how Guess's #inmydenim campaign targeting Generation Z went viral with 41.3M views.
Don't forget to measure your results. See how both brands are using hashtag analytics to track their campaign performance.
Social media platforms used to be a place where people can keep in touch with friends and family. Nowadays, users stay up to date with the latest developments, get inspired and discover new products through social media.
We all know that social networks influence what people buy online. For instance, buyers can easily compare products, read user testimonials and browse new items using social media platforms.
However, over these past couple of years, social networks began to offer new features that allow users to shop on social media as well. In other words, your social media strategy can have a huge impact your bottom line.
Pinterest's Shop the Look feature allows users to get instantly redirected to the checkout page, where they can immediately turn their inspiration into a purchase.
Similarly, Instagram leads the way allowing brands to not only sell on social, but also to pair social shopping with influencer marketing.
Check out the following Shoppable post by Revolve:
Is this not convincing enough to add social commerce into your social media strategy?
Well, according to Civic Science's Trend Adoption Tracker, the number of people who shop through social media has increased by over 10% since Q4 in 2018. And this trend is likely to continue well into 2025.
Make sure you use hashtag analytics to track your shopping posts, and learn how to make them more appealing to your brand – leading to more sales.

4. Boost sales with Augmented Reality (AR)
I'm sure you've heard everyone talking about Augmented Reality and how it will shape the future of shopping.
Up until now, a lot of people were visiting stores to see, touch and try on the products before they go back home and order them online. In this rapidly digitizing world, utilizing an app builder for an easy-to-use, intuitive online store interface has become pivotal. So building an online store and creating social media presence became more important than ever. This resulted in a complex path to purchase consisting of several touch-points both in physical and online stores.
Because of the COVID-19 pandemic, retail shopping declined by nearly 20%. Alternatively, brands that leverage an omni-channel approach can expect growth. Online shopping is no longer just an option for retailers.
In the future, we can expect that a lot of retailers will transform their brick and mortar stores into virtual showrooms. A digital space where people can see and try on the products, and then buy it online.
Also, the latest developments in AR are beginning to allow customers to get the same experience – online.
In the past, Facebook and Instagram have launched AR filters, allowing users to try on products from selected advertisers to see how they fit before they make a purchase decision.
These AR tools have been limited to the platforms' early partners in the cosmetics and eyewear industry, including NARS, Mac, Warbly Parker, and Ray Ban.
See how Oriflame Cosmetics uses in Instagram filter to allow users to "try on" different shades of lipstick.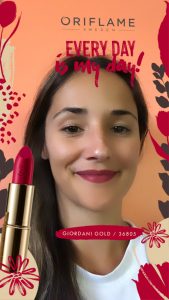 Also, it's now possible for anyone to create their own filters using Spark AR Studio, so go ahead and download the app to get acquainted with what it can do.
You could see if there is a way for you to leverage AR in your social media strategy to make your consumers' online experience more engaging and fun.
5. Get on the micro-influencer marketing bandwagon
Despite what naysayers claim, influencer marketing is on the rise, and is expected to grow even more.
To stay relevant and get discovered by new audiences, brands need to start partnering up with content creators who are loved and trusted by their communities. You will need to reach out to those influencers through cold email or any other social media.
But how can small brands afford to pay influencers?
This is a common objection raised by businesses who still equate influencer marketing to celebrity endorsements. In fact, an influencer can be even someone with 1000 followers.
There are 5 influencer tiers: Nano, Micro, Mid-Tier, Macro and Mega influencer.You can see the number of followers an influencer needs to belong to a particular tier on the infographic below:
Lately, many brands have started stepping away from mega influencers. Instead, they've started to collaborate with smaller creators who have an audience between 10K and 100K followers.
Micro influencers have a more genuine relationship with their community and as a result they have a lot of true fans that trust them and their judgement. Plus, they are more receptive to outreach, since they are most likely not overloaded with collaboration requests. When you reach out to them, you start off by using an influencer outreach template.
One great example that illustrates how successful a strategy based on micro-influencer collaborations can be is Swedish watchmaker Daniel Wellington. The brand's social media strategy centres, most importantly, around partnering with micro influencers from all across the world.
The results? Daniel Wellington has become one of the most well-known brands on social media.
Daniel Wellington are also encouraging their customers to share pictures to get a chance to be featured in their #DWPickoftheDay. This contest, where the brand didn't offer a physical product, still managed to incentivize their followers to enter by offering them exposure.
Bonus tip: Social media strategy is not just Twitter, Facebook and Instagram
The key to staying relevant is keeping up with your audience, their interests and habits. This should inform your social media strategy.
One of the things that you need to track are the social media platforms where your target audience spend the most of their time.
There are a lot of new social media platforms appearing, and it's impossible for you to be present everywhere. So, you need to assess which platform has the biggest potential based on your line of business and audience.
For example, a lot of brands focus on the most widely known social media networks: Twitter, Facebook and Instagram, while overseeing other networks like LinkedIn, Pinterest and as of recently, TikTok.
Depending on your brand and what you sell you might want to consider experimenting with some other platforms. While some platforms might not be that popular in terms of advertising but may prove to be effective for you and help you reach new, engaged audiences.
Pinterest, for example, is a great platform for interior design companies, since a lot of people browse Pinterest for home décor inspiration.
TikTok, on the other hand, has an algorithm that allows for a large organic reach, even if you're just starting out.
LinkedIn has also rolled out some new features, including banners and CTAs. As a result, it is a great place for brands who are looking to provide extra value to their audience. This is especially true since LinkedIn's algorithm is tailored to favour long, informative content.
That's why we've been seeing a lot of B2B and SaaS brands focusing on LinkedIn as the core of their social media strategy.
Whatever social media platform you use, you need to talk to your audience and make the shift towards a two-way communication. For instance, you can do this by using videos, organizing contests, throwing events, or simply by sliding into your consumers' DMs.
Final Thoughts
The social media landscape is changing every day. New features kick off and new social media platforms gain popularity, so it can be hard to develop social media strategies.
However, if we take a better look, all these changes and features have one thing in common: they're developed to help brands drive more engagement, start conversations and provide more value to their customers.
So if we have to sum this up and give you a single tip to follow, it's this:
Be creative, but do not follow trends blindly, and instead, invest in those things that are in line with your brand and are appreciated by your audience.
Do you agree with our top 5 social media strategies for 2024? We'd love to hear your thoughts on the comments below
---
Keyhole is a real-time conversation tracker that provides keyword and hashtag analytics for Twitter and Instagram. Get started for free and search your brand.
Related Articles:
Influencer Marketing: An Expert Guide On Marketing's Next Big Thing
Influencer Marketing ROI: Calculate ROI and Maximize Your Social Impact