TikTok has been a hot topic throughout 2020 from viral videos and challenges popping up on the platform all the way to the app's near-ban in the United States.
And one thing that's been gaining traction on top of it all is TikTok marketing and how brands can actually take advantage of this unique platform to reach a wider audience of young people and create an authentic presence for their brand.
That's what we're going to talk about today – what TikTok is, what all the fuss is about, and how you can successfully fit this platform into your marketing strategy.
The only key is to not get sucked into viewing hours of video content every time you open the app. 😉
Let's get started!
What is TikTok?
First things first, we like to cover the basics. What on earth is TikTok, and how did it get to where it is today?
In a few words, TikTok is a video-sharing social media platform that has become popular with Gen Z and younger Millennials through its micro-videos all about dance challenges, lip syncing, and other viral memes.
TikTok initially started as the musical lip syncing app Musical.ly as an attempt to replace Vine. Musical.ly was then bought by tech company ByteDance in August 2018 and rebranded into the TikTok you know and love today.
Videos must be between one and sixty seconds long and can be based around an original sound or a pre-recorded sound bite already recorded onto the platform.
In fact, some of the most popular TikTok videos use sound bites from other video content or songs as the basis for their story.
Why TikTok Should Be Part of Your Marketing Strategy
Considering creating a brand account on TikTok? We support it. There are so many reasons why TikTok could be a great addition to your marketing and video strategy – especially if you're trying to reach some of those younger demographics.
Another great reason is that the type of content users share on TikTok is unique, and you have the chance to make a different kind of impression on your audience.
You're not going to be creating static images or sharing blog post links through your TikTok videos. While you can certainly still create educational videos, the content strategy is incredibly different. We'll talk more about that in a bit.
And the last, but certainly not least, reason that you should definitely consider incorporating TikTok into your marketing strategy is that the algorithm is 100% content first.
This means it focuses on what users actually want to see, so the potential to go viral on the app is possible for even the newest users.
Ready to learn more about the types of content that perform best on TikTok so you can get started creating? We love to see the enthusiasm. 😍
Types of TikTok Content
The types of content that both users and brands share on TikTok is much different than you'll see on pretty much any other platform, so you should use this to your advantage.
Sure, you might not be able to repurpose content for TikTok, but the time spent on content creation could certainly be worth your while.
Here's an example of a personal finance expert who joined TikTok and gained 70k followers in her first four days.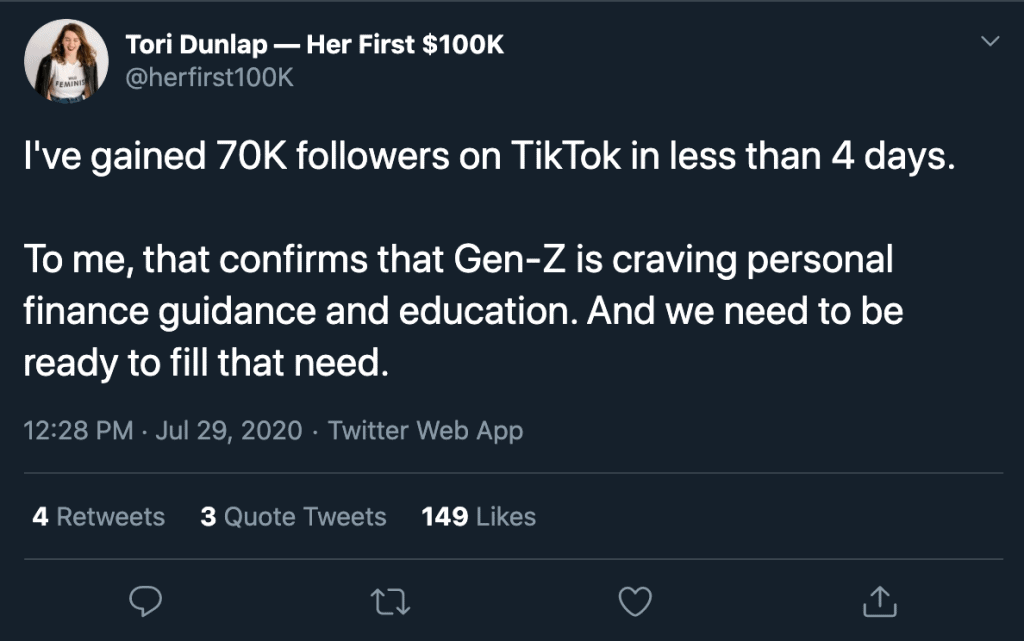 If you have valuable content to share and make the effort to connect with your audience, there's no reason why you can't also see success on the platform.
But now let's talk about the reason you're really here – to learn more about the different types of video content you need to be creating and sharing on TikTok.
Trending Topics
If you've ever browsed the TikTok app, you may have noticed that a few sound bytes pop up over and over again.
Different sound bytes jump up in popularity every so often and you'll see many different creators jumping on the trend to create their own versions of videos or concepts to entertain their audiences, and you can absolutely do the same with sound clips relevant to your brand.
This can be a fun task for you as well – spend a bit of time each day browsing top TikTok videos and sound bytes to see if there are any that you can use in your own way.
Another way to jump on trends, even while using your own audio, is to see trending video memes and styles, then incorporate those ideas into your own video.
This Washington Post TikTok has a great example of how they spun the "put your finger down if" challenge.
Challenge Videos
Another big content type on TikTok is challenge videos – especially dance challenges. Many top TikTokers will share their version of (or attempt at) these different dance challenges so people browsing the sound bytes or hashtag might come across their profile.
While this might seem difficult for a brand to emulate, TikTok is all about getting creative. And that's exactly what the folks at Fortnite have done.
Check out how they animated one of their characters taking part in a dance challenge in this TikTok video.
Whether you get your team together to try out these TikTok challenges or nominate a single dance ambassador, there could still be ways for this tactic to work for your brand.
Educational Videos
Just because TikTok is all about creating fun, bite-sized, shareable videos doesn't mean you can't still impart your knowledge on them.
Take a page out of Tori from HerFirst100k's book and repurpose a popular TikTok video type to share actual wisdom and tips that are relevant to your brand.
Find fun and engaging ways that you can share your own educational videos to help your audience learn more about your industry or related topics.
TikTok Influencer Marketing Content
TikTok is also the perfect tool for putting together influencer marketing campaigns, especially with popular TikTok influencers. Many of these influencers have amassed large followings of loyal viewers, which can offer a great ROI to your campaign.
Here's an example of an influencer video created by TikToker Charli D'Amelio for a campaign with Aerie.
Since these influencers already have great content ideas, working together to come up with someone – or letting them take the reins – can be a great way to get your brand's name out there, especially if you're new to the platform.
Tutorial Videos
Another fun content type can be basic tutorial videos. People eat those up, and beauty brands and those in similar industries have a perfect outlet for tutorial videos on TikTok.
Take a look at this tutorial video from Fenty Beauty on how to do a ombré eyeliner.
Record a quick 60-second (or less) TikTok video showcasing how to do something, especially if it highlights your products or services. This is a great way to show off what your brand is selling and entice people to want to use them too.
Current Events
Think about things that are going on around the world, whether it's based around a holiday, election, time of year and more, and create content around that.
For example, there has been a hashtag trending for videos surrounding #HalloweenAtHome, where creators are sharing content about how they're celebrating Halloween a bit differently this year due to the pandemic.
Hummus brand Sabra created several TikTok videos around the Back-to-School season with great snack recipes for kids.
This is a great way to increase potential views around your content because people might be searching for content surrounding these current events on the platform.
Location-Based Videos
TikTok's platform and algorithm is so unique that even local businesses can see success on the platform. This is because TikTok's geolocation feature will first show TikToks to people when they've been created in their general area.
Then, if the video does well in their initial area, TikTok's algorithm will start to share that video with even larger audiences in other areas.
So if your brand has a home base or only serves a certain area, don't count TikTok out. This can still be an awesome platform for your local marketing strategy.
Video Requests
When people comment on your TikToks, you can take comments of your choice and overlay them onto future videos like a sticker.
This gives you the perfect outlet for taking video requests for your content.
Take a look at this TIkTok video by Chipotle, completely based off of a comment on a previous TikTok video.
Ask your audience what they'd like to see from you so that you never have a shortage of content ideas. Plus, it can be fun for your followers to see their comments pop up on your videos.
TikTok Marketing Tips and Best Practices
Now that you're prepared for the different types of content you'll need to be creating, it's time to jump into the heart of your strategy – how to market on TikTok.
We've put together this list of tips to ensure you start your new TikTok marketing venture off on the right foot and know exactly the steps you want to take to start creating content with viral potential.
Work With TikTok Influencers
The most important thing about TikTok is that in order to see success on the platform, your content really has to fit in.
This is why so many brands are stuck wondering what they're doing wrong – you really can't be promotional on this platform. But it also means that influencer marketing on TikTok is key.
Once you launch your brand account on TikTok, look around the platform to find popular creators that look like your target audience. Chances are, their audience will also be your target audience.
After pinpointing the TikTok influencers you think align most closely with your brand, it's time to start your outreach and put together partnership offers.
Remember that your partnership needs to be mutually beneficial, and each influencer will have their own set of guidelines and pricing – especially if they're professionals and have been working with brands for a while.
Getting your brand name out there on TikTok via influencer marketing is a great way to expand your audience as well as start growing your own following on the social network.
Put Effort Into Each Individual Video
This seems like a no-brainer, right? Of course you're going to make sure you put effort into each of your videos.
But the reason why you should is what I really want to touch on here.
I know I've said this before, but here it is again – TikTok's algorithm is incredibly unique. We like to talk about this because it's so easy for anyone, even brand new accounts, to go viral and grow a massive audience.
And if you're creating stellar content every time, you're even more likely to hit that goal. 🤩
This is due to the fact that your TikTok videos still have viral potential even weeks after you publish them. This platform isn't like Facebook or Twitter, where your content has a life expectancy of minutes.
On TikTok, if you consistently create great content, people can still find it well past its publish date, and your content can still reach a massive amount of people well after you've created it.
Use Trending Sound Clips
We touched on this a bit earlier when we talked about sharing trending topics, but that was a bit broader.
Here, you want to pay attention to the most popular sound clips that are being used over and over again so that you can use to create your own relevant brand videos. The key is finding a sound bite that makes sense for your business.
But using popular and trending sound clips can help increase the odds that your video will get picked up and showcased across users' For You feeds.
On a similar wavelength, pay attention to the Discover tab to find out which sounds and hashtags are popular right now and quickly put together a content idea based around that when they're relevant.
This can be a great exercise for creating quality TikTok content as well. Try to find relevant hashtags that make sense for your brand, watch a few videos to see how others are creating content, then put together a plan for your own TikTok video.
Test Out Creating Original Content
While a lot of TikTok videos take advantage of other people's sound bytes, it's still a good idea to try your hand at creating original content.
Record voiceover for your video or simply use a song in the background as you show off something in your video, like a tutorial or new line of upcoming products.
Implementing a successful TikTok marketing strategy requires a bit of both – some content utilizing popular sound bites and hashtags, and other content that is fully original and of your own conception.
Customize the For You Page
Another good thing to understand is how to customize your For You page. You can easily do this by tapping and holding on various videos and clicking that you're not interested, either in the user or in the sound clip.
You can also add videos to favorites or save them by holding down on a video as well.
Customizing your For You page helps TikTok to understand the types of content you like, and when your followers do this, the same goes for them.
This is just another example of why it's so important to consistently create quality, engaging content that perfectly aligns with what your target audience is hoping to consume on TikTok.
You don't want anyone to turn off your brand videos in their feed. Instead, you want to create content similar to what you think people would be adding to their favorites, increasing the chances that you show up in your audience's feed.
Interact With Your Audience
Our last tip is all about engagement. You know the mantra – social media is social. And if you want to grow a community and a following, your brand also needs to be social.
Watch videos on your For You page. Interact with the people who follow your brand. Leave likes and comments, along with following the people who are most similar to your target demographic as well as potential influencer partners.
TikTok Analytics
Every good social media strategy comes with a plan for tracking success and adapting based on your performance and results.
This is why it's essential to understand the premise of TikTok's analytics. In order to access analytics, you need to switch over to a TikTok pro account.
While this almost sounds like you'll have to start paying a monthly subscription, don't worry – it's still completely free. You just get access to even more features, like your analytics!
Once you've made that change, you'll be able to find your analytics in a dropdown on the desktop app as well as in the settings of your mobile app.
Your analytics consist of three main categories: Overview, Content, and Followers. Let's cover each a bit more in depth.
Overview
The first tab gives you a bird's-eye view into how your account is performing – your video views from the last week, your follower count and your profile views.
You can also toggle these to see the same information over the last 28 days to get a good month-over-month look at how your TikTok efforts are going.
While the overview gives you a quick look into your overall performance, the next two tabs allow you to dive in deeper to find out what your audience actually likes and how they're interacting with TikTok content as a whole.
Content
This tab gives you a more in-depth look into the content you've been publishing and how your audience is consuming it.
First, you'll see your top 9 videos that you've published in the last 7 days so you can gauge which types of content your audience likes best. This section also shows you how much content you created compared to the previous 7-day period.
The next section shows you your top 9 videos overall, so you can see if any older videos are starting to gain traffic and understand which types of your content are most popular in general.
Tap on any of your videos to get an even closer look at your individual video's analytics as well.
Followers
The last tab gives you access to specific data about the accounts that follow you, helping you to ensure you're reaching the right audience with the videos you've been creating.
Here, you'll find information on the genders your audience identifies with, their locations, and even the times of day your followers are online most. This is perfect for determining when you should be publishing new content.
Not only that, but you also get to see videos your followers have watched and sounds your followers have listened to.
This is the perfect starting point for understanding the content your audience wants to see and helping to align your TikTok marketing strategy with it.
Create Your TikTok Marketing Strategy Today
Ready to start marketing on TikTok? Head over to create your brand profile today and start growing a following. But be sure to monitor your progress and keep up with your social media reporting to understand if your efforts are paying off.
---
Related Readings
Instagram Reels Vs TikTok: What You Need to Know
The Top 5 Social Media Strategies For Marketing Success in 2020
Social Media Trends to Track in 2020 and Beyond: Marketing Tools, Content, and Strategy
---
Keyhole gives helps marketers make data-driven decisions while streamlining their social media management efforts. On top of campaign tracking, influencer marketing, and social listening, now you can also use Keyhole's social publishing and scheduling, all in one platform.
Our customers report that Keyhole saves them 5 hours a week on gathering and reporting data, which translates in over $7,000 saved every year.
Start your free trial today and work smarter, not harder.