In this guide, we're going to cover everything you need to know about marketing's biggest rising trend: influencer marketing.
We'll provide evidence as to why influencer marketing is booming right now, along with tons of examples of social media influencers.
We'll also cover the pros and cons of influencer marketing as a whole.
Most importantly, we'll show you how to find influencers that will have the biggest impact on your business, and how to implement a winning influencer marketing strategy using influencer marketing tools.
So, let's dive right in..
What is Influencer Marketing?
Influencer marketing is the use of popular content creators to promote a product or brand to a specific audience. These content creators are paid to showcase the brand in a positive light to their loyal audience of viewers, readers, or followers.
While most brands don't have strong legions of fans (with the exception of beloved international brands like Apple, Coca-Cola, or Nike), there are plenty of people on the internet who do.
These content creators, known as influencers, make it easy for a brand to reach a specific customer demographic on a specific channel through a voice the audience already trusts.
Influencer marketing is seen as an effective alternative or supplementary approach to traditional advertising, more in line with a modern content marketing strategy.
Brand Ambassador Vs Brand Influencer
One important distinction to make is the difference between a brand influencer and a brand ambassador.
Companies have used celebrities as brand ambassadors for centuries, dating as far back as the 1760s, when the English royal family was used to advertise pottery and chinaware.
A brand ambassador is a paid spokesperson for a company, typically on a long-term contract.
Tiger Woods for Rolex, Lebron James for Nike are examples of brand ambassador.
In contrast, a brand influencer typically has more of a niche audience. Their following can vary from a few hundred to over a million people, but their value lies in having a trusted opinion on a specific topic or niche.
This can range from a local mom who runs a popular Facebook group for other moms, all the way to mega celebrities with millions of followers.
Influencers more often hold a short-term relationship with brands, being asked to showcase or speak about a product as part of their typical content on social media, blogs, or videos.
Before we teach you how to incorporate influencers into your marketing strategy, let's explore why they've taken off in such a big way.
Why Influencer Marketing is Booming
Influencers are inescapable these days. Take a look at this info-graph by vamp.
Consider the ever-popular TV show The Bachelor/Bachelorette. Contestants used to join the show with the dream of finding love.
Now, contestants line up for the chance to earn thousands, sometimes millions of social media followers, allowing them to earn a full-time living as a social media influencer, pitching fitness programs and herbal supplements.
So how did influencers become so ubiquitous?
Here's why: because influencer marketing works.
Influencer Marketing Statistics
Here are some extremely compelling stats that should have you convinced that your business should be pursuing an influencer marketing strategy.
The stats make it clear: influencer marketing is here in a big way.
Related Case Study: How BottleRock Music Festival Amps Up Influencer Engagement with Keyhole
Proof That Influencers Marketing Works: The Infamous Fyre Festival
Perhaps the most extreme and most infamous case of influencer marketing was Fyre Festival, a supposed luxury music festival founded by Billy McFarland and Ja Rule.
The festival was meant to take place in the Bahamas on April 2017 and promised to showcase some of the world's most popular music acts in an ultra-luxury setting catered by celebrity chefs.
Tickets ranging from $500 for a single day pass to $12,000 for the full VIP package.
But what's most interesting is how the event was promoted.
In December 2016, mega Instagram stars/models Kendall Jenner, Bella Hadid, Emily Ratajkowski, among dozens of others, all posted cryptic videos on their social profiles promising "an immersive music festival…on the boundaries of the impossible."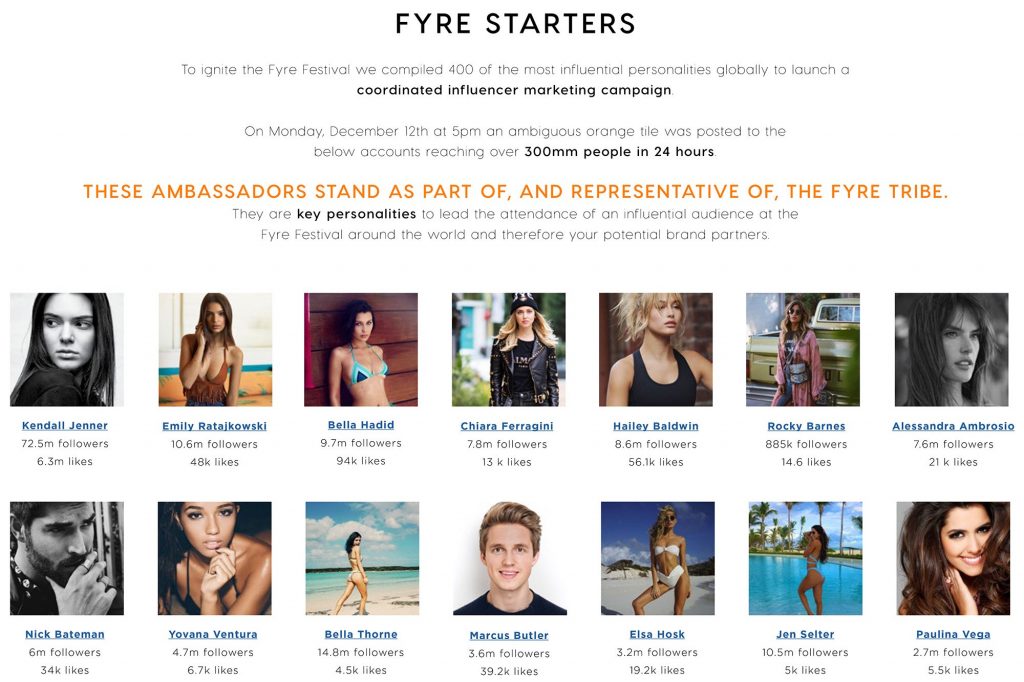 This group of top influencers continued to promote the event on social media for months—all being paid between 5 and 6 figures, resulting in enormous public interest and huge ticket sales.
Ultimately, the event sold millions of dollars in tickets due to the power of influencers alone.
The event itself was a widely documented scam resulting in lawsuit after lawsuit, but it caught the world's attention, proving influencers have the ability to generate massive sales numbers—due to complete trust from their audience.
The Pros and Cons of Influencer Marketing
Let's explore the advantages and disadvantages of influencer marketing.
Benefits
What value does influencer marketing provide compared to traditional advertising?
Higher conversion rates & ROI – Several studies have shown influencer marketing has at least double the conversion rate of standard paid ads.
More personal – The personal connection your influencers have with your target audience is more likely to drive brand awareness and sales.
More trust – If the audience trusts your influencer, they're more likely to take their recommendations at face value (vs. the skepticism of encountering an ad).
More lifetime value – The positive brand association from an influencer carries more weight with your audience long term.
More authority – If industry experts are recommending your products, you're more easily able to establish credibility out of the gate.
Reach new audiences – By working with an influencer, you're diversifying your marketing efforts and connecting with an audience that would not have found your ads otherwise.
Save time – It's simply faster to execute an influencer campaign than a full-scale advertising campaign.
Highly measurable – By tracking your influencers with a social media monitoring tool, you can measure the effectiveness of each influencer.
No annoying ads – Unless perfectly executed, ads only serve to annoy people.
Drawbacks
While the drawbacks are outweighed by the benefits, here are some cons to be aware of
Loss of power – By putting your brand in the hands of an influencer, they become the voice of your brand. Be sure you fully trust them to post great content, both short and long term.
Management of influencers – Depending on the scale of your influencer campaign, it may be a full-time job to manage an army of influencer contracts. An influencer marketing tool can help you save time when managing your influencers.
Waiting – If your influencer campaign is more branding-focused than sales-focused, it may take months to see the reach and influence of your brand grow.
Risk – If you've never run an influencer campaign before, you're assuming some financial risk in the event it doesn't work out.
But with the right level of research and organization, influencer marketing is a proven strategy with strong ROI.
Types of Influencers
Now that you've decided to make influencers part of your marketing strategy, it's important to know what types of influencers are out there.
Let's cover 6 broad categories of influencers that you may consider working with, arranged from biggest to smallest audience.
1. Celebrity Influencers
Celebrity influencers are famous people with millions of followers. This includes movie and TV stars, athletes, musicians, models, and any other popular public figure.
Pros
The main advantage of working with celebrity influencers is their massive audience. A social post from a celebrity will instantly connect with millions of people.

And beyond the immediate reach on social media, working with a celebrity is also a quick way to earn major press coverage for your brand.
Cons
The massive reach of celebrity influencers can also be the biggest negative working against you as a brand.
Celebrities have such a wide-reaching audience that it's challenging to target a specific demographic. And if a celebrity is caught up in an international scandal, it's hard to disassociate them from your brand.
More often than not, sponsored posts from celebrities may come off traditional ads more than subtle influencer marketing.
And of course, working with a celebrity will come with a massive price tag, making it challenging to use them in your influencer campaigns if you're not an international brand.
Examples of Celebrity Influencers
The most-followed athlete on Instagram are soccer stars Cristiano Ronaldo and Lionel Messi who can often be found promoting clothing lines or nutrition brands like Herbalife.
The most famous influencer family is the Kardashian-Jenner family, sharing nearly half a billion followers between Kylie Jenner, Kendall Jenner, Kim Kardashian West, Khloe Kardashian, Kourtney Kardashian, mother Kris Jenner, and more.
2. Social Media Influencers
Social media influencers are quasi-celebrities with hundreds of thousands or millions of followers on popular social media platforms, including Instagram, YouTube, Facebook, and/or Twitter.

Social media influencers are typically generalists who have a wide following simply for being interesting people, posting photos and videos of their travel, workouts, fashion, meals, and whatever else is trending at the time.
Pros
Social media influencers have a wide audience, but typically a slightly more niche audience than a huge celebrity. This allows you to reach a demographic that's more tailored to your brand.
Having a social media influencer post a photo or video mentioning your brand and tagging your handle is a quick way to quickly gain visibility and moderate trust with thousands of people.
Cons
Large social media influencers are in high demand, and can still carry a high price tag.

Social media influencers also tend to earn the majority of their income from endorsements, and therefore your brand may get lost among a sea of other endorsements from the same influencer if you don't play your cards right.
Social Media Influencer Example
Cameron Dallas is a popular social media influencer. Rising to fame on Vine and YouTube, Cameron has now eclipsed 20 million followers. He posts a combination of humorous videos, model shots, and sponsored posts, like this one, promoting a fragrance line:
3. Key Opinion Leaders
Key opinion leaders are experts in a particular topic, industry or field, either online, offline, or both. They are often thought leaders in their industry.
Key opinion leaders are either usually leading trends or highly in touch with what's new and different.
This would include examples like makeup artists, writers, fitness specialists, business executives, activists, and many more.
They tend to have a medium to large following, but most importantly. their word carries a lot of value with their followers.
Pros
The main benefit of working with a key opinion leader is their extremely niche following. By working with a thought leader, you can target individual professions or interest groups.
Because of their large presence within their industry, thought leader influencers are typically found on many different channels, on blogs, news articles, podcasts, and most social platforms.
They tend to be more cost effective, especially if you choose an influencer that overlaps perfectly with your industry.
Cons
Key opinion leaders may be less open to influencer marketing, as their opinions and principles are their largest social currency.
Depending on their field, they may not spend as much time on social media, as they typically have extremely busy full-time jobs.
It can also be more challenging to find thought leaders that line up with your demographic. Social media listening tools makes it easy to find influencers (something we'll cover more later).
Key Opinion Leader Influencer Examples
Search engine optimization (SEO) and marketing specialist Rand Fishkin is a prime example of a key opinion leader. With over 400,000 Twitter followers, Rand is thought of as a go-to resource in the SEO world.
While Rand can most often be found giving his honest opinion about SEO trends,
his feed also includes inclusion in webinars, pitches for his book, promoting his company's content, and backing conferences he's paid to speak at.
4. Blogger & Vlogger Influencers
Blogger influencers write for a publication with a large following, or have their own popular blog. Vloggers have large YouTube followings, with thousands or millions of followers.
Bloggers can either be focused on a particular niche or generalists on any number of topics.
Pros
Audiences feel a personal relationship with their favorite bloggers and vloggers, meaning they are likely to be more influenced by a recommendation.
Many bloggers and vloggers are seeking out sponsorships in order to fund their content creation, so it may not be as costly to find the right influencer.
They're also more likely to have a niche audience with similar needs.
Cons
As bloggers and vloggers are often highly opinionated and intentionally controversial, you have to be careful about picking the right person for your brand.
Example Vlogger
Erik Voss is a popular vlogger on New Rockstars YouTube channel, known for doing high-quality, in-depth breakdowns of Marvel movies.
In many New Rockstars videos, such as the video below, Erik pitches a product or service in the middle of the video, using his trademark brand of nerdy humour that is likely to resonate with his audience.
In this case, Erik sends his audience to a link that likely compensates New Rockstars per sign up.
5. Micro-Influencers
Micro-influencers have a moderate social media following, in the thousands or tens of thousands. They are content creators on popular social media channels, blogs, forums, video sites, and more.
What makes them different than previous influencer categories is that they have a tighter bond with their audience. They have typically built a following by being highly personable and interacting with many of their followers.
Pros
A micro-influencer's higher engagement rates make them extremely attractive to businesses looking for a big return on their investment. Micro-influencers are more likely to respond to any questions their followers may have about your project.
And because their audiences are smaller, that investment is often more affordable than larger influencers.
Cons
The biggest challenge is actually finding these micro-influencers (although we'll have plenty of advice on that later).
They may also be newer to the sponsored post game, so they may need more assistance in creating sponsored content that resonates with their audience and effectively highlights your brand.
Micro-Influencer Example
Bethany Aroutunian is an Instagram lifestyle influencer with a modest following of just over 20,000 followers. But Bethany typifies the young demographic that brands want to target.
Bethany's feed has plenty of examples of major brand endorsements, including Victoria's Secret PINK, Lulus, and Bumble.
6. Nano-Influencers
Nano-influencers are just like micro-influencers, but at an even smaller scale. These users typically have an extremely niche following in the hundreds of followers.
Pros
Nano-influencers have a hyper focused audience, who all likely share one or two niche interests. A recommendation from them is more likely seen as a recommendation from a friend or family member rather than from a business entity.
Of course, nano-influencers are the most affordable to work with, often agreeing to post sponsored content simply in exchange for free or discounted products.
Cons
If your goal is to drastically improve your brand visibility, you will have to work with potentially hundreds of nano-influencers to make an impact.
While the ROI is certainly there in terms of payment, a lot of time and effort can go into finding and managing such a large number of influencers.
Example Nano-Influencer
Take @krosenbergg for example. Another everyday young woman, she can be seen at coffee shops, restaurants, the mall—you know—normal social media stuff.
But sprinkled in to her feed is the occasional sponsored post of a product, which are actually hard to distinguish from her typical posts where she often shares the brands she loves.
Want more examples of influencer content? Just check out the hashtag #ad on Instagram for hundreds of sponsored posts being posted every minute.
How to Find Influencers
With millions of potential influencers out there, it can be hard to find those that align with your brand. Here are some great resources for finding the right influencers for your brand.
1. Social Media
Okay, this is obvious, but you should start by looking for potential influencers on social media.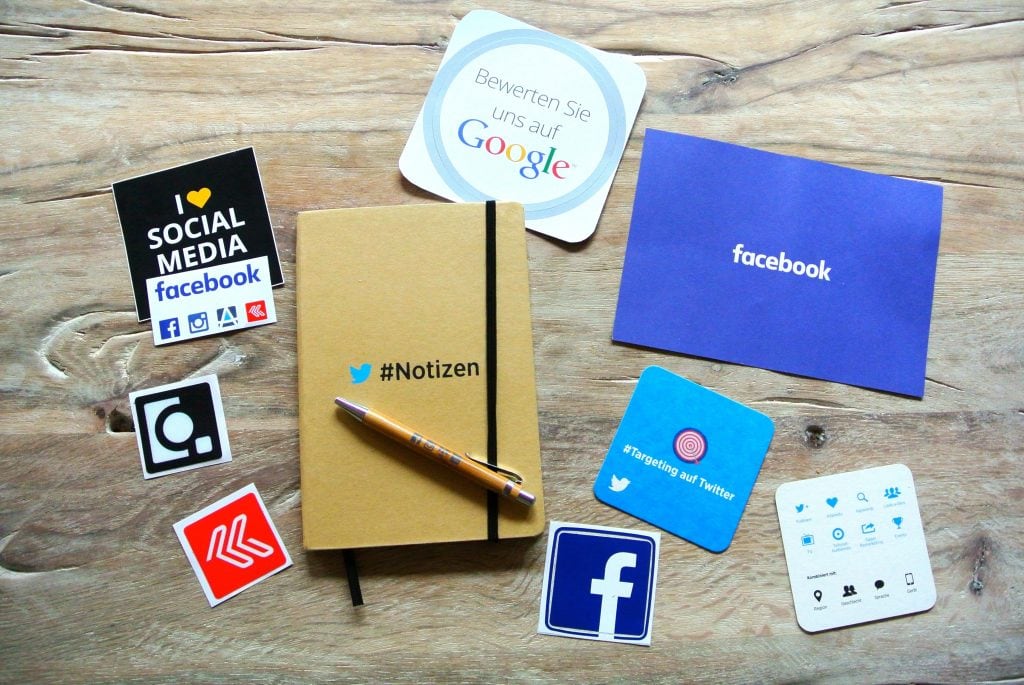 Search keywords or hashtags that you know resonate with your target demographic, and see which accounts turn up. Click through their profiles to see if their posts align with your brand values.
And don't limit yourself to one social network. Check out Facebook, YouTube, Instagram, Snapchat, Twitter, and any other emerging platforms.
You can also sift through forums like Reddit to see which accounts your target audience is excited about.
Another quick shortcut is to look at sponsored posts from your competitors to see which influencers they're working with. Chances are, if they're working with the same influencers over a long time period, it's likely they're seeing positive ROI.
Related: Top 25 Social Media Analytics Tools: The Definitive Guide
2. Search Engines
Similar to searching on social platforms, you can also go straight to your favorite search engine.
It's likely that websites or accounts that rank highly on Google for your chosen topic are making great content that is deserving of those top spots, so they're likely to be highly influential with their audience.
3. Referrals
Ask around!
If you know your business well, you likely have a large network of people connected to your industry, or friends and family who overlap with your target audience.
Ask people you trust for recommendations of influencers related to your field.
And if you already have a great relationship with your existing customers, ask them who they like. Send out a survey to your customers with any relevant survey maker to ask them who their favorite bloggers and follows are to get a sense of their most trusted online personalities.
Plus, if you have personal connections with the influencer, they're more likely to work with you.
4. Influencer Marketing Tool
Trial and error will only get you so far. To find influencers that will have the biggest impact on your brand, it's recommended that you use an influencer monitoring tool.
Using an influencer marketing tool like Keyhole, you can track topics, keywords, brands, or hashtags to see which users are most influential in those conversations.
These tools will identify influencers who are not only popular, but also those who receive the most engagement.
This is a key step, because highly engaging accounts will provide more value than accounts that simply have many followers—especially given that many accounts purchase fake followers simply to appear more influential.
Once you've identified key influencers, you can add them to the tracking tool to measure the success of your campaigns.
Related Article: Top 25 Social Media Analytics Tools: The Definitive Guide
5. Talent Agencies
Unfortunately you can't simply slide into the DMs of a celebrity influencer and expect them to endorse your product.
In order to hire celebrity influencers (or other influencers with millions of followers), you'll need to contact their talent agency.
By contacting talent agencies directly, they may also be able to suggest influencers that are a good fit for your company.
11 Steps to an Unbeatable Influencer Marketing Strategy
We've covered the types of influencers and where to find them. All that's left is to carry out an end-to-end influencer marketing strategy.
1. Realize you need a strategy
The first step is to acknowledge that you need a solid plan.
Haphazardly reaching out to influencers without a plan to measure their potential sphere of influence or track their success is far less likely to result in a successful campaign.
Make yourself a schedule from the start. How often will you reach out to influencers? How often will you check in on their success?
Make sure that you have the time and resources to carry out every step of your plan
2. Set your goals
The key to any strong marketing plan is to have clear and measurable goals.
What will success look like for your influencer campaign? Here are some examples of metrics by which you may choose to measure your success:
Social media follower count
Impressions, views, or clicks on your influencer's sponsored content
Impressions, views, or clicks on your brand's content
Engagements with your sponsored content
Unique website visitors
Sales through your online store
A higher conversion rate on your website
More visits to your event or storefront
Your goals will be relevant to your business, so only you can define them. But they must be specific, memorable, and realistic.
For example, don't set a goal like "increase website visitors." Set a goal like "increase web referral traffic by 20% in 3 months."
3. Identify Your Audience
The goal of influencer marketing is to find someone who has already reached your target audience.
Therefore, you have to identify who that audience actually is. If you already know your business's demographic, you're already set.
But if you haven't created buyer personas for your marketing campaigns, now is the time to do so.
You can use market research tools to learn about your current audience demographics, or you can simply sketch out a caricature of your potential customer.
Once you've determined your audience, figure out what type of content they enjoy.
By using Keyhole's keyword tracking or hashtag analytics tools, you can identify popular types of content on any social channel.
4. Determine Your Budget
Before you go any further, get realistic. What's your budget?
There's an extremely wide range for compensation, so be sure to align your research with your budget.
Celebrities and social media stars represented by agencies will command big dollars, while micro- and nano-influencers may simply accept free products in exchange for their endorsement.
Do your research on typical compensation for your industry and the level of influencer you choose, and set a firm budget from the start.
This guide covers typical influencer rates in several different industries.
Here are the average rates on Instagram:
Nano Influencers (2,000-10,000 followers): $75 to $250 per post
Micro Influencers (10,000-100,000 followers: $250 to $1000 per post
Blog/Social Influencers (100,000-500,000 followers): $1,000 to $3,000 per post
Celebrity/Social Influencers (500,000+ followers): $3,000+ per post
This should help you decide which level of influencers you're comfortable with targeting.
And remember: just because you have a large budget doesn't mean you can't target a high volume of nano- or micro-influencers.
5. Choose One Channel
For starters, we recommend starting with only one social network or content channel.
Confining your content to one channel will make better use of your budget, likely having more repeat influence within the same sphere.
Narrowing your influencers to one channel also makes it easier to objectively compare influencers to one another.
And of course, be sure to choose a channel that's popular with your audience.
6. Choose an Influencer Tracking & Monitoring Tool
An influencer marketing tool will help with every step of the influencer marketing process, so be sure to set one up before hiring your influencers.
With Keyhole, you can find new influencers that are relevant to your brand, ranked by most engaging or most followed.
And once you select influencers, you can track every one of them with the tool, allowing you to see who brings the most visibility to your brand, campaign, or event. Comparing them side by side will let you make smarter decisions on who is providing the most ROI.
Another benefit is the ability to actually provide insights to your influencers on how to make their posts more effective.
Keyhole's social media monitoring capabilities will help you provide your influencers with data on when to post, how long their posts should be, and which media types are most effective.
Keyhole offers a free trial, so go ahead and set it up right now.
7. Identify & Choose Your Influencers
Now that you have the right tools to succeed, it's finally time to identify and choose your influencers.
We recommend using Keyhole to search for your brand's targeted keywords or hashtags, which will reveal the most influential users in that category.
Pro tip: Focus on engagement more than follower count. A user could have purchased fake followers to inflate their follower numbers. Engagements show the true impact of a user's posts.
But don't stop at the numbers. Ask yourself:
Will this influencer resonate with my target audience?
Does this influencer's image fit with my brand?
Does this influencer fit within my budget?
Will this influencer be able to help me achieve the goals I set for my campaign?
Do I want to be associated with the other brands promoted by this influencer?
Does this influencer ever post content that's misaligned with my brand's values?
Is it believable that this influencer would use/like my product?
There's so much more to focus on than follower count.
8. Reach Out to Your Influencers
Once you've built your list of "chosen ones," it's time to reach out to influencers.
Influencers range on a wide scale of experience working with brands. Some may have never posted sponsored content before, while others may have a talent agency handle their sponsorships.
Do your research to find out the best way to contact each influencer. In many cases, their email address will be publicly available on their profile or website, but for micro- and nano-influencers, you may need to send them a direct message to start.
Pro tip: If you've engaged with this user's posts in the past, they're more likely to accept your offer. If your timeline allows for it, spend a few days/weeks/months interacting with these users before reaching out.
Once you've made contact, come to a mutual agreement on expectations, and get them down in writing. In most cases, it's smart to write up a contract. 
Here are the types of things you may want to formalize:
How will you pay the influencer?
How many posts do you expect, and at what frequency?
What type of content/media are they expected to post?
Which of your competitors can they not endorse while under contract?
Which links should they be using to promote your brand?
What are their objective metrics in terms of reach, impressions, or clicks?
Will you or the influencer be responsible for creating the content?
Most importantly: make sure your influencers are set up for success.
Tell them what audience you are trying to reach, what content resonates with them, and why you chose them as an influencer.
9. Track & Evaluate Success
Don't wait until your campaign is over to evaluate success. Get all of your influencers set up in your influencer marketing tool from the start.
This will help you track who's keeping on top of your agreements, and who may need some gentle encouragement.
This will also allow you to provide on-the-fly advice to your influencers, and compare their success to each other as they go.
For example, you may notice Influencer #1 always posts at 9 am, whereas Influencer #2 posts at 7 pm. If Influencer #1 is receiving more engagements, you can advise Influencer #2 to post earlier in the day.
This isn't a set it and forget it situation. Help your influencers help you.
Bonus tip: Don't just track your individual influencers. Use a social media monitoring tool to monitor your brand mentions, brand hashtags, and user sentiments.
10. Compensate Your Influencers
Your influencer cares about making money just as much as your business does. Be sure to pay them fairly and on time.
But there are many different possible compensation structures. Here are a few options:
Cash
Free or discounted products
Free branded gear
Coupon/referral codes where they are compensated for each purchase/download
Reciprocal promotion of their account in your marketing
Stick within your budget, and pay what's fair to both sides.
11. Measure & Evaluate Your Success
Once your campaign with each influencer is over, it's time to evaluate your success against your initial goals.
Success can be measured at different levels, both at the individual influencer level or on your entire campaign as a whole.
In the case where you've signed up for a small number of influencers, you're likely most interested in which individuals generated the most engagements and the greatest return on investment.
But in the case that you've hired 100 nano-influencers to use your branded hashtag, you're probably most concerned with the overall increase in brand awareness.
You may also want to track increased follower counts, visits to your website, and hard sales numbers.
Most importantly: Don't forget to get feedback from your influencers. What do they think went well? What would they suggest for more engagements (after all, they're the engagement experts)?
Take what you've learned to evaluate what works best for your business. When you're ready, head back to step 1 and start your next influencer campaign!
Create Your Influencer Campaign Now
Ready to start your influencer campaign? Start your FREE trial with Keyhole today.