If influencer marketing is an integral part of your marketing strategy, chances are, you might be collaborating with a large number of influencers. That said, working with influencers is not the same as a traditional digital marketing campaign. When managing and communicating with numerous influencers, it is important to remember that you can't just communicate with an influencer "en masse."
You need to personalize the way you keep in touch with each influencer. That's because, in several ways, influencers are marketers with an audience, and brands who seek help from them must respect the influencer's engagement processes.
If you are looking to scale your influencer program, influencer relationships tools streamline the influencer process for you. The right influencer relationship management (IRM) software ensures that no influencer management tasks fall through the cracks. IRM tool helps you keep a track of your social media influencers, from engagement, metrics, content to results.
Let's take a look at the top 14 influencer relationship management tools and their key features that can make your influencer program a success.
Instead of relying on spreadsheets and screenshots from influencers, influencer marketing platform Keyhole helps brands measure and optimize influencer marketing campaigns with analytics data.
The key features that make Keyhole one of the top influencer relationship management tools are:
Influencer tracking – Detailed profile analytics lets you know the true impact of an influencer. Any red flags, such as negative sentiment or fake followers can be vetted at the beginning. Hashtag tracking allows you to find the most relevant influencers in any industry.
Automated reporting and optimization – By allowing influencers to authenticate their profiles on Keyhole, you can get immediate access to data in real-time. You can see the key performance metrics for influencers. To prove the ROI, you can download comprehensive reports.
Compare influencers – To measure and compare their performance, aggregate all influencer accounts in your campaign reports and optimization recommendations boost your campaigns.
Keyhole is best suited for agencies and B2C brands looking to get their engagement metrics and analytics aggregated across every platform.
Pricing – Customized
As an influencer marketing platform, Grin helps you scale your influencer relationships, sales and create a valuable brand using the power of creator partnerships.
Top features:
Influencer search and analysis – AI-powered influencer analytics has social listening, email segmentation and relationship management capabilities of a CRM.
Easy campaign creation – Create briefs, branded landing pages and track product content along with influencer product shipment.
In-platform product seeding and payments – Track product delivery, monitor inventory and ship with one click. Grin generates discount codes and affiliate links.
Content management – Tools to repurpose content into Instagram posts or video stories gives maximum impact.
Reporting and analysis – Detailed influencer marketing metrics allow you to reward high-performers and re-run successful campaigns. You can access ROI at the program, campaign and individual level.
Grin helps eCommerce businesses manage all influencer relationships in one place.
Pricing – Customized
Modash is a tool for finding, analyzing, managing, and tracking influencers.
For managing existing influencer relationships, Modash lets your team build influencer lists, and keep track of key information. Your whole team can see statuses (e.g. outreached, negotiating, declined), as well as relevant notes & documents per influencer in one place. Every plan allows unlimited lists.
Top features:
A content monitoring tool. Once your influencer campaigns go live, Modash automatically collects content (even Stories) into a dashboard to review activity and performance. The influencer does not need to authenticate to use this
Search & filter every Instagram, YouTube, and TikTok influencer on Earth with 1k+ followers (250M+ profiles)
Analyze influencer profiles with data like engagement rate, fake followers, audience ages & locations, growth rate, past sponsorships, and more
Grab influencer email addresses (in bulk) ready for outreach
API & influencer payment features are available as add-ons
Modash is a valuable tool for B2C businesses who need an efficient and accessible tool to scale their influencer marketing channel.
Pricing – Monthly or annual plans are available, ranging from $99/month for entry plans to $16k+ per year
Built on a massive database of 3 million influencers, the collective reach of Upfluence extends to 82 billion followers. Using this all-in-one influencer marketing platform, you can connect and collaborate with creators, generate high-quality content, manage payments and nurture influencer relationships.
Top features:
Influencer discovery – Search through an extensive database of influencers across TikTok, Instagram, YouTube and Twitch.
Relationship management – On a single dashboard, you can keep a track of all influencers and filter by campaign, location and ratings.
Campaign automation – Create personalized sequences, automate influencer outreach and product seeding and issue customized promotion codes.
Simplified payments – Upfluence handles payments in 200 countries and 135 currencies.
Reporting and analytics – Get a clear view of your campaign ROI, impressions, reach, media engagements and total earned media value.
Upfluence's influencer relationship platform is used by eCommerce companies to generate more sales.
Pricing – There are three levels of subscription – Growth, Scale, and Enterprise wherein the fee is customized.
Aspire is a leading influencer marketing platform built for social, digital, and PR teams to discover and begin working with influencers. Also, creators can set their terms and find brands they want to work with.
Top features:
Influencer database – Discover creators on autopilot from a database of over 3 million influencers based on keywords, aesthetics, interest and demographics.
Customized workflows – Create custom workflows so that the influencers know what to do.
Return on relationships – Optimize ad campaigns with whitelisted influencer content.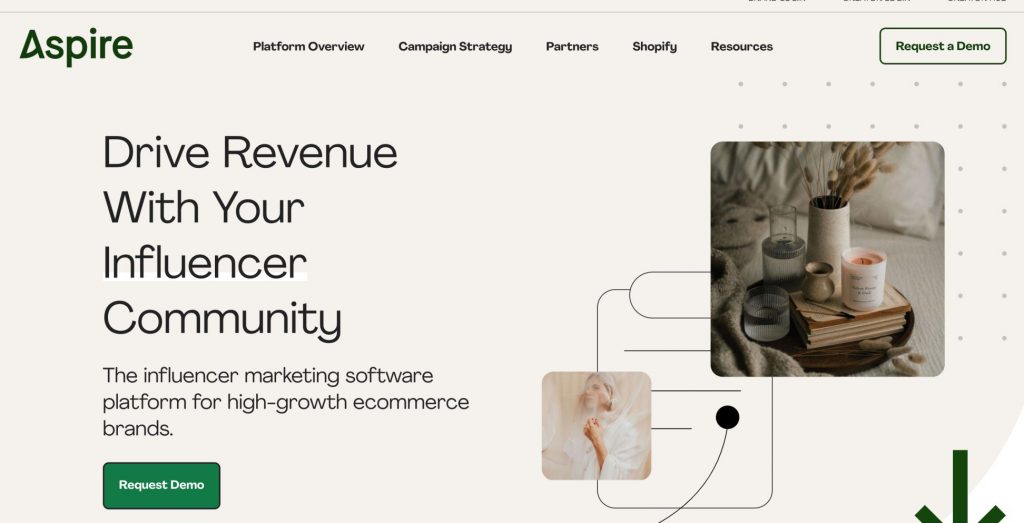 This influencer relationship management software is used by high-growth eCommerce brands.
Pricing – Customized
Enabling businesses to optimize and scale their influencer marketing programs, Traackr's influencer relationship management platform is not entirely automated. Their team is involved in curation while the tool does the discovery, campaign management, influencer collaboration, and reporting.
Top features:
Influencer vetting – Leverage data-driven insights such as searching 2.5 years of an influencer's content to assess the quality and performance of the most relevant posts.
Program management – To scale influencer marketing across your organization, Traackr standardizes workflows and establishes common measurement frameworks.
Traackr powers influencer marketing for agencies and consumer brands across 50 countries.
Pricing: Customized annual or multi-year subscription
IZEA is one of the oldest influencer marketing service providers with over a decade of data and millions of transactions taking place on its marketplace. This IRM software covers every aspect of content production and distribution through influencers. If you are interested in optimizing software campaigns, consider hiring professionals.
Top features:
Content direction – For the content and messaging to be consistent, brands can collaborate with influencers using this platform.
Secure payments – IZEA simplifies campaign budgets by keeping a track of all creators in a central dashboard.
Content distribution – API integrations within IZEA track the performance of creator-generated ad units.
Consumer brands use IZEA for the ultimate influencer marketing experience.
Pricing – 3 tiered pricing starting from $130/month to $25,000/month
TapInfluence serves as a single platform for brands to discover influencers, create, automate and track influencer marketing campaigns. The opt-in marketplace has over 550,000 content creators a brand can work with.
Top features:
Influencer discovery – A 360-degree view of the influencer along with a visual search of influencers with specific keywords.
Robust automation – Open bidding, scheduling posts, legal compliance and multi-step verification can be automated.
Hard-core analytics – Track engagement ranging from views, reach, social value to ROI and conversions.
Food, fashion, beauty and lifestyle are the key categories wherein you can create great influencer marketing campaigns using influencer relationship management tool TapInfluence.
Pricing – Customized
As an influencer relationship software, CreatorIQ's AI-powered algorithm analyses over 1 billion public social media accounts by directly integrating with social media APIs. Activate meaningful partnerships in the creator economy and deliver powerful outcomes for your brand.
Top features:
Creator core – Using advanced proprietary insights, you can quickly and easily find the ideal influencers for your brand.
Creator connect – Offer a seamless and premium branded experience in a secure environment.
Creator pay – Automated and streamlined creator payments increase the efficiency for both creators and finance teams.
Creator promote – The whitelisting process can be automated to drive more revenue from paid and organic strategies.
Creator convert – CreatorIQ connects to all major affiliate networks and allows gifting and sending products from a single dashboard.
APIs – Leverage CreatorIQ APIs to access data such as how many people are seeing your content.
CreatorIQ has customers spanning from eCommerce brands, technology companies and SaaS tools.
Pricing – Customized
The automated influencer management platform Sideqik supports over 10 social media networks and 20 million social profiles. It allows you to drive revenue with influencer marketing at scale for maximum ROI by serving as a single hub for brands to collaborate and execute campaigns.
Sideqik powers the most sophisticated and engaging influencer initiatives in the world. The platform measures content performance, hosts campaigns and tracks metrics in real-time.
Top features:
Identify trends – Market insights help in understanding your industry and brand.
Discover and vet influencers – Evaluate creators at a glance and recruit influencers who align with your target audience.
Effective communication – Sideqik integrates thread messages from your influencers directly to the platform with Gmail and Twitter messaging integrations in a central location.
The industry-agnostic influencer platform is used by brands in eCommerce, food and beverages, health and fitness sectors.
Pricing – Customized
For those experienced in running collaborations, Influencer is a self-service platform wherein brands run influencer programs from start to finish.
Influencer enables brands to negotiate prices and terms with influencers, review creative content and track the performance of influencer content.
Top features:
Strategy – Be it generating awareness of a new product, changing consumer perception of a brand, or driving the target audience to your website or app, the team helps identify a creative influencer marketing strategy.
Analysis – Proprietary campaign analysis looks beyond social, into the audience wants, needs and preferences to power influencer recommendations.
Technology – Brands and agencies receive complete data transparency around their influencer marketing campaigns.
Leading consumer brands use Influencer to create insight-based influencer marketing strategies.
Pricing: Customized
Current Technologies supports your influencer marketing campaign, from discovery to payments. For brands looking to build influencer relationships with ease, this software helps in launching campaigns, analyzing performance and providing comprehensive reporting.
Top features:
Robust influencer search – A library of 5 million influencers, dig into sponsorship history and more than 2 billion indexed posts.
Bespoke payment structures – You can pay your talent a flat fee or based on performance along with creating automated spend reports, forecasting future spends and accessing payment history.
Comprehensive reporting – Allows you to dig into influencer-led sales performance, access daily performance charts and analyze KPIs.
Pricing – Customized
Influencer marketing platform Klear empowers marketers with a powerful search engine, campaign analytics and influencer profiles.
Top features:
Influencer search engine – Advanced filters identify influencers by niche topics, location and more.
Relationship management – The CRM allows you to manage contact information, outreach and export data.
Centralized communication – Invite influencers to a campaign, share briefs, collaborate and maintain communication in a single portal.
Businesses, eCommerce brands and agencies use Klear to manage their influencer relationships.
Pricing – Customized
The comprehensive tools and data by influencer marketing platform Influencity fuel your best marketing strategies by automating your manual campaigns.
Top features:
Local influencers – If you are looking to launch in new geographies, this feature helps you find influencers who speak the customer's native language.
Influencer brand affinity – Examine the influencer's past brand partnerships to assess if they are a good fit.
Influencer database – Regardless of the influencers you add, the database remains organized and can be accessed across the enterprise.
Influencer relationships management tool Influencity is used by consumer brands.
Pricing – Four-tiered pricing, starting from $148/month to $998/month
Putting it together
The high-ROI and fast-growing success of influencer marketing make it a preferred marketing medium for brands of all sizes and across industries.
While getting started is simple, the tricky part is managing influencer relationships as the program grows. Influencer relationship management enables you to keep a track of influencers, their engagement, content and impact.
To scale your influencer program, you need an integrated relationship management software that automates the campaign to save time and improve results with the best data.
---
Related Articles:

5 Successful Instagram Influencer Marketing Campaigns Worth Having A Look At [Backed by Data]

B2B Influencer Marketing: The Definitive Guide
---
Frequently Asked Questions
What is influencer relationship management?
Influencer relationship management promotes good relationships with social media influencers to increase product or service sales. This may include details on an influencer's personality traits, long-term business objectives, preferred communication style, and other details.
What are the best influencer relationship management platforms?
The best influencer relationship management platforms are:
1. Keyhole
2. Grin
3. CreatorIQ
4. Upfluence
5. Aspire
6. Traackr
7. IZEA
8. TapInfluence
9. Mavrck
10. Sideqik
11. Influencer
12. Current
13. Klear
14. Influencity
Why do you need an influencer relationship management tool?
If you are looking to scale your influencer program, influencer relationships tools streamline the influencer process for you. The right influencer relationship management (IRM) software ensures that no influencer management tasks fall through the cracks. IRM tool helps you keep a track of your social media influencers, from engagement, metrics, content to results.