Using hashtags effectively goes beyond casually plugging them into your tweets and posts.
On platforms such as Twitter and Instagram, calculated hashtag marketing can boost impressions, make your content more searchable and encourage users to talk about your brand.
Learning how to leverage tagged topics should be a priority for marketers.
Here are five hashtag marketing strategies that social media teams have successfully used to engage their target audiences:
Think of a brand hashtag as your signature. Unique to your business, it should be a concise and relevant slogan you include when sharing original content.
Encourage followers to use it as well. This way, they'll have a clear method of sharing posts with you and others interested in your company's products or services.
The online community will also know how to find content about your brand.
A brand hashtag is a way for users to let the social community know what they think about your company. Instead of just sending you a message, they're speaking to their followers and other users who look for tagged posts.
Everyone stands to benefit, because:
You build a discussion around your brand, encouraging the online community to learn more about your products and services while promoting them. Ideally, consumers will also follow links you share.
Those using the hashtag will draw attention to their posts, possibly earning more followers.
As a bonus, you can run a promotional contest. For example, the person who creates the most-shared post using your hashtag will win a prize at the end of each month.
Everyone loves to win. Just watch engagement steadily rise.
Example: #WinnersFabFinds
Winners, a popular Canadian apparel store, uses #WinnersFabFinds across all social channels. Both catchy and unique, Winners promotes the brand hashtag both online and in-store. Another great example of effective social media marketing.
With more than 4,500 posts, here's what #WinnersFabFinds looks like on Instagram:
Customers share content, while Winners gets original pictures of them enjoying products.
When a high volume of users include a specific hashtag in their posts, it "trends."
Social media platforms have different ways of displaying trending topics. For example, trending topics on Twitter displays on the top right side of the screen, and Facebook has a trending section on the top-right corner of your screen: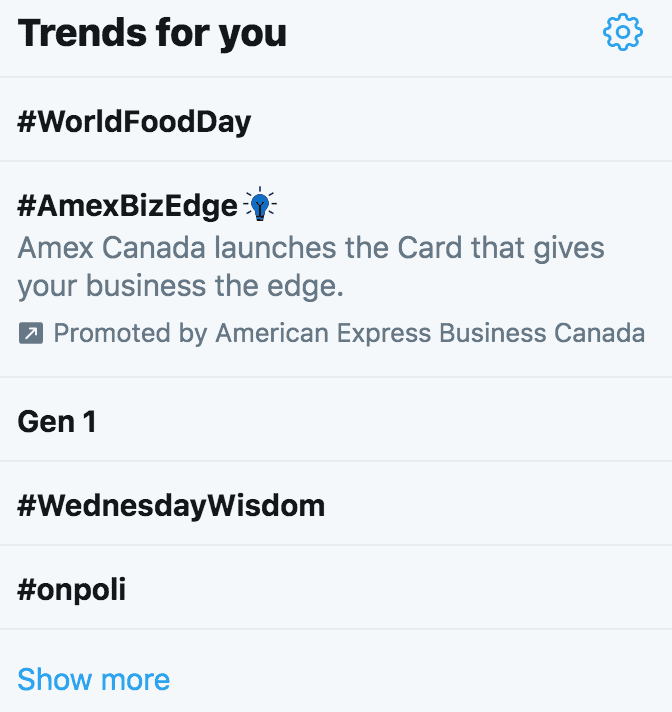 Constantly changing in real-time, a trending hashtag can last for days or mere minutes.
When you see a trend that relates to your business, don't hesitate to engage in it with relevant content.
Why they successfully engage audiences
By sharing content through a trending hashtag, it'll be seen by a group larger than your contacts and followers.
In a sense, your audience can be limitless — anyone who clicks on the trending topic can see your post. And if that post is witty, original or informative, the shares it generates will further boost impressions and comments.
Example: #CollegeIn5Words
When #CollegeIn5Words trended on Twitter, Denny's Diner furthered its reputation as a company with a funny social media presence.
Being funny in this situation has its benefits, as Denny's earned an enviable amount of likes and retweets. Not to mention all the replies it received, with people tagging their followers to share a laugh.
Popular on Twitter, you can use chat hashtags to discuss a topic with users who are interested in the subject matter.
This is a form of hashtag marketing that calls for users to be directly engaging with a brand or an individual.
There are a plethora of industry and audience specific chat hashtags.
Chats are typically held at set times, sometimes involving one user asking questions and others giving their thoughts.
You can also start and promote your own, giving your brand more exposure. Make sure the hashtag is short – encouraging meaningful conversation is key, so it's best not to deeply cut into Twitter's 140-character limit.
Why they successfully engage audiences
People want to talk about topics they're passionate about, so Twitter chats can give you access to a receptive audience. With a popular chat hashtag, that audience is already established and waiting to be engaged.
What's more, contributing to a Twitter chat can boost engagement by letting you:
Connect with like-minded individuals. Many people may be interested in your company, but not know about it. Using a chat hashtag is a way of informing them about your ideas, as well as your products or services.
Demonstrate your expertise on relevant topics. If people are invested in a certain subject, they want to know more about it. Sharing your content can spark meaningful conversations.
Example: #TMLTalk
During every Toronto Maple Leafs game, #TMLTalk is a trending topic. The team with the NHL's largest fan base interacts with supporters using the hashtag, encouraging them to share opinions and content.
During every Toronto Maple Leafs game, #TMLTalk is a trending topic. The team with the NHL's largest fan base interacts with supporters using the hashtag, encouraging them to share opinions and content.
Fans are passionate – giving them an online forum helps them interact with fellow enthusiasts.
Organizations such as news sites can also use the hashtag to share stories and earn clicks. Meanwhile, the Maple Leafs organization gains another way to build, and communicate with, a dedicated audience.
Content-reflecting hashtags don't have to be trending or even popular, per se. They're not specific to your brand, either.
They're simply tagged words that relate to a posts' content. For example, a tweet about social media ads may contain "#digitalmarketing." A post about a tourist attraction may include the city's name, and so on.
Why they successfully engage audiences
Think of content-reflecting hashtags as a way of optimizing content for search. Audience members may stumble upon your posts when looking for the words you tag.
This is useful for companies that:
Sell physical products
Operate in a set location
Share posts about niche topics that don't trend or necessarily merit a brand hashtag
Content-reflecting hashtags become valuable when consumers perform general searches to find a certain item or learn more about a given subject. Being an early result can certainly earn you a click, reply or follow.
Example: #CleanEating
#CleanEating is a popular Instagram hashtag that carries over onto Twitter and other social platforms.
For example, here's a typical post that would be associated with the hashtag:
Although it's dominated by pictures of home cooking, a health foods store or restaurant could certainly leverage the hashtag to potentially earn comments or clicks to their website. Hashtags are vital tools even for ghost kitchens to promote only delivery restaurants and engage with audiences.
If used in conjunction with a location hashtag, an in-person visit also wouldn't be out of the question.
The goal of a call-to-action (CTA) hashtag? Encourage the online community to perform a specific action involving your brand.
It's a traditional marketing concept that's applied to social media.
A CTA hashtag usually starts with a verb, such as "share" or "talk." Then, it should have a few short words that give additional instruction.
For example, a mental health organization may have a hashtag called "#TalkAboutMentalHealth."
When a CTA hashtag gains traction, you'll see posts across social platforms involving people taking appropriate action.
Why they successfully engage audiences
Social media users follow CTA hashtags because they:
Feel like they're contributing to an important cause.

Going back to the mental health example, people would follow such a hashtag because they feel as though they're challenging the stigma of certain illnesses.
Think the action is genuinely fun. Who wouldn't want to take a silly picture or share an interesting story?
Earn a sense of participation. If your friends are posting with a certain hashtag, it's natural to want to contribute.

That being said, a CTA should be doable. You likely won't engage your audience by encouraging an action that's almost impossible.
Example: #ShareACoke
Coca-Cola's #ShareACoke campaigns harnessed the power of a fun CTA and became a wildly-successful hashtag marketing initiative.
Creating cans and bottles that read "Share a Coke With …" followed by a name, the company encouraged social media users to post pictures of themselves sharing the drink with friends and family.
Generating almost 700,000 Instagram posts, here's a look at an example:
Generating almost 700,000 Instagram posts, here's a look at an example:
Like a brand hashtag, this particular CTA campaign benefits the company and individual users. The users get to share content with a wide audience, while Coca-Cola gets original images of satisfied customers and potentially increases sales.
These five hashtag marketing techniques are shown to boost engagement by encouraging consumer conversations, making your content more searchable, expanding your reach, and more.
Implement them in your social media marketing strategy to see how effectively they work for you.
---

Keyhole is a real-time conversation tracker that provides keyword and hashtag analytics for Twitter and Instagram. Get started for free.
---
Related Articles:

Top 15 [Paid + Free] Hashtag Analytics Tools in 2024
How Do I Track & Measure Hashtag Performance On Social Media?
---
Frequently Asked Questions
Here are 5 type of hashtag marketing strategies:
1. Brand hashtags
2. Trending hashtags
3. Chat hashtags
4. Content-reflecting hashtags
5. Call to action hashtags
On platforms such as Twitter and Instagram, calculated hashtag marketing can boost impressions, make your content more searchable and encourage users to talk about your brand.
You can use hashtags to start a new marketing campaign or join trending conversations. Hashtags can also promote contests and giveaways by boosting organic reach.