Social Media is like going on a diet. It's difficult to get results; it takes endurance, and it's frustrating. Fast, quick weight losses will always get you nowhere. Likewise, for Social Media to generate any revenue, you need to strategize and be patient.
Out of all the struggles Social Media Marketers face, boosting sales which ultimately justifies the need for an increased budget, is their biggest pain-point. Here, 7 Social Media experts share their tips on Social Media Marketing to boost sales & advice on how to measure your success.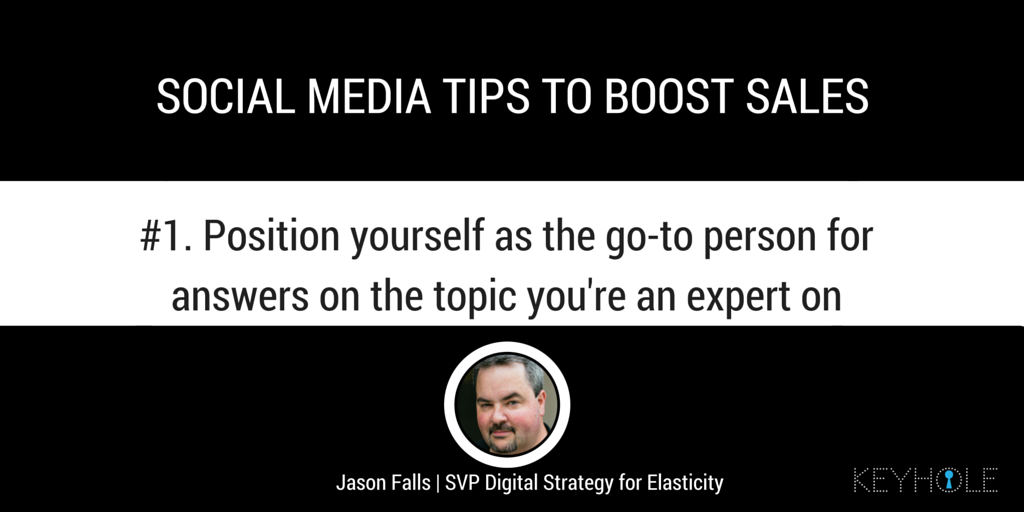 #1 Position yourself as the go-to person
Be a resource. Whether it's providing smart content for the target audience on your blog or just answering questions on Twitter or Facebook, try to position yourself as the go-to person for answers on the general topic you are an expert on. That attracts followers, friends, and readers. Then, don't be shy to invite them to call on you when and if they need more than just an answer. Present them with a call to action once in a while. You'll start to find that the trust you've built leads people to want to work with you.
How do you measure?
And measuring it can be as simple as having the call-to-action being filling out a form to have you reach out to them or it can be offering a special discount code that you track but only supply it to your social channels. Isolate the way they get the mechanism to buy and you can measure it pretty effectively.
Jason Falls is the SVP for Digital Strategy, Elasticity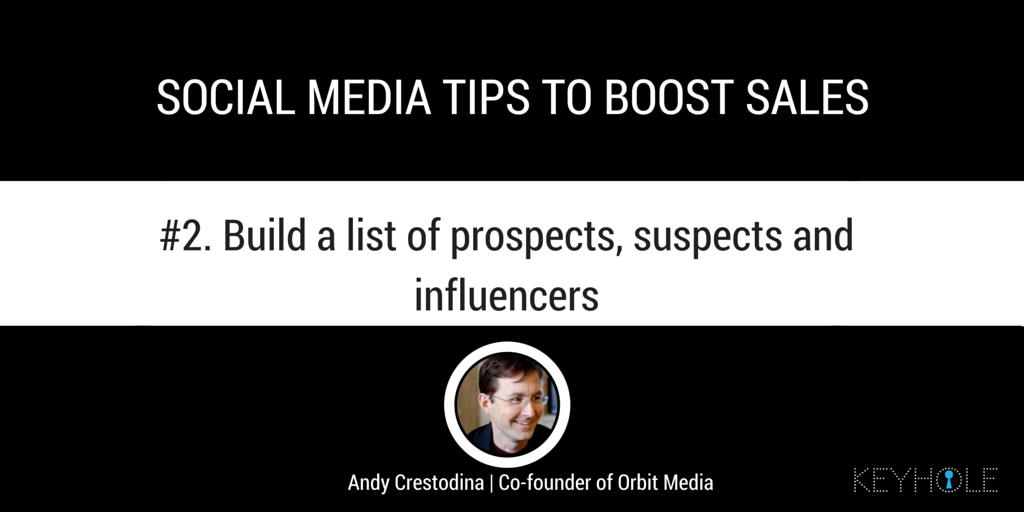 #2. Build a list of prospects, suspects and influencers
Use social for networking, rather than traffic. This means first, building a list of prospects, suspects and influencers. Then, connecting and interacting with them on multiple networks.
It's not enough to connect with these people on just one network.
Social sales and Influencer marketing are based on the quality of connections, not quantity. It doesn't matter how many followers you have. It's matters how close you are to those few people who matter most to your sales funnel!
Here are 35 detailed steps for connecting with anyone online.
Andy Crestodina is the co-founder of Orbit Media, an award-winning, 35-person web design company in Chicago. He is also the author of Content Chemistry: The Illustrated Handbook for Content Marketing

Use Keyhole to track hashtags and keywords, pinpointing prospects, suspects and influencers.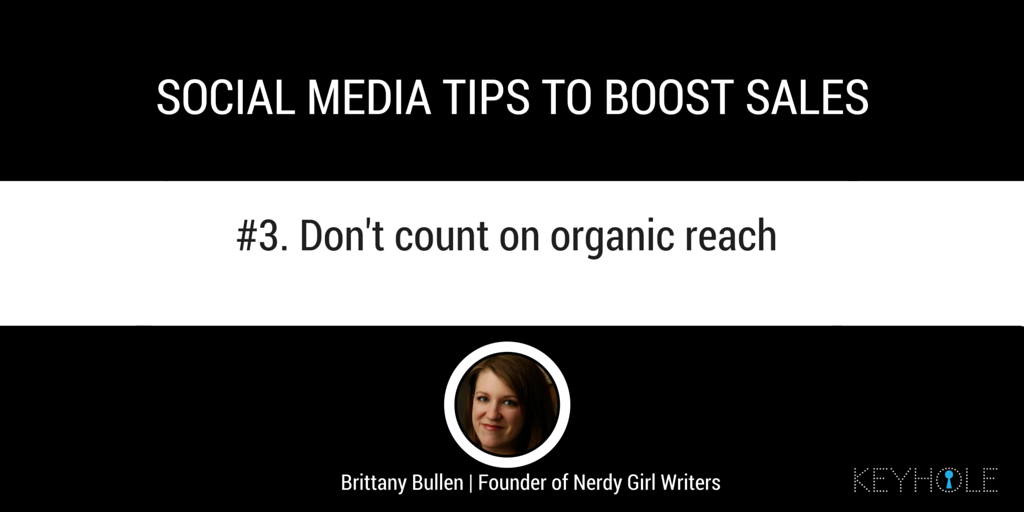 #3. Don't count on organic reach
Don't count on the organic reach of your posts unless you have a large, highly engaged following. Even then, the best way to track the ROI of your social media marketing is to pay for Website Conversion ads and install a tracking pixel on the thank you page that comes up after the desired action has been taken.
Also, before you pay for any social media ads, make sure you have an attractive, persuasive sales funnel and a professional looking website in place so you can maximize your ROI. Social media marketing is a great way to send eyeballs in your direction, but if when they get there you don't have something great for them to see, you're not going to get even close to the full benefit of this strategy.
Brittany Bullen is the Founder of NerdyGirlWriters.com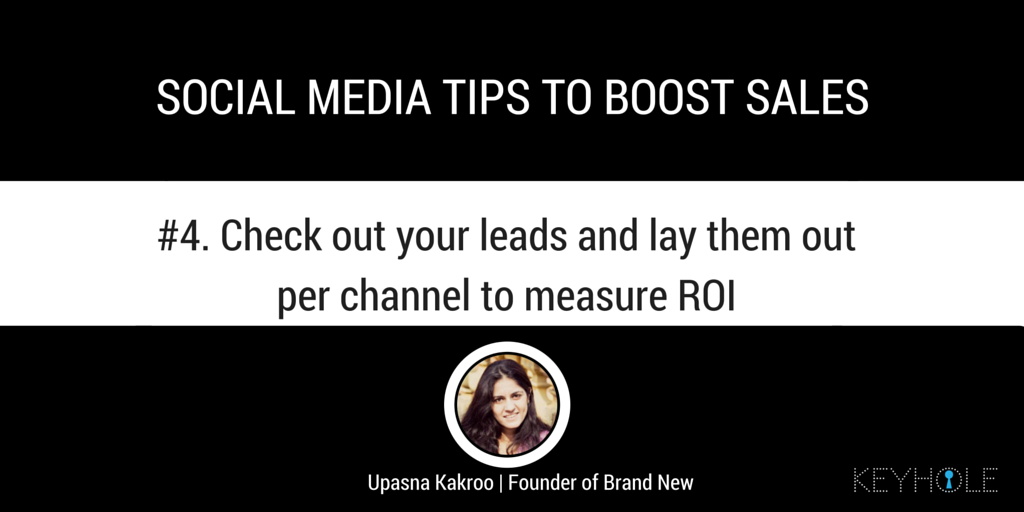 #4. Check out your leads and lay them out per channel to measure ROI
One tip: "Follow up"– whether it is following up on leads, on measurements, on connections and engagement, social media needs time & effort before you can see results.
There's no business untouched by social, so whether you're a B2B player selling pipes or a small business owner selling baby clothes, there are opportunities. To get rewarded, social need you to:
a) be present and create engaging/ compelling content
b) allow time/ effort to build trust with your consumers
c) measure performance and channels that work/ convert for you.
As a marketing manager, you need to know where your consumers are coming from. For instance, at a basic level this could be just checking where your web traffic is coming from, and which channels are important. If you're a B2B business, check out your leads and lay them out per channel. Are you converting Instagram followers into paying customers? Or are people reaching out to you via Twitter? Once you have your spreadsheet ready, it's easy to measure your RoI. Time/ cost spent on any channel and the revenue it brings (how many customers/ amount of money spent by each customer/ basket size/ total revenue, etc.). While indirect effects of social like trust, brand effects are substantial and harder to measure, you will notice even the direct leads will be significant enough for you not to ignore it.
Upasna Kakroo is the Founder of Content Marketing agency BRANDANEW, digital storyteller, and content marketing strategist

#5. Fish where the fish are
Fish where the fish are. In other words, point your effort toward the platforms where your target market hangs out online. If your ideal target customer hangs out on Instagram and Twitter, that's where you should have your strongest presence. Facebook may be a great idea. However, segment your time in a proportionate manner! Spend the most time where your most significant results come from.
Also, watch your analytics for trends. If you see a spike in traffic from Pinterest, find out why and give it a bit of time. Test to make sure it's a good investment to continue, and even increase effort there.
How do you measure it?
This always comes back to fulfilling goals and the bottom line. Are you saving money and being more efficient due to social media efforts? Is brand awareness up and online conversation more? Are you generating more leads? Are you increasing sales and revenues? Those are usually the key questions. Analytics that reveal traffic and trends should be checked frequently.
Keri Jaehnig is the Founder and award-winning CMO of Idea Girl Media, a Social Media Marketing Agency. Her work was featured in Search Engine People, AOL Small Business, Forbes, and Business Insider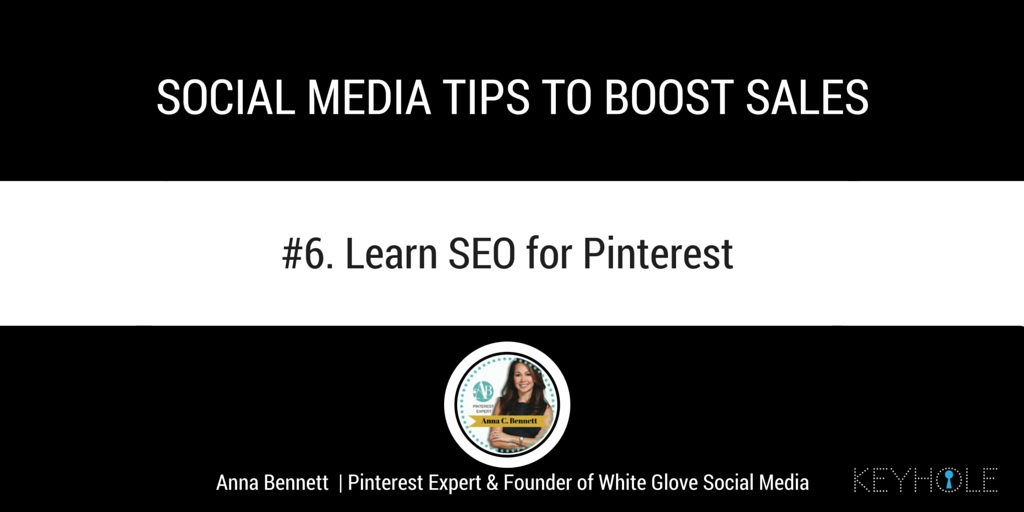 #6. Learn SEO for Pinterest
First off I am a Pinterest expert, so my answer is related to Pinterest.
My number one tip is to learn SEO. Understand the impact that excellent SEO can have on your traffic and sales. Then learn how to apply it.
For example with Pinterest; they have their search engine. If you want more people on your boards, pinning your content and then going to your website you have to learn how to rank at the top of the search results or someone else will get all that traffic. It is pretty easy to do. Most people are intimidated because they think it is hard or boring. SEO is very creative and fun once you know what you are doing.
Also, if you can use SEO well on Pinterest that can help you rank higher on Google and that's where even bigger traffic can be had. In fact, I have used Pinterest to rank # 1 in organic search on Google in more than one on my important keywords. The traffic is driven to my business is amazing, and it leads to sales every week.
So my number one tip to make more sales leveraging the power of Pinterest is to master Pinterest SEO to get more free, organic, self-selected traffic going from Pinterest to your website.
Power influencer and social media strategist Anna Bennett is the founder of White Glove Social Media. Anna is one of the few Pinterest marketing experts worldwide endorsed by Pinterest themselves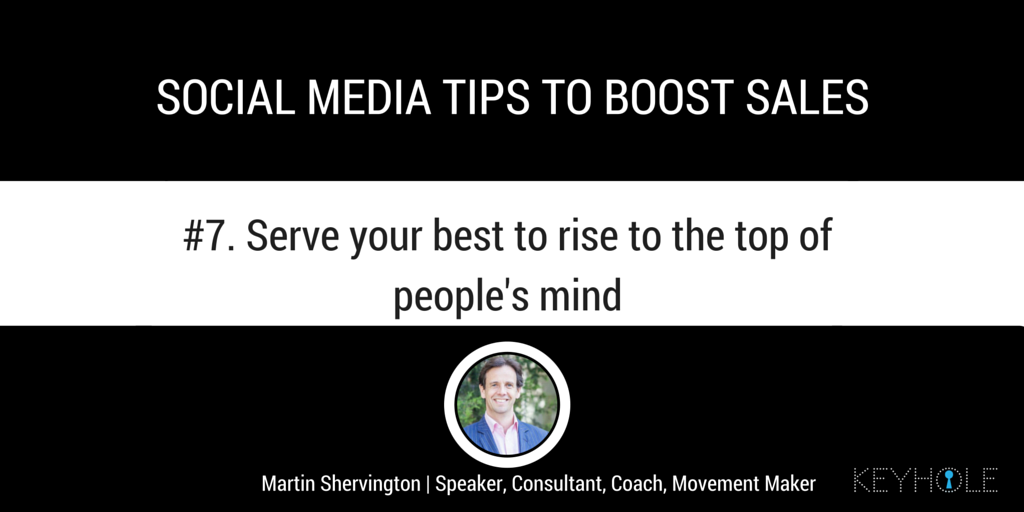 #7. Serve your best to rise to the top of people's mind
Social Media is all about relationships. Find your passion, lead your people and along the way you will build quality alliances.
This will give you reach across the network when they too share your content.
Looking at serving 'your best' and you will rise to the top of people's minds, and they will be waiting for the next release – you never know, you may well get some super Search results along the way too. All of this will help to get you more traffic to your site, more opt-ins, more leads, and more people to whom to re-market (using e.g. Google Adwords). And when you do this well, you will get more sales, which is what so many people want to see – ROI for social.
---
Keyhole is a real-time conversation tracker that provides keyword and hashtag analytics for Twitter and Instagram. Get started for free and search your brand.