We bet whenever the social media management topic arises, Hootsuite is the first name that pops up. It is a legacy platform that was one of the first to cater to the ever-changing social media dynamics.
Back in 2008, squandering off an online presence was a luxury. Only enterprises had the money and bandwidth to do so.
Unlike today, times have changed since its onset. Even home bakers can click snaps of their delicious treats, be a famous face on social media, and run a full-fledged business.
Social media marketing is an indispensable tool for both elite and common businesses and individuals. And that's exactly why the rise of Hootsuite alternatives shot up.
Why should you look for Hootsuite alternatives in the first place?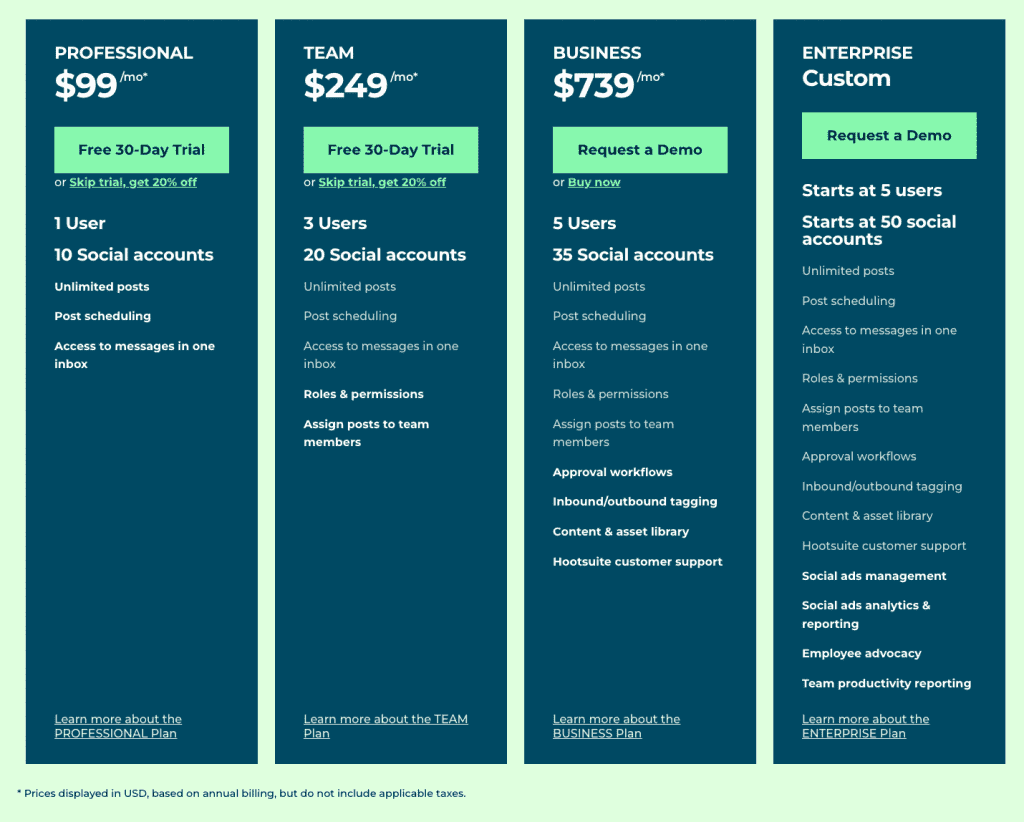 Despite its glorious beginning, Hootsuite didn't quite level up its offering with its pricey plans. Unless you sit on the gold pot, Hootsuite is definitely expensive compared to innumerable tools in the market.
However, this is not the only factor that makes Hootsuite unsuitable for budding agencies or small/mid businesses. The tool is complex to work with. Using this social media analytics tool to its full potential might take a while.
Furthermore, they winded up their forever-free plan and notified users that they should upgrade their account or can bid farewell to Hootsuite permanently. Plus, their customer support is all over the place. You can check out any trusted review sites and find at least a dozen complaints.
So it's high time to gauge a tool by not mere popularity but in terms of your objectives in line with their offering. In this blog, we'll talk about 11 top Hootsuite alternatives that you can benefit from day one.
Let's dive in quickly and put an end to your social media woes once and for all.
Here are our top picks of Hootsuite alternatives in terms of price, features, and user reviews:
1. Keyhole
Pricing: Starts from $79/mo
Keyhole is your best bet when it comes to full-fledged social media automation. This top Hootsuite alternative helps you right from spotting trends, scheduling posts, tracking campaigns, and even optimizing your overall branding.
Keyhole is trusted by over 100,000 marketers, including Amazon, Spotify, Google, and more. However, the pricing is affordable even for agencies and small to midsize businesses, unlike Hootsuite.
Here are some features that make Keyhole your go-to partner for branding.
Connect your Keyhole account with multiple social media profiles across your favorite platforms.
Be limitless with unlimited scheduling of posts so you get the maximum reach all the time.
Get optimization hacks under the Optimization tab to know how you can make your presence felt on each platform.
Compare your performance with your competitors, including their best time to post, popular content types, top hashtags, average engagement rate, and more.
Access historical data with Keyhole API for monitoring trends and searching for patterns.
Track any keyword/hashtag and monitor your and your competitors' online presence and impact.
Onboard influencers and track each influencer's ROI to the overall campaign and other KPIs.
Check your share of voice and analyze what the world feels about your brand with sentiment analysis.
Spot early trends by monitoring relevant keywords/brands/hashtags in the QuickTrends section for a custom date range.
Automate generating custom reports with vital social media metrics and share links to real-time dashboards with team, clients, and stakeholders.
Annelise L
I've been using Keyhole almost since the beginning, and what I love best is the flexibility in the data that can be tracked and captured. It has made evaluating the ROI of different campaigns and tactics much easier.
Luke W
Keyhole has a great user-friendly dashboard with thorough metrics and a great reporting layout that makes it useful for reporting up. I fully recommend it, and we use it year-round!
2. Meltwater
Pricing: Upon request
Meltwater is yet another good Hootsuite alternative for social media management. Meltwater focuses more on being a Media Intelligence platform and offers features for media monitoring, social media monitoring, and collecting brand insights.
This platform combines features from Meltwater's former Buzz, Press, and News products, providing functionality in monitoring, analyzing, distributing, and engaging with media and brand insights.
Pros
Comprehensive media monitoring across various sources, helping you stay updated on brand mentions and industry trends.
Actionable insights and analytics to track social media engagement, campaign performance, and measure impact.
Intuitive dashboards and customizable reports for easy data visualization and sharing with your team.
Val S
The analytics tools are useful but confusing to get started. The search functions for media contacts are decent, and I appreciate the number of filters available. I also appreciate the account manager we are assigned, as she has been helpful with the training.
Cons
Pricing can be higher than other social media management tools, making it less accessible for small businesses with limited budgets.
The user interface can initially be overwhelming due to the wide range of features and options available.
The learning curve can be steep for beginners who need to become more familiar with media monitoring or social listening tools.
Mary N
Meltwater is really not tailored to smaller organizations. I utilized it with a small university that did not often have national news coverage, and most of the tools seemed built for much bigger organizations.
3. Pallyy
Pricing: $15/mo
Pallyy is a decent alternative to Hootsuite for social media scheduling. It offers feature-rich tools at an affordable price, making it suitable for those who want powerful social media management without the high cost associated with some other platforms.
One of the plus points of Pallyy revolves around its simplicity and user-friendly interface. It is designed to simplify marketing efforts, accelerate sales, and streamline customer service.
Pros
Provides in-depth analytics and performance tracking to measure the effectiveness of social media campaigns and optimize future strategies.
Offers a visual content calendar, which allows users to see an overview of their scheduled posts and make adjustments easily.
Provides hashtag suggestions and analysis, helping users optimize their social media posts for better reach and engagement.
Justyna R
I love how visually pleasing the dashboard is and how easy it is to create notes, drafts, and schedule the content.
Cons
The reporting features are fairly basic and may not provide the level of detail some businesses require for social media analytics.
Some users have reported a lack of customization options for the platform's reporting and dashboard features.
Pallyy's customer support is primarily offered through email or chat, with limited phone or in-person support options.
Dorina R
You can't really schedule stories; it is just a reminder, even in the premium plan. Sometimes the publishing fails for unknown reasons. Tagging is not working very smoothly, and we have to come back to it in the actual post. Sometimes the uploaded media doesn't load, so you can't see the preview.
4. Loomly
Pricing: $35-$359/mo
Loomly can be a manageable alternative to Hootsuite due to its features and positive user feedback. It does provide a range of features to manage various aspects of social media marketing strategy. Furthermore, you can manage brand assets, schedule posts, and track social performance, among other capabilities.
Beyond that, Loomly's top feature posts optimization suggestions based on best practices and social media trends. These suggestions enhance your overall content, improve engagement, and increase the effectiveness of social media campaigns.
Pros
It integrates with popular social media platforms, allowing users to manage accounts from a single dashboard.
Its content calendar and scheduling tools can help you plan and organize your social media content effectively.
The platform provides users basic analytics and reporting features to track social media performance and make data-driven decisions.
Justin G
I really like the ease of publishing and the various features provided, like being able to alter content for different platforms and accounts, the carousel posts, and creating one post that can be posted to all of our social channels without duplicating it.
Cons
Loomly's reporting capabilities may not be as robust or advanced as some other tools in the market.
Loomly's plan poses limitations and might not offer all the features some users may require.
The platform's analytics features may offer less depth and customization than other tools in the market.
Zac G
The lack of analytics is a big issue. I understand you can pay more to receive post analytics, but competitors offer this at their base account. Unfortunately, this was a big enough issue to cause me to migrate to one of those competitors. Analytics are essential when working with clients and brands. It helps prove our value.
5. MeetEdgar
Pricing: $29.99-$49.99/mo
MeetEdgar can also be considered an alternative to Hootsuite. One reason is that MeetEdgar focuses on specific functionalities and goes deep into them, offering a more in-depth approach.
MeetEdgar is also known for automating content scheduling and recycling evergreen content. This particular feature can be useful for those looking to maintain an active presence on social media without constantly creating new content.
Pros
MeetEdgar offers a content library feature, allowing users to organize and categorize their social media content easily.
The platform provides a variety of post types, including text, images, links, and videos, giving users flexibility in their social media content creation.
MeetEdgar offers a browser extension that enables users to easily add content to their social media queue while browsing the web.
Jena A
I like the ability to set it and forget it on the evergreen social media posting by far the most. It has created the ability to set up different sections to program separately, for example, a set just for Monday posts.
Cons
The platform does not provide native support for real-time social media monitoring and engagement features.
MeetEdgar may have less robust team collaboration and workflow management capabilities than other social media tools.
MeetEdgar has a limited number of integrations with other third-party apps compared to some competitors.
Adriana L
I don't like that I can't just "stop" a calendar. If I need to stop my posts, I will need to erase the calendar. This is very annoying if I'm thinking about stopping my posts for a few days, but I want to return to my calendar later. I also think it is very expensive.
6. MavSocial
Pricing: $78-$499/mo
MavSocial is yet another decent Hootsuite alternative that prioritizes content management. Its visual analytics provide insights into which types of content resonate best with audiences and which channels drive the most traffic, making it easier to refine any social media strategy.
MavSocial also includes a digital asset management (DAM) system to store, organize, and access their media files (such as images, videos, and audio) in one central location.
Pros
The platform offers a collaborative workflow feature, allowing teams to collaborate, review, and approve social media content before scheduling or publishing.
MavSocial provides audience targeting and scheduling features, enabling users to reach their target audience at optimal times by scheduling posts in advance.
The Social Inbox feature enables users to manage social media engagements from multiple platforms in one unified inbox.
David Y
I most appreciate the holistic view of post creation that indicates what content will be the same, as well as the quick and easy way that a creator can differentiate a single post or platform.
Cons
MavSocial's automation features may need to be improved compared to more robust social media management tools.
Some users may find the platform's interface less intuitive or visually appealing.
MavSocial's social listening capabilities may not be as extensive or comprehensive as other platforms offer.
Sandra G
MavSocial offers a LOT… but not necessarily what I'm looking for. The idea of a campaign was great, but I had to let it either run forever or set an end date. This was tough. Also, although it's great to have the cloud library attached to my account, it was horrific to organize. I regularly work with hundreds or thousands of images. Incredibly time-consuming to add metadata to each individual file. They also had to be moved to directories individually.
7. Sendible
Pricing: $29-$240/mo
Next up, we have Sendible in this extensive list of Hootsuite alternatives. It has great content curation and scheduling features, allowing users to post to various social networks. The interface is clean and easy to learn, which creates a less overwhelming experience than most players.
The platform also has a mobile app to manage social media accounts on the go. This can benefit those who require flexibility and remote access to their social media accounts.
Pros
Access an extensive library of post templates and stock images, enabling users to easily create compelling and visually appealing content.
The platform offers a range of collaboration and team management features to delegate tasks, set permissions, and streamline communication with team members.
It integrates with various third-party tools and applications, including Canva, Google Drive, and Bit.ly.
Jessica E
Operating in an agency-style business, my company needed a scheduling tool that allowed us to log in once and organize content for all brands and all channels in one place. Sendible is this and so much more. I also appreciate how simple and visual the reports are.
Cons
The setup process of integrating social media accounts on Sendible can be confusing and time-consuming, especially if you have multiple platforms to connect to.
The learning curve for using Sendible can be steep, especially for users new to social media management platforms or with limited technical skills.
The social media listening feature in Sendible is less comprehensive than other social media management platforms and doesn't include more advanced functionalities.
Matthew H
The "best times to post" are calculated based on ALL accounts linked, not the ones you post from. So that means if Client A's actual best time to post is in the morning but Client B's actual best time to post is in the afternoon, ALL POSTING will be skewed towards one or the other.
8. Zoho Social
Pricing: $15-$200/mo
Zoho Social is a befitting Hootsuite alternative if you use Zoho CRM for customer relationship management. You can connect your social media data with your existing CRM system. This integration can streamline social media marketing efforts and improve customer relationship management.
Its monitoring capabilities let you track brand mentions, keywords, and hashtags across various social media platforms. This helps you stay on top of brand conversations, industry trends, and competitor analysis.
Pros
It provides advanced publishing features, such as publishing queues and bulk scheduling.
It offers social media listening, allowing you to monitor and engage with online conversations relevant to your business.
Zoho Social has a responsive customer support team that promptly assists users.
Todd S H
Zoho has made it easy for me to post to all the social media platforms I use on a daily basis, all day long, instead of just occasional posts here and there. My engagement has skyrocketed since using the software.
Cons
The interface is overwhelming for those who are new to social media management platforms.
The available integrations with popular social media platforms are less comprehensive than some competitors.
The mobile application does not offer some features available on the desktop application.
Shaun P
I think that the service is too expensive. I use the lowest tier of their product, and I would not increase to the next tier because it's not worth the price. There are some neat tools, but they aren't worth their price.
9. Agorapulse
Pricing: $69-$149/mo
Agorapulse is another increasingly popular Hootsuite alternative that's favored by many. The ability to create automated moderation categories is something that Agorapulse has mastered. It lets you moderate user content and categorize audience engagement automatically.
You can even monitor social media conversations about your brand and industry. This can be an excellent add-on for social media and marketing teams to stay up-to-date on trending topics and identify potential influencers.
Pros
It has time-saving features like Inbox Zero for efficient management of social media communications.
It has a unified inbox for managing interactions across multiple platforms.
Agorapulse also offers ad management capabilities to create, manage, and track ad campaigns directly from the platform.
Kacey K
I like that Agorapulse lets you view your posts easily, be accessible, and viewable from the calendar within the website. Everything is right there and is easy to use.
Cons
Reporting features are not as customizable or advanced as other tools.
Agorapulse has limited access to historical data, making it difficult for users to see how their social media performance has changed over time.
While it supports sharing video content on some social media platforms, it does not support uploading and scheduling videos directly within the platform.
Michael O
The platform is relatively slow and often lags when replying to multiple comments in a row, forcing you to 'confirm' a response multiple times. The system also struggles when replying to comment threads on Facebook, replying to the initial comment rather than a specific reply.
10. Sprout Social
Pricing: $249-$499/mo
Sprout Social emerged as one of the early Hootsuite alternatives. One of the key advantages of Sprout Social is its user-friendly interface and intuitive design, which makes it easier to navigate and manage multiple social media accounts.
Sprout Social also lets its customers enjoy advanced social CRM functionality to manage contacts, track leads, and monitor customer interactions across multiple social media accounts.
Pros
Its social media listening capabilities for monitoring and analyzing online conversations about your brand or industry.
Sprout has enhanced team collaboration features for efficient social media management.
Detailed reporting options are available to gain valuable insights into social media performance.
Dan K
I like that all of our social media accounts are accessible in one location and that I can schedule posts when they are the most advantageous to our organization. It allows us to maintain clear social branding and present ourselves in the most professional way.
Cons
Limited platform support for only a select number of social media sites.
Reporting options can be overwhelming and difficult to navigate effectively.
Limited automation features compared to other social media management tools.
Kevin M
The price is more than 200% higher than other solutions and scales really poorly. The pricing is just way too much. There are so many other systems out there that allow multiple users for 1/3rd of the cost. This solution does not grow with a larger team.
11. Sprinklr
Pricing: $299/mo
Lastly, we have Sprinklr. It is a competitive Hootsuite alternative as it focuses on the enterprise. The tool is designed keeping large-scale businesses in mind to offer them enterprise-level social media management.
Some of its features, like unified social media management, customer engagement, and social media listening, truly make it a comprehensive solution for organizations with complex social media needs.
Pros
It is easily scalable and capable of handling high volumes of social media activity across multiple channels.
It provides advanced analytics and reporting features for in-depth insights and performance tracking.
Sprinklr also provides industry-specific solutions to address the unique needs of various sectors.
Emma M
I like that it takes all of our comments and organizes them in easy-to-see columns. It's easy to reply and categorize by the campaign as well as to triage to other team members. Most importantly, it is in real-time.
Cons
Setting up and implementing Sprinklr can be complex and time-consuming, requiring dedicated resources and expertise.
The platform is unnecessarily difficult to navigate, with a steep learning curve for new users.
Sprinklr's reporting capabilities are not as granular or customizable with limited options for creating custom reports.
Cora L
Not customizable to each user's needs. There are lots of categories my team doesn't need included that we can't get rid of to streamline the process. Reporting can be off, or difficult to get accurate numbers in a quick turnaround.
Which Hootsuite alternative would you pick?
Now that you know the perfect Hootsuite alternatives, don't settle for mediocrity when managing your social media. Say goodbye to outdated platforms and hello to a new level of efficiency and effectiveness. If you're ready to take your social media game to the next level, it's time to give Keyhole a try.
Start your free trial today and unlock a world of branding possibilities. Don't miss out on this opportunity to revolutionize your social media strategy – sign up with Keyhole today!
Related Articles
Top 7 Agorapulse Alternatives For 2024 
Top 7 Sprout Social Alternatives For Agencies & Brands In 2024
Frequently Asked Questions
1. What is Hootsuite, and why would I need an alternative?
Hootsuite is a popular social media management tool that allows users to schedule and publish content across multiple social media platforms. However, some users may seek alternatives due to pricing, limited features, or a desire for a more streamlined experience.
2. What are some features to look for in a Hootsuite alternative?
When looking for a Hootsuite alternative, consider features such as advanced analytics, social listening capabilities, team collaboration tools, and integrations with other marketing software. Additionally, consider pricing and ease of use to ensure the tool is a good fit for your business needs.
3. Are there any free Hootsuite alternatives available?
Yes, there are free social media management tools available as alternatives to Hootsuite. Some options include Keyhole, Agorapulse, and Sprinklr.