Let's be honest, if you're a social media manager, you have a lot on your plate.
Your days are likely packed with creating killer content and writing compelling copy, or fielding comments and questions from users. On top of that, you must stay ahead of the algorithms.
We get it.
With all that said, you still need to make time in your busy day for comprehensive reporting that dissects your strategy.
At the end of the day, you have to show why everything you do matters to someone that might not be as familiar with social media marketing metrics.
As social media platforms' value to marketers increases, platforms are adding reporting features. These features will give some insight into how your posts are performing.
However, they do tend to err on the side of giving you more data-driven business insights than you might need. And remember, a lot of data does not translate into actionable insights.
So, how do you avoid information overload in your own reporting, while still maintaining a solid overview of your brand traction?
This list of social media marketing metrics will help you report based on your brand's goals. Whether it is tracking your campaigns, your daily social media management across all platforms, etc.
Social media is considered an art and a science for many reasons. Like any art form, you pour your time, effort, and soul into your content to release it into the vast social ether.
However, it takes a scientific approach to ensure that your post will cut through the noise and reach your target audience. These are the social media metrics that will measure your posts performance and success.
Post Reach and Impressions – Who is Seeing Your Content?
Two of the most important social media marketing metrics to keep in mind are post reach and post impressions. These two metrics together will give you an idea of roughly how many people are seeing a given post.
While the two metrics are pretty similar in what they measure, there are some differences.
Post reach refers to how many unique users were exposed to a piece of content. Post impressions refers to how many times your target audience has seen your content appear on their screen.
There is more to it than just keeping tabs on the visibility of your posts through the various social media.
Monitoring post reach and post impressions is also a great way to assess if you are posting at the right time of day. It also helps you know if you are using the right combination of hashtags or keywords in your posts.
Also, if you run social media ads or boost posts, it is important to track both organic and paid post reach and impressions. Both sets of metrics can give you a very different picture of where you stand in your respective channels.
Engagement Counts – Do They Like Your Stuff?
Now that you have a good idea of how many people are seeing your content, you will want to know how is engaging your content. To find this out, you need to measure your engagement.
Each social media platform has their own unique ways for users to interact. However, most fall into likes, reactions or favorites, retweets, shares, reposts, comments or replies. And these are what we call engagements.
Unless you are going through a total social media crisis, engagements are a great thing.
Engagements mean that your content is leading users out of their mindless scrolling to interact with your post. In this day and age, that in itself, is a feat worth celebrating.
With few exceptions, highly-engaging content will be boosted in the algorithm. Thus, it will result in a higher post reach and post impressions.
Moreover, you can benchmark your engagement in order to see how you perform versus your competition or measure your own performance over time.
To do this, calculate your engagement rate, which converts your engagements into a single number. Then, instead of counting the various engagements from all the platforms and accounts, you can create a single metric.
Brand Mentions – Are They Talking About You?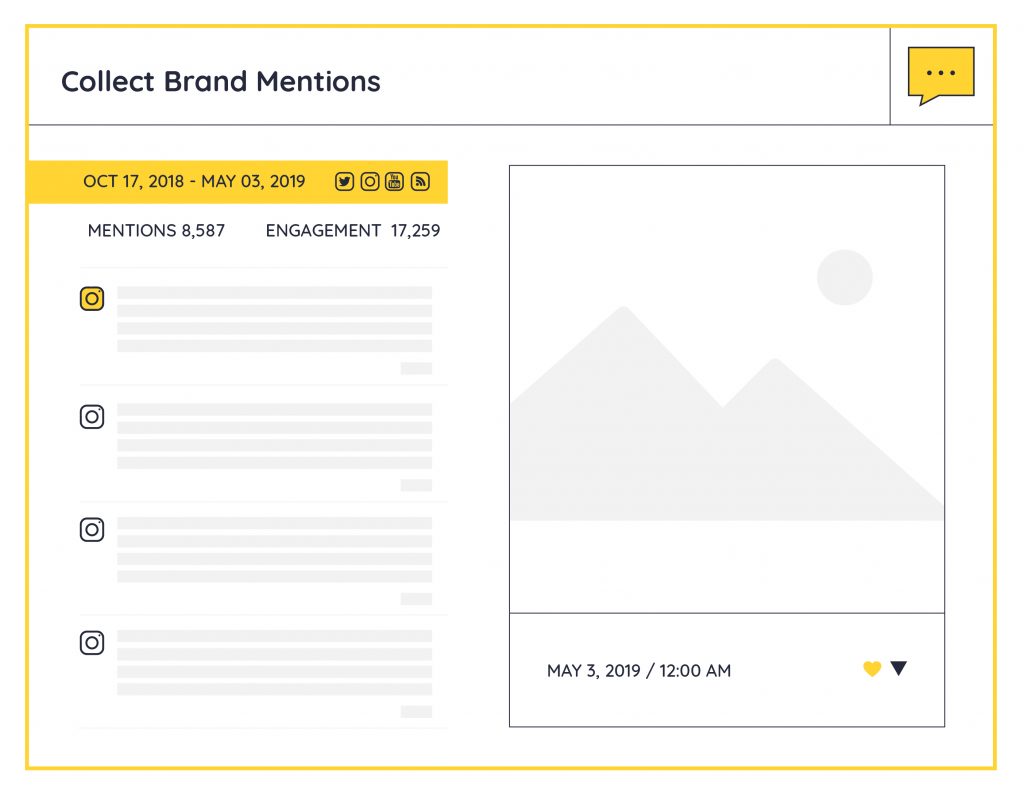 Brand mentions are another important social media marketing metric to include in your regular reports. As this can help you understand brand awareness and sentiment. It comes specially handy to alert you of PR situations ahead. 
While not as easy to measure as post reach, impressions, or engagement, brand mentions can often be more valuable.
For instance, if your brand that is being talked about positively on social media, or gaining user generated content, it will increase its digital footprint.
It is also a solid display of relevance.
Simply put: you could be earning customers without even posting anything.
As we previously stated, measuring brand mentions can be a little tricky unless you use a social listening tool like Keyhole, or other sentiment analysis tools.
You can also search your brand's hashtag using a hashtag analytics tool or the platform search engine. This will give you a general picture of how your brand is being discussed on social media.
Among many key features, Keyhole gives you straight-forward data, making it easy to understand and report your social media presence.
Reply Time and Messaging – Keeping the Conversation Going
The social media marketing metrics we covered had to do with your content, but it is also important to monitor your direct interactions with social media users.
The interactions you have on Facebook, Twitter or Instagram can be a powerful force in sealing sales conversions, or generating overall goodwill toward your brand.
However, the opposite is also possible. A delayed or carelessly-worded reply to a user's comment or message can cause possibly cost you a customer. It can also reflect poorly on your brand.
Here are some segmented metrics you should keep in mind when creating your regular reporting.
Reply Time
When a customer messages you directly, asks a question on your page, or comments a query under a post, it is important to get them the information they need in a timely fashion.
This attention to their needs will make them feel like you care about their particular issue. In fact, a positive customer interaction may lead to the customer promoting your brand on their social channels.
Facebook displays the average time it takes for your brand to respond to a direct message, which any page visitor can see. Knowing that your brand takes a long time to respond might discourage visitors from interacting with you.
For both of these reasons, it is important to take stock of how long it takes for your team to respond adequately to a customer message. If it is taking over a day to get back to a user, it might be time to rearrange your priorities.
Perhaps creating a system to address messages once or twice daily, depending on the frequency of direct messages or post comments you are receiving.
Tone, Questions, and Comments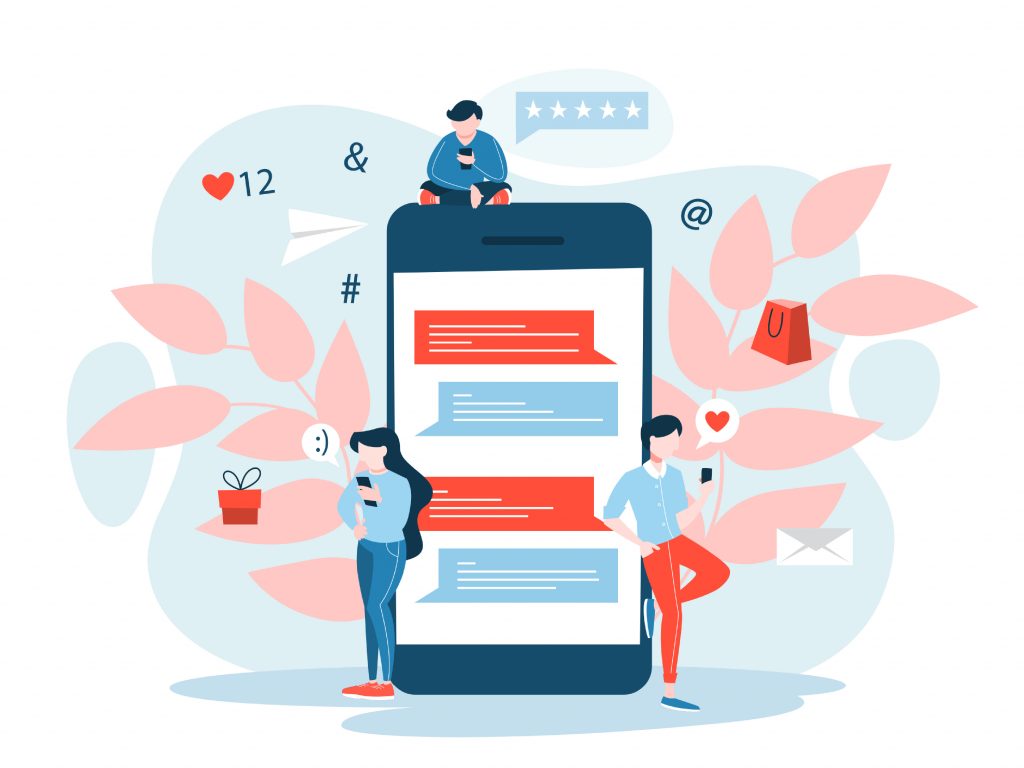 Beyond simply taking the time to address user messages in a timely manner, it can be very informative to monitor exactly what is being said. This should include the tone of the message, and any questions that may pop up.
Take notice of repeated questions, comments or concerns from your followers. These can be an excellent opportunity to inform your content strategy.
If, for example, a smartphone repair business has customers commenting or messaging questions regarding iPhone updates. This would be a great opportunity to write a blog or long-form social media post answering that question to stir-up some engagement.
Conversions – The End Goal
This goes without saying, but by far the most important metric in your reporting should be customer conversions from your social media presence.
There are plenty of guides out there to ace your social media commerce. Making sure you keep track of those successes can be key to informing your social media strategy going forward.
Are you selling a product or service? Do you have a newsletter? Is the end goal to drive downloads?
All of these can and should be tracked. Period.
If you are not tracking conversions, then why are you spending any time on social media marketing? This is the end goal, right? Return on investment.
The cool thing is you are able to track users from the time they click on your post, all the way through to when they become a customer. You can even tell where they fall off along the way if they do not finalize a transaction.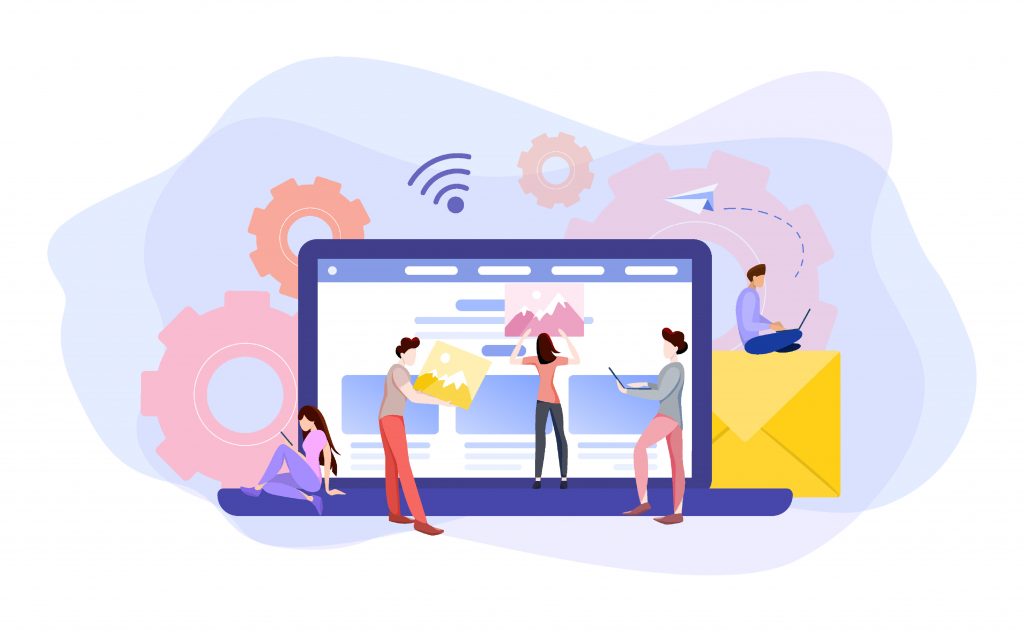 This can all be accomplished through the use of Google Analytics and UTM tags tactically inserted in your links. We would explain that more in depth, but if you do not understand Google Analytics and UTM tags, here is a valuable resource on how to track that sort of engagement.
If you are active on Facebook or Instagram, they offer a tracking pixel called a Facebook Pixel that you can install on the back end of your website, and that allows for deeper social media analytics and reporting to be done on your Facebook dashboard.
It also allows you to get a deeper understanding of your audience from folks who have visited your page or even completed a certain action on your page. This information can help you build targeted audiences for your paid ads
Don't Get Lost in the Sauce
Monitoring and tracking your success – or lack thereof – in social media marketing can be an overwhelming experience. However, it pays serious dividends down the line in the form valuable insights to improve your organic and paid social media efforts.
Let's give it the dramatic terms it deserves. In a realm that often feels ruled by the iron fist of algorithms, keeping track of these metrics gives you control of your social media destiny.
There are many other social media marketing metrics that we didn't touch upon. These include post times and follower growth rate.
Unless you have a dedicated team for social media, taking stock of the above social media metrics is more than enough to inform your strategy. The insights will be effective, and even impress stakeholders or clients.
---
Keyhole is a Social Media Listening & Online Monitoring Solution that helps marketers unlock data-driven business insights. Its visual dashboard is simple and shareable with your clients. Start your free trial today and get the metrics you need.
As always, if you need an intuitive and comprehensive suite of social media analytics to step up your social media marketing and crush your goals. We are here to help.