How many times have you gasped looking at numbers on popular TikToks?
And when you open the respective account, I bet you must be shocked at seeing their follower count.
All thanks to TikTok's insane algorithm, your content can reach millions of people even when you have a thousand followers.
The underlying secret lies in deciphering TikTok analytics.
TikTok analytics open doors to content optimization and your week-on-week progress. You can't bear to ignore these metrics because they essentially help you chart your growth on TikTok.
Before we tell you what metrics you should focus on, let's start with the fundamentals.
What is TikTok analytics?
TikTok analytics are metrics that depict the success of a TikTok account. And yes, it spans way beyond likes, views, and comments.
These social media metrics give you insights into overall account engagement and content performance during a period of time.
On deeper introspection, you will find astonishing details about your audience and their preferences. Hence, checking your TikTok analytics numbers can help you create winning marketing strategies and viral campaigns.
Moreover, you can analyze competitors, experiment with content style, and then check your target social media KPI to understand what resonates with your set of audience.
Now that we have enough of what and why, let's dive into the execution part- how!
How to access TikTok analytics for free
First thing first, you need a TikTok business account to access your numbers for free. TikTok business accounts provide exclusive access to creator tools.
Hence, your first task is switching your profile to a business account if you haven't done so yet. Here's how you can do it in 5 easy steps:
Open your profile page.
Go to Settings and Privacy.
Tap on Account and select Switch to Business Account.
Choose your business category.
Add your business-related site link and email address to your profile.
And voila! Your account will be upgraded to a business account in no time.
Unlike Instagram analytics, you can access TikTok analytics from mobile and desktop. Find both procedures below:
1. Mobile
Open your profile.
Click on Settings and Privacy from the hamburger icon in the top-right corner.
Select the Creators tool from the Account section.
Tap on the Analytics option.
2. Desktop
Login to www.tiktok.com
Head over to your profile icon.
Select View Analytics from there.
Please note that you can download your analytics data in a CSV file from a desktop only. This data will capture insights for 7 days.
But if you want to download data for over a month or beyond, opt for a professional TikTok analytics tool like Keyhole.
Keyhole is a social media analytics tool that gives exclusive in-depth insights into top platforms like TikTok, Instagram, Twitter, Facebook, YouTube, and more.
Top TikTok metrics worth tracking for boosting your visibility
To avoid bombarding you with raw data, TikTok has segregated its analytics into 4 major categories. Let's discuss each of these categories in detail.
1. Overview
The Overview tab is the first tab under Analytics, showing a snapshot of your TikTok profile performance. As the name suggests, it gives you a quick overview of your overall engagement.
Here's the complete list of all the metrics you can track from the overview section:
Likes: Number of likes your TikToks received in a duration of time
Comments: Number of comments your users have commented in a duration of time
Shares: Number of times your TikToks have been shared in a period of time
Followers: Number of followers you have on your account and how many new ones joined in a fixed interval
Content: Number of posts you shared on your profile over a period of time
Video views: Number of times your videos were viewed by your audience in a fixed date range
Profile views: Number of times your profile was viewed during a fixed interval
Live: Number of live videos you hosted on your profile over a period of time
Tip: The Overview tab is your go-to stop for understanding your marketing strategy's effectiveness from a broad-level perspective. You can easily figure out the momentum at which your profile is growing.
In case you have multiple TikTok accounts, it's best to use Keyhole to compare their performances. If you are an efficient marketer who loves sharing their videos on multiple platforms like Instagram and YouTube, Keyhole also lets you perform cross-platform analysis.
2. Content
The Content tab gives you granular-level details of your video posts. Right from posting frequency to viewer demographics, this section will reveal every make-or-break video insight.
Here's a list of metrics that you can monitor from the Content tab:
Video posts: Total number of posts shared from your profile in a week, along with your post frequency compared to the previous week
Likes: Number of likes received in a particular TikTok post
Comments: Number of comments on a TikTok video
Shares: Number of times your audience shared a video
Trending videos: Top video posts that were viewed the most in the last 7 days
Video views by section: Top sources like For you page, Following feed, sounds, hashtags, or searches that account for your maximum views
Video views by region: Top locations from where your most viewers belong to
Average watch time: Average duration of watch time received on your videos
Watched full video: Number of times your videos were watched till the end
Total playtime: Total cumulative watch time for all viewers seeing a particular video
Reached audience: Number of viewers who watched your TikTok posts
Tip: Pay special attention to the average watch time metric. It will help you determine the sweet spot of your future TikTok videos. Moreover, tracking insights from video views by region will make you understand the background of your audience better.
If you are wondering what your average TikTok engagement rate is, you can use Keyhole to calculate that automatically. This is a super important metric that will benchmark your profile against the industry standards and your peers.
3. Followers
This tab has everything you need to know about your followers. A quick background check into their demographic details will assist you in producing resonating content.
Let's have a look at the metrics you will find under this section:
Total followers: Number of followers you have on your TikTok profile
Growth rate: Number of followers you gained or lost in a duration of time
Gender: Percentages of male and female followers showed on a pie chart
Top territories: Top 5 countries from where your followers are located
Follower activity: Hours and days when your followers are most active on TikTok
Videos your followers watched: Compilation of videos that your followers are most interested in
Sounds your followers listened to: List of sounds that are popular among your followers
Tip: Use videos your followers watched for content inspiration. Also, make sure you share your posts when your followers are most active. Keep a check on follower activity for that.
4. Live
If you have a good base of 1000 followers, you qualify for hosting Live videos on TikTok. This tab lists all metrics related to those Live videos.
Total views: Number of users who viewed your live videos during a period of time
Total time: Grand total duration of hosting live sessions in a fixed interval
New followers: New users who followed you during a live session
Top viewer count: Maximum number of viewers that viewed your live video in a specific time period
Unique views: Number of viewers who saw your LIVE video at least once
Diamond: Number of virtual gift tokens that your viewers send you which can be exchanged for money
Tip: Though live videos are most popular among individual creators, businesses are also gearing up for such content types. You can go ahead and host your live sessions and interact with your audience directly.
Bonus: Other Metrics
Apart from these, here are two more bonus metrics that you can track from your TikTok profile:
Hashtag views: Total number of views a hashtag received
Total likes: Total number of likes you have received to date on your profile
Tip: Since hashtags are a source of great reach, search for your target hashtags from the Discover tab. The higher the number of views, the higher your chances of boosting reach with those.
Do you frequently host hashtag challenges as well? Track all your campaigns along with influencers using Keyhole!
3 Must-use TikTok analytics tools for easy metrics tracking
The free native tool is great for basic TikTok analytics. However, if you are managing more than one profile, this isn't the best solution. A similar story repeats for agencies that manage dozens of profiles on a daily basis.
TikTok analytics tools come to the rescue here. They are third-party tools that let you manage multiple TikTok accounts. Let's quickly go through the top 3 tools worth giving a shot at.
1. Keyhole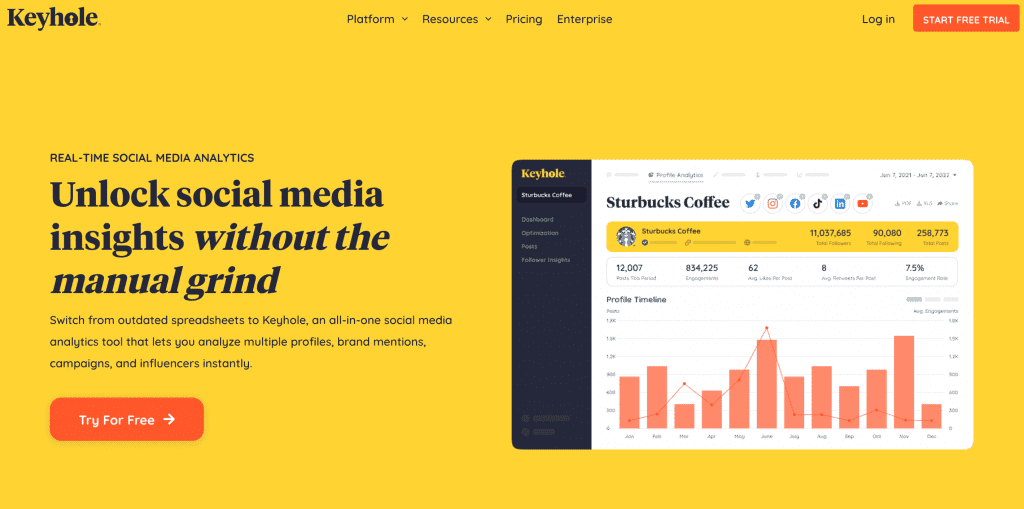 Keyhole is a top TikTok analytics tool that tracks profiles, hashtags, and trends. The tool is a top choice for multi-brand agencies managing multiple campaigns across social media profiles.
With Keyhole, you can track top video-specific metrics to follower details. You even get personalized recommendations for profile optimization to improve your presence on TikTok.
Moreover, Keyhole is a great choice for marketers relying heavily on social listening for content moderation. Using just one tool, you can easily track profiles, hashtags, keywords, brand mentions, key influencers, and even your competitors.
Here are a few features that make Keyhole an all-in-one analytics tool:
Find your top-performing posts
Monitor your engagement rate
Discover the best time to post
Find the optimal length of your posts
Track brand-related hashtags and keywords
Compare marketing campaigns
Manage multiple influencers
Monitor brand mentions in real-time
Analyze your competitors for benchmarking
Compare reels vs TikTok performance
Know your best channel of promotion
Access to historical data
Optimize your profile with personalized recommendations
Understand audience sentiments with sentiment analysis
Perform market research and trend analysis
Create live dashboards with real-time insights
Download shareable custom reports
"Before, we would collect data from each social account or influencer separately, and it would take ages. It was one big mess. Now, everything is there."

-Oliwia, SportQuake
"We leverage Keyhole for competitive benchmarking and management of hashtag campaigns, as well as tracking sentiment."

-Qianna, USTA
2. Analisa
Analisa is another popular TikTok analytics tool that spans its usage even to Instagram and Twitter. You must add a profile or hashtag to start the tracking process.
It does a good job of tracking the performance of marketing campaigns, public profiles, and hashtags. The tool creates a decent report based on the analytics it gathers once you add the requisites.
However, users have complained about the inaccuracies in the reports and latency in loading data. Moreover, it only supports 3 social media platforms as of now.
3. Popsters
Popsters is a great tool for analyzing profiles on TikTok. It makes tracking campaigns and general posts relatively easy. You can narrow it down to each post and go through its performance indicators.
Popsters also lets you measure the popularity of particular TikToks. This can help you massively in content optimization for boosting engagement. The tool also aids in creating basic reports.
Final words
Despite receiving backlash multiple times, TikTok's emergence changed the existing social media landscape completely. Thanks to TikTok, almost everybody is now hooked to short-form video content.
And the word has it that this trend is going to continue. Hence, making TikTok a great channel for lead acquisition with branding opportunities.
You need to tighten your grip on TikTok marketing as early as possible. The best way to do that is by mastering TikTok analytics.
We understand that it is insanely tough to be on your toes and track cross-platform analytics. That's why we recommend using the all-in-one analytics tool, Keyhole.
More than 100,000 marketers are already reaping benefits from its marketing automation. It's your time to do so. Start for free and see it for yourself.
Related Articles:
TikTok Engagement Rate Calculator & 9 Ways To Improve It
10 Reasons You Should Consider Marketing On TikTok
Frequently Asked Questions
1. What is a TikTok analytics tool?
A TikTok analytics tool is a third-party software that tracks account performance and engagement of a particular TikTok account. Unlike the native tool, you can compare several TikTok profiles using a tool like Keyhole.
2. What are good analytics for TikTok?
Native TikTok analytics is broadly categorized into 4 segments:
Overview: Good for account-related performance
Content: Suitable for content-specific insights
Followers: Best for follower-related information
Live: All about live video sessions
3. Are TikTok analytics free?
Yes, you can avail TikTok analytics for free only if you have a business account with a minimum of 100 followers.