Social media marketing is extremely crucial to create a sustaining brand image in people's minds to stay in the competition. From small-scale businesses like home-bakers to big corporate brands, brands are using TikToks to reach out to people.
Currently, TikTok is one of the most talked about social media platforms out there. One billion TikTok users from 154 different countries led to making this platform a ground for marketing businesses.
With the highest active user count in 2022, brands can expect a broad audience on TikTok in 2023 and beyond. So, many are now lining up to market products and services here.
But, this increasing crowd has also highlighted the importance of TikTok competitor analysis. It helps brands create a benchmark of their progress against their top competitors.
With the right efforts, you can establish a strong baseline and take your online presence to soar heights. In this blog, we'll look at how you can do a TikTok competitor analysis in just 5 steps.
But first, let's start with the basics.
What is TikTok competitor analysis?
TikTok competitor analysis is the process of evaluating your competitor's activities on social media. It tracks down the activities helping their brands grow. Find your competitors by searching their names, relevant keywords, or a hashtag.
You can scan through their profile to see their content and their performance. Then, you can take proactive steps to improve your TikTok marketing strategy.
To boost your growth on TikTok, competitor analysis is a must. You can find businesses from every niche creating engaging content. So, to increase your brand value, take a step forward and begin with competitor analysis.
You can improve your content and plan the upcoming line of videos. All in all, brands make better marketing choices with the help of TikTok competitor analysis.
5 Benefits of tracking and analyzing competitors on TikTok
Designing a marketing strategy on TikTok is a significant step toward establishing your brand's online presence. But visibility alone cannot guarantee success here.
A close and continuous check on your competitors proves to be beneficial for the success of a brand on platforms like TikTok.
Tracking and analyzing competitors on TikTok can provide the following benefits:
1. Identifying competitors
TikTok's population took the world by storm and is increasingly getting more crowded. To stand out, you need to pick your battles by identifying your most clear contenders.
There is no lack of similar brands on TikTok. But with competitors' analysis, you can filter out the top rival businesses in your industry. By identifying your competitors, you get a deeper insight into their strengths and weaknesses. You learn more about customer habits and how the top brands appeal to their viewers by creating high-value TikToks.
This way, you can frame your upcoming course of action, taking into consideration what works for your competitors on TikTok.
2. Set performance benchmarks
To thrive on platforms like TikTok, you must clearly understand your brand's performance. When you benchmark your progress with that of your contenders, it reflects areas in your strategy that need improvement.
By analyzing their TikTok profiles, you can set performance benchmarks for your brand. TikTok competitor analysis reflects your position on the platform against your rival brands.
The benefits of benchmarking are not limited to marketing campaigns. The comparative insights also help you enhance your services to accommodate the evolving needs of your target market.
3. Opportunities to pursue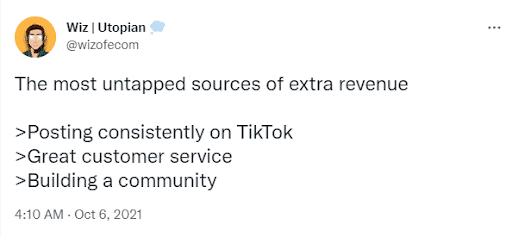 The best way to reach your audience is through piggybacking on something current and relevant. But figuring out which TikTok trends would bring the best results can be tricky. If you go wrong with an irrelevant trend, it will portray your brand incorrectly.
But, through TikTok competitor analysis, you can check trends and identify which ones are worth joining the bandwagon for. Besides, competitor analysis will show you what makes the TikTok audience click. All this adds up to potential opportunities to bring tangible change in strategy and grow your brand on the platform.
4. Forms a baseline for your TikTok marketing strategy
For many brands, TikTok is still a relatively new platform for marketing. To make sure everything goes well, you need a strong marketing baseline. This creates opportunities to observe those who excel at TikTok marketing already.
The insights from TikTok competitor analysis are the foundation here for successful campaigns. You see where your rivals go wrong and avoid those mistakes yourself.
Their successes on the platform are also a set of learning for you about what you need to do to stay on top of the game.
5. Provides you with a cost-effective solution
TikTok competitor analysis is more than comparison reports. Here's how:
The process tracks relevant audience interactions
Bridges gaps in marketing
And reflects what your target market demands
People often reach out to agencies to conduct a TikTok competitor analysis. But this could be a costly affair.

With TikTok competitor analysis tools like Keyhole, you get precise business intelligence. You don't even need to depend on any external organization.
They simplify your work by creating meticulous reports in seconds and help you focus your resources on important areas. Such in-depth analysis shows you what makes a brand click with the TikTok audience.
TikTok competitor analysis brings quantifiable changes in social media marketing. This happens without making any significant monetary investment.
So, without further ado, let's look at how to do a TikTok competitor analysis so you can enjoy the above benefits.
How to do a TikTok competitor analysis in 5 steps
TikTok has become one of the leading social media marketing platforms. So, to grow on TikTok, the most crucial thing is to do a TikTok competitor analysis to create a better marketing strategy.
Let's walk through how you can conduct a TikTok competitor analysis in 5 steps:
Step 1: Identify competitors
The competitors online differ from the contenders of your regular business operations. To make a powerful presence on TikTok, you must know who you are analyzing.
You will have two types of competitors on TikTok or any other social media platform — direct and indirect.
Those who offer products and services similar to your brand are your direct competitors. But brands with products and services capable of replacing yours are indirect competitors. Outperforming them needs different approaches.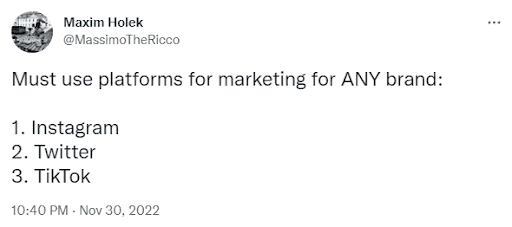 To get better traction than your direct competitors, you must show consistent improvements. Be it customer services or product design, your brand must reflect why your product is the best in your niche.
However, you may face challenges surpassing the indirect competition. Here, the manual analysis doesn't deliver much accuracy. Here, you can consider an automated competitor analysis tool to stand out among the TikTok crowd.
If you're new to TikTok, first figure out who your direct competitors are. Start by looking for businesses in your industry. Skim through their profiles and try to figure out if their business is addressing and solving the same issues as yours. Also, search for relevant keywords and hashtags to find competitors that might be unknown to you.
If they are active on the platform, add them to your competitor list. Otherwise, skip them.
Step 2: Track basic metrics
Once you identify your rival brands on this Gen-Z favorite platform, figure out what metrics you need to track.
The goal of competitor analysis is to benchmark progress. For that, you must set up important KPIs so that you collect information that is useful for you.
Here are some of the metrics you need to keep in mind for effective competitor analysis.
Top posts
Follower count
Reach
Views
Comments
Likes
Shares
Engagement rates
TikTok allows businesses to keep a check on their analytics on TikTok itself.
However, to carry out a competitor analysis, you can look for social media analytics tools available.
Tools like Keyhole help businesses track the basic metrics of brands and then compare them with their competitors.
Step 3: Examine their audience
The key to establishing brand value on media platforms like TikTok is to create targeted content. So it is important to examine the audience base your competitors have on TikTok.
Hence, the next focus of your competitor analysis should be on evaluating what your target audience likes.
You and your competition have a similar core audience. So while you monitor their performance, see what segment of the audience they are targeting. You need to see what type of TikTok users interact with your rival brand's content the most.
Thoroughly evaluate how they interact with the audience. Then, figure out what type of online conversations and topics keep them interested.
Here, social listening methods can come in very handy.
Tracking what they say about your competition's products will help you improve your services. It will also accommodate their demands.
Step 4: Check their content
This step is the most crucial one while conducting a competitor analysis. You can keep track of the posting frequency of your competitors, video duration, the information they provide, the timing of their posts, and their target group.
Once you understand their content type and messaging, it becomes easier to figure out what could interest your audience with your competitor's content.
Your strategically planned content can help your business get an edge on TikTok. So, make sure you already have a plan of action to make your brand present and successful here.
To create a fitting content strategy, you must:
Set goals
Examine how other brands in your niche are crafting the content
See what the latest trends and hashtags your competitors are using
Prioritize gauging engagement patterns and find out if the audience responds well to them. If yes, you can follow suit to increase audience engagement.
Make sure you monitor the competitor's post frequency and content tonality.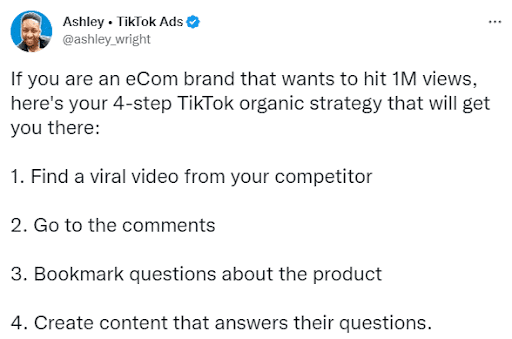 Step 5: Observe their engagement strategy
The driving force behind every brand's social media visibility is the content they post. Thus, it is essential to go beyond the mere likes and comments and evaluate your competitor's Facebook marketing strategy.
See what kind of content brings them the most attention. Are they leveraging Facebook reels? Or are you contenders hosting live sessions with industry experts?
The bottom line is you must monitor the competitor's post frequency, content tonality, content forms, etc. Check their page thoroughly and prepare extensive answers to such questions.
This is a crucial part of a Facebook competitor analysis. Without this step, your whole effort would just be scratching the surface.
Of course, these steps are easy to execute. But if you want to simplify your Facebook competitor analysis, read the later section of this blog.
The better way to analyze multiple competitors on TikTok
Follow these 3 simple steps for an effective TikTok competitor analysis:
Step 1: Add the TikTok profiles of your competitors to Keyhole's profile analytics
Log into your keyhole account and click on the 'Profile Analytics' tab to get started.

Next, as shown in the screenshot, click on the orange 'Add New Profile' button in the top right corner. The dropdown will have an option to 'Create new comparison'.
Once that's done, you will see a new page with several social media options for you to track. Click on the TikTok one.
On the new page, add your TikTok channel and then add the competitor pages you want to track. Once that's done, you will see the "create comparison" button turning orange. Click on it, and Keyhole will automatically backfill the data and process the report within seconds.
Step 2: Create a comparison report
Comparing your competitions side-by-side will help you visualize the progress you need to make to outperform them. The system helps you track online audience conversations. This helps you craft highly engaging TikToks, and decide on the correct post-frequency.
Keyhole swiftly prepares comparison reports, showing both your and your competitor's performance.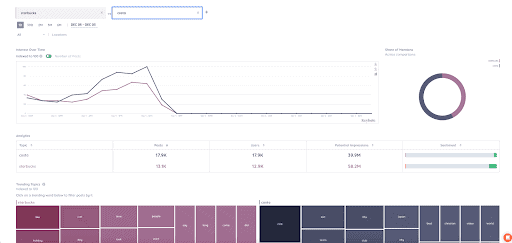 After backfilling all the data on your competitor's engagement on TikTok, it automatically creates reports with information on top-ranking TikToks, strategic highlights of different rival brands in your industry, etc. In the example above, we've attached a comparative analysis between Starbucks and Costa Coffee as an example.
The reports can show data history of up to a year. You just need to select a date range. This will show your analytics results over your selected timeline or a specific date.
You can export these comparison reports by simply clicking on the sharing button. Keyhole also allows turning generated reports in PDF or XLS or as a Google Sheet. You can also save the searches and resume the exercise later.
Step 3: Analyze your competitors' top videos and follower growth
You can analyze reports on the following metrics through Keyhole:
Top videos
Follower growth
Average engagement
Likes
Comments
Apart from visually elaborate reports, Keyhole also shows you the top posts of your competitors.
You can find out the top performing TikToks, their engagement, and how positively the audience reacted to its content.
Strengthen your marketing game with TikTok competitor analysis
TikTok's popularity has taken it beyond a creative platform.
It is now a remarkable medium to reach out to potential customers by executing your product or service marketing strategies.
However, you must create a benchmark to be among the finest performers. These steps are hard to conduct through manual methods. For that, you need a tool that offers efficiency, accuracy, and pace — all of which you can find on Keyhole.
With the help of reports from this platform, you will have clear navigation to create successful marketing campaigns on TikTok.
Help your brand become a social media success with Keyhole's TikTok competitor analysis tool.
---
Related Articles:

How to Track & Analyze Competitors on Facebook
How to Do a Twitter Competitor Analysis in 5 Simple Steps
Frequently Asked Questions
How to Track and Analyze Competitors on TikTok
The best way to see other people's TikTok analytics is by getting a third-party tool that offers a competitive analysis feature. Tools such as Keyhole offer TikTok competitor analysis along with other social media platforms like Instagram, Facebook, Twitter, LinkedIn, and YouTube.
What is the competitive advantage of TikTok?
The greatest competitive advantage of TikTok is its powerful AI ability. They use artificial intelligence and user behavior to show their audience relevant and interactive content. They also use this information to target their ads.
Can you check someone's activity on TikTok?
You can check someone's activity on TikTok by looking for a green dot on their profile picture. However, remember that the green dot can remain for a while even after the person goes offline.