Are you still on the fence about whether Instagram influencer marketing campaigns are right for your brand?
Well, let's think about it for a second.
More often than not you will seek out the opinion of your friends and family before you purchase something.
Why is that so?
Easy: Because you trust them.
You probably pay more attention to a brand whenever you see a rave review from someone you know and admire – even if you've never met them in real life.
So, it's no wonder influencer marketing has been one of the biggest buzzwords in digital marketing for the past few years. It has especially become one of the most effective ways for brands to promote their products on Instagram.
What is influencer marketing?
Influencer marketing is a type of social media marketing strategy that sees brands collaborate with influencers.
We can define influencers as trusted content creators with the power to affect how their audience makes purchasing decisions. They also have a significant well-engaged following in their niche.
Influencers can leverage Instagram automation to efficiently endorse or make product mentions, share their opinions with their audience, and effectively partner with brands.
To show you influencer marketing in real action, today we take a look at the five most successful Instagram influencer marketing campaigns.
Each approach sheds light on proven techniques that you too can use and capitalize on the value of Instagram influencers. All these brands incorporated unique Instagram influencer campaigns in its social media strategy and it paid off.
But first, let's discuss why you should implement Instagram influencer marketing.
Why Instagram influencer marketing campaigns?
Instagram influencer marketing campaigns are exploding by the day and for a good reason.
Influencer marketing ROI is stronger than ever. So it comes as no surprise that marketers believe that this industry is bound to double its worth to $24.1 billion by 2025.
Already, this marketing tactic is yielding a $6.50 return on investment for every dollar spent.
According to social media influencer statistics, only 1% of millennials trust advertisements. But, 33% of them trust blog reviews when it comes to making purchases.
When purchasing products online around 40% of people will buy a product after seeing it used by an influencer on Instagram, Twitter, or YouTube.
And what do influencers think about their impact?
71% of influencers believe that what keeps their audience engaged is an honest and authentic voice. All these stats are a clear indication of why influencer marketing is red-hot right now.
Now that you know the whats and whys of Instagram influencer marketing, let's see them in action.
How to launch influencer marketing campaigns?
There are 10 steps to build a great influencer marketing campaign:
Set your goals by visualizing what success would look like to determine your key metrics.
Identify the target audience you want to reach through your influencer.
Determine your budget to identify how many and what tier of influencers you can afford.
Choose your channel(s).
Choose an Influencer Tracking & Managing tool.
Identify & choose your ideal influencers.
Reach out to your influencers to reach an agreement.
Track and evaluate the campaign and optimize when needed.
Compensate your influencers fairly.
Measure and evaluate the success of your campaign.
If you want a more detailed guide of what each of these steps look like, visit our influencer marketing guide.
Now, we understand that this seems like a lot! However, using a tool like Keyhole can take care of finding the perfect influencer, optimizing your influencers' campaigns, tracking all your influencers' performance in a single dashboard in real-time, and measuring the impact of your campaign.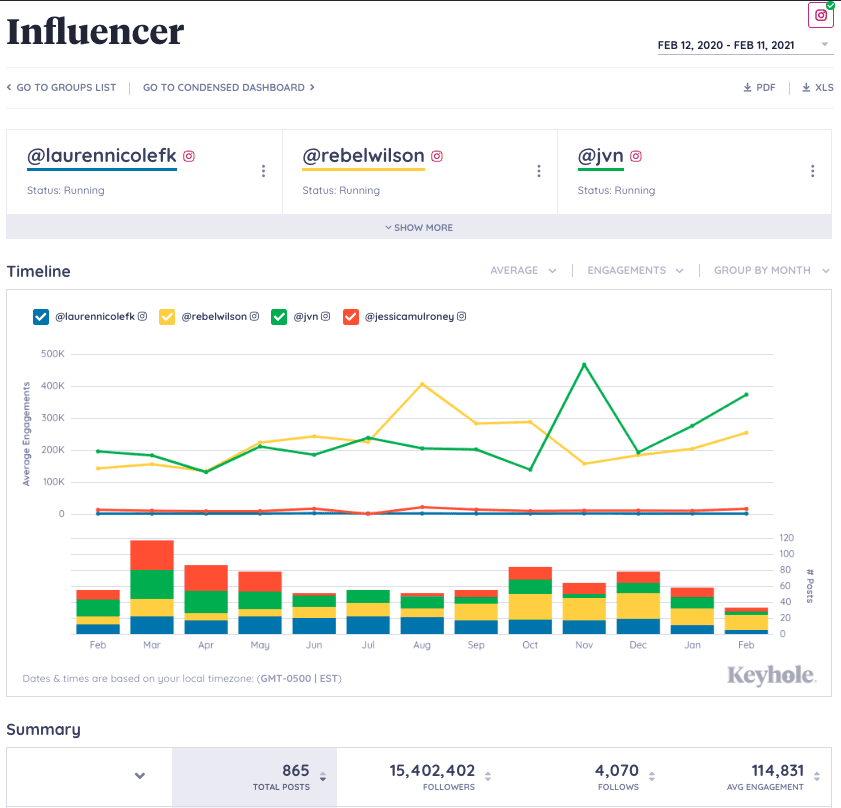 5 Most successful Instagram influencer marketing campaign examples
1. Uber Eats X Chipotle X Hinge X Rebel Wilson
What do Uber Eats, Chipotle, and Hinge have in common?
Perhaps a desire to be loved by a certain demographic who is also looking for love – at least for cuffing season.
The three brands found the best way to reach young adults who use dating apps and food delivery services through a celebrity Instagram influencer campaign.. 
Using the "Chipotle Cuffing Season Menu" the brands ran a collective campaign that gave their customers a chance to win dating advice from the hilarious celebrity and "How to Be Single" star Rebel Wilson.
The limited-time Chipotle Cuffing Season menu was available exclusively on Uber Eats and featured meals inspired by Hinge dating habits and Chipotle's most popular dishes.
To take advantage of their influencer relationship, the brands offered 10 lucky people who ordered from the exclusive menu a chance to win dating advice from Wilson.
In addition, Hinge added a new profile prompt in the app for daters to be able to connect over their specific Chipotle orders. Users also got $20 off their next 3 orders of Chipotle delivered using Uber Eats!
The campaign gave the brands' target audience the incentive to order from the limited-time menu, increase Uber Eats orders, and at the same time, it raised awareness for Hinge's brand.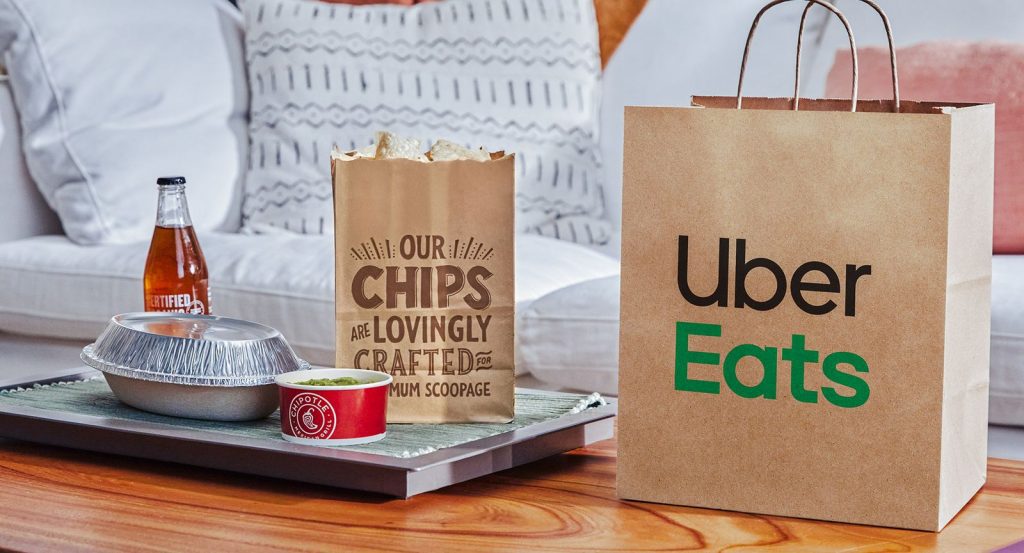 Why it works?
Rebel Wilson is the ideal celebrity influencer to reach a young adult audience because she is authentic, and she is relatable. While we expect Internet influencers boast unattainable flawlessness, Wilson can point out her flaws with humour and celebrate them.
In a similar way, the irony of having the "How to Be Single" actress give dating advice, allowed the brands to advertise Cuff Day in a fun, unexpected way.
Each of the two ads on Wilson's Instagram account was viewed over a million times. Much more than the average engagement that all these companies get on the platform.
2. McDonald's X Travis Scott (#cactusjack)
Popular fast-food brand, McDonald's teamed up with Astroworld star Travis Scott to promote Scott's favorite McDonald's meal for a limited time.
The month-long deal featured a quarter-pounder with cheese, bacon, and lettuce. It also came with a medium order of fries and BBQ sauce dip.
As part of the campaign, Scott ran a new line of merchandise under his label, Cactus Jack, a line was inspired by McDonald's. The merchandise included denim shorts, t-shirts, a nugget body pillow, hoodies, a burger tie, Egg McMuffin-branded boxers, and a Cactus Jack basketball jersey.
The two brands also supported charitable organizations throughout the partnership.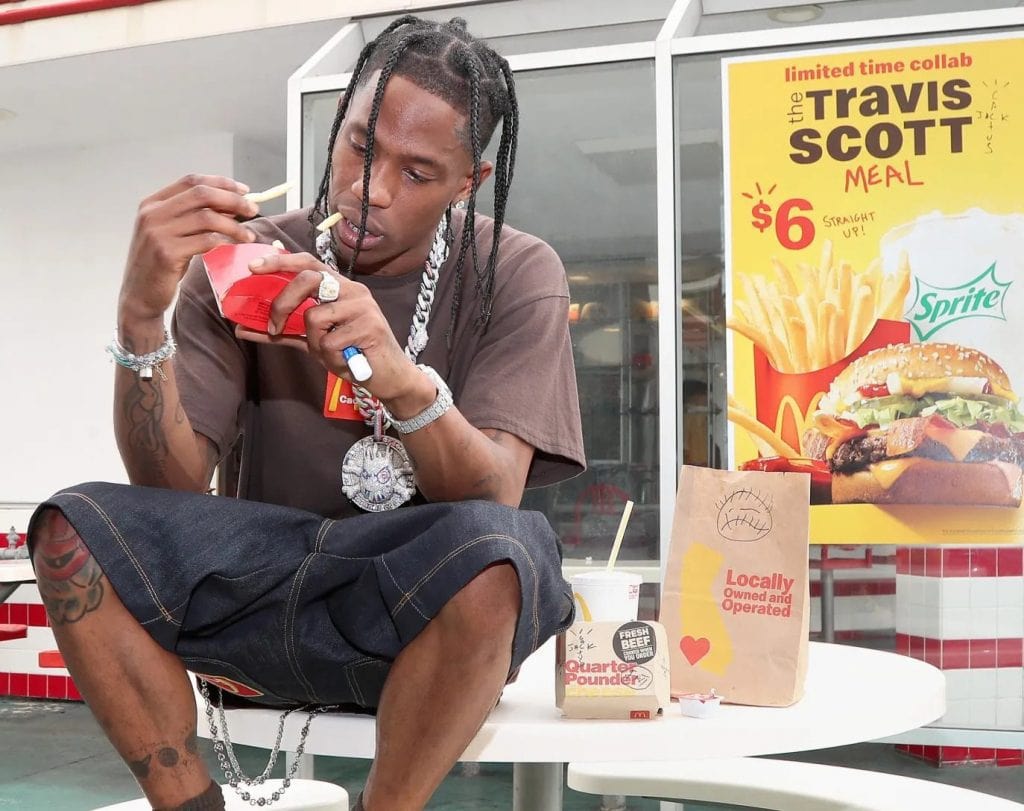 Why it works?
With a following of over 73 million on Instagram, Scott's posts had the potential to receive an average of 10 million views amplifying McDonald's brand significantly.
Not to mention, the amount of hype it would generate in social media. In the second half of September, the term Cactus Jack acquired 124.4K posts and over 426 million impressions.
3. HelloFresh X Micro-influencers and Mindy Kaling (#hellofreshpartner)
HelloFresh has a very photogenic product. The bright-green box, delightful pre-packaged ingredients, and tasty finished meals are a great fit for Instagram influencer marketing.
Also, HelloFresh has fully embraced the value of influencer marketing and has mastered the art of finding micro-influencers on Instagram spanning across different fields.
The brand partners with thousands of such micro-influencers to promote its products within their target audience. So you are likely to see the #hellofreshpartner hashtag as you scroll your Instagram timeline.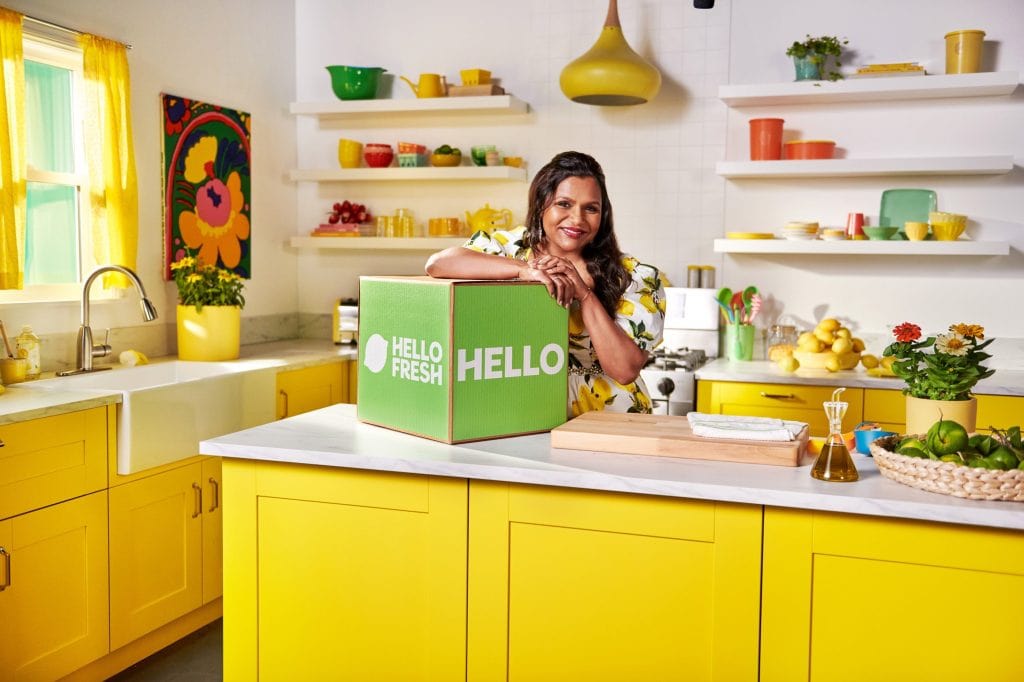 Occasionally, HelloFresh uses celebrity influencers. Recently, the brand partnered with actress and writer Mindy Kaling. The busy celebrity mom of two will share cooking tips and how to have fun while at it.
For the partnership, Mindy will star in a four-episode video series titled "Meals with Mindy." The series will begin airing across social media and digital ads in January 2021.
Each webisode will feature Mindy teaching viewers, in her humor-filled fashion, about the art of cooking. For the purpose of illustrating how HelloFresh helps her create easy, but delicious meals.
Why it works?
The brand works with a variety of lifestyle, motherhood, and cooking influencers to share their experiences with HelloFresh on Instagram. All of which fall within their target market.
The influencers also ask their followers to sign up for the service using a unique promo code that offers them a discount on their first month.
This kind of influencer marketing tactic drives sign-ups and makes it very easy for HelloFresh to track each influencer's ROI.
HelloFresh, using a host of social media analytics tools, can see which influencers generated the most sign-ups and can then use them for future campaigns.
4. Biossance X Jonathan Van Ness
The sustainable skincare brand Biossance has a secret weapon. And it is none other than Queer Eye and Gay of Thrones grooming guru Jonathan Van Ness.
The brand chose to work with the popular TV personality to promote the brand in an authentic way. JVN's personable nature, approachable style to beauty expertise make him an ideal influencer.
He also shares a passion for sustainable beauty and is a champion for inclusivity. These happen to be the same values that the brand stands for.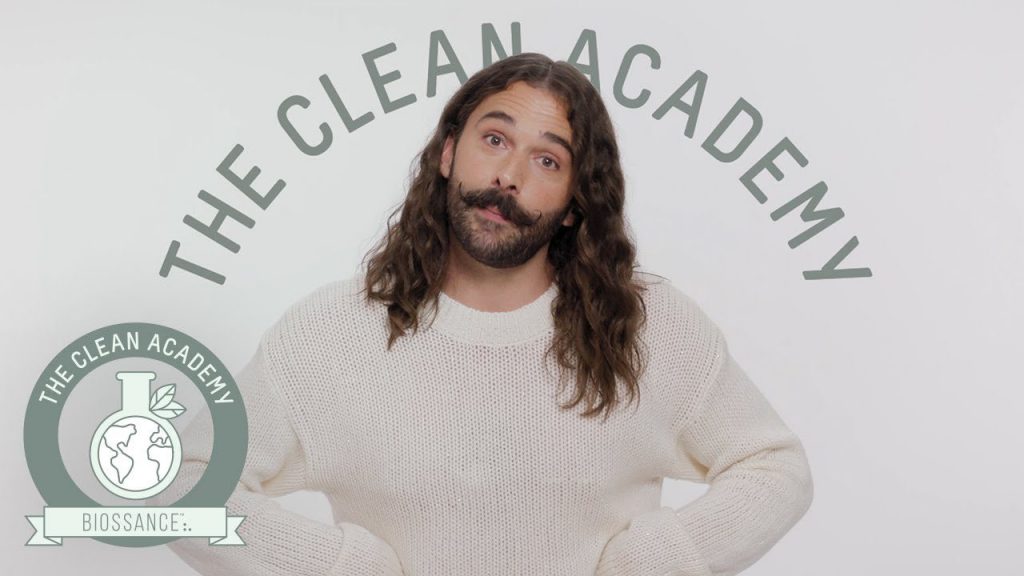 The Fab 5 member is no stranger to brand partnerships. Of course, every brand would like to be promoted in a way that is authentic, fun, fabulous and unique – and JVN succeeds in doing all these and more.
It also helps that JVN has over 5.3m followers, an engagement rate of 373%, and an average of 200.7K engagements per post. In other words, he is a unicorn among influencers.
Why it works?
While JVN is the influencer version of a dream boat, it doesn't necessarily mean that he could work with any brand. One of the reasons why he is so influential is because of his fierce commitment to his personal brand.
For Biossance, it is a match made in heaven. As we mentioned, the brand's values align perfectly with JVN's values.
JVN is also an expert authority on beauty products. He can give you compelling reasons to buy Biossance products in his own words and based on his own expertise.
This is the ideal in Instagram influencer marketing: to find an influencer that is knowledgeable and passionate about your brand and can express so in their own words.
You don't need an influencer matchmaker to find the right influencer for your brand, especially if you use a social listening tool like Keyhole. Keyhole will surface the most influential voices that mention your brand or the conversations you are tracking, and let you take a peek at their followers, engagement, and sentiment.
5. ASOS X Micro-influencers (#asseenonme)
ASOS typically attracts all shoppers of all ages, sizes, and backgrounds thanks to its approach to inclusivity.
The brand's Instagram influencer marketing campaign strategy is to collaborate with a wide audience through its Insider influencer program. In this program, ASOS partners with 29 influencers who have distinctive looks and communities.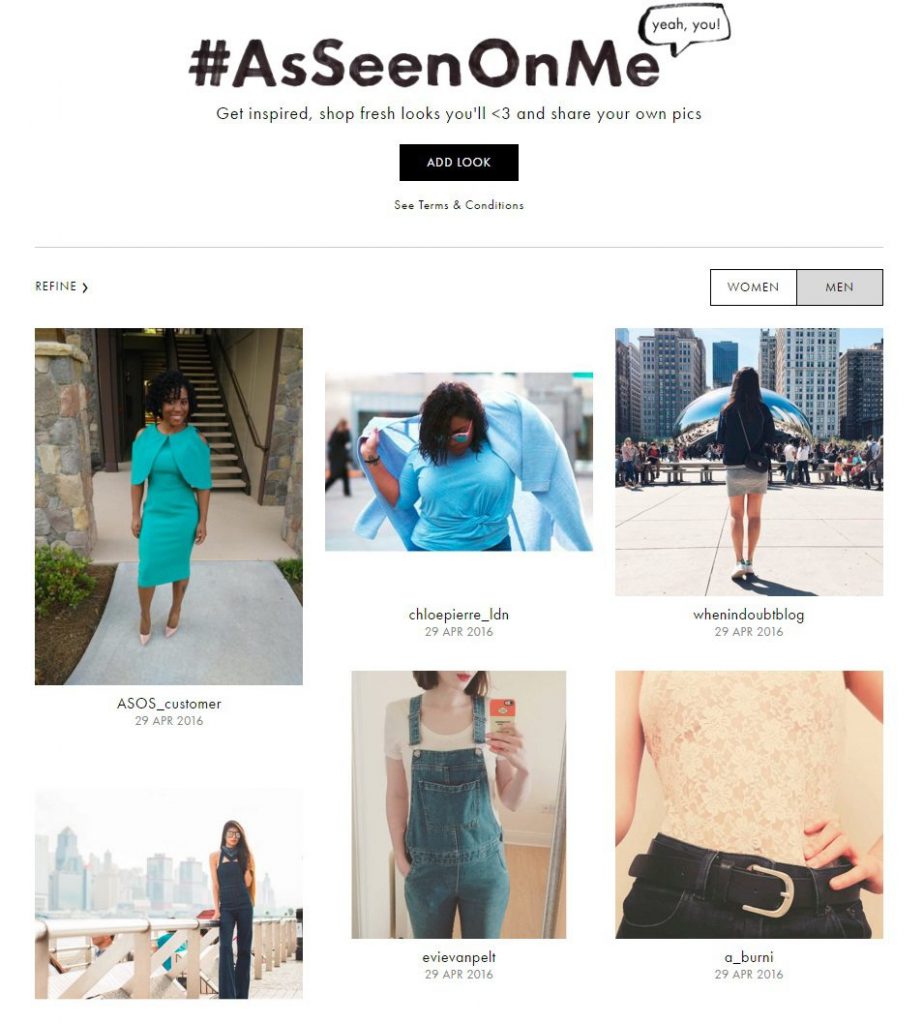 Each of these influencers has ASOS-branded Instagram and Pinterest accounts. ASOS also has a dedicated landing page that features its style guides. In doing so, ASOS makes its brand welcoming to all shoppers.
The influencers offer so many different styles to choose from. Which in turn, makes it easy for every ASOS shopper to find their perfect look.
Why it works?
This tactic is effective because shoppers trust the content. That is because it comes from real, stylish people – and not directly from the brand.
Having such a diverse audience is any brand's dream. However, it can be difficult for brands to maintain a strong identity, while representing a wide range of individuals.
ASOS uses its Instagram influencer marketing to do this flawlessly. First, it identified the essence of the brand that appeals to its wide audience: fashion and style. Then, it found key influencers that can inspire this love for fashion and style in their own communities.
"With Keyhole at your disposal, if someone has a large following and they're mentioning your keyword, you'll be the first one to know about this person and the first one to reach out." – Neil Patel,
Finding the right influencers for your Instagram influencer marketing campaign
You don't want to work with just any influencer, you want to work with the one that will bring you the highest ROI.
Also, there's more to an influencer's success than their follower count.
To find the right one, these are qualities (and the metrics) you need to focus on when finding the right influencer for your brand.
1. Brand fit
Before you pick an influencer ask yourself this question: What type of influencer is best for my campaign? Who is the JVN to your Biossance?
The answer that you come up with will help you pick the influencer that is a brand fit.
When deciding your brand fit, you want to focus on influencers who have a genuine interest in your niche and line of products. This way, your influencer partnership will be more authentic and genuine from a consumer's perspective.
Basically, the better the fit, the more likely your influencer is to inspire trust. In return, you will have more ROI potential from your campaign.
With a social listening tool, you can surface the most influential accounts for your followers, as well as organic brand advocates, which are the most likely to be a good fit for your brand.
Try Keyhole social listening today and find the best influencers for your brand.
2. Engagement rate
As we mentioned before, influence is more than just the follower count. A high number of followers does not necessarily result in high ROI. You want an influencer with highly engaged followers.
The more engaged an audience is the more likely they are to be influenced. Take advantage of a profile analytics tool and pay close attention to engagement rates, reach, and engagement per post. Plus, you can use its Publishing feature to schedule unlimited posts and find your best time to post, most engaging post types, optional post length, etc.

3. Clear communication
Once you start pitching a potential influencer, take into account how they handle communication. Do they take eons to respond to you? Do they give you the information you ask for? Are they prioritizing your brand?
Clear communication is vital to success in Instagram influencer marketing campaigns. Especially, when it comes to your goal expectations and results. Using an influencer tracking and analytics tool will track goal-based metrics and will give you transparency into your influencer's performance metrics and will let you.
4. Genuine love for your brand
At the end of the day, you want to work with an individual who authentically loves your brand. See if the influencer has been promoting your brand or products like yours without a sponsorship.
You want to partner with someone who will genuinely promote your product and not just see your campaign as another form of income. Pay attention to the influencer's messaging and see if it could match your own.
Amplify your reach with Instagram influencer marketing campaigns
Influencer marketing is not a new concept and it isn't going away anytime soon.
As you can see from these campaigns when done correctly, the potential of this digital marketing tactic is huge.
People are continuously paying attention to influencers who are just like them and not just celebrities, family, or friends.
By finding the right influencer for your brand, you get the power to bring your brand to new heights. Now you have the tools and examples of how to do this the right way.
So go on and run your own Instagram influencer marketing campaign. We can't wait to feature your brand as one of our success stories!
---
Keyhole is a Social Media Listening & Brand Monitoring Solution that helps marketers unlock data-driven business insights. Its visual dashboard is simple and shareable with your clients. Start your free trial today and get the metrics you need.
---
Related Articles:

B2B Influencer Marketing: The Definitive Guide
Top 15 Influencer Relationship Management Tools To Optimize Your Campaign
---
Frequently Asked Questions
How to do influencer marketing on Instagram?
Here's how you can try out influencer marketing on Instagram:
1. Finalise your goals and budget
2. Search for influencers that will fit in the budget
3. Send out invitations
4. Ask for their previous works
5. Finalise your campaign specifics
6. Track your results
What are the 4 types of influencers?
Here are 4 types of influencers:
1. Nano influencers(<10K followers)
2. Micro influencers(<100K followers)
3. Macro influencers(1M followers)
Which tool is best for influencer marketing?
The best tool for influencer marketing is Keyhole. You can search for influencers who already engage with your brand and rope them in for your influencer campaigns. Once done, you can onboard your influencer team to Keyhole and track their individual performance and contribution to overall ROI.