Instagram influencers get paid to channel their creativity and post beautiful photos. Not to mention the free goodies and extra perks that come with holding an influential status on social media.
With all this considered, it's no surprise that you want to join the ranks of famous Instagram influencers and start making money as a creator.
Before you dive in, however, keep in mind that becoming a social media influencer isn't as easy as it looks from a distance. It involves months of hard work and consistency, so you have to be willing to commit.
This post gives you a detailed guide on how to become an influencer and monetize your influence on Instagram.
To simplify the process for you, we've divided the guide into three sections – prepping your account, growing your influence, and working with brands. Although the steps focus on Instagram, note that many of them can apply to other social platforms as well.
With that, let's find out how you can start your journey to becoming Instagram famous.
Prepping Your Account
1. Choose a Niche That's Right for You
Becoming an Instagram influencer, or any social media influencer for the matter, requires finding a niche to focus on. To maintain authenticity, make sure you choose a niche that aligns with your interests and expertise.
In other words, it has to be something that you know a lot about and can discuss for hours without getting bored.
This is crucial if you want to eventually become an authority figure on a certain topic. The more passionate and knowledgeable you are on the topic, the more people will see you as a trustworthy source of information on said topic.
Plus, brands narrow down on ideal influencers based on relevance so choosing a niche can connect you with the right brand partners.
For example, Izzy (@infusedwithtea) is extremely passionate about baking and plant-based tea. So she regularly posts plant-based recipes along with eye-catching photos of her finished creations.
2. Decide on Your Ideal Audience
After deciding on your niche, think about the kind of people who would be interested in it. This makes it easier to understand your audience and find effective ways to connect with them. So you can decide on a content strategy and a personal brand voice that resonates best with them.
For example, Signe Hansen (@useless_dk) is a stylist and jewelry designer who promotes sustainable living and minimalism. She mainly targets women who love to look good but want to maintain a sustainable lifestyle. So her posts mainly consist of tips to style certain pieces of clothing in several different ways.
3. Have a Creator or Business Profile
If you're going to get serious about becoming a social media influencer, you have to get serious about your analytics too. To better learn how to grow your influence, you need to keep track of your audience demographic and how people are interacting with your content. So it's crucial that you switch from a personal Instagram profile to a Creator or Business Account.
Instagram previously had only Business Accounts for influencers who wanted to analyze their performance on the platform. This allows you to:
Access Instagram Analytics to get data about your posts and followers


Add links to your Stories


Promote your posts as ads
However, it doesn't let you go private on Instagram. Plus, since it isn't specifically for content creators, it lacks a few features that would be of use to Instagram influencers.
It then introduced Creator Accounts that would allow Instagram influencers to access several exclusive features for content creation. With an Instagram Creator Account, you can:
Access the Instagram Creator Studio through desktop


Get creator-specific analytics insights such as engagement stats and follow/unfollow rates


Tag products featured in your Feed post


Filter your inbox to prioritize important messages


Keep in mind that you won't have the option to connect your Instagram Creator Account with third-party tools. So this might not be a good choice if you plan on using analytics and scheduling tools from a third party. Otherwise, you can test it out and see if it meets your needs.
Check out our previous post to learn all about setting up an Instagram Creator Account.
4. Write a Compelling Bio
What's the first thing you look at when you need to know what a particular Instagram account is about? Chances are, even before you scroll through the posts in their Feed, you'll probably look at their bio.
Your bio gives people a summary of what your content is about and whether or not it's relevant to their interests. So it's the first thing that prospective followers (and prospective brand partners too) will look at to see what you typically post about.
That's why it's crucial to write a compelling bio if you want to become an Instagram influencer. Make sure it accurately describes what your account is all about.
Use keywords and phrases relevant to your niche for this, but don't clutter the space too much as it can get difficult to read. Keep the information easy to scan and understand with a list format and/or non-text elements separating different sections.
For Instagram influencers, it also helps to include your contact info where businesses can reach out to your for enquiries. If you run a blog or have a project that you want others to see, don't forget to include the link for that. In addition, make sure you use a voice that reflects your identity.
Check out the following bio from Jessica Clifton (@impactforgood), for example. She structures the information in a list format and uses emojis here and there. She's also added her contact info and relevant links for potential brand partners.
5. Have a Profile Picture That Represents You
Your profile picture is the first thing that can give people a glimpse of your account and content even before they visit your profile page. In fact, it could be the very thing that compels them to click on your username and check out your Feed. So it should be able to instantly captivate people and draw them in while also telling them a bit about you.
For example, a travel influencer could have a profile picture of them in a picturesque location, a food influencer could have a picture of them cooking or eating, and so on.
Meg (@meg.ikarp), an influential artist uses a self-portrait in her personal art style as her profile picture. This accurately represents what she does and what her personality is like.
6. Decide on a Feed Aesthetic and Stick to It
How your feed looks as a whole leaves a lasting impression on your audience. An impressive-looking feed that feels cohesive will instantly draw in people. It'll also show them that you're serious about producing high-quality content so you're worth following.
So one of the first things you have to do as a social media influencer is to decide on an aesthetic for your feed and consistently maintain it. Choose an aesthetic that fits your personality and reflects the mood you want to portray through your content.
For example, someone who wants to promote sustainable living and minimalist lifestyle will probably want a feed that looks clean, simple, and refreshing.
To maintain a consistent aesthetic in your feed, plan each photo ahead of time with your Feed in mind. In addition, try taking photos in similar lighting and use the same filters and presets when editing them.
For example, check out how Sam Ushiro (@aww.sam) consistently posts photos with bright and popping colors to give her Feed a sunny and playful aesthetic.
Growing Your Influence
7. Keep Your Feed Fresh
One of the best ways to grow your influence is by posting consistently and providing your followers with fresh content to engage with. Although there's plenty of debate about the ideal posting frequency, try to post an image or an engaging reel at least once a day. Even if that's not viable for you, at least aim to provide your followers with a certain number of posts every week.
According to a study published on Social Media Today, posting more often on Instagram can decrease your engagement per post.
However, it increases your overall engagement, which can be crucial for gaining more visibility and attracting new followers. The study found that doubling your post rate per day gives you 1.6X more engagement.
8. Prioritize Quality
Although posting frequency is important, don't sacrifice quality for the sake of posting more often. Quality should still come first because that's the exact reason why people are following you instead of other Instagram influencers in your niche.
When we talk about quality, however, keep in mind that it isn't just about posting high-resolution photographs (although that's still essential). Rather, it's more about publishing content that would be of value to your followers and your target audience.
Does it serve any purpose? Does it teach them something or entertain them? In other words, does your audience gain anything from your content?
For example, fashion influencers like Autum Rainn (@autumrainn) create content to provide their audience with style inspiration and fashion tips.
When it comes to Instagram, nothing drives content discovery better than hashtags do. If someone clicks on or searches for a certain hashtag, they'll discover posts that use the hashtag in the caption or comments. This helps people find the content they're interested in and connect them with relevant content creators.
In fact, John Koch of Tomoson conducted an experiment with hashtags on Instagram and found that they increased content visibility by 4,473%.
So if you want to grow your Instagram following, make sure you use highly relevant and popular hashtags to boost content visibility and eventually attract potential followers.
Instagram provides you with hashtag suggestions when you type in a related hashtag in the search bar. In addition to this, you can also use tools like Keyword Tool and Hashtagify to discover highly popular and trending hashtags related to your niche.
For example, see how health food influencer, Carissa Stanton (@broccyourbody) uses several relevant hashtags in her post. The post provides a recipe for a poke bowl and includes hashtags like #pokebowls, #diypokebowl, and #healthyrecipes. It received almost 10,000 likes.
10. Focus on Meaningful Engagement
While there are shortcuts to growing your following and increasing your engagement, those options are often unsustainable. They bring you followers and drive engagement, but only for a limited period of time. So it's not a viable option when you want to build sustainable influence and become a successful Instagram influencer.
That's why it's crucial that you focus on attracting meaningful engagement right from the start. Avoid buying likes and followers, for a start, and don't depend too much on contests.
Although running a contest can help you gain new followers, you don't want people following you just because they want to win free stuff. So save this option only to occasionally reward your loyal followers or even to give your brand partnerships some traction.
Instead, focus on providing high-quality content consistently. Even if you don't add to your Feed on a regular basis, interact with your followers through Stories. Use Instagram Stories to ask them questions or answer theirs, conduct polls, give them a glimpse of what your daily life looks like, and more.
You can even use the Keyhole Social Media Account Analytics to monitor your post performance and follower engagement. This will provide you with valuable insights and recommendations on how to drive better engagement with your posts. This tool analyzes your post data and suggests the best time to post, optimal post length, and more.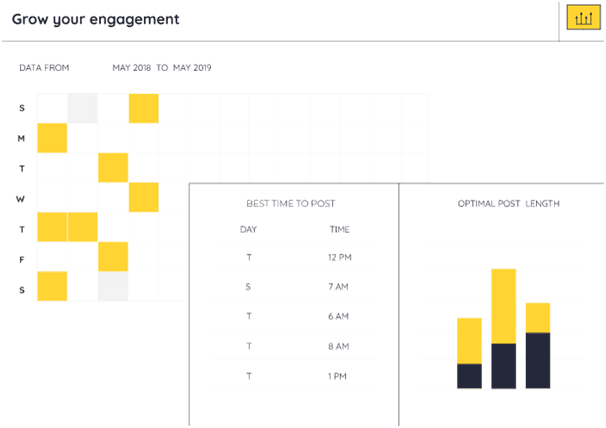 In addition, create more opportunities for engagement. Write captions that make people want to engage with your posts and comment on them. Share personal stories they can relate with and ask questions that they'd want to answer.
More importantly, don't forget to return the favour and actively engage with people who engage with you. That means answering their questions or at the least, liking their comments. See how Joey (@shethespy) interacts with her followers and answers their questions.
Working with Brands
11. Decide on Your Rates
One of the trickiest parts about becoming a social media influencer is the part where you decide on how much to charge. It's crucial that you have a clear idea of what a reasonable rate looks like considering factors like your follower count, engagement rate, niche, and content quality.
You can't just expect brands to pay you $250 per Instagram post if you only have a few thousand followers who hardly engage with your posts. At the same time, you might want to reassess your value if you're only charging $50 per post while having 500,000 followers who actively engage with your content.
Deciding on a reasonable rate helps you set a baseline for your worth as a content creator. Plus, it also helps you connect with brands that are the right fit for you because influencer pricing is often an essential criterion in their search.
If you're not too sure how much is a reasonable rate, consider using the Instagram Money Calculator from Influencer Marketing Hub. This takes into account factors like followers, engagement rate, and average likes per post to give you an estimate of how much you should earn per post.
12. Have a Media Kit Ready
If you're serious about becoming a social media influencer, you also need to prepare a media kit that will help prospective clients learn more about you. In simpler terms, this digital portfolio serves as one of the best portfolio websites where you can exhibit your personal brand, work, and accomplishments. Essentially, it acts as the ultimate presentation that persuades potential clients to collaborate with you.
Instead of creating different media kits for different social networks, you just need to create one that contains info about your stats across all platforms. It should include the following key details:
A bio that highlights your name, location, personality, interests, and other pursuits


A high-quality photo of yourself


Your contact info


Detailed follower and engagement stats across various social networks


A breakdown of your audience demographics


Previous campaigns you've worked on as well as testimonials from past clients
Try compiling all this info into an attractive visual presentation so that you stand out from the rest. Don't forget to use color palettes, fonts, and images that fit your personal brand identity.
13. Find Brands to Work With
Next comes the part where you find brands to partner with. You can either reach out to brands directly or even join influencer marketing networks that can connect you with the right campaigns. These however, cannot guarantee that you'll be connecting with the brands you are passionate about.
Make sure you're picky about your partnerships no matter how desperate you might be to find work. Ideally, you should only work with brands whose values align with yours so that you can keep maintaining authenticity and credibility with your audience.
A pro tip to get discovered by brands organically is to join and/or start conversation around your ideal brand-partner's reach. Chances are that these brands are socially listening, and will see your mentions, – and if you have the following to back you up – they'll probably reach out to you.
For instance, borrow a page from the world of make-up influencers. Influencers like Victor Ramos make sure to tag the brands that they want to promote, and in a way give them a quick nudge that there you are an amazing source of influential content. If your content is a good fit, chances are that the brands will reach out to you or at least repost.
Maintaining Your Influence
As difficult as it is to build and grow your influence on Instagram, there's no guarantee that you'll get to keep it forever. So you need to consistently work towards maintaining the influence that you've built over the months and years.
For this, you should continuously measure your performance to see what works and what doesn't. This will allow you to keep growing and adapting your content strategy based on what people want to see at that particular time. In addition, it makes it easier to provide your brand partners with visible results from the campaign so they can measure their influencer marketing ROI accurately.
Don't forget to keep up with the trends and join in on trending and important conversations within your niche. Most importantly, keep interacting with your followers to engage them and build a loyal community.
---
Related Articles:
The Top 25 Social Media Monitoring Tools

What Type of Influencer is Best for My Campaign?
---
To get a complete look at your social and performance data, sign up for a free Keyhole trial today.