Did you know 89% of B2B marketers rely on LinkedIn for lead generation?
One aspect of LinkedIn that sets it apart from other social networks is the opportunity to generate quality leads for businesses.
Generating leads on LinkedIn can effectively reach potential customers and introduce them to your products and services because you get ample scope to engage and educate your audience on LinkedIn.
Even though many brands have generated leads successfully on LinkedIn, The World's First Business School, ESCP Europe, left a mark when they not only swelled their lead conversion rate to 14% but also gained a whooping two million impressions from their ideal audience on LinkedIn.
As a beginner, maybe your leads will be few, and conversion percentages will be singular digits. But we've got your back with this comprehensive guide that will walk you through everything – from crafting the perfect profile to leveraging the power of content and more as a beginner on LinkedIn lead generation. Let's start!
Guide to generating leads on LinkedIn
1. Create a LinkedIn page and optimize it
A strong presence on LinkedIn can help increase your brand's awareness, build credibility among your audience, and generate leads. However, to enjoy these perks, your LinkedIn company page must appear in the right search results of your audience.
How do you ensure that? By optimizing your LinkedIn page in the right manner.
While creating a LinkedIn page might seem to be a cakewalk, most brands tend to get stuck while optimizing it.
Here's how to optimize your LinkedIn page for maximum outreach:
Step 1: Upload a high-quality profile image and banner.
Step 2: Craft a compelling "About Us" section with relevant keywords.
Step 3: Post regularly on your LinkedIn Company Page.
Step 4: Grow your audience by engaging with them in comments.
Step 5: Create a Career Page to attract quality job applicants.
Step 6: Create a Product Page to showcase your products and services.
Step 7: Stay up-to-date with the latest LinkedIn algorithm changes.
Step 8: Host a LinkedIn Live to engage with your followers.
2. Post relevant content and measure its performance regularly
No matter how great your strategies are, everything can fall apart if you are inconsistent with posting. But that doesn't mean you can post "just anything." Make sure the content you post is relevant to your target audience and adds value or provides solutions to your present problems.
It's important to study your audience's pain points so that you can create content that solves your ICP's (Ideal Customer Persona) immediate problems and offers them solutions. We suggest creating a content bank with all your ideas to ensure that you never run out of ideas. A content bank is basically a digital asset where you can put in all your content ideas and topics to get content inspiration later when you're out of ideas.
Also, keeping an eye on the latest social media trends is a must if you want to get better reach from your audience. The faster you can update your audience about your industry's latest news and happenings, the better they will engage with it.
Try to push user-generated videos and visually-appealing images as much as possible on your LinkedIn business page, as it will help build trust and authority among your audience.
Here are a few more tips for generating leads on LinkedIn by posting relevant content and updates:
Collaborate with influencers
Growing and establishing your brand's name on LinkedIn is not impossible, but collaborating with influencers from your domain makes the process much faster. Influencers have a large presence on social media and can help bring more attention to your content.
Hashtags are a great way to get your content seen by more people. Make sure you use relevant hashtags in your posts to reach a wider audience.
But how will you know if you're using the right hashtags?
Keyhole's LinkedIn Hashtag Analytics helps you determine which hashtags your audience likes and dislikes and how often you should use them in your posts.
Repurposing your content is a great way to offer value to your audience with minimal effort from your side. For example, you can take a blog post you wrote a couple of months back from your website and create LinkedIn posts by breaking it up into smaller parts so your audience can easily digest the content.
If you need help with staying consistent in posting content, you can use a scheduling tool such as Keyhole to schedule your LinkedIn content in advance. In fact, Keyhole's social media publishing and scheduling feature allows you to schedule unlimited posts on multiple LinkedIn accounts from one place.
But putting so much effort will zero down if you don't analyze your LinkedIn activity and take action to improve your lead generation efforts.
With Keyhole's LinkedIn analytics tool, you can access advanced analytical features like suggestions for the best time to post, optimal posting length, competitor analysis, discovering the best content types and media types, exploring trends, and more. These insights will help you make more informed decisions regarding your content strategy on LinkedIn.
3. Join LinkedIn groups your clients and customers are in
LinkedIn is a great platform for networking, and the ability to join groups related to your clients' and customers' interests can help you get to know them better and forge stronger connections. Joining LinkedIn groups your clients and customers are in is an ideal way to stay connected with them.
By joining relevant LinkedIn groups, you can stay informed about your industry's latest updates and activities and be among the first to hear about any new products, services, or initiatives.
Insights you gain from LinkedIn groups can also help you to tailor your services and offerings to meet your audiences' needs and expectations. By analyzing the discussions, questions, and feedback in LinkedIn groups and identifying the common themes and concerns that resonate with your customers, you can better frame your customer experience management strategy and ensure enhanced customer satisfaction.
Your goal should be to create content, share others' content (relevant to your domain), and engage with your audience to generate leads through LinkedIn groups.
Besides, LinkedIn groups can help you build trust and loyalty in your industry – as there are ample opportunities for getting into meaningful interactions with your audience. You can also use these groups to share helpful advice and content, which can demonstrate your knowledge and expertise in the industry and help you become a trusted source.
It is an effective way to stay connected with them and pave paths to build better foundations for customer relationships. Not only can this help you stay informed and better understand your audience's needs, but it will also help you build trust and loyalty and demonstrate your expertise in your domain.
4. Use LinkedIn lead generation tools for qualified leads
LinkedIn automation tools help brands maximize customer engagement, streamline their outreach strategy, and save time with automated LinkedIn messages and following up processes. Here are the top LinkedIn automation tools that make your lead-generation process easy that do follow the cyber security norms:
1. Linked Helper
Linked Helper is a comprehensive tool for managing your LinkedIn page/profile. It allows you to conduct maximum engagement activity as a business, from content creation to profile optimization and measuring analytical performance, thus making generating leads on LinkedIn easier for you.
2. ContactOut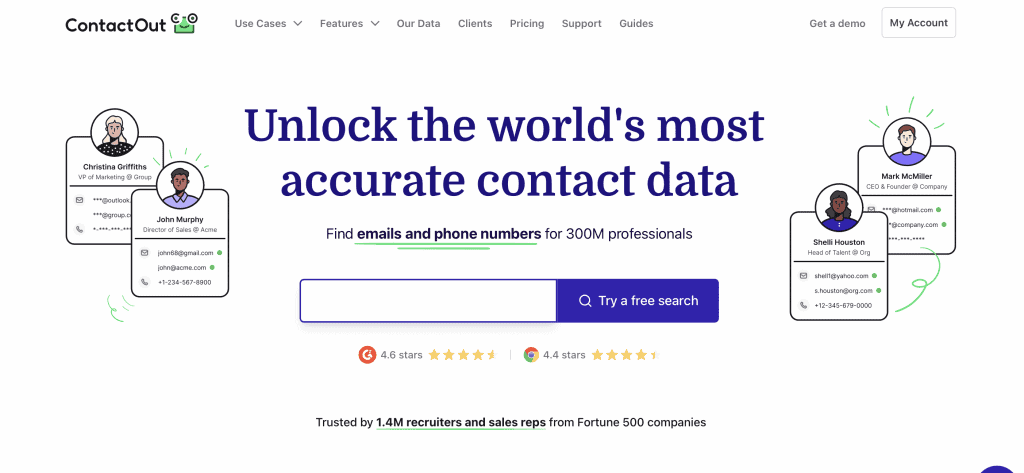 ContactOut sets the benchmark for accuracy in professional contact information on LinkedIn, including an extensive business email list. Powered by its robust database, ContactOut ensures that you have access to the most precise and up-to-date data available.
LinkedIn Sales Navigator provides targeted lead recommendations, so businesses can easily find their ideal customers and prospects. You can also use advanced search filters to narrow your search results, making it easy to discover leads that align with your goals.
4. Linked Prospect
Linked Prospect is an invaluable LinkedIn automation tool for any business that wants to boost its sales and marketing efforts. Besides finding and targeting leads on LinkedIn, it offers automated follow-ups and lead capture features. The best part about it is that you can customize your lead generation & nurturing campaigns to meet specific goals.
5. Clearout
Clearout's LinkedIn Email Finder is like having your own lead generation assistant on LinkedIn! Their 'Auto' feature is a game-changer when it comes to LinkedIn automation. Just set your criteria, sit back, and let Clearout do the heavy lifting. While you relax, Clearout's Chrome extension works tirelessly in the background, generating leads for you like a pro.
5. Run paid ads to locate potential prospects
Using paid ads to locate potential prospects on LinkedIn is an effective way to reach out to a larger audience and build leads. It can help you find new customers, increase brand awareness, and generate more leads.
The first step in using paid ads to locate potential prospects on LinkedIn is to create an ad that resonates with your target audience. Think about the message you want to convey and create an ad that speaks to the pain points of your target audience. You can use LinkedIn's targeting features to ensure your ad reaches the right people. You can target people by job titles, company size, and interests.
Once you have created your ad, you must set a budget. LinkedIn's pricing model is based on the CPC and CPM. CPC stands for cost per click, meaning that each time someone clicks on your ad, it will cost you a certain amount & CPM stands for cost per thousand impressions, which means that each time your ad is viewed, it will cost you a certain amount.
Once your ad is live, you can track its performance to ensure it reaches the right people. You should use LinkedIn's reporting and social media analytics tools to measure the effectiveness of your ad. This will help you refine your targeting and ensure you get the most out of your ad spend.
Conclusion
Generating leads on LinkedIn can be an effective way to grow your business, but like any form of marketing, it requires a sound strategy, dedication, and consistency.
With the right approach, you can successfully connect with potential customers, partners, and investors – and convert them into successful leads in no time!
Summing up, generating leads on LinkedIn isn't a cakewalk, but by optimizing your LinkedIn company page, consistently posting relevant content and measuring its performance, joining LinkedIn groups, using automation tools, and running paid ads, it's no more a long shot!
However, generating LinkedIn leads is impossible without an in-depth analysis of your content performance and audience insights. That's why you need Keyhole's LinkedIn engagement tool, which provides the detailed insights you need to grow your LinkedIn company page.
It helps you identify which posts are getting more traction, analyze hashtags that bring you the most followers, find follower company sizes, and much more.
Sign up for a free trial to start measuring your LinkedIn lead generation efforts!
Related Articles:
LinkedIn Analytics Guide To Maximise Your LinkedIn Presence
LinkedIn Engagement Rate Calculator + 8 Tips To Increase It
Frequently Asked Questions
1. How do I generate leads on LinkedIn?
You can generate leads on LinkedIn by creating relevant and engaging content, interacting with other users in your industry, and growing your network.
You should share content tailored to your target audience's pain points and relevant to your industry that provides value to your readers.
3. How can I measure the success of my lead generation on LinkedIn?
You can measure your success in lead generation on LinkedIn by tracking the number of leads generated, the conversion rate of those leads, the average number of leads generated per day/week/month/year, the number of views/clicks/shares/comments on your content, and the average number of profile visits.