If your company uses LinkedIn for business, then tracking LinkedIn analytics would be an important part of your social media strategy. LinkedIn analytics tools allow marketers to track LinkedIn metrics and measure progress.
Now you may wonder, why does it matter?
When it comes to qualifying your LinkedIn marketing efforts, tracking LinkedIn analytics is essential. LinkedIn analytics tools provide the data you need to improve your LinkedIn ROI, & impressions and reach your goals. They evaluate how your daily efforts and campaign performance impact your LinkedIn company page by providing valuable insights.
If you aren't tracking your data, you're simply guessing whether your company meets its goals.
Plainly put, using LinkedIn analytics, you can say with certainty whether you have hit a new milestone such as audience growth, improved engagement, or conversions.
In this article, we cover the 10 best LinkedIn analytics tools to increase your conversions, measure and drive more engagement and maximize your ROI.
Keyhole's LinkedIn analytics tool helps understand how your content is performing, which posts have the most engagement and find new audience insights. This LinkedIn engagement tool gives detailed insights that help you nail the goal of growing your company page's LinkedIn presence.
Features:
Identify top posts instantly – Understand how your company page is performing, the posts which are getting more traction and the engagement being generated along with recommendations to increase engagement.
Identify top follower industries – This helps curate content targeted to specific industries.
Compare the performance of your brand accounts on other platforms – To find where you're receiving the most engagement (views, likes, and clicks), compare the performance of different social networks.
Find follower company sizes – Based on the follower demographics such as company size, you can create content specifically for SMBs or enterprises.
Analyze hashtags that brought you the most followers – Determine which hashtags fared well, the ones the audience disliked and how often you should use them on your posts.
Pricing: Starts from $79 per month.
Vaizle's LinkedIn analytics tool helps you measure your company's LinkedIn performance or track how your content is being shared on the platform. Whether you have a startup or an established business, you get to analyze your content and modify strategies while tracking detailed metrics like impressions, clicks, and shares. With this, you know what is resonating with your audience and driving the most engagement.
Features:
Track individual post performance – With Vaizle's LinkedIn analytics tool, you get a report on your post performance, including details such as the number of clicks, shares, comments and the engagement it has received.
Get to know about your visitors – With the help of this tool, you get an idea about the visitors to your profile by knowing their demographics and the platform they are using that has redirected them to your page.
Know about the visitors' industry–The LinkedIn Analytics tool helps you with details on the visitors coming to your business profile. Information such as their job profile, the industry they work in, their company size and their location.
Know what content can bring engagement – You get a quick idea of the posts that received engagements so that you can modify your ideas accordingly.
A report on LinkedIn Ad campaigns – Vaizle also helps with the LinkedIn Ad analysis tool, where you get an overview of the impressions, the total amount of money spent, clicks, conversions and engagement. All of this can be retrieved daily, weekly or monthly depending on your requirement.
Pricing: $59- $149 per month
Socialinsider helps consumer brands and digital agencies track LinkedIn company page KPIs which are important for a business's success. Analyzing key metrics including shares, likes, clicks, comments and impressions helps your brand develop a better LinkedIn content strategy.
Features:
Uncover relevant LinkedIn insights about your audience – Discovering crucial LinkedIn audience insights will help boost your company page performance. Understand where followers come from, the times when they are viewing your posts and the type of content that resonates with them.
Export LinkedIn analytics data – Simplify your LinkedIn reporting process, customize reports with your logo and brand colors and export LinkedIn reports in EXCEL, PDF, or PPT to share with clients.
Pricing: Three-tiered pricing starting from $83/month.
Whatagraph's LinkedIn engagement tool is a user-friendly platform wherein you can personalize reports with your brand's color scheme and logo. The tool is known to brilliantly visualize data and offers a comprehensive overview of top-class metrics for your LinkedIn company page.
Features:
Cross channel reporting – Blend data from multiple accounts, channels and campaigns to present a clear performance report to your client.
Automated report delivery – Schedule and deliver reports to your clients at a selected frequency. Your client can access the report anytime.
Pre-made templates – They are ready-to-go templates where you can remove, edit or add pre-made widgets to create marketing performance reports in minutes. Pre-defined templates can be used to include specific data and show growth over a specific period. Monitor performance, share data and keep everyone in the loop with this LinkedIn analytics tool.
Pricing: Starts from $119/month.
Social Champ's LinkedIn analytics tool provides users with valuable data based on major data metrics to track and measure the performances of their posts.
Generate PDF, PPT, and CSV reports for a convenient way to visualize and share analytical findings in beautiful graphs. This tool can be handy for reporting or creating presentations to showcase the impact of LinkedIn management and marketing efforts.
Features:
Post Overview – Get top LinkedIn posts and sort them on different metrics according to your preferred time in a platform analytical layout.
Total Engagement – Track the number of times people interacted with your posts during the reporting period.
Total Impression – Monitor the number of times your posts were viewed during the specific period.
Best Time To Post – Track previous post performances and get suggestions of the best times to create future posts.
Pricing: Starts from $29/month.
Improvado is a cutting-edge marketing analytics tool trusted by large enterprises like Asus, Illy, and Activision. With its comprehensive data integration and visualization capabilities, Improvado helps you keep track of key metrics and insights to make data-driven decisions for your LinkedIn campaigns. Automated reports and customizable dashboards enable you to analyze your LinkedIn performance in real-time and increase the ROI of your LinkedIn effort.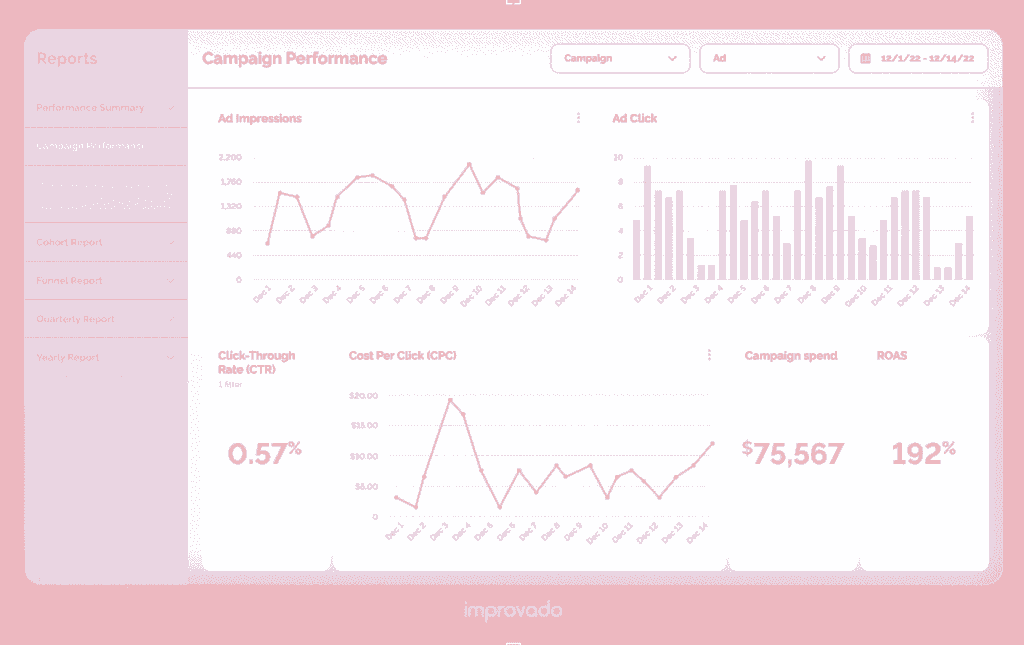 Features:
Data Integration – Need to see the entire picture of marketing performance that goes beyond LinkedIn? Improvado connects with a wide range of data sources, including LinkedIn, Google Analytics and many others, allowing you to dive into the performance of each individual marketing platform and consolidate cross-channel data in one place.
Customizable Dashboards – Create personalized and interactive dashboards to monitor your LinkedIn performance, including metrics like interactions, impressions, and more.
Real-time Analysis – Obtain real-time insights into your LinkedIn performance, allowing you to quickly identify trends and adjust your strategy as needed.
Pre-built Templates – Access a library of pre-built dashboard templates tailored for LinkedIn analytics, saving you time and effort in creating your own from scratch.
Pricing: Customized.
The modern cloud LinkedIn analytics tool Klipfolio is used by companies like BMW, VISA, KPMG and Deloitte among many others. It allows you to build high-tech dashboards that provide data insights. Their LinkedIn dashboard shows the number of shares and interactions your LinkedIn page obtained and compares it with previous months.
Features:
Klips – Custom dashboard and reports for analysts to track, measure and share data.
PowerMetrics – Lightweight data analytics for leaders to use data to make bold decisions. Data can be imported and visualized into charts or segmented based on filters without any technical help.
MetricHQ – A dictionary for everything related to metrics and KPIs.
Pricing: Customized.
As the name indicates, Inlytics specializes in LinkedIn analytics. The software also offers LinkedIn scheduling. Built for individuals, recruiters, marketers, salespeople, teams and businesses, this free LinkedIn analytics tool tracks unique data needed to help you succeed on LinkedIn.
Features:
Visualization data on the dashboard – The dashboard shows LinkedIn marketing metrics like impressions, reactions and comments to your post, engagement rate, top posts and tips for getting the most out of Inlytics.
Content performance – Detailed information beyond what LinkedIn's default analytics provide include historic post impressions, comments and reactions, content overview and timeline content table.
Enhanced profile stats – Exceptional profile statistics like profile recommendation, profile scoring, profile views, score per category, search appearances and connection chart help in taking your profile to the next level.
Pricing: Free signup with $7 for solo and $21 for business accounts.
LinkedIn's company page gives you a reasonable quantity of data. With the Administrator status, you can view your page's data. This includes:
Visitors
Followers
Updates
Employee advocacy
Competitors
Talent brand
Each of these tabs shows you the performance of your LinkedIn company page. The visitor's tab tracks the people who checked your page. The followers' page shows the types of people who follow your page. Updates give you a high-level view of how people reacted to your content in terms of likes, comments and engagement. The employee advocacy section helps you gauge trends in employee engagement. The competitor's tab compares page followership and content engagement with competitors. Lastly, the talent brand feature of the free LinkedIn analytics tool shows engagement with your career pages.
Pricing: Free.
LinkedIn analytics tool ReportGarden for LinkedIn company pages is specifically designed for agencies that rely on automated data for marketing reports. Use a customized LinkedIn dashboard for analyzing your audience and visualizing your key LinkedIn metrics.
Features:
Quick reporting – Instead of having dull data-heavy reports, you can combine valuable campaign data with stunning visuals using ReportGarden.
Track and analyze page data – LinkedIn dashboard gives insights into the company page and key metrics such as audience, reach, clicks, activity and engagement.
Measure engagement – The impact of each interaction can be measured to quantify your LinkedIn strategy.
Monitor key metrics – Customize your LinkedIn dashboard with metrics and stats fetched directly from your company's account. Performance and trends for your LinkedIn company page can also be compared.
Pricing: Four-tiered pricing starting at $89/month.
Putting it together
By analyzing every part of your LinkedIn company page using LinkedIn analytics tools, you can evaluate the success of your LinkedIn marketing strategy. These tools track your LinkedIn engagement, and how your campaigns are performing and enable you to improve your company page performance on LinkedIn.
Read Others
Frequently Asked Questions
How do I analyze my LinkedIn profile?
You can rely on in-app data for basic profile analytics. But it's better to invest in a full-fledged LinkedIn Analytics tool like Keyhole that will let you monitor your LinkedIn profiles and pages and other popular platforms.
Is LinkedIn analytics free?
Yes, LinkedIn Analytics for company pages is free. Following page data is available for free in LinkedIn analytics tool:
1. Visitors
2. Followers
3. Updates
4. Employee advocacy
5. Competitors
6. Talent brand
Which LinkedIn analytics tool is the best?
Here are the best LinkedIn analytics tools:
1. Keyhole
2. Vaizle
3. Socialinsider
4. Whatagraph
5. Iconosquare
6. Impovado
7. Klipfolio
8. Inlytics
9. LinkedIn company page analytics
10. ReportGarden