Humanity knew it all along…
" Two ears are given to us, the rabbis observe, but only one tongue: the ears are open and exposed, whereas the tongue is walled in behind the teeth."
James 1:10
…that listening has greater importance over talking. Priceless wisdom that can be applied to marketing and businesses today.
Social Media Listening is one of few ways brands can use listening to leverage technology and data to increase brand engagement, strategize on communication, hone-in on customer relationship management, and innovate appropriately.
Before I tell you more,  I want to share with you yet another prophecy from 2006. Almost 10 years ago, Economist wrote in "Listening to the Internet,"
"The direct, unfiltered, brutally honest nature of much online discussion is gold dust to big companies that want to spot trends, or find out what customers really think of them." – The Economist, March 2006
Fast forward 9 years and Social Media Listening is now a practice brands can't do without. Social Media Listening is a process – a cyclical one that requires a dedicated workflow for brands. Read below to learn what, why, and how of Social Media Listening.
What is Social Media Listening?
In a nutshell, Social Media Listening is monitoring your brand on Social (Facebook, Twitter, Instagram etc.). It's also commonly referred to as…
Social Media Intelligence
You can use Keyhole to get a first-hand look at social listening and analytics in action.
A more sophisticated definition:
"Social Media Monitoring is the continuous systematic observation and analysis of social media networks and social communities. It supports a quick overview and insight into topics and opinions on the social web."
  Dieter Fensel, Birgit Leiter, Ioannis Stavrakantonakis
How do you actually do this?
Technology plays a big role in enabling us to perform Social Listening. There are myriads of tools that do this for you. While the process can get quite technical, the premise is to crawl chosen sites to see when, where, and by whom your brand is talked about. The tools follow these steps:
Crawl the sites

Index the crawled sites

Write complex search strings via Boolean operators to create search for specific search terms and keywords; determine parameters such as language, regions and etc.

Add multi-layer algorithms that detect patterns and keyword density to block out spam
This is all done only on public data – all privately set data such as protected tweets and private DMs cannot be crawled.
Social Media Listening is done on many levels. It can be for an entire brand, a single product, a campaign, based on region etc. It's done for, what I like to call the Four Rs:
Researching

Reporting

Reacting
and put on
Repeat
One common confusion that occurs is not distinguishing between Social Media Management and Social Media Listening and their respective tools.
Social Media Management is an execution of your Social Media strategy that is crafted, hopefully, based on Social Media Listening. Social Media Management tools  are created to help you streamline the process and schedule posts.
Social Media Listening is monitoring and deriving actionable insights from data. Social Media Listening tools enables you to LISTEN to your brand by crawling, indexing, and filtering through your brand keywords.
Why should you conduct Social Media Listening?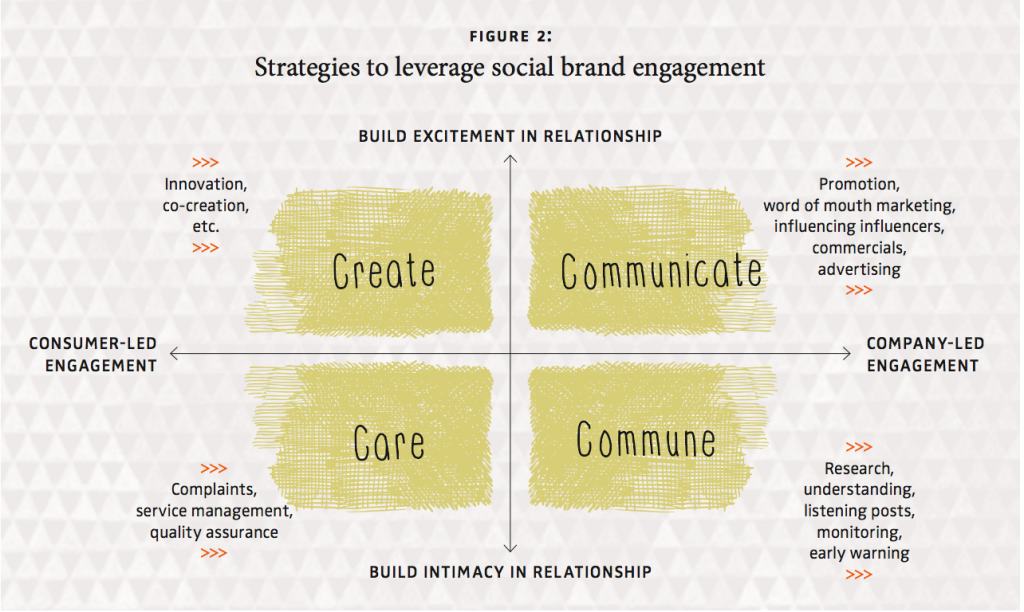 Social Media Listening is a precursor to further developing your Social Media strategy, customer relationship management strategy, product development, and the overall marketing strategy.


Robert, a Marketing Professor for Schulich School of Business at York University, created a great visual that illustrates the multi-dimensional relationship between social and brand engagement.
Social Media Listening would fall into "Commune" of the four quadrants developed by Robert, but as you will see from this post, the listening done in "Commune" feeds into creating, caring, and communicating. Active listening needs to be carried out for success in the other three quadrants. Social Listening needs to be done via "Big data, medium-sized data, smart data and small data."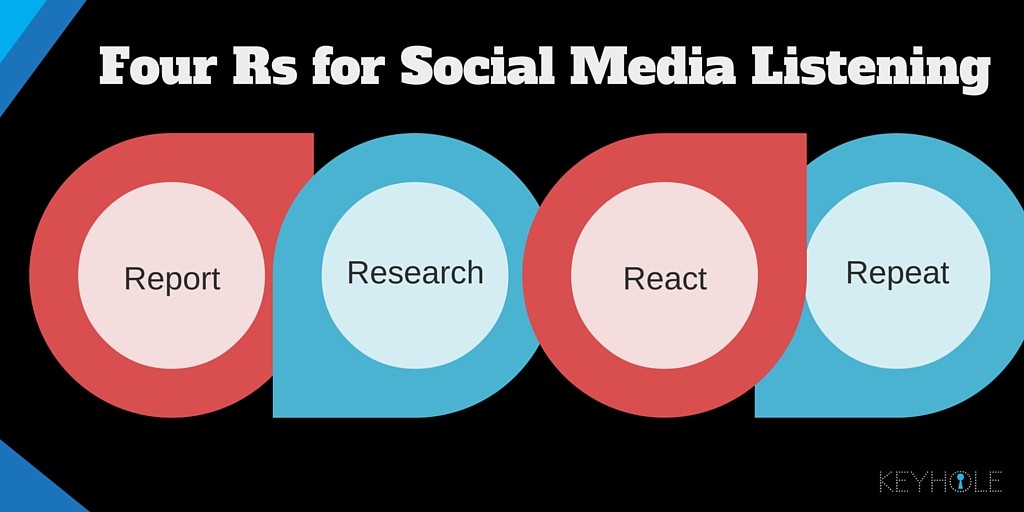 As mentioned above, there are Four Rs that need to be done via Social Media Listening:
TO RESEARCH:
How your brand is talked about. 

Learn what your customers are searching for

Learn where your customers are

How your competitors are doing
TO REPORT:
ROI of a social media campaign

On industry trends

Trend on Brand Awareness

Social Media Marketing Impact

Hashtag Campaign Impact
Ex:
Impact of Twitter during the 61st Annual Scientific Meeting at the Cardiac Society of Australia and New Zealand

What: #CSANZ2013 was  used to curate conversation between August 8th, 9a.m. to August 11th, 1p.m.
Results: 669 Tweets, 107 users, 1,432,573 potential impressions; ~30% from USA, ~70% from Australia; Highest number of tweets when sessions in full swing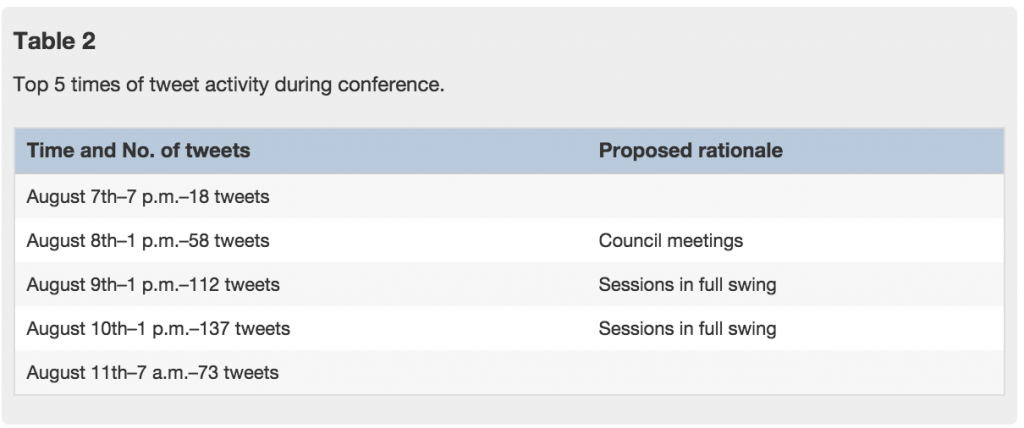 TO REACT:
Mitigate PR crisis –




"Because of the speed with which a negative news item can spread, organizations need to constantly monitor social web channels for signs of trouble"  Olivier Blanchard from his book Social Media ROI

Strategize on Customer Management

Real-time conversation

Immediate assistance

Develop Campaigns that Resonate

Develop Content that are of interest to your Target Audience

Amplify via Influencers

Product development reflecting customers
Example with Barclays PingIt App:
Objective: Understand what quick improvements can be made following the launch of the Barclays PingIt App.
Listening: Conduct sentiment analysis; Focus on negative sentiments to identify opportunities for product innovation & improvement.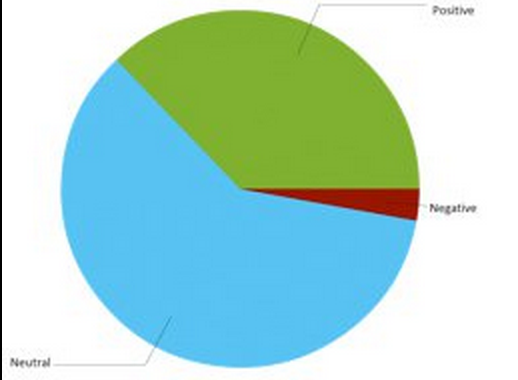 Insights: "It was clear after looking through the negative sentiment that parents were unhappy that they could not send their children funds because they were under 18, even though they were Barclays customers. Within a week Barclays updated the product giving 16 and 17 year olds access to the app."

PingIt disappointment – sent money to both kids, but it didn't work because they are under 18 (even though they are both Barclays customers)

— Dave Birch (@dgwbirch) February 16, 2012
The last R is considered self-explanatory – it's to REPEAT this process.
If you need further convincing, Iris Vermeren (@sireyeris) wrote a great post on why businesses should invest in social media listening with examples.
How do you conduct Social Media Listening?
To recap, the high-level flow of Social Media Listening is the following Rs: Report, Research, React, Repeat
To begin this process, you need to generate a set of Keywords around products, industry events, or competition mentions. Keywords that you use for search query needs to be updated frequently to parallel new product launches and to filter out keywords you don't want to track (ones that are very spammy and overly generic)

Then, you go to the next step: mind data from online conversation. After you decided on the keywords that you want to monitor, decide which channels you want to focus on and crawl.
Last, and most importantly, you aggregate data to seek patterns and understand trends. Make sure to also look at granular data, such as individual tweets, to understand know-hows of each platform, product, or campaign. The purpose of this data aggregation isn't to consume it, but for you to develop insights for actionable strategies.

There are many tools for Social Media Listening that can cost you nothing, such as Google Alerts & Tweetdeck to $10,000 a year, like Radian6.
Regardless of what tools you decide to use, there are few key metrics you need to measure during Social Media Listening. Depending on the software or how you measure, each metric can stand for something a bit different, but generally…

Mentions & Reach is the number of times a said query comes up and how many users it reached
Share of voice is the percentage of all online content and conversations about your company, compared to your competitors.
Sentiment Analysis is detecting and understanding how the audience is reacting to a brand, either positively or negatively.
Geographic distribution is metric that shows you where in the world they're located
Influencers is pointing to individuals that are bringing in the most impressions and mentions across the web for your brand
According to Ben Donker, these are key top-line metrics you must measure for Social Media Listening:
monthly volume of mentions,

share of voice,

sentiment,

social sources (from Facebook, Twitter, blogs, video sites etc.),

top links shared from your site,

brand content that made ripples, for good or bad reasons,

mentions from influential people,

the most frequently associated keywords and topics with your brand (you can easily do this with word clouds).
Now, what tools do you use and how do you evaluate them? 
G2Crowd is a great source. Their mission is to "Compare the best business software and services based on user ratings and social data". Here is a G2Crowd Grid that compares different Social Media Listening tools:
Here are lists of articles that do a great job describing how to evaluate the listening tools:
Social Media Monitoring Tools Review
5 Social Media Monitoring Tools to Simplify Your Marketing
Social Media Monitoring Tools – How to Pick the Right One
Social Media Monitoring Tools: An In-Depth Comparison of Features
Hope this gives you a good basis to start your Social Media Listening.  Again, don't give what you think your customers want. Listen to them and you shall reap the fruits.
---
Keyhole is a real-time conversation tracker that provides keyword and hashtag analytics for Twitter and Instagram. Get started for free and search your brand now.