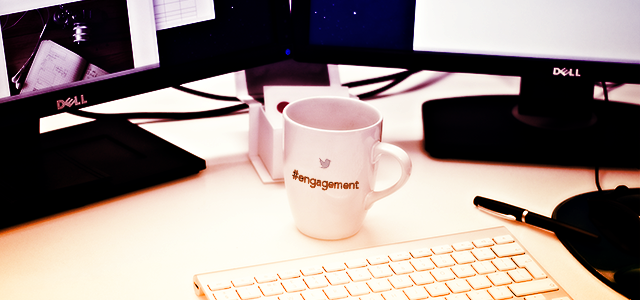 For a long time, users treated Twitter like a 'linear' application: you follow people and they follow you back; you send a tweet out and hope that hundreds of people share it with their friends. Turns out, Twitter doesn't really work that way!
Even after months of using Twitter, many organizations still find that their click-trough rates (CTR) remain low compared to similar businesses.
How should brands optimize their strategies for higher Twitter engagement and traffic to their websites?

Here are four thing experts have learned along the way that may still be missing from your strategy. In fact, you may be a bit shocked at how quickly some of these pay dividends.
CUSTOMIZE THE LAYOUT OF YOUR TWITTER PROFILE
Without experimenting with layouts, most users settle for one of the default themes.  However, think back to the time we discussed how logo and website colors impact emotion.
Start with which emotion you'd love to have your readers feel when perusing your content. If you haven't thought that far yet, just consider which colors your users may like, but make sure you have a pleasant contrast so that readers aren't scared away.
CONNECT WITH PEOPLE THROUGH YOUR BIO
When a user runs across your tweets and are intrigued enough to learn more, your bio is the first (and sometimes only) thing they'll look at next. If it's interesting, the Follow button can be a quick click; but if it's empty or bland, they'll move along.
So if your bio can be the difference between new followers (and long-term engagement) and not, what should you place in it?
Try entering 3 to 4 interesting things about yourself, including your professional role, website URL, location and something personal. Any one of these things can create a connection between you and another user, so don't be too concise (space permitting).
Often you'll find people trying to sell something without letting users – potential clients and customers – emotionally connect with them. Instead, treat it a little like the "Other" section in your CV — something that'll make you seem like a fellow human being, instead of a stone-faces salesperson.
Without a doubt, the URL portion of your bio is going to drive traffic if you seem interesting. Connect with users, and they'll be happy to share their attention with you and your content.
GET PERSONAL WITH YOUR TWEETS
Again, many users settle for the default when sharing content — the title of the page they're sharing, and the URL. Boring!
People want to read content, but they also want to know what you think about it. The 'color commentary' (so to speak) is often much more interesting than the game itself. So what are 2 ways to make your tweets interesting enough to click on, read and share?
Three simple things to try:
Instead of the article title, share a catchy excerpt from the content you're about to share — quotes often perform better than titles with shared content
Share your original thoughts or summary of the article you're linking to — not the title, not an excerpt, but your thoughts on it. This might be the most difficult ("What original thought can I share?" can be an intimidating question) but could lead to the highest potential engagement
Share your thoughts about recent news with no links. Facebook just bought WhatsApp? Most have already read the news, so your opinion on it is likely more interesting to users than another link that starts with "BREAKING". (It probably isn't considered Breaking anymore)
Any one of these can spark a discussion, and none of these work 100% of the time. But experiment with them and see what you find — especially if chances are that people have already read the piece you're quoting.
Remember the goal is to grab the user's attention the moment they see your tweet. This can't happen if it's just like everyone else's.
ENGAGE WITH EVERY SINGLE @MENTION
This point can't be stressed enough.
Is replying to every single @mention difficult? Yes. But does it lead to higher attention and eventual engagement? Absolutely.
Even if you find that you don't have time to @reply everyone, start by simply favoriting their tweets. If you're not sure where you start, Twitter has a dedicated Notifications page that collects everyone's @mentions and @replies so you can quickly engage with them.
It makes a huge difference to users who just took the time to share your content, and many times these people may also follow you back. It's a win-win situation, and maybe the best ROI on your effort.
CONCLUSION
Writing great content takes time, effort and experience (at least for most people). But there are a number of simpler ways to drive engagement and traffic from the content you share on Twitter, beyond just writing great posts.
Hopefully these simple Twitter tips can be your secret sauce to building higher engagement and website traffic you receive. We know it has worked for us!
Photo credit: Airservices Australia
---
Keyhole is a real-time conversation tracker that provides keyword and hashtag analytics for Twitter and Instagram. Get started for free and search your brand now.