Latest Social Media Updates 🗞️
1. Instagram's new "conversation" platform, Threads, experienced rapid growth with over 100 million users. Now, those users are bored.
2. Twitter creators can earn from their exclusive content, as Twitter expands access and boosts rate limits through its new revenue-sharing policy.
3. Facebook doubles down on its video strategy by introducing new discovery and editing tools. The move highlights Facebook's commitment to providing enhanced video experiences.
HIGHLIGHT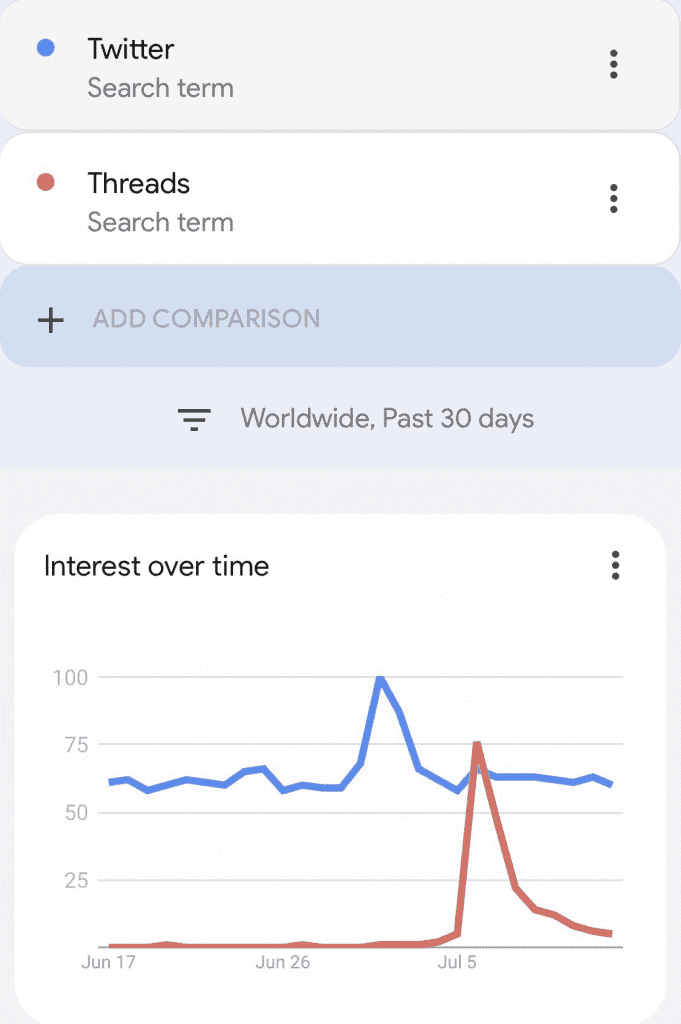 Gold Nuggets & Resources🖊️
1. When Is The Best Time To Post On LinkedIn?
2. 11 Best Hootsuite Alternatives For Social Media Management In 2023
3. How To Calculate Twitter Engagement Rate? (Formula + Free Calculator)
Bonus: First Apple VR, now Threads. It's your turn to jump in! Here's how to identify and capitalize on Social Media Trends
ChatGPT Prompt Idea (copy this for later 😉): Give me viral Reel ideas for promoting a [new feature/product] of [brand]. The audience comprises [target segment]. The tone should be [funny/formal/professional].
Case Study 🎉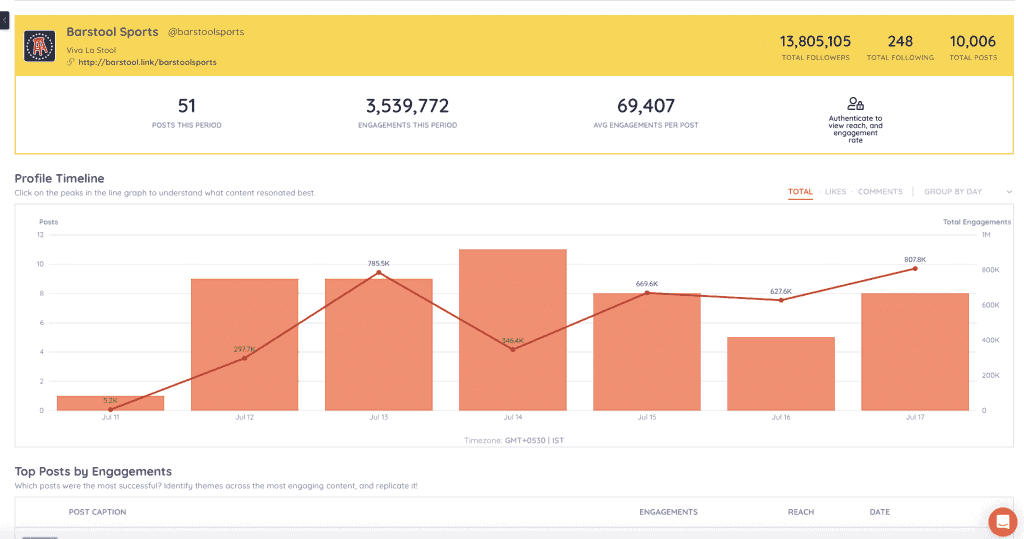 BACKGROUND
Barstool Sports is an NYC-based disruptive sports media company. It's has been around for over 18 years, producing high-quality content across top channels to reach 66+ million monthly users.
PROBLEM (We've all been here)
The team at Barstool would log into a platform, search, and try to find big opportunities. Over & Over & Over again… 😮‍💨
The social listening tools they tried weren't the home run they were looking for ⚾.
UNTIL THEY FOUND KEYHOLE
With Keyhole, Barstool Sports added more than 50 trackers to monitor their campaigns across all platforms.
Now they can focus their energy on creating new content and use their automated trackers to generate real-time, up-to-date ideas..
The key to the barstool playbook is audience engagement, so they used measured sentiment to make sure every piece of content was a slam dunk with their audience 🏀.
RESULT🎉
Besides tracking campaigns, they could also audit their social media account's growth. They could compare where each piece of content was working best.
With one-click reports, the Barstool team had the final piece of the puzzle. Now they had a data-rich feedback loop to ensure consistent growth.
Want to hit your goals 🥅? 👉 Read the full case study
Threads vs. Twitter Verdict😦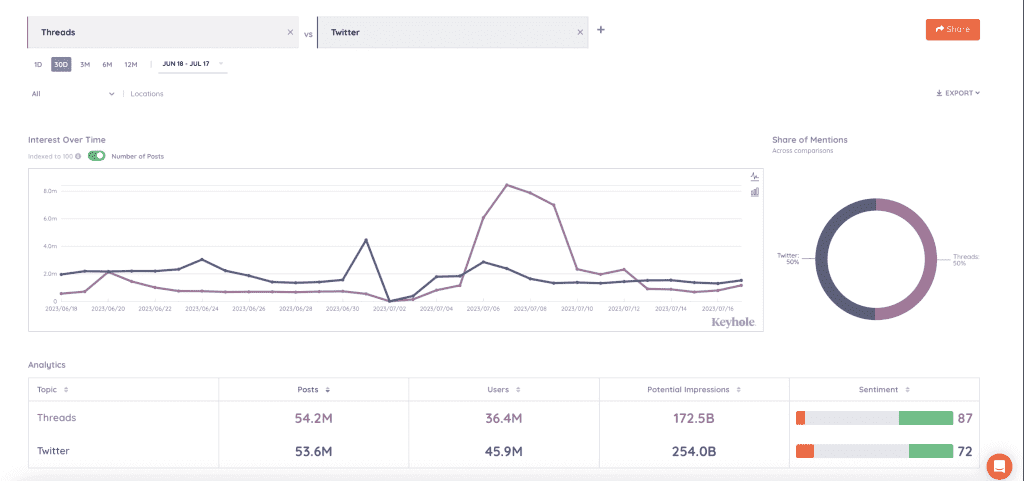 Threads marched right into the social media world with a bang. Defying even the ChatGPT record, it gained its first 10 million users in just "SEVEN HOURS"!
It took a few more days to amp the count up to 100 million users, and Twitter was shook…for a moment.
Despite the crazy growth, people are making their comeback to Twitter, or reverting to Instagram. Threads has already halved its active users in a week, says Mashable.
Will Threads be "a boring playground for brands?" Here's a 30-day breakdown of Threads VS Twitter.
Total number of posts shared: 54.2M vs. 52.6M
Total posts shared at peak hour: 8.43M vs. 4.4M
Total impressions: 172.5B vs. 254.0B
Sentiment Score: 87 vs. 72
Top trending posts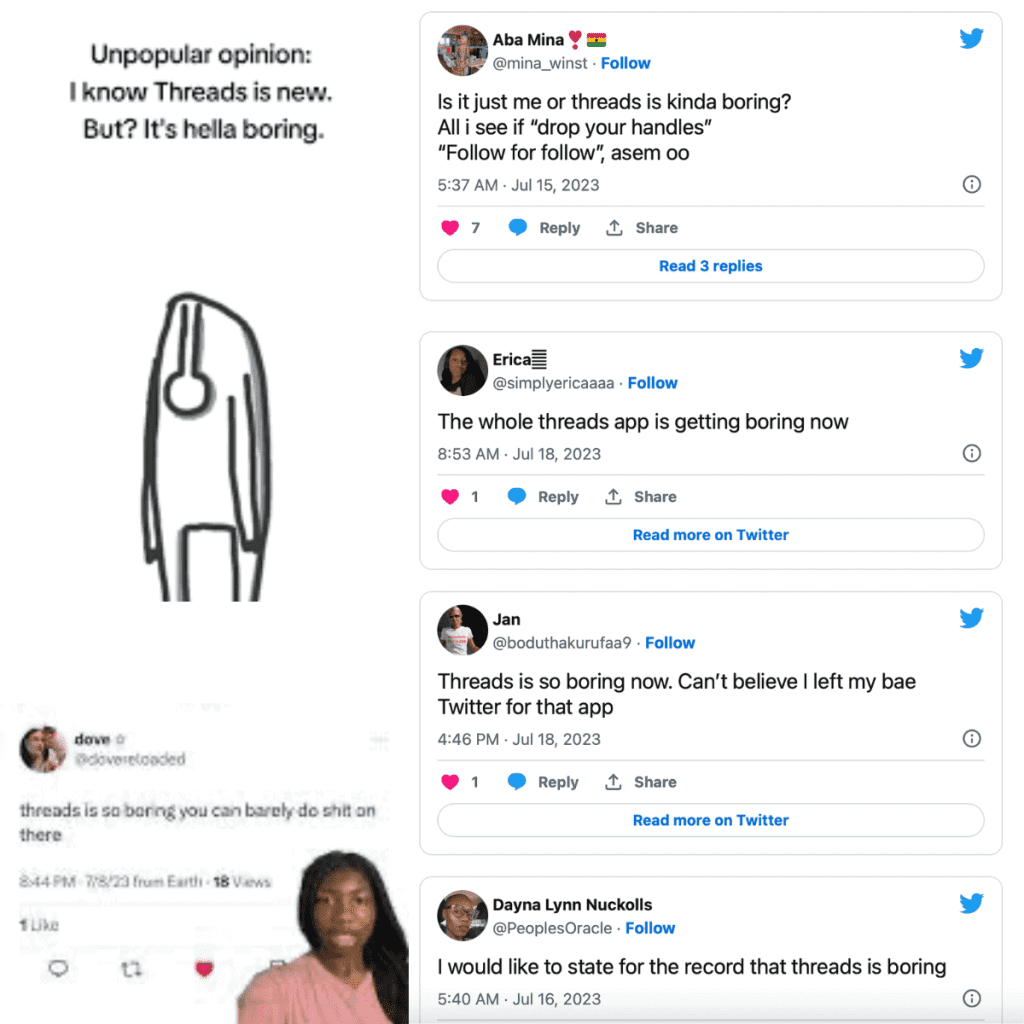 Must-see Campaign 👀
Tweet Tip ✨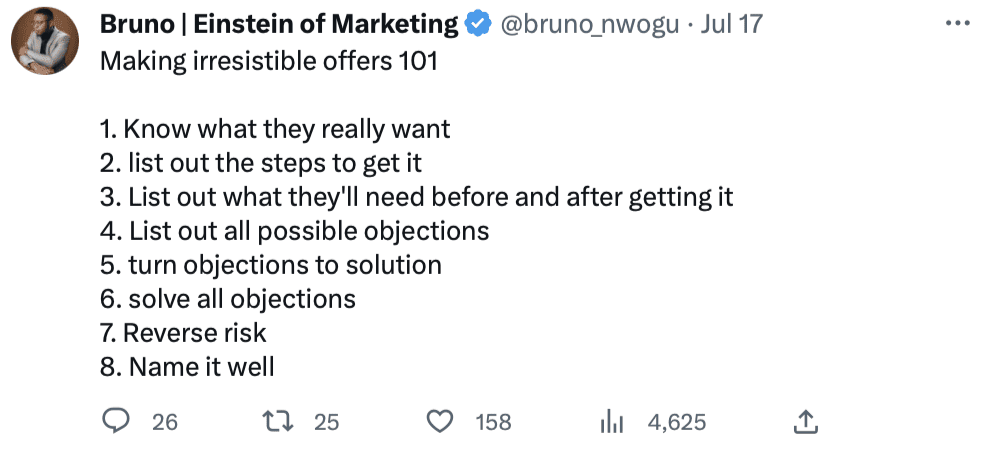 By Bruno
Meme Squad 💪
Fresh stock for meme-loving marketers:
Lovin' it? 💛
Share Social Media Keynotes with your favourite coworkers & friends and let them enjoy these handpicked insights as well. Follow us on social media for more exclusive Keyhole content.