One common thing about every top brand in the current market is their active presence on Twitter. With over 237.8 million active daily users, this microblogging network has become a brand favorite for marketing.
Twitter boasts a vast range of 500 million daily tweets and can help your brand reach a wide set of audience.
Because of this popularity, more brands are producing content for Twitter. This has over-saturated the social space.
Your Twitter engagement rate should be excellent for building brand value on the platform. Without that, no amount of creative effort may work.
That demands your Twitter marketing strategy to be savvy and methodical.
Driving better organic engagement on Twitter may seem like a monumental task. So, to take the pressure off of you, we have compiled a comprehensive guide to the intricacies of Twitter engagement rate.
Still, the most important question is what it is exactly.
What is Twitter engagement rate?
Your Twitter engagement rate is the percentage of users who see your tweets and engage with them. This includes:
Retweets
Follows
Replies
Favorites
Click-through rate
Hashtags
Impressions
Why does your Twitter engagement rate matter?
Your Twitter engagement rate is not only a mere catalyst to customer acquisition. Better engagement on your Twitter can positively affect your brand value in several ways.
Here are the reasons you should start prioritizing Twitter engagement:
Better Twitter engagement builds an extensive network for organic growth. Users retweeting your posts give you immediate exposure. When they add your posts as embedded links, it can boost your follower growth beyond your typical followers.
Increased engagement on Twitter can build social proof for your brand. The platform has a substantial audience pool. Thanks to its micro-blogging format, millions of tweets circulate on the platform. Here, if your tweets get good engagement, it increases the trust quotient among potential customers.
Healthy Twitter engagement helps you build better professional channels. With better brand visibility, you can easily connect with industry experts and allied businesses.
Since all your brand correspondence is public on Twitter, your engagement will show brand ethics and customer support.
Better twitter engagement helps you tap into millions of Twitter users and build strong brand awareness.
Engagement in your tweets shows the efficiency of your social media marketing strategy. An increased engagement rate reflects your plan is on the right track. Lack of desired audience interaction identifies pain points and improves the strategy further.
With that out of the way, let's try to understand what a good Twitter engagement rate looks like.
What is a good Twitter engagement rate?
Like every other social media platform, there is no fixed benchmark for a 'good' Twitter engagement. But as a rule of thumb, ensure you establish a rate of 1% or higher as a good rate in alignment with other social networks such as Instagram.
However, the engagement rate varies based on the industries, your target market, and your products. So make sure you set up your competitors and set your Twitter engagement goals accordingly.
The next step in the process is to understand how to measure your Twitter engagement rate.
How to calculate Twitter engagement rate?
To measure your Twitter engagement rate, you need to consider the total number of interactions your content receives. It also involves the total impressions your tweets get.
Here is the formula to measure your average engagement rate on your Twitter account:
Twitter engagement rate= (Total engagement / Total impressions) * 100
Here, total engagement means the number of times people engaged with your tweet by commenting, liking, or retweeting it. They also engage with your tweets by clicking on them.
Total impression represents the times users loaded one of your tweets on the Twitter feed.
Now that you are aware of how to calculate your Twitter engagement rate, below are a few ways by which you can increase your engagement on the platform.
6 Tips to increase Twitter engagement rate
Increasing your Twitter engagement rate can look like a lot of work, especially since it's a crowded platform. But with the right strategy and actions, you can easily drive organic traffic and build your brand image.
To make the process easy, here are some useful tips to include in your social media marketing plan:
Hashtags may not seem as essential as they are on Instagram. But usage can significantly increase your Twitter engagement rate. Hashtags help new viewers find and explore your content.
These tiny additions will sort your tweets, reflect the post's aim easily, and bring in more retweets.
Hashtagging your tweet links it to all the other tweets including the same tag. It gives your tweet a clear context and allows people to easily follow topics they're interested in.
To identify smart hashtags for your brand, analyze your competitors thoroughly. See what hashtags are working for them and try to include those in your content. For the best results, each tweet should have three to five hashtags that: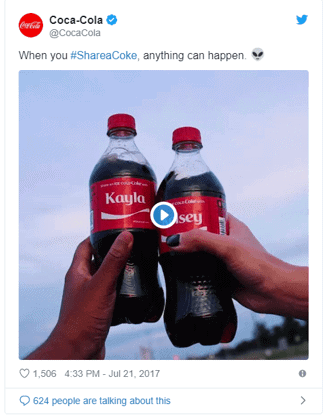 Here, Coca-Cola used #shareacoke to promote its brand's new sticker initiative. The aim was to create brand awareness by giving the consumers a clear context of the tweet.
You can also identify trending hashtags through the search bar.
If you want to keep your Twitter profile on the brand, thoroughly research smart and relevant hashtags before every tweet.
2. Use trendjacking
As a microblogging space, Twitter creates buzz around various topics — be it a trending album or any political incident. Every time a word, phrase, or a current topic gets popular, it is your chance to increase your reach.
Audiences engage with up-to-date brands. And the foundation of Twitter's popularity depends on relevance and living in the moment. Tracking the trending topics will help you understand your audience's interests. That way, you can accommodate them in your social media marketing.
Relevant trends can significantly boost engagement through memes, hashtags, events, and more. However, jumping on the bandwagon of every current topic will hamper your brand image.
Thus, it is important to identify trends aligning with your brand. Use competitor analysis to see what trends are working for your rival brands. Sometimes, you can be innovative with your copywriting and use a non-relevant trend to your advantage as well.
Jumping too late in a trend is also counterproductive and won't yield many benefits. So make sure you use a trendjacking before the topic loses audience traction.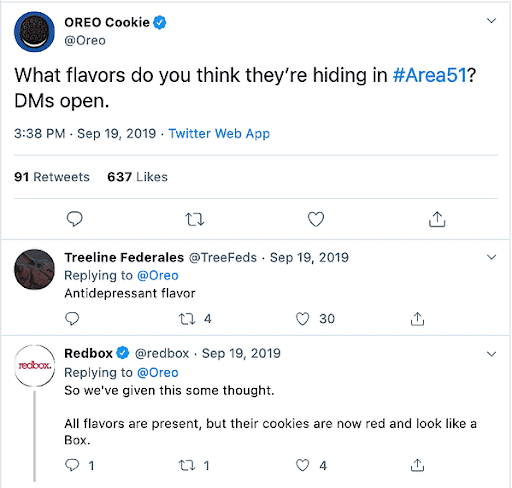 In 2019, the mystery of Area 51 became the topic of memes and conversations. In the screenshot above, we can see how Oreo used the seemingly unrelated trend to its advantage.
3. Settle on a tweeting schedule
Being consistent with your tweets is key to maintaining a sustainable engagement rate. But it's also important you post when most of your target audience is active on the platform.
But chances are you have followers from different time zones. So it becomes quite tricky to settle on a schedule that maximizes engagement.
As you and your rival brands have the same or similar audience base, analyzing your competitors is a good idea to optimize engagement. Through the gathered data, you can see what posting schedules brought the best engagement for your competitors.
You can also consider tweeting brief content throughout the day to catch your audience at different times. However, if you heavily depend on videos for your Twitter marketing, it's best to avoid multiple tweets daily.
4. Use media-based content
Building a brand personality on Twitter is crucial to ensure maximum engagement. Today, visual content is a netizen favorite and can be your best tool to drive organic traffic.
Media-based content grabs more attention than text-based posts. They are interactive and take up more space in the timeline, attracting attention to engage with them. Thus, your Twitter marketing should strongly depend on visual content.
You can use memes, brief clips, GIFs, images, infographics, and podcasts. Whatever media you post, make sure they are high-quality and consistent. They need to be on-brand and eye-catching.
In the above screenshot, we can see how Grammarly used a media-based tweet to grab attention. Here, instead of turning the definition of 'study' into a text-based post, they turned it into an image with an on-brand background.
5. Engage with your audience
Whether a friendly review or frustrated doubts, the best thing you can do for your brand is to respond proactively.
Engaging with your audience builds your credibility. How well you interact with them shapes their image of you. It shows you are listening to them and caring about what they say.
Replying to tweets directed at you boosts your profile and increases customer loyalty. It prompts them to engage more with your content and consider purchasing your products and services.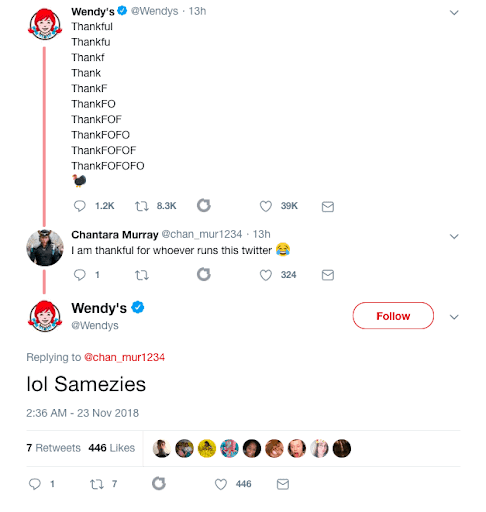 In the above screenshot, Wendy's engaged with a user in a fun way.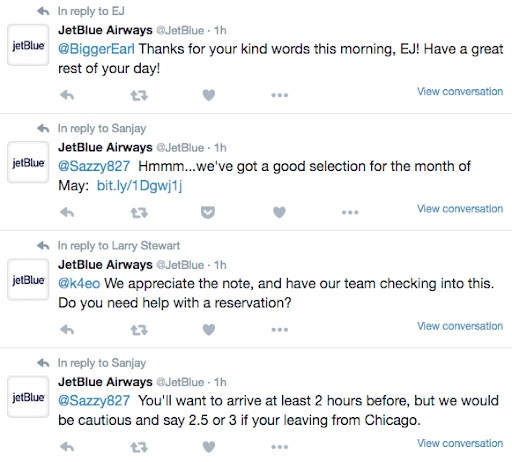 However, here we can see JetBlue Airways took to Twitter to resolve customer queries.
6. Launch a poll
Polls are interactive and a great way to boost engagement on your social media profiles. On Twitter, conducting polls will help you understand your audience and their likes, interests, and desires. You get real-time Twitter analytics into what drives your target market.
Twitter polls are especially useful if you are looking to launch a new product range or want to change something to your existing products.
You can also try "just for fun" polls from time to time. However, make sure they are brand appropriate.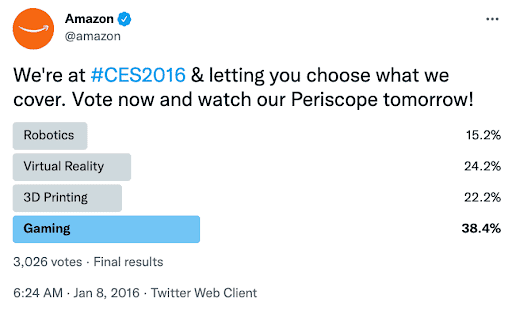 Power up your Twitter engagement rate with Keyhole
Getting high traction on a few posts is easy. But maintaining your Twitter engagement for the long haul involves several areas that need attention.
With the right strategy to boost Twitter engagement, you can make a mark in your industry.
You need to maintain consistency and schedule a posting time for maximum audience interaction. Using hashtags and relevant trends will help you beat the algorithm and gain better audience impressions.
Above all, use competitor analysis and social listening to bring changes to your strategy.
To streamline all these activities, you need an efficient Twitter analytics tool like Keyhole. Its abilities are not limited to its superior analytics. Keyhole also shows you the top posts of your competitors, tracks their activity, and helps you learn from their mistakes.
To make the best of Twitter's extensive audience pool, start your free trial with Keyhole today!
Related Articles:
9 Brilliant Strategies To Get More Followers On Twitter In 2023
How Do I Calculate Engagement Rate In 2023?
Frequently Asked Questions
1. What is the difference between Twitter impression and engagement?
Twitter impression refers to the number of times a tweet loads on the Twitter feed. This can happen through search results, other people's timelines, or retweets. Twitter engagement represents the number of times users take action on a Tweet. This can include likes, comments, retweets, or clicks on an embedded link.
2. How do I increase my Twitter engagement?
There are several actions you can take to boost engagement on your tweets. Use relevant hashtags, and post high-quality pictures. You should also focus on curating relevant content for your audience.
3. Is 1% a good engagement rate?
For social media professionals, an engagement rate of 1%-5% is considered good. However, this is a difficult rate to maintain as your followers keep increasing.