Video content has changed the way we consume information. People prefer watching videos because regardless of the topic, the information videos convey is easy to understand, remember, and recall.
Additionally, video is the prime storytelling medium that appeals to the viewers visually and emotionally.
On the other hand, more than 85% of all businesses use video content and the rest will soon join them in making video content an integral part of their marketing strategy.
While most businesses use videos, not many focus on video content strategy. Most businesses and marketers know they need a content strategy, but they don't know how to create a solid one. Your success or lack thereof in the marketing efforts depends on the video content strategy.
The process of creating a content strategy does not have to be messy or chaotic. The following actionable tips will help you create a killer video content strategy that delivers the expected results.
What, why, and how of video content strategy
We should never suppose that businesses have been using video marketing without a strategy. They have been using it, in some form or the other. In parts or in full. Some with great success while the majority have been unlucky.
In simple words, video content strategy is the pooling of knowledge, goals, ideas, and resources in one place.
It also involves the planning, creation, distribution, and monitoring of video content. The strategy also includes the colors, tone, branding elements, and ways to improve the viewer experience.
You may have created videos and run successful campaigns without a concrete strategy. Now is the time to give shape to your past actions.
A video content strategy in writing will also help you identify the missing pieces and fill them up to make your marketing campaigns more robust and successful. It helps you save time, resources, and effort.
A video content strategy is indispensable if you plan to create multiple videos, different types of videos, use several distribution channels, and achieve multiple goals.
Even if your current plan involves just one or two videos, in the long run, you will need more video content. Later, you may regret not having a video content strategy that covers all contingencies and multiple distribution channels.
So, now is the time to build a killer video content strategy. Let's see how.
7 Tips to create a killer video content strategy
1. Understand the target audience
Businesses and marketers already have a fair idea of their target audience. This understanding, the businesses would have gained from dealing with their customers.
Although that knowledge would come in handy, a deeper insight into the audience's pain points, preferences, attitudes, and behavior should help you develop content that turns them in your favor.
Grabbing the attention of your audience and engaging them is one thing, but influencing their behavior through subtle messaging is another.
Understanding your audience will help you set the right goals, message, and tone. A buyer persona will greatly aid you in this exercise.
Instead of targeting many but reaching none, a buyer persona will help you create video content that would appeal to your typical customer.
This ideal but imaginary customer will have a name, face, profession, hobbies, problems, etc. Bear in mind, you may need to create multiple buyer personas and each one need not be an accurate representation of your target audience.
Deloitte Private approached Aamplify – a firm specializing in creating customer personas – to analyze their target audience and develop personas for their marketing plan. Aamplify's efforts helped Deloitte narrow down its marketing message and content that delivered positive results.
Developing a buyer persona is neither easy nor a one-time exercise. Most people focus on generic characteristics.
They need to focus on the challenges that the customers face, the factors that drive their purchase decision, and the intent behind their decision-making.
That said, you're not without help. Analytical tools such as Keyhole can help you with market research and customer research. This tool provides valuable social media insights to help you develop an effective buyer persona.
2. Decide the goals and metrics
Defining goals is a lot more complicated if you plan to create multiple videos or run a video marketing campaign.
Setting goals is easy but deciding goals that are practical and beneficial to further your business is hard work.
One of the most popular ways to define your video marketing goals is to use the SMART strategy. Created in the 1980s, the SMART method of setting goals has stood the test of time, albeit with a few modifications.
Specific: Not all, not even many, but some people make videos just because their competitors are pursuing video marketing. A specific goal for making a video will help you decide what video to make, metrics to monitor, and distribution channels to use.
Measurable: There are a ton of metrics to monitor in video content. You can spend days looking at numbers and charts and yet never achieve your goal. The key to success is measuring social media metrics that matter. For example, if you want to create an email list then you need to focus on sign-ups for your newsletter.
Achievable: In video marketing, it's easy to get carried away and set goals that are not practical. Setting unrealistic goals can prove disastrous to your morale, budget, and the success of your campaign. At the same time, don't undermine yourself by setting too small a target. Collect data from your website, social media accounts, and previous customer outreach campaigns to determine achievable goals.
Relevant: It's a great opportunity lost if the video isn't pertinent to the challenges faced by your target audience. A highly creative, engaging video that has nothing to do with your product or the audience's needs can go viral. But, bear in mind that it may not induce the audience to take the action that you want.
Time-bound: You may have several videos in the pipeline and in such situations set priorities for better results. For example, now is the ideal time to create videos on vacation cruises to Caribbean islands, as opposed to publishing them from August to October which is the peak of hurricane season in the region.
3. Define the marketing message
The two points mentioned above will aid craft a message that'll have maximum impact on the audience. Remember, the marketing message must be relevant to the audience, your brand objectives, and most importantly, it must stand out.
Convincing your audience with the right message is the most important quality of a video marketer. There is no fixed formula to craft an effective marketing message. That said, the following points can help you get started:
Provide solutions
It's not text or image, it's video content that is the best medium to show solutions. That's what most potential customers are looking for – effective solutions to their problems.
Videos must present your brand, product, or service as the problem solver.
Demonstrate how you can solve the customer's problem and save time, effort, and money.
The viewers will engage with the video if you can provide evidence to back your claims.
Highlight the uniqueness of your brand
Your product or service need not be something incredible. But it needs to be better than your competition. And, your uniqueness should be highlighted in the video.
Do not forget to mention 'how is your product better than others?' 'How will the viewer benefit by signing up with your website?' 'What discount is available to those who buy your product today?'
Humanize the marketing message
Customers can see a sales pitch from a mile away. Storytelling that appeals to emotions has the incredible ability to humanize your marketing message.
Add creative and emotional elements to make your content more attractive to the audience.
For most of us, the holiday season is the time to shop, celebrate, and spend quality time with our loved ones. But, for the waiters, shop workers, gift wrappers, etc. this is the busiest and most hectic time of the year.
This video by coca cola, which garnered millions of views, shows the intense lives of these workers during the holiday season. At the end of the ad, we see the soft drink brand thank these hard workers with gifts. The video has a clear marketing message but it's also unique, effective, and emotional.
4. Choose the video types
In any video campaign, whether it's for SaaS products or for e-commerce video marketing, the goals are many, the audience's tastes vary, and the marketing message will change too. You can't rely on just one type of video to convince your target audience.
Hence, choose and make a list of video types that'll best serve your purpose. There are more than a dozen types of marketing videos. The most common ones are:
Product Demos: Video that showcases the product, its features, and also how it functions. Use high-resolution visuals to have a greater impact on the viewers.
Explainer Videos: These can be live-action or animated content. Use them to explain complex concepts and also break down complex solutions so that the viewers gain a better and deeper understanding of the product or service. Place them on a landing page or homepage for better response.
Live Streams: Live videos attract more viewers than pre-recorded content. Live streams are more personal, authentic, and engaging. Invite the audience to post questions or comment on the video to boost engagement.
Social Proof Videos: Customer reviews, testimonials, and customer unboxing videos showcase the customer experiences with your product. Use customer validation to boost trust in your brand and influence the viewers to take action.
Company Culture Videos: Uses video to highlight company culture, ethos, and events. Use this video type to improve brand image, humanize the brand, or attract talent to the company.
Influencer Marketing Videos: Collaborating with experts and influencers will help improve brand exposure. The ideal type of video to use in social media marketing.
This Volvo ad is one of the best examples of social proof. Although it's a carefully planned stunt, the viewers can't help but admire the creativity and acknowledge the effort by the brand to build trust.
In this video, the brand has done enough to trigger the viewer's curiosity to find out more about the product (Volvo trucks).
5. Decide the distribution channels
This is where video marketing truly begins. The four steps mentioned above are related to video production. Now, you decide on the best content channels to reach the target audience.
Should you publish videos at all possible places?
Do you need a special landing page to host the video?
How will a video landing page benefit your marketing efforts?
Will it benefit or affect your brand or the success of your marketing campaign if you share videos on a particular distribution channel?
The video content strategy document must answer all these questions.
Again, competitor and customer research play a huge role in this phase. Services like Keyhole will help you understand customer and competitor behavior.
You need to find out the channels where your target audience is most active. You can also learn from your competitors; follow their footsteps and do it better, or learn from their mistakes.
Choosing the distribution channels should never be a last-minute decision. The length of the video, the content, the message, and the video dimensions depend on the distribution channels. If you choose Instagram, then use video editing app to reshape and resize the video to suit the platform.
6. Optimize the video content to boost reach and engagement
Dozens of competitors, hundreds of marketers, and thousands of videos with the same objective as yours are trying to grab the attention of the audience.
With so much competition, how do you plan to attract the target audience, rank high on Google and YouTube, or make your video go viral on social media platforms?
You need a separate section in the content marketing strategy where the best video optimization techniques are listed. Here are a few of them:
Make the video easy to consume on desktop (and laptop), tablet, and mobile.
Add relevant, keyword-optimized titles, descriptions, tags, and metadata.
Include a short transcript of the video content.
Create short videos (you can use customer experience management tools to do customer research to understand customer preference in this regard)
Use custom thumbnails that would induce people to watch the video.
Instead of allowing YouTube to pick thumbnails, use a video editing software to choose the most appropriate video frames and edit them into effective thumbnails.
Include a clear call to action that's visible and easy to understand (use clickable buttons or links in the video and description).
Berenji & Associates use a clear call to action that prompts you to call the legal firm for a free consultation. Without waiting for the viewers to decide their actions, the video tells the audience what to do after watching the video.
7. Focus on consistency
At the rate at which AI technology is developing, soon, you can custom-create videos, from scratch, in seconds. Till that time, no one can dispute that video production is a laborious process.
At the same time, creating an occasional video will not help achieve your marketing goals or business objectives.
Our experience makes us say with certainty that the lack of consistency is one of the biggest reasons businesses, small and big, fail in video marketing.
If you want to be consistent with your video marketing effort then you need to have a clear plan – you need to define your consistency level.
In the video content strategy, mention as accurately as possible the number of videos you plan to publish a week or month, the video types, the distribution channels, and promotion techniques. Remember not to compromise on quality for quantity.
Posting videos regularly is a good habit to cultivate.
One, the regular viewers will be expecting the next video in the series.
Second, consistency will help boost your search engine ranking.
Even if it's not your work hours, with the help of social media scheduling tools, you can post videos at the time and day your target audience is most likely to see the content and engage with it.
3 expert tips for video marketing
1. What are the most overlooked elements in a video content strategy?
In business, you need to run successful video marketing campaigns and stay ahead of your competition. For this to happen, you need to work smart and not just work hard. You can outsource video editing and develop a clear plan for the research tools, video production process, and automation software to use.
Research: There is no shortage of advanced research tools online. But, most businesses and marketers don't have the time to learn these sophisticated tools and their features.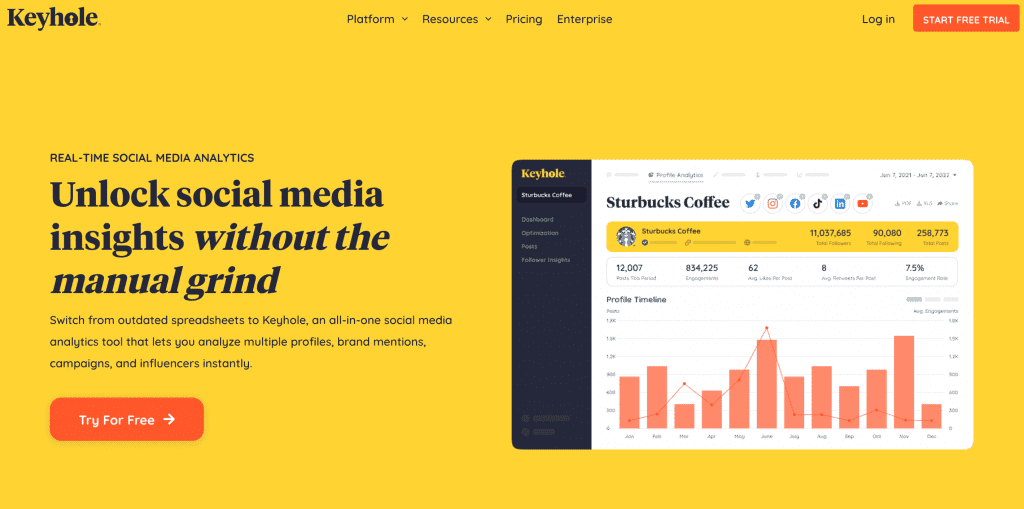 Keyhole is an advanced yet easy-to-use social media analytical tool that'll make your research and performance monitoring tasks much easier. It's a one-stop shop for:
Market research, competition research, and latest trend monitoring.
Locate suitable influencers, compare their performance and analyze their ROI.
Track the performance of multiple social media accounts from one platform.
Keep tabs on brand mentions and customer behavior to take swift measures to engage the audience.
Schedule unlimited posts and find your best time to post, optimal post type, popular hashtags, most engaging media type, etc.
Video Editing: Video editing is crucial to enhance the look, feel, and flow of video content. The expert hands of an editor can increase the value of the content, boost engagement, and make the video attractive and memorable. Video editing costs depend on the size, the type of video content and scope of the project. You need a professional video editing agency to:
Remove unexpected errors and additional takes and organize the good parts to create the narrative that you want.
Ensure smooth transitions between scenes to give a natural flow to the narrative.
Give equal importance to video and audio tracks. Include appropriate sound effects to fill up dialogue breaks between scenes.
Automation Tools: A clear video content strategy will help you identify tasks to automate. Then you can make a list of automation tools that'll help complete these tasks.
For example: In the case of online courses, use AI automation tools to create text summaries of the videos for the students to download and review later.
2. What are the key challenges of video marketing?
Invest in camera and editing tools: Nowadays, smartphones and free editing tools have made video production simple and affordable. But the challenging part is to make video content professional and authoritative.
Businesses wanting to create high-quality videos must invest in cameras, sound equipment, and editing tools or services.
Create compelling video content: More and more businesses are using video content to achieve their goals. The video landscape is crowded. To enhance your reach, you need to focus on compelling video content.
3. What are the most common mistakes made during video content strategy development?
The mistakes you find here are surprisingly common. They somehow creep in even if the author of the document knows these mistakes are weighing down the content strategy.
Well, now is the time to rectify the mistakes before they cause damage to your video marketing campaigns.
Do not try to define and decide every point up front: Video content strategy is only a framework designed to guide you in the right direction and push you into action. Any attempt to decide every detail of your plan will only slow you down.
Not having a plan to repurpose or update video content: Every content piece has a shelf-life beyond which it can hurt ranking or customer acquisition. You need to have a plan to review all your videos and periodically update or repurpose them.
Do not become too obsessed with customer persona: Customer persona is created to understand the demography, likes, pain points, challenges, and preferences of the target audience. But sometimes marketers take it too far and doing so compromise creativity. Use customer persona as a guide and not absolute truth.
Final words
The continuous success of your marketing campaigns depends on the framework that you create now. Our little guide with 7 top tips ensures that you have a killer content marketing strategy to start with.
The building blocks of a killer video content strategy are here. All you have to do is customize the framework to suit your needs and start creating videos.
We understand that it is insanely tough to be on your toes and track cross-platform analytics. That's why we recommend using the all-in-one analytics tool, Keyhole.
More than 100,000 marketers are already reaping benefits from its marketing automation. It's your time to do so. Start for free and see it for yourself.
Related Articles:
Why Video Is Exploding On Social Media
TikTok Analytics Guide For A Viral Growth
Frequently Asked Questions
1. What is a video content strategy?
It's a marketing plan that outlines how to utilize the video content to share your concise message through video storytelling. Video content strategy gives shape and direction to your marketing effort. It brings the various building blocks of marketing under a single umbrella.
2. How to create a powerful video content strategy?
Here's how to create a powerful video content strategy:
1. Understand the Target Audience: Knowing your target audience is imperative.
2. Decide the Goals and Metrics: Goals are the molds that determine the shape of your video content.
3. Define the Marketing Message: Convincing your audience with the right message is the most important quality of a video marketer.
4. Choose the Video Types: Prioritize video types that drive your brand goals.
5. Decide the Distribution Channels: This will determine the optimal length and format of your video content for each key social platform.
6. Optimize the Video Content: Make your video go viral on social media platforms.
7. Focus on Consistency: Posting videos regularly is important for the visibility of your brand.
3. How to create outstanding videos on a budget?
Here are some ways to create outstanding videos on a budget:
1. By repurposing videos and converting photos into video content
2. DIY video production
3. Instead of looking for actors and voiceover artists for videos, you can use an in-house team
4. Use free or affordable clips, special effects, and music
5. Tap into user-generated content to promote your brand, and provide social proof to prospective customers.