When managing a social media presence for your brand or your client, there's an entire library of tools you're going to need, from content creation tools and social media monitoring tools to social media scheduling tools and more.
But with so many options, how do you determine the best tools for your needs and your brand?
To help you find the perfect social media scheduling tool for your brand, we've put together a list of the 13 best tools we recommend using for scheduling out and automatically posting your social media content.
The 13 Best Social Media Scheduling Tools
Now that you know how important social media scheduling tools are for your social media content curation, it's time to dive into the real reason you're here – learning more about our top 13 best social media schedulers for social teams and managers.
Each of these tools offers a different set of features at different price points so that you can pinpoint the right option for you.
1. Keyhole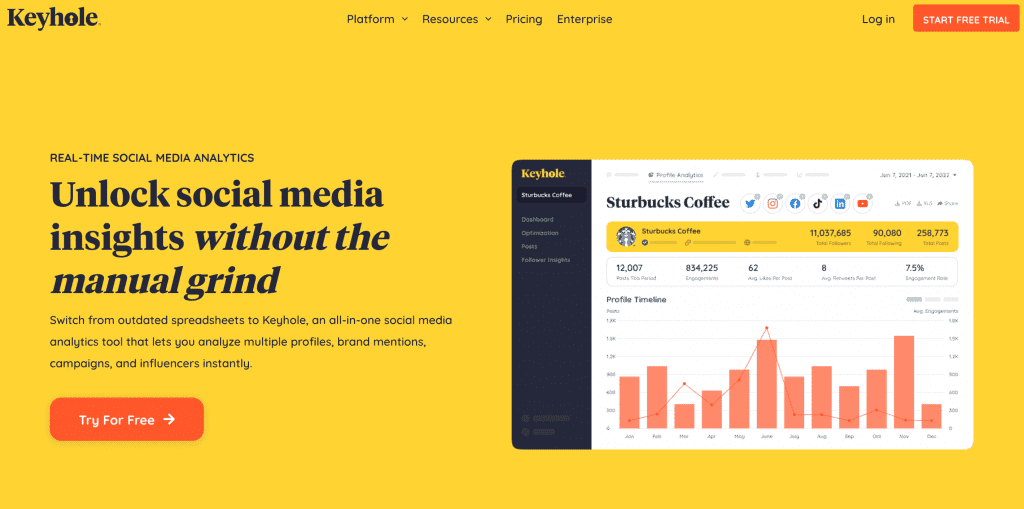 We are proud to announce Keyhole's newest feature, social media publishing, and scheduling for Instagram, Facebook and Twitter. This new feature complements Keyhole's real-time social media analytics perfectly.
Now, on top of planning a data-driven strategy, managing your social media campaigns, influencer marketing, and social listening, you can also schedule and execute your social content strategy.
All in one platform.
This will save you and your team hours of manual work every week. Also, having a single multi-solution tool will help you reduce costs. So, you're one step away from working smarter, faster, and more cost-efficiently.
In order to leverage Keyhole's analytics, get a side-view of your posts' performance metrics. Also, allow your team to access and edit your posts from within the platform.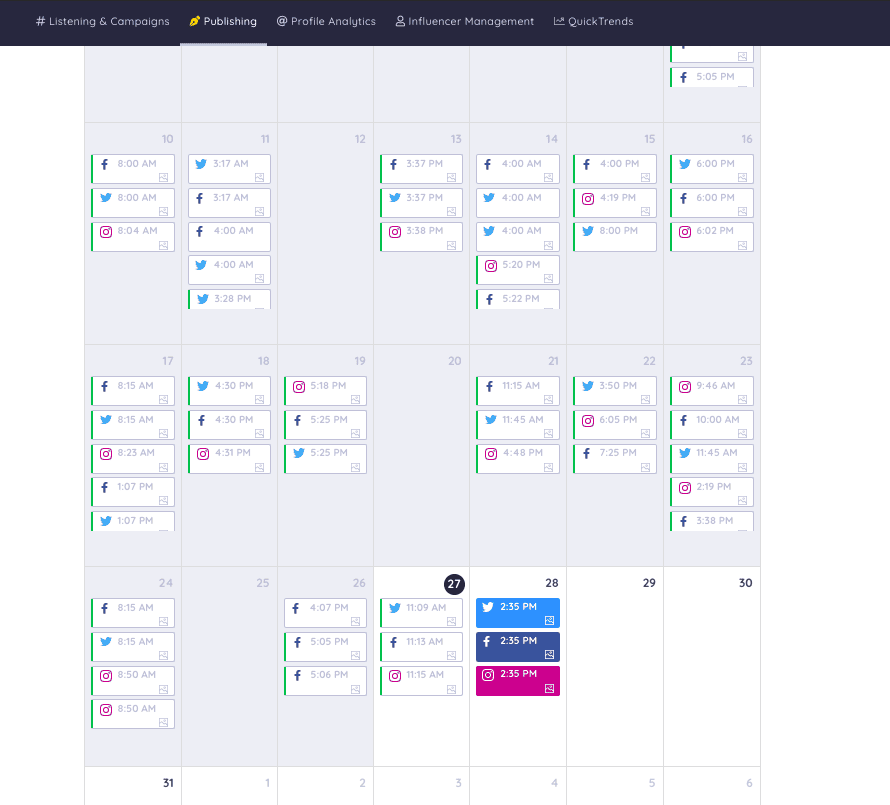 Keyhole's profile analytics will tell you the best dates, times, and content to post to maximize your engagement. And now, you can schedule your posts from your desktop or through the mobile app at the most convenient time for you, and feel relieved that they will be published at the best time.
Start with a free trial to test run Keyhole's software before diving in with a full account for your brand and your social media team.
Pricing: Keyhole's plans start at $49/mo after a free trial. View more pricing options here.
Why Do You Need a Social Media Scheduling Tool?
Do you want your entire job to consist of sitting at your computer or on your smartphone, creating and posting new content to social media?
Let me answer that for you – no, you don't! There are so many other tasks that a social media manager needs to attend to, and content creation can't be the only one.
That's why you need a social media scheduling tool to help you create and schedule content in batches, so that you can also focus on monitoring, analytics, customer service and more.
Not only that, but social media schedulers are helpful tools for planning out your social media content and ensuring your content calendar is filled with content that helps your bottom line. Create patterns and themes and keep everything in check, all with your scheduling tool.
Improve efficiency in your day-to-day tasks by taking advantage of a social media scheduler and improving your social media management processes.
2. Sprout Social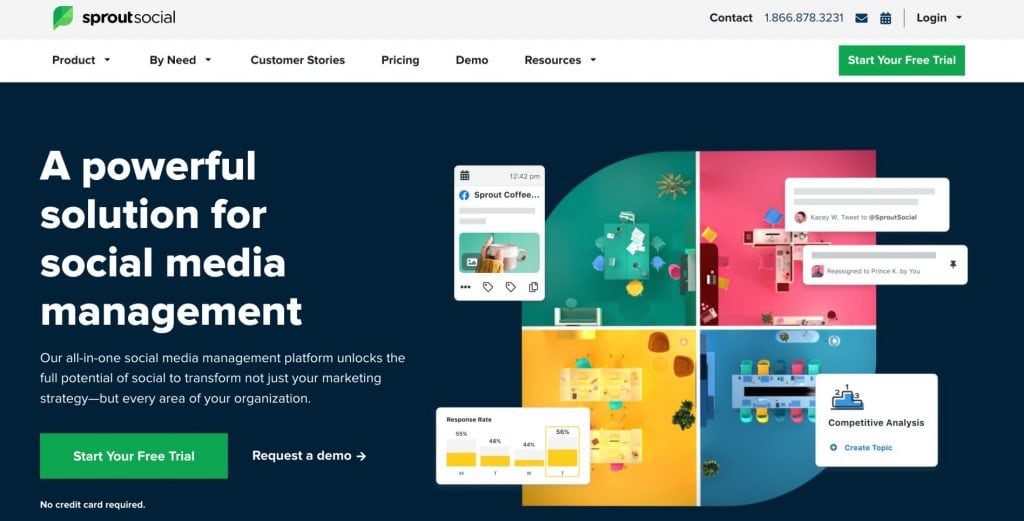 Sprout Social is a well known social media management tool, and that includes their social media scheduler.
While their price point is on the higher end, their plethora of features does help even it out.
Sprout Social offers a social media scheduling calendar that also includes a tool that helps users to find optimal posting times for platforms like Facebook, Twitter, Instagram, LinkedIn, Pinterest, and YouTube.
Users also gain access to social listening and monitoring tools, social media team collaboration, community management and more.
Sprout offers a free trial for new users so they can take the software for a test run and see if its processes and interface are the right choice for their brand.
Pricing: Sprout Social's plans start at $99 per user per month.
3. Buffer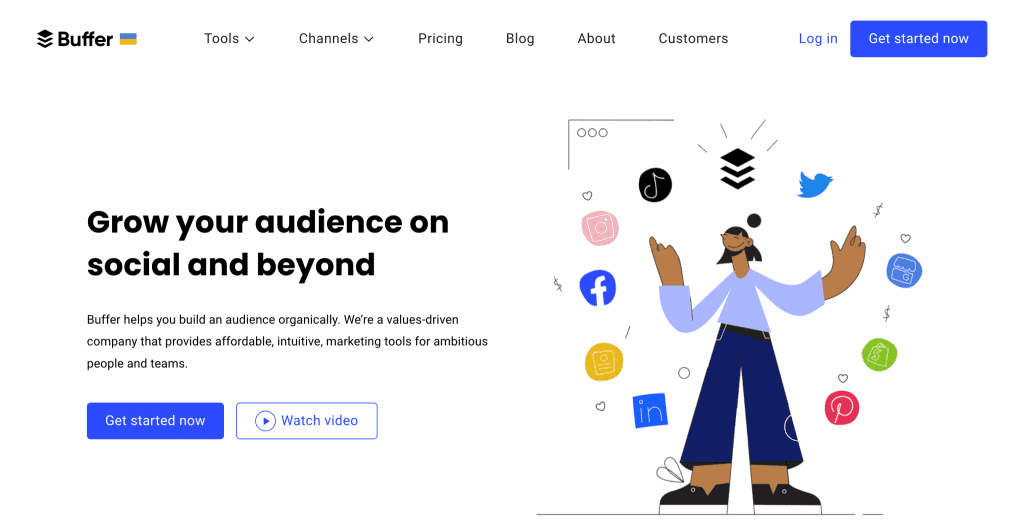 Buffer is another social media management tool that has been around for years, starting as a small publishing tool with daily curated content suggestions, but adding on more and more facets to their brand until they became a full-scale social media software.
Users are able to use Buffer for scheduling and analyzing content, planning out Instagram stories, creating a shoppable feed, adding tags to your posts and more.
Buffer offers two different options at different monthly plans – Buffer Publish and Buffer Analyze – or the ability to sign up for both for $85/month.
Based on your needs, you can take a look at their pricing options and even get a 14-day free trial to check out their pro options.
For smaller brands or public figures, Buffer also offers a completely free plan with 3 social accounts and 10 scheduled posts per account.
Pricing: Buffer's plans start at $6 per month.
4. Social Champ
Social Champ is a social media management and automation tool designed to simplify and streamline the process of scheduling, publishing, analyzing, engaging and managing content across various social media platforms.
Social Champ provides a user-friendly interface that makes navigating and scheduling social media posts easy for users across nine major networks like Facebook, LinkedIn, Instagram, Twitter, Pinterest, TikTok, YouTube, Mastodon and Google Business Profile.
With a market-competitive pricing, Social Champ offers an extensive content calendar to view and schedule posts at specific times. It provides detailed analytics and white-labeled reporting to keep users updated with their social media campaign performances.
Collaborate teams which will help multiple users to work together on board. The owner can assign roles and permissions on content creation.
Pricing: Social Champ's plans start at $29 per month
5. HeyOrca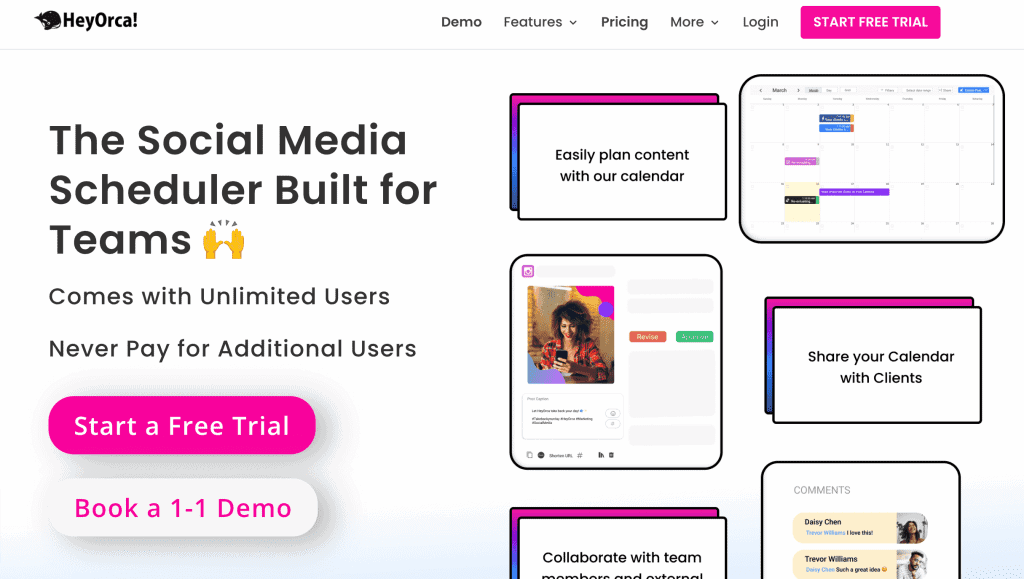 HeyOrca is a great tool for managing, planning and scheduling your social media content all in one place. You get access to an easy-to-use social media calendar that also shows you mockup previews of your social content before it goes live.
This tool is more heavily focused on your social media content calendar, showcasing where you've scheduled content, what types of content and for what days.
In fact, their pricing model also follows this same focus, requiring that users pay per social media calendar with unlimited accounts, users, and post previews.
This is a great way to get a feel for your posting patterns and ensure you're sharing the best content at the most ideal times.
Pricing: HeyOrca's plans start at $59 per month.
6. MeetEdgar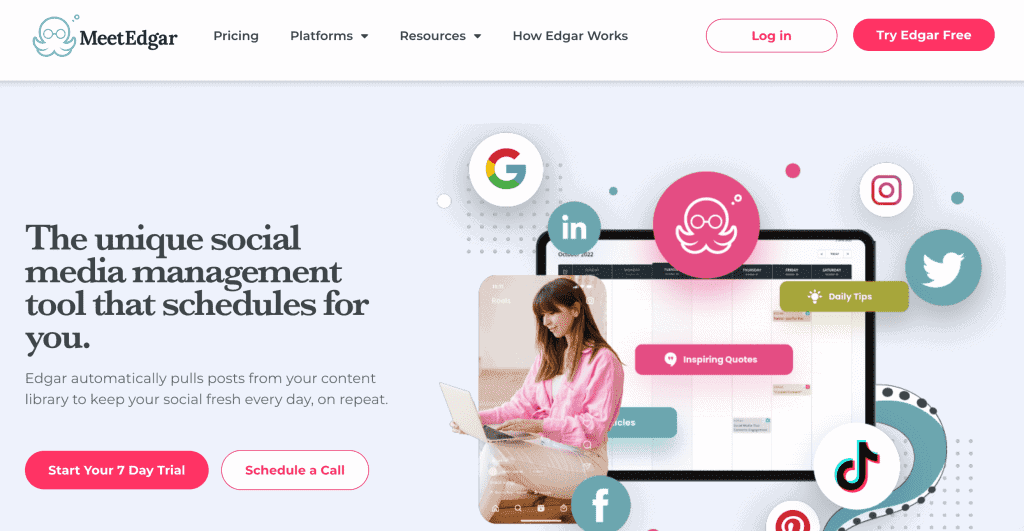 MeetEdgar brands itself as a social media automation and scheduling tool that helps businesses spend less time doing mundane social media tasks by automating them.
This includes tasks like writing captions based on quotes in your articles, regularly reposting old scheduled posts, and automatically importing newly published content that needs to be shared on social media.
While users will help MeetEdgar get set up on all of these tasks, it can certainly help a one-man show do more for a brand by automating several content creation jobs.
Because MeetEdgar's features are ideal for freelancers and solopreneurs, their pricing matches their target customer with plans starting at only $29.99/month.
If you want to be very involved in your social media content, this may not be the best tool for you, but if you're looking for something that can really make social media content creation easy and automatic, MeetEdgar can be a great option.
Pricing: MeetEdgar's plans start at $29.99 per month for Edgar Lite and go up to $49 per month for the full service.
7. Oktopost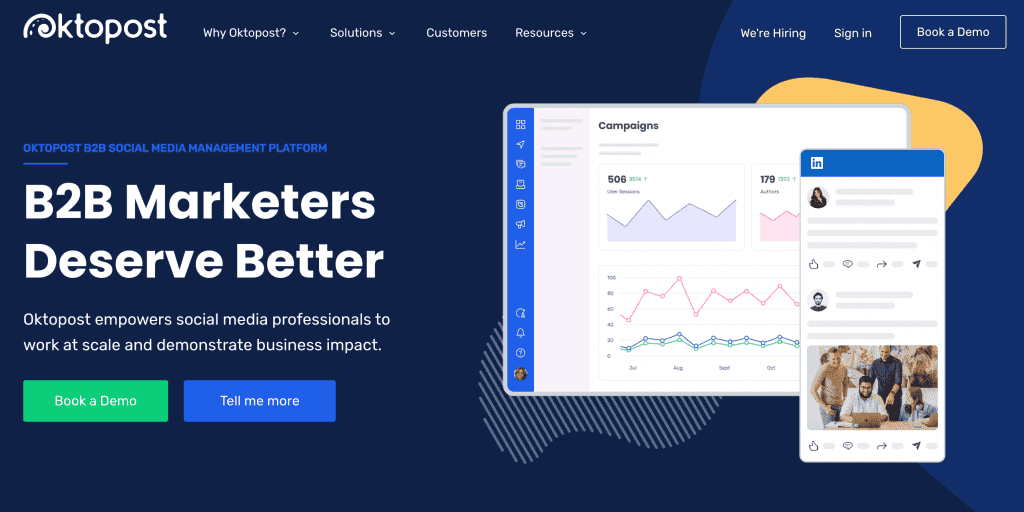 Oktopost is a social media scheduling tool that focuses on the B2B industry, helping big businesses manage their online presence in a way that really engages their audience.
Not only does Oktopost integrate with tons of great B2B CRMs and other tools, it offers features like social media publishing, listening, analytics and even social governance for managing global teams.
Oktopost's social media publishing calendar gives you a great overview of all of the social content you have scheduled over the month so you can easily rearrange, edit, remove, or manually publish your content.
Their website offers tons of information about their various features, but in order to learn more about their plans and pricing, you'll have to book a demo.
However, with a tool aimed specifically at B2B customers, it can be worth it for those businesses to find a social media management platform that's so industry specific.
Pricing: Oktopost requires potential users to book a demo to learn more about pricing options.
8. Later
Later focuses primarily on Instagram publishing over other platforms. Although the tool does allow users to connect Facebook, Twitter, and Pinterest accounts as well.
Some of Later's Instagram features include previewing your grid, placing a link in your bio, finding and sharing user-generated content, and working with Instagram influencers.
Being a very visual platform, Later's Pinterest scheduling and planning is a great add-on to this tool.
If your brand focuses heavily on imagery and uses Instagram the most, Later might be the perfect social media scheduler for you. Especially since Later offers incredibly affordable plan prices.
Choose a free forever plan for basic account management or check out one of their higher tier plans for more features and users.
Pricing: Later offers a free forever plan, but premium plans start at $18 per month, paid annually.
9. CoSchedule
CoSchedule is more than just a social media scheduling tool – it's also a great tool for scheduling out your blog's editorial calendar, integrating with WordPress and automatically publishing both social media and blog content.
This is great for brands and social media teams who are looking to reduce the number of tools they're using and manage both social and content marketing all from one place.
Plans start at $29/month per user for the blog calendar and increase from there, based on the features you need for your brand.
Create blog content and social media content at the same time, making your job as social media manager much more seamless.
Pricing: CoSchedule's plans start at $29 per user per month.
10. Planable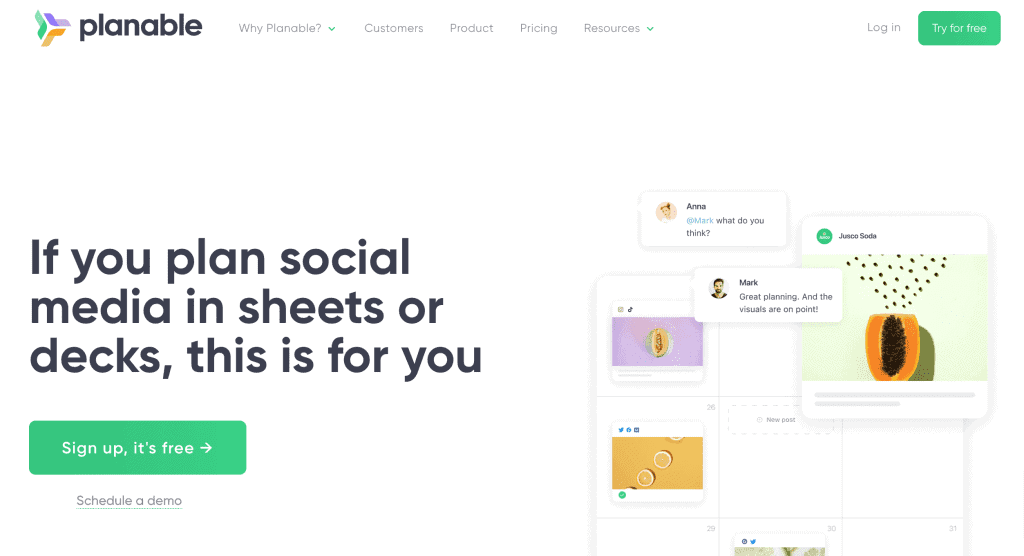 Planable is another great social media scheduling tool that lets you get a sneak peek at exactly what your social post will look like once it's been published.
Not only that, but also your team can easily make comments on the posts asking for various edits to copy, visuals, and more. Allowing your team to collaborate before approving them to be scheduled and automatically posted.
Plan your content from beginning to end with Planable's social media management tool and create tags based on the content category or campaign of the content you're sharing.
Planable gives you a chance to try the platform free for your first 50 posts, then brands are able to choose from a selection of affordable subscriptions when signing up for the service.
Easily collaborate with your social media team on content creation by taking advantage of Planable's social media scheduling platform.
Pricing: Planable offers a free plan for users, but premium plans start at $13 per month.
11. Sked Social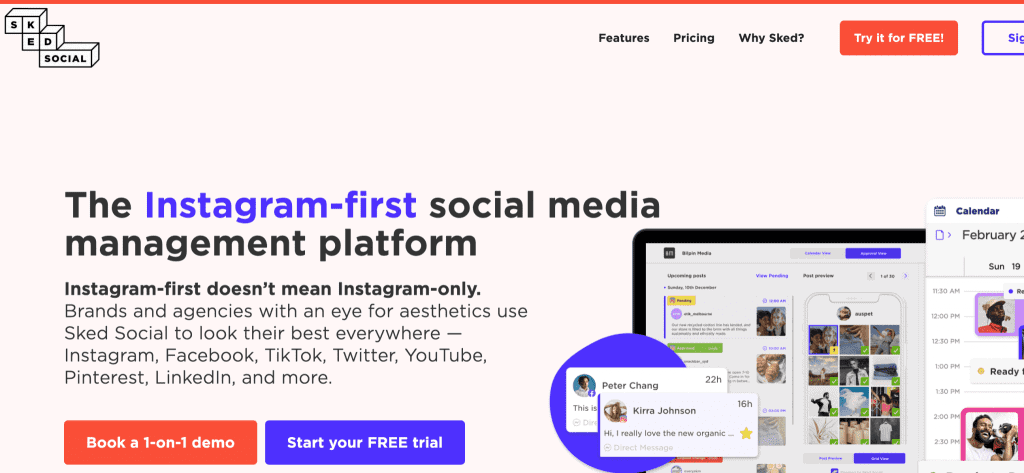 Our tenth best social media scheduler is Sked Social, another tool that focuses heavily on helping brands with their Instagram content.
Like Later, though, their platform still does work across a variety of platforms, so users can schedule to Instagram, Facebook, and Twitter all from the same tool.
Sked Social's Instagram management features include scheduling and auto-posting Instagram stories, analytics, adding a link in user bios, and a visual Instagram planner. This makes it easy for social media managers to get a glimpse at what their Instagram feed will look like pre-publication.
Interested users are able to take advantage of a 7-day free trial to see what the software is all about, with the lowest plan starting at $25/month.
With a focus on media brands, eCommerce shops, retail brands, and freelancers, Sked Social could be a great option if your business fits in one of those industries.
Pricing: Sked Social offers a 7-day free trial, then plans start at $25 per month.
12. ContentStudio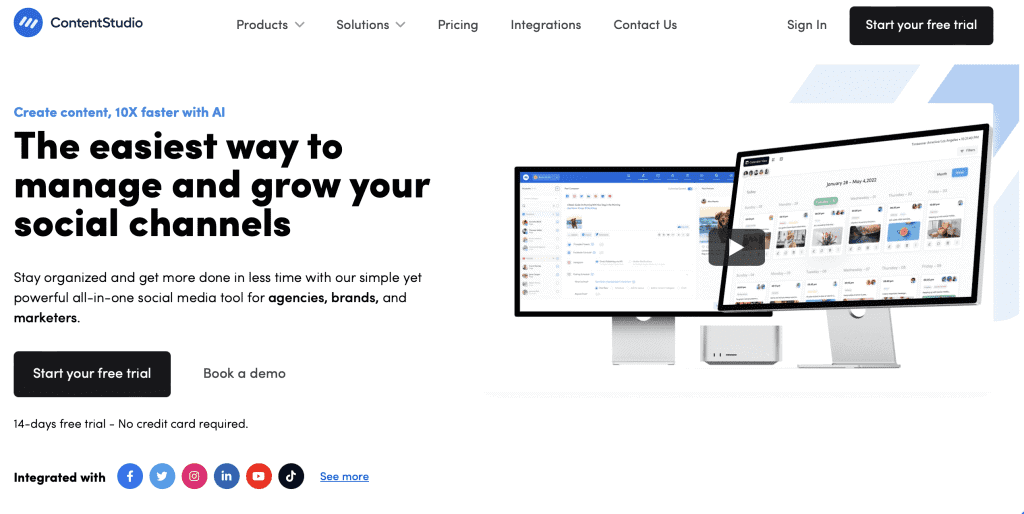 ContentStudio is a comprehensive social media management tool that allows businesses and marketers to manage all their social media accounts in one place. With ContentStudio, users can plan and publish content, track engagement and performance, discover new content ideas, and analyze their competitors' strategies.
The platform provides a range of features, including content curation, RSS feeds, social media automation, and a powerful analytics dashboard that provides actionable insights to improve social media performance.
ContentStudio also offers a variety of integrations with popular tools like Canva, WordPress, and Google Drive, providing versatile and efficient social media marketing. This tool is a secret weapon for finding those hidden content gems the audience will love. It's like having a content detective tracking down the most relevant and trending stuff for you.
ContentStudio is affordable, with plans starting at $25/month. And yes, our 24/7 customer support is always there to assist you.
Try ContentStudio for easy, efficient social media management. You'll wonder how you lived without it.
Pricing: ContentStudio's plans start at $25 per month.
13. Planly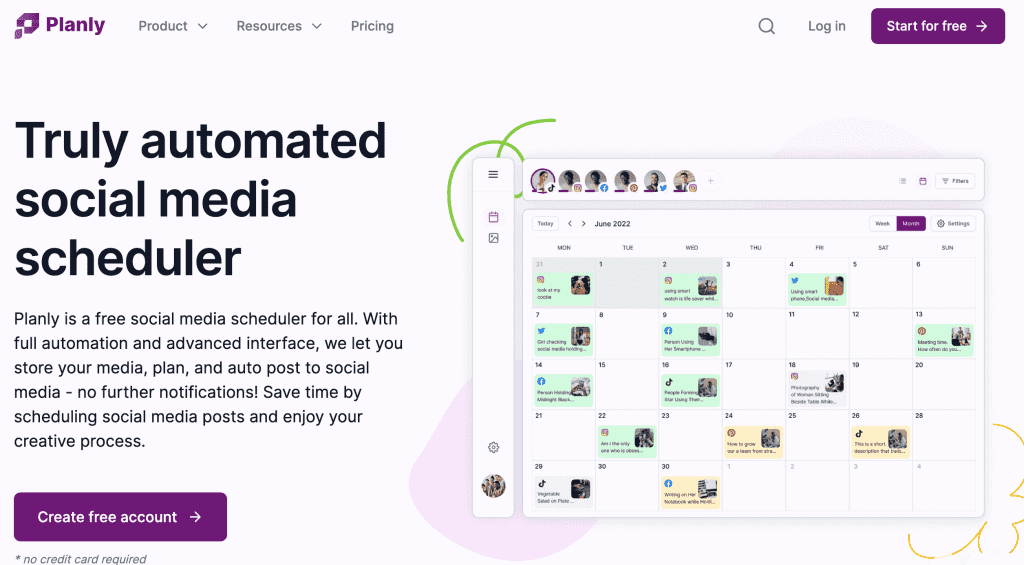 Planly offers you a variety of options to manage multiple social media platforms at the same time. So, with Planly, it is possible to schedule social media posts such as Instagram, Facebook, Pinterest, Twitter, Linkedin, and Google Business Profile and their special features in an advanced dashboard.
Also, with Unsplash, Google Drive, and Dropbox integrations, you can upload media files of any format to Planlyn's unlimited media library. Differences from other social media scheduling tools are Instagram posts, carousels, reels, and TikTok videos auto-publish in Planly without a further push notification.
You can use Planly for free by adding two social channels and scheduling 10 posts for each social channel.
Other paid plans cost up to $80, depending on the number of team members you have and the number of social media platforms you use.
You can try these plans for free for 14 days.
Pricing: Planly's plans start at $15 per month.
Start Scheduling and Measuring Your Social Content
It's not enough to just create and send social media content out into the world. You want to make sure the content you're creating is helping your business's bottom line.
By using analyzing and reporting tools, you can be sure you're creating the best content for your brand and for your audience, all while generating the best ROI possible.
---
Related Articles:

16 Content Creation Tools to Make Life as a Marketer Easier

The Free Social Media Reporting Template for Marketers
---
Keyhole helps marketers make data-driven decisions while streamlining their social media management efforts. On top of campaign tracking, influencer marketing, and social listening, you can also schedule and publish your social media posts, all in one platform.
Our customers report that Keyhole saves them 5 hours a week on gathering and reporting data, which translates into over $7,000 saved every year.
Start your free trial today and work smarter, not harder.