Every growth-focused business today needs a thriving social media presence, from small local businesses to big brand names. With a user base of over 4.59 billion people, social networking sites are a goldmine of sales and marketing opportunities. They can:
Humanize your brand
Enhance visibility and brand awareness
Establish your brand as an industry expert
Boost website traffic
Generate better leads
In short, it's an inexpensive and highly effective channel to reach a larger audience in minutes and make a name for your brand.
But designing creatives, posting, and engaging with your followers manually while strategizing campaigns can be overwhelming and error-prone.
That's where reliable social media automation tools can help you. It automatically schedules posts at optimum times, monitors audience response, benchmarks competitors, and empowers you to improve your digital presence over time.
In today's article, we bring you some of the best social media automation tools so you can choose the right one for your business.
Top Social Media Automation Tools for Businesses
Here are some social media automation tools you can choose from to succeed in an increasingly digital world:
Social Listening and Monitoring Tools
You must understand your audience's perception of your brand for better targeting. That requires regular monitoring of responses on your campaigns and conversations around your brand.
However, only a few customers will tag you on social media to offer their feedback. With manual processes, it's impossible to keep track of every time a customer mentions you.
A social listening tool can monitor millions of online conversations and notify you when someone talks about your business. This way, you can engage with your audience, build connections, and tailor better campaigns.
1. Keyhole
Social media marketing is much more than fun posts and replying to comments. You must tap into your audience's emotions to succeed — and very few social media automation tools will cater to this need as impeccably as Keyhole.
Besides auto-posting features and analytics, this nifty tool offers best-in-class social listening capabilities. Keyhole crawls millions of online conversations and notifies you when someone mentions your brand. You can also monitor audience response to different trends and choose the ones most relevant to you.
Features:
Quicktrends finds relevant trends and current marketing opportunities
Automated sentiment analysis to understand the audience better
Offers top account recommendations
Real-time notifications
Pros:
Monitors every conversation around your products and brand
AI-automated sentiment analysis goes beyond the words and assesses the emotions behind them
Cost-effective than the alternatives
Excellent customer assistance
Smooth and easy for beginners and experts alike
Pricing: Keyhole charges $79/month for SMBs and freelancers, $239/month for corporate, and $479/month for agencies. Best part? You don't need a credit card to register.
To capture every business opportunity on social media and bond with your audience, sign up for your free trial today!
2. Brandwatch
The second social listening tool worth considering is Brandwatch. Here, you get instant access to brand mentions across social, news, blogs, videos, etc. Moreover, it also offers brand tracking tools to help you monitor competitor performance.
Features:
Brand monitoring and competitor analysis
Social media monitoring
Hashtag tracking
Trend analysis
Pros:
Drives data-driven business decisions in real-time with instant insights into conversations
Keeps you updated on trending news and events that may affect your industry or brand
Cons:
Issues with LinkedIn functionality
Pricing: Brandwatch offers a Growing Business plan at $79/month, a company plan at $249/month, and an Enterprise plan at $449/month.
3. Mention
Mention is another popular social listening tool with instant access to every conversation around your brand. The platform examines several online forums, groups, and conversation threads to measure the audience's perception and alert you.
Features:
Brand mention and conversation notifications
Advanced keyword search
Multi-source filters and post analysis
Extensive integrations
Pros:
Simple navigation
Makes marketing simpler with one-platform performance analytics
Cons:
Pricing: Mention's Solo, Pro, and Pro+ plans are available at $41/month, $83/month, and $149/month. The enterprise package is customizable.
Content Scheduling and Publishing Tools
Planning and publishing bulk content at the right time is a task of precision. You must know when your audience is the most active on your chosen channel. Moreover, the content queue must be cohesive and complement the chronology.
Here, an AI-powered scheduling and publishing tool can be a game changer. It will eliminate your stress by automating the whole process and ensuring timely content publishing.
Here are some content scheduling solutions worth considering:
1. Social Champ
Social Champ is a comprehensive social media automation tool that streamlines the process of scheduling, publishing, analysing, engaging, and managing content across various social media platforms. With market-competitive pricing, Social Champ offers an extensive content calendar to view and schedule posts at preferred time slots.
Features:
AI Content Wizard & AI Imaginator
A Shareable Calendar
Auto RSS & Bulk scheduling
Extensive Analytics
Supports Reels, YouTube Shorts & Twitter Threads
Pros:
A free plan that offers 1 user and 3 social accounts (except X)
Easy to use
9 social media platform integrations
Cons:
Pricing
The Champion Plan costs $29 per month for 2 users and 12 social accounts.
2. Hootsuite
Hootsuite is one of the most popular social media automation tools with savvy scheduling and publishing solutions. On its end-to-end dashboard, you can plan social media content with your team and schedule them.
The platform lets you generate practical content ideas and hashtags to escape the creative block. Moreover, Hootsuite finds your best time to post, maximizing engagement.
Features:
Content calendar and bulk post scheduler
Content ideas and hashtag generator
Hootbio and automated caption
Canva templates
Pros:
Hootbio creates and manages customizable links on the bio page
Real-time collaboration keeps the whole team on the same page
A simple review and approval process ensures content quality and timely delivery
Optimal posting time suggestions for the best possible engagement
Cons:
The planner is often tedious to use as it goes back to the default while switching pages
Lacks refined features for publishing and scheduling
Pricing
Hootsuite's standard subscriptions and their prices include Professional at $99/month and Team at $249/month. The Business package starts at $739/month. Custom packages are available for enterprises.
3. Sprout Social
Next up is Sprout Social, another user favorite among social media automation tools. It lets you effortlessly plan, schedule, and deliver content at the right time.
The software offers ViralPost technology that examines audience data and automatically schedules your content for optimal engagement time. Sprout Social also detects trends and gives you ideas for future posts.
Features:
Viralpost feature
Hashtag and content suggestions
Sharable content strategies
Shared content calendar
Pros:
The Sprout reporting suite identifies top posts and repurposes them for other channels
Users can learn best practices for content posting with helpful training and detailed education materials
You can plan publishing strategies, share with stakeholders, and maintain oversight from a central hub
Cons:
Costlier than the alternatives
Pricing: Sprout Social offers Standard, Professional, and Advanced packages at $249, $399, and $499 monthly. You can also get custom pricing for the Enterprise subscription.
Content Discovery and Curation Tools
Consistently producing impactful content can be a difficult job. Creativity takes time and can be sporadic. Keeping up with rapidly changing trends is also tricky. To solve these problems, opt for social media automation tools with content discovery and curation features.
With these tools, you only need to add keywords, and the system digs up relevant insights from various sources. This way, you don't have to stress about new content ideas and keep up your creative flow.
Let's look at some content discovery platforms you can look into:
1. Feedly
Feedly is an AI-powered automation tool that gets the best content insights and inspires your campaigning efforts. Just put in what's essential for your content strategy. The software will flag insights from news sites, blogs, newsletters, etc.
Moreover, the Feedly AI grows with you and gets better at filtering out the junk before generating insights.
Features:
Crawls every relevant source from news sites to competitor channels
AI assistant Leo
Accessible insights for the whole team
Pros:
Holistic insight generation from extensive and reliable sources
Better understanding of your requirements over time
Mobile application is available
Cons:
Overwhelming due to information overload
Pricing: Feedly's Pro and Pro+ plans are available at $6 and $8.25/month. You can also customize their Enterprise package.
2. Curata
The next content discovery and curation tool on our list is Curata. It offers a self-learning engine to discover the best content ideas in seconds. You can organize and contextualize the content curation process with just a few clicks.
Features:
Builds a predictable content supply chain
Organizes and contextualizes all generated information
Pros:
The search engine gets smarter over time
Offers publishing and promoting services
Cons:
Slightly more expensive than the alternatives
Difficult to navigate for beginners
Pricing: Available on request
AI Video Editing Tools
1. Munch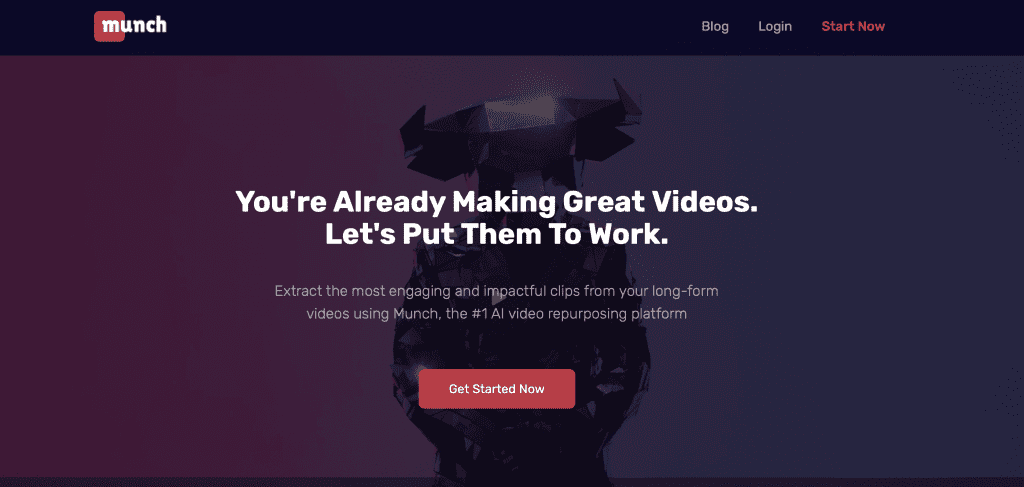 Munch is an advanced AI platform that assists businesses in enhancing their return on investment (ROI) for long-form video content. Munch's AI technology transforms lengthy videos into bite-sized, social media-optimized clips that captivate audiences and keep brands ahead of the game in digital trends.
Features:
Distill the context from your long-form content
Set your content for success with marketing data
Keep things focused on any platform
Pros:
Get instant social posts based on your video content
Video editing that's intuitive, simple, and effective
Cons:
Munch may not be suitable for complex, professional-level video editing projects.
The AI-driven automation might lack the precision and creative control of a human editor.
Pricing: $49 – $220 per month
Analytics and Reporting Tools
Social media automation tools with precise analytics and reporting drive consistent improvements and better business results. Let's look at the top options:
1. Keyhole
Apart from being a stellar social listening and auto-posting tool, Keyhole also shines in its analytics and reporting capabilities. You can run competitor analysis, measure standard and unique KPIs, and assess your position in the industry all in one platform. The insights are actionable and capable of driving tangible changes.
Features:
Clean and comprehensive dashboard
Competitor analysis
Engagement metrics tracking
Historical data benchmarking
Accurate and actionable reports
Pros:
Bring data-driven changes to your social media marketing
Access to historical data lets you measure improvements
Pricing: Keyhole's subscription packages start at $79/month. Custom pricing for enterprises is also available.
2. Sprout Social
Besides seamless scheduling and publishing, Sprout Social offers impressive analytics and reporting capabilities.
Features:
Customizable analytics features
Instant insights on necessary improvements
Access to historical data
Automated reports
Pros:
Cons:
Pricing: Sprout Social's three plans are available at $249, $399, and $499/month.
Chatbots and Customer Support Tools
As your business grows, replying to every customer query on social media becomes a mountainous task. By integrating AI chatbot and customer support tools into your social media accounts, you can resolve queries faster and improve customer satisfaction.
The following tools are your best options for delivering automated chat support:
1. ManyChat
With extensive integrations and ease of use, ManyChat is one of the best social media automation tools today. It offers chatbots for your Facebook messenger. You can also attract quality leads, drive more sales, and reply to customers 24/7 with Manychat's Instagram DM Marketing.
Features:
Pros:
Very affordable
Is an official Facebook Marketing Partner
Cons:
Pricing: Manychat offers paid plans from $15/month.
2. Chatfuel
Last but not least, Chatfuel is a reliable messaging platform for businesses looking to integrate chatbots into their social media channels. The platform's specialty is WhatsApp chatbots. However, you can get one for your Instagram or Facebook chatbots.
Features:
Unlimited agents on one number
Integrations with ChatGPT
Green badge verification
Pros:
Thoroughly secure and maintains compliance standards
Cons:
Pricing: Chatfuel's paid plans start at $14.99/month.
Integrating Social Media Automation into Your Strategy
Before choosing among the best social media automation tools, you must know how to integrate them into your existing strategy. Your workflow won't be compromised that way, ensuring the best outcome.
Here's how you can do it:
Assess your business goals and social media objectives. Understand what you want to achieve so that all operations remain on track.
Now note the requirements of achieving those objectives. See which tools best accommodate your unique business needs.
Develop a comprehensive automation plan and ensure every concerned team is on board.
Make sure your chosen social media automation tools integrate with the platforms you already use.
Most marketers feel confident about social media's ROI. So, don't ignore it.
To do it right, ensure your chosen marketing and auto-posting tools can accommodate your growing needs.
Finally, give your team enough assistance to adapt and become fluent with the new technology. With enough patience and the right strategies, you will be reaping the benefits of social media automation tools in no time.