Did you know that in 2022, the average person spent approximately two and a half hours a day on social media apps?
Social media now also accounts for 38% of the world's total daily online time. With so many eyes glued to their screens, it's more important than ever to accurately measure your social media reach and make the most of this captive audience.
How do you do this?
Learn how to evaluate your reach on social media in 2024 in this article.
Social media reach is one of the most important social media metrics. It refers to the total number of unique individuals who see your content and was the most important piece of data not four years ago.
Your social media reach is a combination of various factors. Here are some of the most important components:
Impressions are the number of times your content is displayed. That's regardless of whether someone interacts with it or not. So, just like your typical Google shopping ads in search engine results pages, your typical Facebook ads may have many impressions but don't necessarily generate conversions.
Impressions don't equal reach. The below image explains the difference.
Audience size reflects the number of followers, fans, or subscribers you have across your social media platforms. It's an important factor in determining your potential reach.
Engagement metrics include likes, shares, and comments. These are essential indicators of how well your content resonates with your audience. They provide actionable insights into the level of engagement your brand is generating.
Virality measures how widely your content is shared across various social media platforms. When your content goes viral, it reaches far beyond your existing audience, potentially exposing your brand to a whole new group of people.
By measuring your social reach, you can get an idea of how many people interacted with your social media post. You'll also know the percentage of your target audience that was reached by your content.
Measuring the reach of your social media efforts goes beyond simply knowing how many people see your content. It's about gaining valuable insights that can help you build a solid social media presence and an overall social media marketing strategy that works.
You already know that tracking and analyzing social media reach helps you understand how many people are seeing your content. If you're running campaigns–paid advertising, influencer marketing, among others—you want to know how many potential customers interact with different types of content.
This way, you know the impact of your social media efforts on your sales funnel. Ultimately, then, you can refine your content strategies and create content that generates leads and conversions.
The more people your content reaches, the more potential customers you have. The more effective your social media branding is, too. That's because the more people become familiar with the image you try to portray as a brand. Additionally, you can also use a PR services agency to help you improve your campaign and brand's reach on social media.
All that said, measuring social media reach also allows you to identify areas where you can improve your strategies to expand your audience. In other words, evaluating your social media reach can also help you make the most out of your branding and sales strategies.
Finally, by measuring your reach, you can identify which social platforms and content types are bringing the most visitors to your website. This knowledge allows you to focus your efforts on the most effective channels and optimize the content that resonates with your audience.
You can measure social media reach with tools such as Keyhole. One example of an organization that used Keyhole's real-time social analytics platform to measure the social buzz around its events is the Special Olympics.
It started using Keyhole as the monitoring tool for the 2015 World Summer Games in Los Angeles. So, the Special Olympics knew exactly how much engagement and conversions were being driven by influencer Brooklyn Decker in her efforts on social media.
We'll talk more about Keyhole later.
When measuring the reach of your social media content, you need to understand the different types of reach in the first place. Let's look at them one by one:
Organic reach refers to the number of people who see your content without any paid promotion. It's a great indicator of how well your content performs naturally and how engaged your audience is.
Paid reach, on the other hand, refers to the number of people who see your content through paid ads or promotions. Investing in paid reach can help you target specific demographics and expand your brand's visibility.
Viral reach measures the number of people who see your social media content through shares and reposts. When your content goes viral, it spreads like wildfire across social media platforms, reaching a much larger audience than you could have achieved organically or through paid efforts.
By understanding these different types of reach, you can optimize your social media strategy and allocate resources effectively.
Now that you know the basics, let's go back and discuss Keyhole. Keyhole is a powerful tool that can help you measure your reach on social media quickly. Here are things you need to know:
1. Overview of Keyhole
Keyhole is a smart social media monitoring tool. It uses social media profile analytics to measure and grow all your social media accounts in a single platform. With Keyhole, you can create accurate industry benchmarks and spy on the competition with account tracking.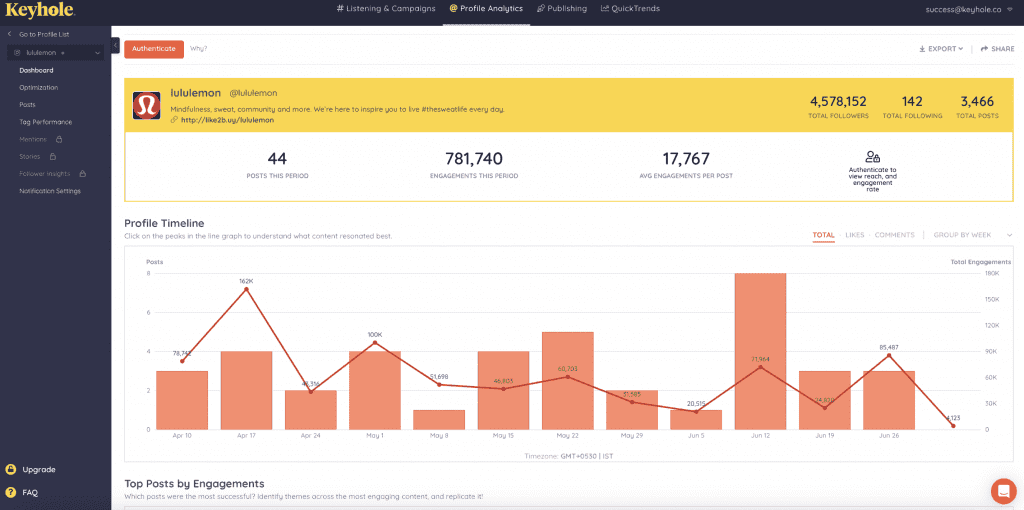 Here are some of its other popular features:
Hashtag tracking. Keyhole allows you to monitor the hashtag performance that's related to your brand, industry, or campaigns. You can track how many times a hashtag is used, its reach, and engagement metrics. This helps you understand which hashtags resonate with your audience and optimize your content accordingly.
Social media listening. Keyhole's social listening tool enables you to track relevant conversations happening across social media platforms. You can monitor all your @direct and indirect brand mentions, influencers, and keywords on one platform so you can engage with audiences in real time.
Competitor analysis. The tool provides you with valuable insights into your competitors' social media reach. With Profile Analytics, you can compare your brand's performance to your competitors, identify gaps, and capitalize on opportunities.
Influencer tracking. Keyhole's Influencer Analytics can help you understand how each influencer impacts your social media campaign goals. It can identify the top creators in your niche, analyze their reach, and engagement metrics, and even assess their authenticity. This helps you make informed decisions when collaborating with influencers for your campaigns.
Real-time analytics and reporting. Keyhole's Profile Analytics will help you understand which social media posts and campaigns got great results, and which didn't. The real-time analytics and custom reports will allow you to stay on top of your social media reach at all times.
With these insights at hand, you can make data-driven decisions and optimise your social media strategy.
2. Plans
Keyhole offers four pricing plans to suit various business needs.
The SMB & Freelancers one-user plan allows for measuring the performance of content on three social media channels: Facebook, Twitter, and Instagram. You can easily export your audience reach stats in PDF form.
The Corporate and Agency plans allow for more advanced profile analytics and features. For both plans, you can export your analytics stats in PDF or XLS form.
With the Corporate plan, you can look at your profile analytics—including your reach—on four platforms: Facebook, Twitter, Instagram, and TikTok. The Agency plan allows you to monitor your analytics on six platforms: Facebook, Twitter, Instagram, TikTok, LinkedIn, and YouTube.
For global organizations, there's the Enterprise plan you can customize based on your company's needs.
All plans come with a free trial.
Measuring your social media reach is crucial for building brand awareness, expanding your audience, driving website traffic, and generating leads and conversions.
By leveraging tools like Keyhole, you can gain valuable insights into your social media performance and optimize your content accordingly.
Don't let your brand's reach go unnoticed. Sign up for Keyhole's free trial to quickly measure your social media reach, and unlock the power of social media analytics in 2024.
Author Bio
By Chris Norton, Founder of UK PR agency Prohibition, former University lecturer, author of "Share This Too" and his social media training blog which is listed in the UK's top 10 PR and social media marketing blogs. For tons of digital PR tips, you can follow Chris here @chris_norton.
Related Articles:
5 Best Examples Of Brands Using Social Media For Customer Service
The Dos And Don'ts Of Social Media Marketing For B2B Companies
Frequently Asked Questions
Social media reach represents the number of unique people who are exposed to your social media content. Businesses need to measure it to understand their brand's performance, uncover trends, and identify their most successful campaigns.
While it's possible to manually track some social media metrics like the number of active followers and engagement, using specialized tools like Keyhole offers more comprehensive and real-time insights into your social media reach. The tool can save you time and provide much more accurate data in one place.
You don't necessarily need expensive production equipment; focus on delivering valuable and original content. Authenticity, value, and engaging storytelling are key elements of high-quality videos.
Keyhole's market research tools provide deep AI-driven advanced trend analysis and forecasting for advanced market research. It helps to understand any conversation happening online today and predict tomorrow's trends.