You've probably heard about social commerce, and perhaps wondered if it's a fad or if it's something to start implementing. Well, we're here to break it down for you and set you up for success, so read on.
Did you know? A long and confusing checkout process is one of the top 5 reasons why people abandon their carts. And who could blame them?
When you've decided to buy something, you probably want to finish the purchase process as quickly and as easily as possible. Social commerce makes that happen by allowing shoppers to finish buying things directly through social media.
In this post, you'll discover what social commerce is and why you need it in your social media marketing strategy. You'll also learn a few tips that can help you get started with social commerce for your business.
And of course, we'll provide some real-life examples for inspiration.
Simply put, social commerce involves selling things directly on social media. Unlike social media marketing, you're not redirecting people to your website or product pages. Instead, you're giving them the option to checkout right on the social media platform they're using.
With social commerce, shoppers go through the entire purchase funnel on a single social media platform.
For instance, they may discover a tagged product through your ad, feed post, or Stories. Then, they can learn more about it on the same platform by clicking on the product tag. If they decide to buy it, they can simply tap on the "checkout" or "buy now" button to finish the purchase.
This streamlines the buying process, as it just takes a few clicks to complete a purchase. You can currently get this type of social shopping capability on Facebook, Instagram, and Pinterest. Twitter introduced the buy button in 2014 but then decided to ditch it in 2017.
Let's discuss how each of these work?
Facebook Shopping
With 1.62 billion people using Facebook daily, the platform opens up an excellent opportunity to reach a massive audience base.

The platform now has a feature to set up a full-blown Facebook Shop to showcase your featured products. This way, people can browse through the products in your Shop and buy them on the same platform.
Instagram shopping
70% of shopping enthusiasts go to Instagram to discover new products, making the platform a great option to drive social commerce. 
Instagram gives you the option to create shoppable posts, where you tag products in your photos and videos. People can click on these product tags to learn more about the product and/or buy it right on Instagram.
You can even create Shoppable Stories, but you can only tag one product per Stories post. When people swipe up it will take them to the product page.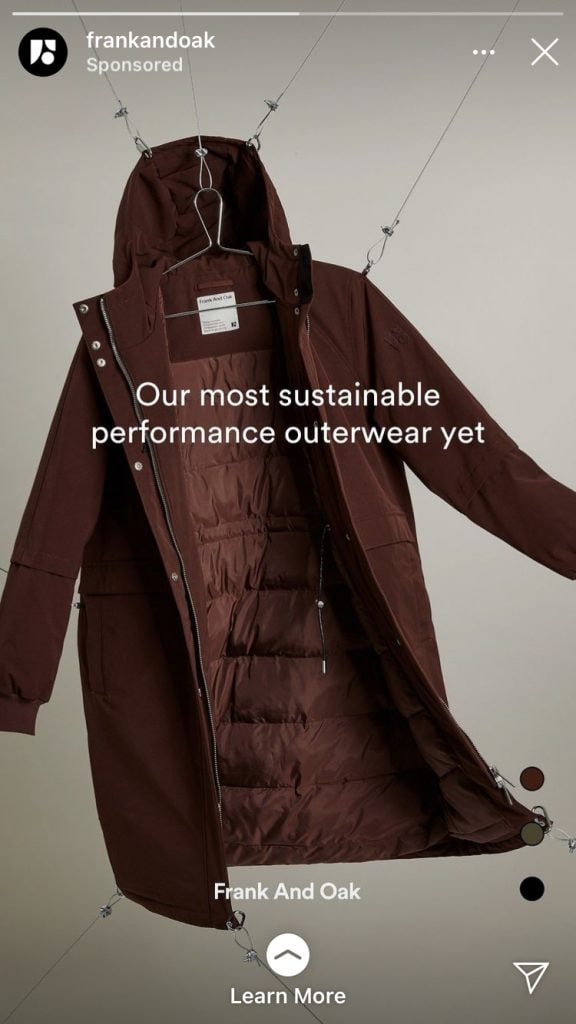 Like with Facebook, you even have the option to set up a full-blown Instagram Shop to further promote Instagram selling. People can browse through this Shop to discover products to buy and complete their purchase without ever leaving Instagram.
Pinterest shopping
83% of Pinners have bought something based on Pins that they saw. Pinterest is the go-to destination for creative inspiration, so it's no surprise that it also inspires buying decisions.
Taking advantage of this, Pinterest allows brands to create rich pins where people can learn more about a product. You can even create shoppable pins so people can buy the product without leaving Pinterest.
Earlier this year, Pinterest introduced a "Shop" tab that users can access from their boards. This tab showcases products featured in the user's boards so they can easily find something to buy.
Now you may want to know why social commerce is so important and why you need it for your business.
If you're wondering, isn't it enough to market your social media and send people to your website? Here's a quick look at some of the top reasons why social commerce is so important:
Reduce friction and drive conversions
People are already using social media to discover and research things to buy. 43% of global social media users research products online using social networks. And for 13%, a "buy" button would make them more likely to buy something.
Also, according to a Facebook-backed study, Instagram fuels product discovery for 83% of users and helps purchase decisions for 80%. After seeing a product or service on Instagram, 65% visited the brand's website or app. And 46% made a purchase online or offline.
What does that mean? People are making their buying decision on your social platform. So, giving them the option to buy directly on the platform will turn them into customers.
The goal of social commerce applications is to reduce friction and minimize the steps to complete a purchase. People can easily go from discovering your products/services on social media to buying it.
So there's a lower risk of abandoned carts and losing a sale since the process is shorter. And you have a good chance of driving more conversions with the help of social commerce.
Enhance the customer experience
Customers using social commerce benefit from a quick and easy checkout process. With fewer steps needed to visit a brand store and complete a purchase, social shopping enhances the customer experience.
In fact, people value efficiency and convenience the most in their customer experience. And that's exactly what social commerce offers.
When you have a Facebook Shop or an Instagram Shop, people can browse through them and find products they like. This means that they'll likely spend more time engaging with your brand on social media.
The same goes for product tags and rich pins, as people will spend time looking at the product info. And with an easier checkout option that will boost your conversion rates, you're bound to see your social ROI soar.
In other words, you'll be getting much more out of your investment in social commerce. Make the most of robust social media analytics tools to track your ROI and see the impact in real time.
Now that you know how your business can benefit from social commerce, it's time to bring it to fruition. To help you get a great start, take a look at these tips and best practices.
We've also provided you with a few social commerce examples of brands that got it right. So take in the inspiration.
1: Start with low-cost offers
When people browse social media, they're not really looking for things to buy. They're there to engage with other users and pass the time.
After all, that's the purpose of social media. So, maybe it's not the best time or place to bombard them with offers for major purchases and high-cost products.
For instance, you may not necessarily buy a car directly on Instagram. But you might be interested in buying accessories like dashboard cameras, car organizers, etc.
ThreadBeast, the clothing subscription service, does exactly this with its Facebook Shop. The company highlights plans that cost less than $150 and occasionally promotes a plan over $200.
Similarly, ensure social commerce success by luring your customers in with your best, low-cost offers first. You can include the occasional high-priced item.
However, the main focus should be on promoting things that people would want to buy immediately without much second thought.
You can't sell stuff that people can't see. So product discovery should be an essential aspect of your social marketing strategy.
Hashtags are crucial for driving product discovery, especially on Instagram. When you tag your posts with relevant hashtags, it allows the posts to show up in searches for said hashtags.
That means when people click on a certain hashtag, they could come across your shoppable post and end up converting. This works for Facebook too but it's even more effective on Instagram.
On Instagram, your post could show up in the Explore page of relevant users when you use the right hashtags. So. improving your Instagram SEO with relevant hashtags will drive product discovery, which will likely end up in conversions.
Check out how Pottery Barn uses hashtags like #interiordesign, #homestyling, and #interiorinspo in their shoppable post. They also mix it up with branded hashtags like #potterybarn and #mypotterybarn.
If you're using branded hashtags like Pottery Barn does, don't forget to monitor and measure your hashtag performance. This will help you measure your brand reach and engagement, which are essential metrics of your social ROI.
Pro tip: To find popular hashtags, use the Keyhole Market Research platform to look for trending topics and conversations. This will give you an idea of what your target audience is interested in right now.
Then come up with relevant hashtags that people are most likely to use and search based on those trends. You can also use this trend discovery and prediction feature to brainstorm content (and even product) ideas that you know people love.
3: Take advantage of UGC
People trust people more than they trust brands. In fact, 92% of consumers trust other people's recommendations.
So it's no wonder that 87% of brands are already taking advantage of user-generated content. 72% even believe that UGC helps them engage their customers better.
This makes sense since seeing the product on real people or in real homes can set realistic expectations. It puts the item in context and helps people picture how it'll look in real life. So if you're going to enjoy the full impact of social commerce, you'll need to leverage UGC too.
H&M does a great job of implementing UGC in its shoppable posts. Most of the brand's Instagram shoppable posts come from style influencers and real customers.
4: Get your timing right
Timing is everything, especially on social media. Facebook sees 14.58 million photos uploaded every hour. While Instagram sees 995 photos uploaded every second. So your posts can easily get lost in a sea of posts from other users.
If you want people to notice your posts, you need to reach them at just the right time. For this, you'll need to test out different post timings to see when you get the most engagement. Then create a content calendar and posting schedule based on these findings.
Don't forget to use social media scheduling tools to help you get your posts out at the right time.
5: Build trust using reviews
Remember when we mentioned that people trust people?
Well, online reviews have influenced the purchase decisions of 93% of consumers. So they could significantly boost your conversions and therefore, your returns on social commerce.
Encourage your customers to leave reviews and then share those reviews through social media. You could share product reviews through your Stories for one.
Better yet, find a way to incorporate reviews into your shoppable posts. For instance, you could include an image overlay of the review on top of the product photo.
Glossier shared reviews of its most popular products through Instagram Stories. This coincided with the brand's Cyber Week sale as it was intended to inspire purchases during the sale week.
Social commerce opens up an incredible opportunity to boost your social ROI. As it shortens and simplifies the conversion process, it reduces the risk of losing a sale. In the end, it helps you drive higher conversions in the long run.
Who doesn't want that?
While you amplify your social selling efforts, don't forget to research trending topics and conversations using Keyhole. This will help you figure out just how to create posts that resonate with your target audience.
Sign up for a Keyhole demo and jumpstart your social commerce campaign.