Gone are the days when only likes and comments would reveal your performance quotient. And especially on a platform like Instagram, marketers see newer updates quite frequently.
So you can't just rely on shallow metrics and decide whether your current Instagram marketing strategies are working in your favor.
You must be careful about what to track and prioritize for your business.
This blog will reveal the top social media metrics that can help you make data-driven decisions. Based on their significance, you can decide which ones you should add to your monthly and quarterly KPI reports.
But first, let's start with the basics!
What is Instagram analytics?
You saw a trending reel and the jaw-dropping likes on it. You sit with your marketing team and decide to participate but with a branded twist.
You posted it with much anticipation, and now your heart plops at the result. Why is that?
The reason is hiding in your Instagram analytics. Tracking your Instagram analytics will reveal what your target audience likes when they are most active, and how your account is performing with regard to this.
Instagram analytics also shows patterns and trends you must consider when planning your content marketing strategy.
Now that you know this is something you shouldn't miss out on at all costs, let's see how to access it.
How to access Instagram analytics for free
Instagram shows insights about shared posts after you switch to a business/creator profile. So to check your Instagram analytics, you must own a business or creator account.
Once you switch to a business/ creator account, the steps are pretty simple from here. All you need to do is to head over to your profile and tap on the Insights button.
Alternatively, you can tap on the three-dash icon and select the Get Insights option. This will direct you to a page with the following metrics:
Recent highlights: Shows an increase in account performance in the past 90 days
Insights overview: Lists number of accounts reached, engaged, total followers
The Content you've shared: See all posts you shared and boosted across feeds, videos, and stories
Tap on View Insights to see the following analytics for individual posts, stories, and videos:
Accounts reached: Number of unique accounts that have seen your content at least once
Accounts engaged: Number of unique accounts that interacted with your content
Content interactions: Different types of interactions, such as likes, comments, replies, etc., your audience has made with your content
Ad: Insights related to boosted posts
Plays: Number of times a video was played automatically or intentionally
Please note that you can access them only using Instagram's mobile app.
Top must-track Instagram metrics
Hold on a bit! Did you think that was all?
Well, we are just getting started. Based on the type of content you post, here are some metrics you should be prioritizing:
1. Instagram Feed Metrics
Scroll further down to the Content You've Shared section to access your feed-related metrics. You'll see the following metrics:
Likes: Number of likes you received on a particular post
Comments: Number of comments you received on a particular post
Followers: Number of people following you
Post interaction: Number of interactions with your post in terms of profile visits and website clicks
Impressions: Number of times your posts were shown to users via profile, hashtags, home, and other
Reach: Number of times your posts were shown to unique users
Saves: Number of times your posts were saved for future reference
Sends: Number of times your posts were shared via messages by users
Video views: Number of times your video posts were viewed
Button taps(Get Direction, Emails, Text, etc.): Number of times the button below your posts was tapped
Tip: Saves point out the content that resonates most with your target audience and prompts them to save it. This also indicates that you should include such types of posts more in your content plan.
2. Reels metrics
To access reel-related numbers, go to a specific reel and tap on the three-dot icons.
Likes: Number of likes you received on a particular reel
Comments: Number of comments you received on a particular reel
Saves: Number of times your reels were saved for future reference
Plays: Number of times your reels were played
Reels interactions: Number of interactions with your reels via comments, likes, shares, etc
Reach: Number of times your reels were shown to unique users
Tip: Watch out for the Reach metrics to see what kind of reel content has a higher chance of going viral in your community. Find out if a short product review or a trending hook step that's gaining you the most traction.
3. Stories metrics
Select Recent Stories from the Content You've Shared section to access all stories-related metrics.
Forward: Number of forward taps in stories
Back: Number of backward taps in stories
Next Story: Number of taps to next story
Exited: Number of users that quit watching your story before completion
Impressions: Number of times your stories were viewed
Profile Visits: Number of profile visits from stories
Reach: Number of times unique users tap your stories
Link Clicks: Number of clicks on links added to stories
Button taps(Get Direction, Emails, Text, etc.): Number of taps on buttons mentioned in stories
Website Visits: Number of website visits that were made from stories
Tip: The navigation metrics (Forward, Back, Next Story, Exited) are crucial if you want to test multiple story variations. While forward and back point to a positive impression, the exited metric will reveal what type of shares you should avoid in your stories.
You can use Keyhole to find the completion rate of each story. This metric will tell you whether your target audience is engaging with your stories.
PS. It is not available in Instagram Insights. So try out Keyhole and check your Instagram stories' completion rates immediately.
4. IGTV Video metrics
Choose Videos from the Content you've shared section to see all video-related metrics.
Likes: Number of likes you received on a particular video
Comments: Number of comments you received on a particular video
Reach: Number of times your videos were shown to unique users
Average Percentage Watched: Percentage of a video watched by users on an average
Saves: Number of times your video was saved for future reference
Impressions: Number of times your videos were shown to users
Profile visits: Number of profile visits from videos
Tip: Ever had trouble deciding the length of your videos on Instagram? Average Percentage Watched metric will showcase what percentage of a video was viewed by most of your audience, giving you a duration estimate for future videos.
5. Audience metrics
Head to Your Audience section in the Insights tab for details about your audience demography.
Follower growth: Overall follower count, the total number of follows, and unfollows over a period of time
Top locations: Top cities and countries from where your audience is based out of
Age range: The average age range of your audience
Gender: The gender split of your audience
Most active times: Hours and days when your audience is most active
Tip: Keeping a tab on the Most active times will help you select an optimal time for sharing your posts. If you share a post when the majority of the target audience is active, your stakes for engagement go up considerably.
6. Miscellaneous metrics
If you share shoppable posts in your feed, look out for two more metrics from View Insights under those posts:
Product page views: Number of views to the product page from posts
Product button clicks: Number of clicks on the products
Still debating if going live on Instagram is worth it? Check out these Instagram live analytics from your past live sessions:
Accounts reached: Number of accounts that viewed your live video
Comments: Number of comments on your live video
Shares: Number of shares on your live video
Peak concurrent viewers: Highest number of viewers during the live stream
Now, these metrics are great for individuals. But only a few people manage their business with just one Instagram account. Moreover, Instagram insights only show you data after 90 days for most metrics.
That's why you need third-party Instagram analytics tools that will collect all historical data from multiple accounts of yours and present you with a custom dashboard.
Let's quickly go through top tools that track Instagram analytics of multiple accounts for you.
3 Best Instagram analytics tools you should try
While the native Instagram analytics is free, the platform certainly has a few shortcomings.
It's posses limitations in how you can access the data. You may want to get more data-driven analytics, and you may want to more easily access data on your audience—especially when it comes to identifying potential influencers.
Here are the top Instagram analytics tools that will give you more powerful insights.
1. Keyhole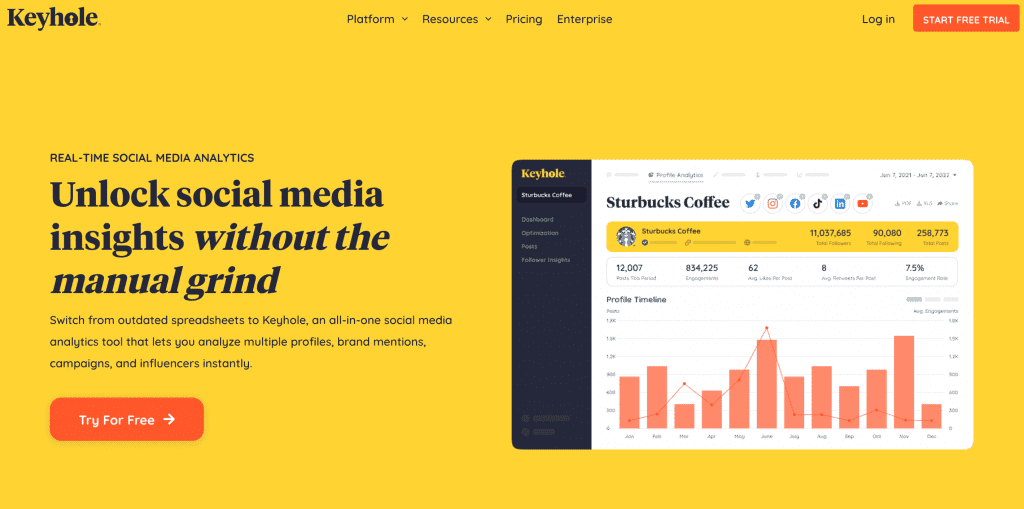 Keyhole is one of the leading social media analytics tools that let you manage multiple Instagram accounts and track the insights you need.
Whether it's a carousel post, stories, videos, or reels, Keyhole creates a real-time dashboard for you to monitor these analytics closely.
It gives you access to metrics like completion rate, follower growth, engagement rate, etc., that you otherwise have to calculate manually.
And this is just the beginning! The tool spans its usage in scheduling unlimited posts to the best time, tracking full-fledged campaigns, monitoring specific hashtags and keywords, managing influencers, and more.
Here are a few features that just make Keyhole our best bet:
Find your top-performing posts
Access to historical data
Analyze engagement metrics for different time periods
Compare reels vs. TikTok performance
Delve deeper into audience demographics
Optimize your profile with personalized recommendations
Know your best-performing post and media types
Find out the optimal length of your posts
Monitor hashtags and keywords
Social listening for brand mentions and replies
Manage influencer campaign performances
Audit competitors for benchmarking
Support top platforms like Facebook, Instagram, Twitter, YouTube, TikTok, etc
Understand the audience's sentiments around a specific topic
Aid in market research
Create live dashboards with real-time analytics
Download shareable reports
"Keyhole is a one-stop shop to pull cross-platform mentions of our brand for high-level reporting quickly. During weekly festival status meetings, I can easily communicate to the team which artists have engaged with our festival hashtag and promoted ticket sales."

-Stephanie, Billboards
"Keyhole helps you know how people feel and talk about your brand in real-time. This means that we can have real-time marketing."

-Freddy, The Infinite Agency
2. Tailwind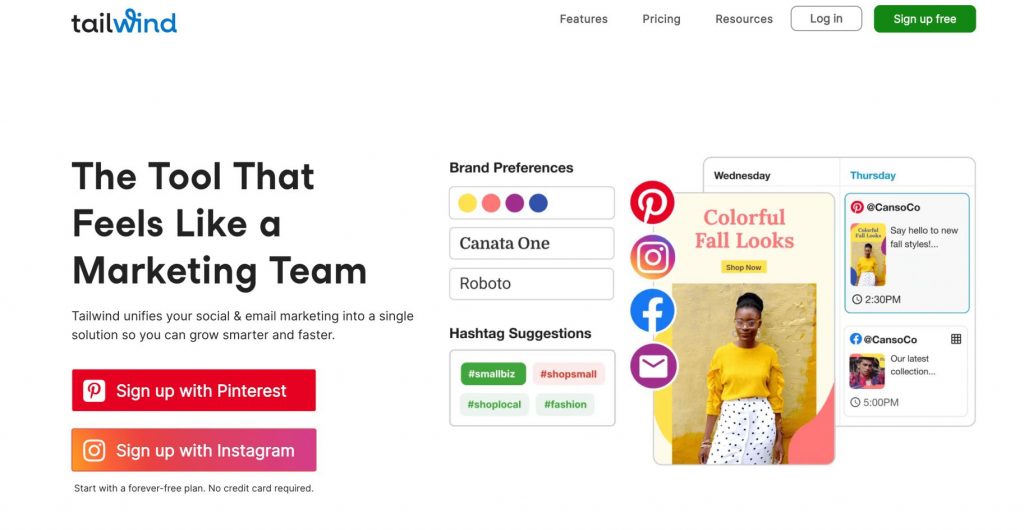 Tailwind is another popular Instagram analytics tool to dig out metrics for you. It tracks your followers and tells you the best time to post your content.
Tailwind also has hashtag tracking functionality that lets you monitor specific hashtags. It even recommends which ones you should add to your posts for better engagement.
One of the major drawbacks is that Tailwind is a visual-first tool and doesn't support other social media platforms. This is a blow considering social media marketers aren't just branding on Instagram and Pinterest alone.
3. Squarelovin
Squarelovin is a trending Instagram analytics tool that will take you to the depths of each post's performance. The tool actually scores your posts by enlisting the regular engagement metrics.
Compared to other tools, Squarelovin suggests to its users when not to post to avoid their posts from performing poorly. Though the tool is really good, it's not the right pick for those managing dozens of accounts.
Conclusion
Instagram has successfully stolen the limelight and has become a favorite hangout spot for creators, brands, and entrepreneurs.
But the funny part is despite people using the platform for diversified use, they all end up tracking the same metrics to measure their impact.
It's high time we stop hitting in the dark and running Instagram marketing campaigns based on assumptions and hopes. Thanks to data-driven analytics, it's easier to predict what will lead you closer to your goals, be it branding or sales.
While we already mentioned that you could reap the benefits of free analytics using Instagram's native tool, insights from third-party tools like Keyhole will surely take you the extra mile.
Keyhole is one of the trusted social media analytics tools that not only monitors your Instagram analytics but also captures metrics from Facebook, LinkedIn, Twitter, YouTube, TikTok, and more. Take a free trial and explore its entire suite of features that you have always wished for.
Related Articles:
12 Best Instagram Competitor Analysis Tools
Instagram Engagement Rate Calculator + 5 Tips To Increase It
Frequently Asked Questions
1. What are Instagram analytics tools?
Instagram analytics tools are third-party tools that track the account, post, and audience-related insights of a particular Instagram account. They are a better choice for tracking insights as they support monitoring multiple accounts in one place.
2. What is the best analytics tool for Instagram?
The best analytics tool for Instagram is Keyhole. It lets you track metrics for feed posts, videos, reels, and stories. The tool further aids in influencer management and competitive analysis.
3. Are there any free Instagram analytics?
You can access analytics for free from Instagram Insights, which is available in the platform's native app. However, the insights from this tool are quite basic and doesn't give you access to historical data.