Benefits of Creating a Facebook Business Page
While each platform has its own perks, we're focusing here on the benefits of creating and managing a Facebook business page. There are several reasons why your business should have a presence on the social media giant Facebook.
Ready to learn more?
1. Market to a Platform With Over 2 Billion Monthly Active Users
I wasn't being facetious when I called Facebook the social media giant. With a quarter of the entire world's population active on this social network, your business is sure to find a massive segment of its audience available to market to.
All you have to do is start growing your Facebook followers and creating content that compels your audience to take action and become customers.
2. Access Hyper-Targeted Advertising Options
Facebook's advertising options allow you to really hone in on a very specific audience, all due to the data and information its users are already providing the platform and the actions they take on it.
This means you can create ads based on location, gender, interests, online behavior and more, to create the perfect audience for your ads.
3. Gather Insights on Your Audience
Facebook analytics allows you to gather insights on your audience demographics as well as calculate which types of posts resonate best with those who like your page.
You want to use this information wisely and allow it to help guide your overall Facebook marketing strategy so that you create the most engaging and useful content for your audience.
If you're not totally sure how to get the most out of Facebook insights, check out these analytics tools to help you out.
4. Manage an Online Community Through a Facebook Group
If you're looking to build an online brand community, creating a Facebook group for your audience to join is a great way to get one started. You can then promote your Facebook group on your page, on your website and across other social media platforms.
And while you can still manage a Facebook group as a private user – Facebook only recently started allowing business pages to manage groups – doing so as your Facebook business page helps to strengthen your brand.
Building a community around your business is a great way to create and gather loyal customers who can help with user-generated content, customer feedback and more.
5. Generate More Traffic and Sales
There are several different ways that you can generate traffic and sales through your Facebook business page, from the content you share to the ways you utilize the features available to you.
First, be sure to regularly share blog posts, sales pages, and key features of landing pages to your Facebook business page as a part of your content strategy. While these don't tend to garner as much attention and engagement as other types of posts, they're still an essential part of your strategy.
Other ways to generate more traffic and sales revolve around some of the features that Facebook provides its users.
One of the best ways to get your Facebook page visitors to take action is by adding a link to your website to the button directly below your cover photo.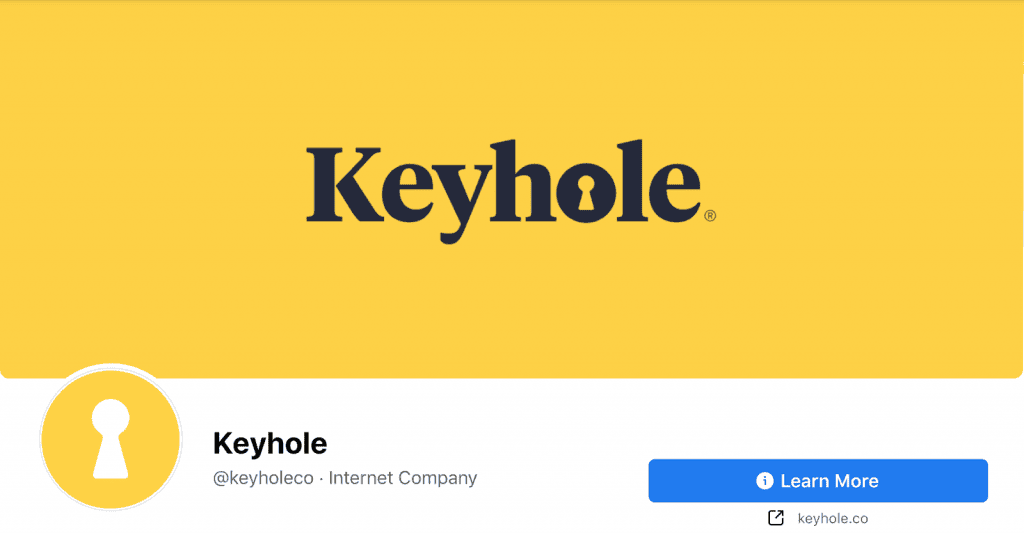 You can choose from a selection of call-to-action phrases on your button and input the link that you want visitors to head to on your website.
Page owners can also showcase products and services on their Facebook with direct links to that product or service's landing page, further increasing traffic and leading to more sales.
6. Easily Reach a Mobile-Only Audience
79% of Facebook users access the platform only from their mobile devices. Because Facebook's app is automatically mobile responsive, having a presence on this social media site helps you to reach a wider audience of mobile-only users.
Of course it's recommended to have a mobile responsive website anyways, especially if you plan on sending your mobile-only Facebook audience to a blog post or webpage, but reaching them on Facebook first is a great way to increase your customer base.
7. Set Up Chatbots via Facebook Messenger
Put together an automated response system with your Facebook page's messenger so that users can get information about your business, products and services at any time of day without your customer service or social media team needing to be available to respond.
Facebook messenger bots can do anything from share blog content to provide product/service information to send users to sales pages and more.
This can be a great strategy for improving your brand's customer service even more, without needing any more manpower on your end.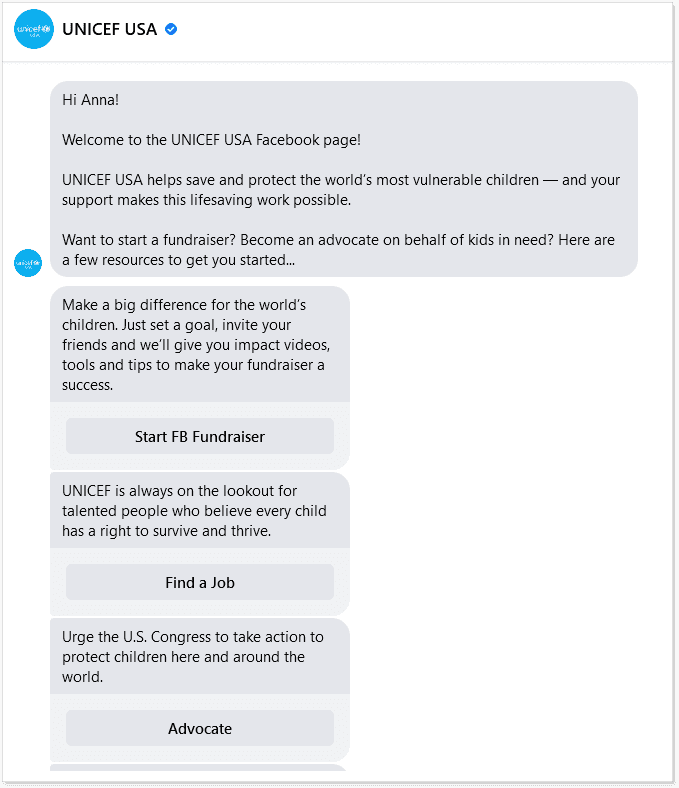 8. Analyze competitor strategies.
You can easily head over to your competitor's Facebook business pages to see what kinds of content they're sharing and get some insight into their posting strategy.
Facebook insights also allows you to set up different Pages to Watch, giving you even more insight into how their follower growth is going and how engaged their audience is.


And even better, you can also scroll down to the Page Transparency section of their business page and get a full scope of the ads they're running.
How to Create a Facebook Business Page in 5 Steps
Every Facebook user knows how often this platform updates their interface and how things work.
But we have no reason to complain, because with every major platform update Facebook does, the easier and easier it gets to create and set up your Facebook business page.
Let's dive into how you can create your own Facebook business page in just 5 simple steps.
Step 1: Access the Facebook Business Page Creator
There are a couple of ways that you can get here. The easiest one would simply be to type in or click on the link https://www.facebook.com/pages/create and head straight to the page creator.
Or, if you decide you want to walk through this process later, you can also access it directly through your Facebook feed. Simply move your mouse over to the plus sign (+) in your Facebook navigation, then choose Page from the dropdown menu.

This step will take you to the exact same creation page, and we can move right on to step two.
Step 2: Input Your Business Information
After you head to the link mentioned above or click to create a page from your Facebook feed, you'll be taken to this page.

In this step, you need to insert just three things before you can move forward.
First, you need to input your Page name. This will most likely just be your business name. We're not at the step yet where you'll be establishing your Facebook business page's URL, so don't worry about your name being taken.
The next step is to select a Category for your Facebook page. This can range from your industry to a more specific type of business, so start typing something more specific to see if it pops up.
If not, you can always get broader from there, and you can also input multiple categories if you cover a variety of products and services.
And finally, you'll need to input a Description about your business. You have just 255 characters for your business description, so be sure to put together a really concise summary about what your business does and who it services.
As you insert this information, you'll see a preview of your page information on the right side. Once you're satisfied, click Create Page.
Step 3: Upload Profile and Cover Photos
The next step will keep you on a similar screen, but adds in a couple more fields to help customize your Facebook business page – uploading profile and cover photos.

Your Facebook Profile Photo should be a square photo while still ensuring that nothing important will get cut off from the edges as it's cropped into a circle on your profile.
While your profile photo is displayed at 170x170px, you want to upload a high-resolution image that's at least 400x400px to ensure that it doesn't lose image quality.
For most brands, your profile photo should simply be a high-resolution image of your logo. Public figures and solopreneurs might opt, instead, to have the profile photo be a professional headshot of themselves, but this is for very specific instances.
Your Facebook Cover Photo optimal dimensions are 820x360px, so you want to ensure you create a graphic that falls in line with that sizing.
Your profile appears slightly differently on mobile phones, however, so you want to be sure that all important design elements fall within the middle 640px so they don't get cut off.
Facebook cover photos can be used in a variety of different ways, from showcasing products or services to serving as a call-to-action and more.
Once you've uploaded these two photos, click Save at the bottom to be taken to your brand new Facebook business page.
Step 4: Finish Setting Up Your Facebook Business Page
Now you get a glimpse of what your Facebook business page will look like in its final form. However, there's still a good bit of information you need to add before it's ready to start marketing.

Facebook business pages have the ability to provide tons of information about your business and its offerings to potential customers, so you want to be sure to set it up completely and fill out all necessary information.
Since social media for local businesses can have a bit of a different strategy, be sure to input any essential location info so your customers can easily find you.
Other than that, here are a few things you need to be sure you complete before finalizing your Facebook business page.
Create a username.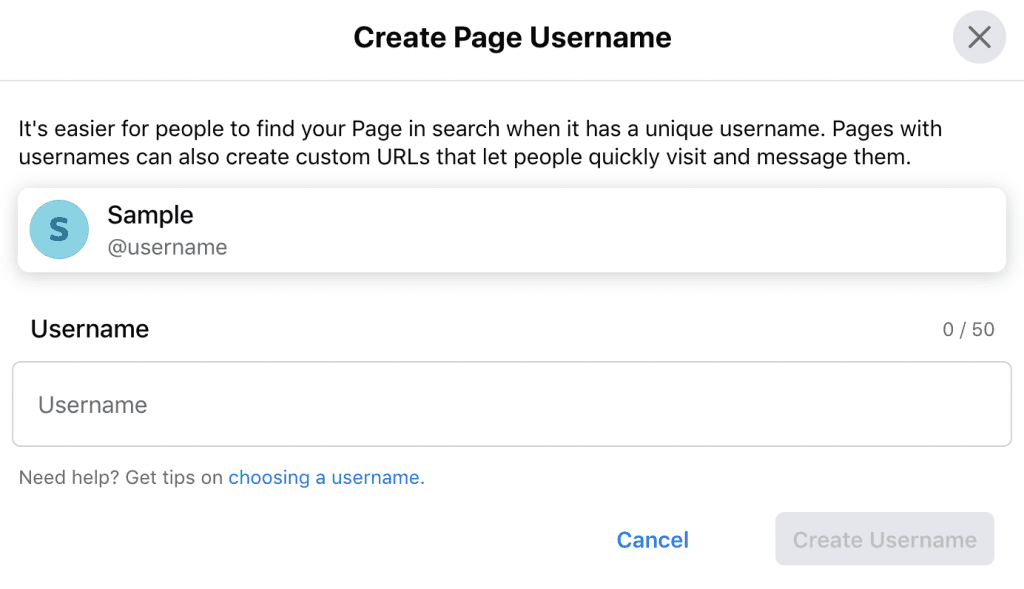 This is where you dictate the URL that your Facebook business page will have. It's ideal to have this match your business name so that customers can easily find you, but if that's already taken, you may need to play with other variations.
Add a Button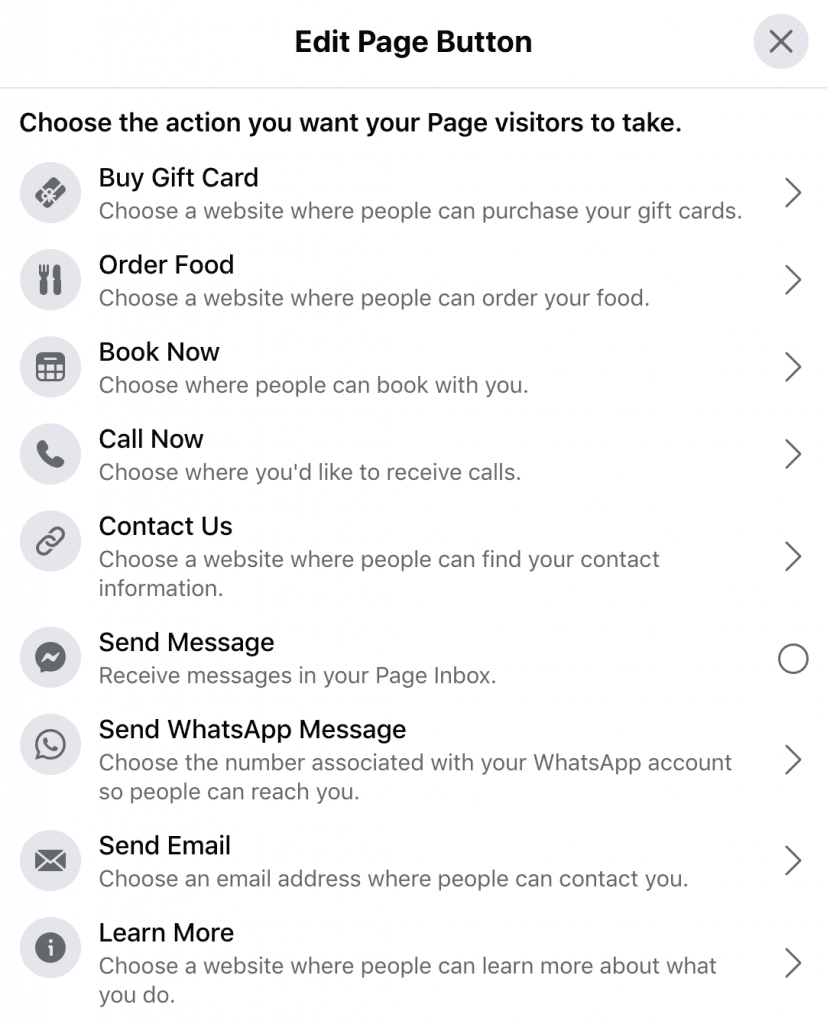 We mentioned this a bit earlier in one of the benefits to creating a Facebook business page, so you definitely want to make sure you set this up properly.
There are 14 different actions that you can choose from that you want your audience to take, and you can change them up regularly based on what your business is promoting.
Select the action that makes the most sense for your business and insert the link/email address/phone number/etc. that you want this button to take your page visitors to. For example, getting in touch through your office phone system might give you the best conversions for your campaign.
Insert Any Remaining Business Information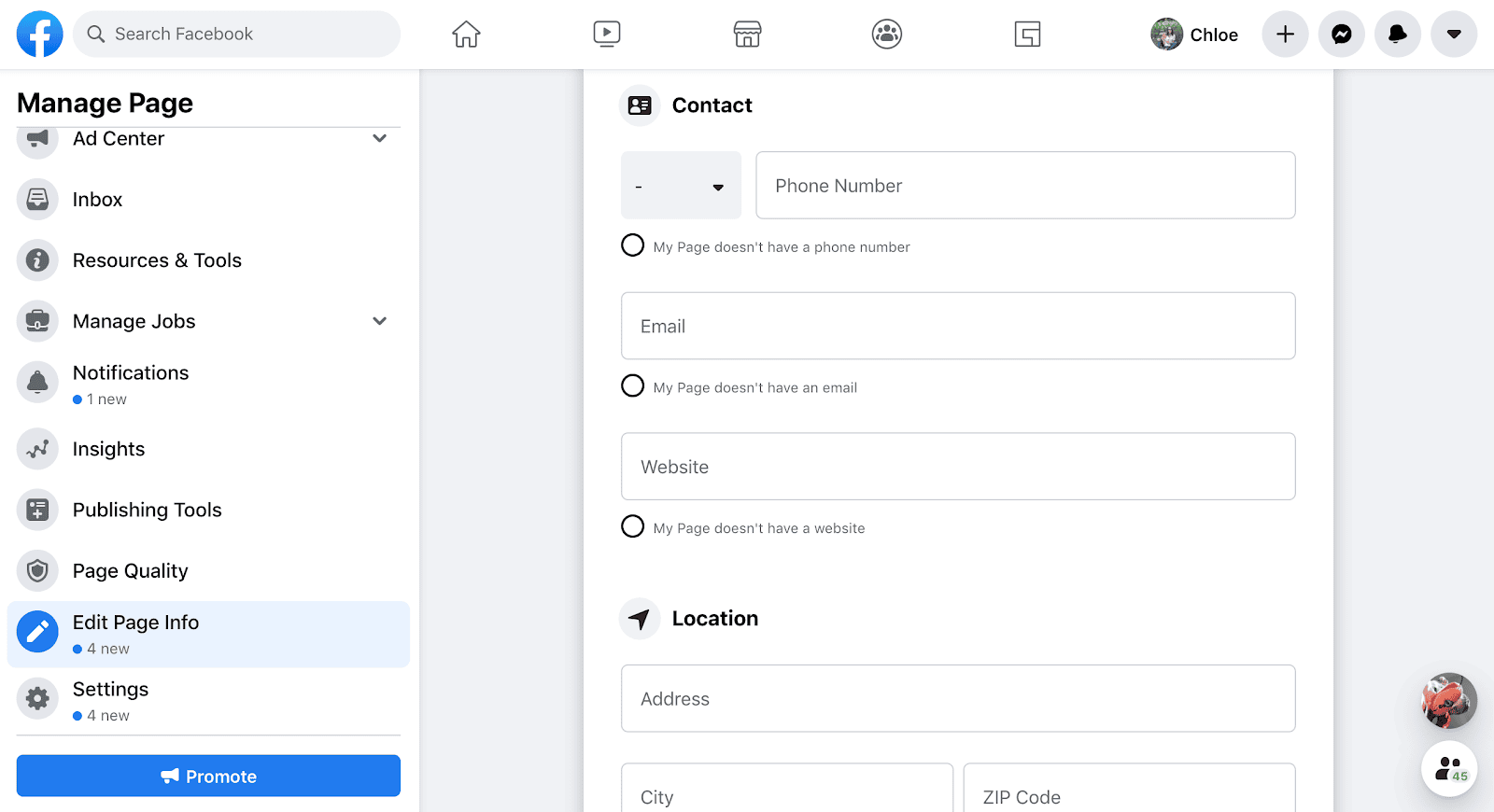 In the left sidebar, scroll down to Edit Page Info to access any remaining information you might need to provide your customers, like contact information, location, hours, etc.
If there's something you want your potential customers to know, this is the place to add it in, especially before you start promoting and marketing your business page.
Add Products or Services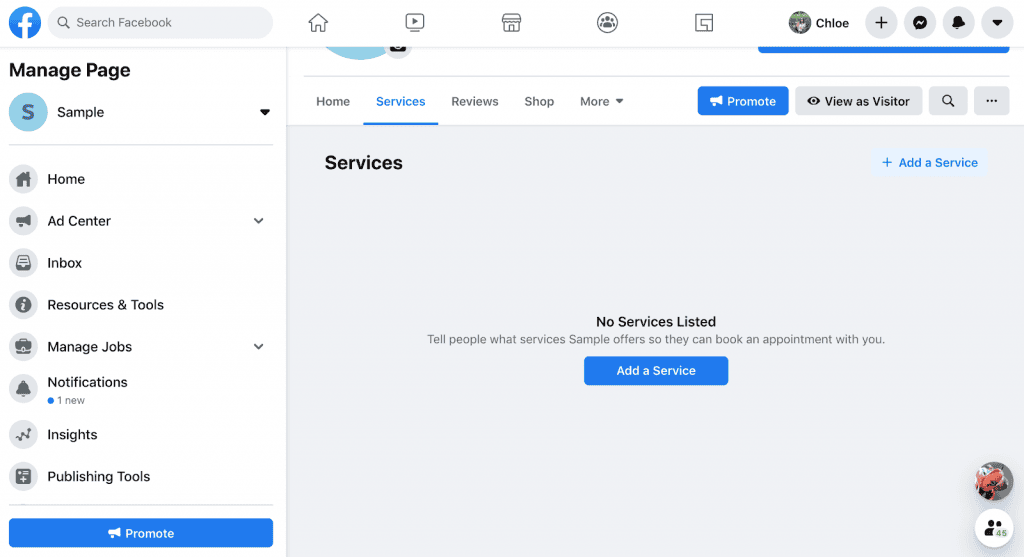 If you have a service-based business, you can add information that describes your service offerings right on your Facebook business page, giving your audience a sneak peek of exactly what they can expect from you.
And if you sell products, you can connect your online shop to products listed on Facebook, showcasing exactly what you offer and even allowing people to make purchases directly from Facebook.
Post Events and Job Openings
Your Facebook business page does everything, and if there's anything you need to promote, this is the place to do it. Post any upcoming events, either in person or virtual, or any job openings your company might be hiring for.
Step 5: Start Sharing Marketing Content.
It's now time to create your Facebook business page's very first post.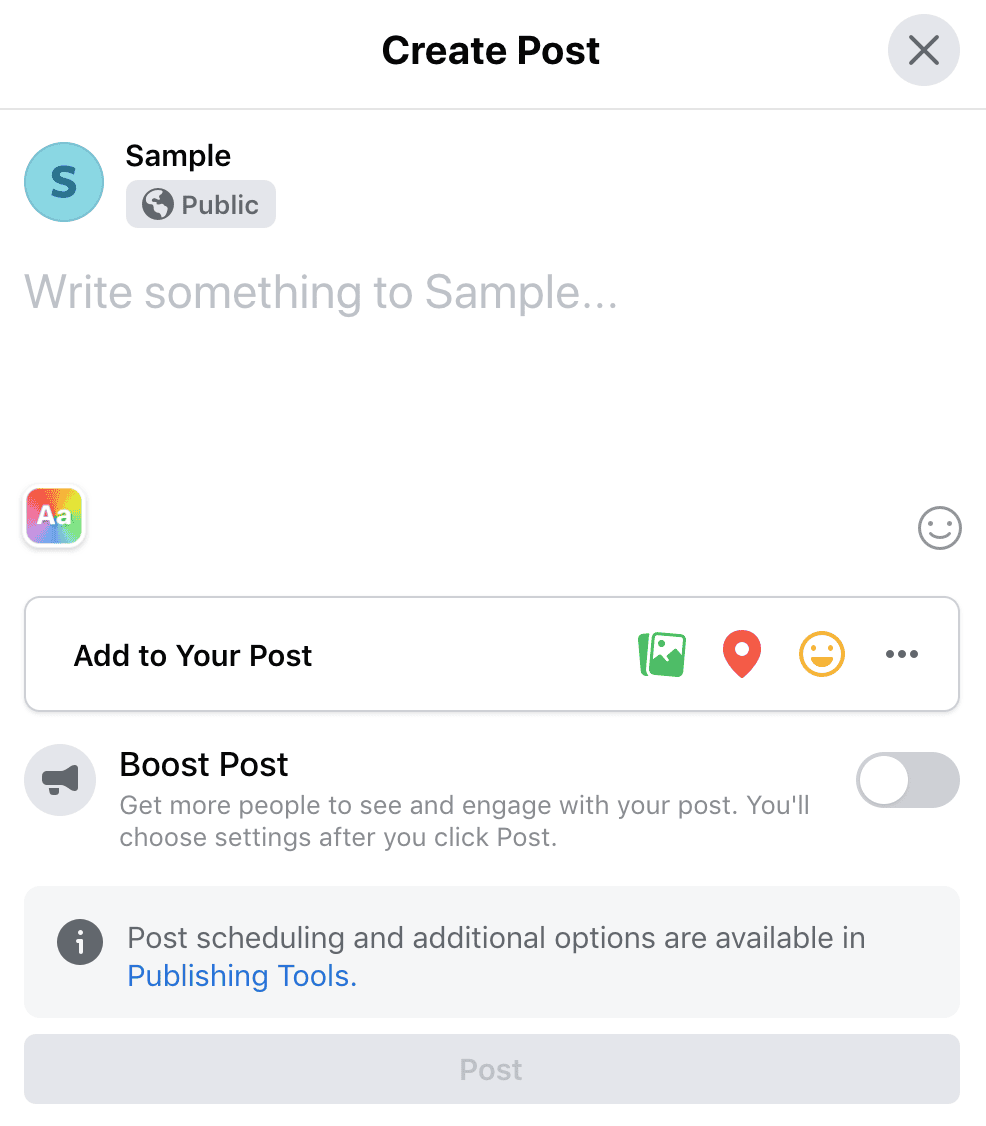 Be sure to put together a solid Facebook marketing strategy so you know what content your audience wants to see and what content is in your business's best interests to share.

Share marketing content regularly and engage with your audience to start seeing results and a growth in likes and interaction.
Create Your Facebook Business Page Today
Ready to dive in? Head over to Facebook and start creating your brand new business page today. Share stellar content and keep an eye on your Facebook Analytics to see what sticks with your audience.
---
Related Articles:

How to Get More Instagram Followers: 30 Proven Strategies

The Top 16 Facebook Analytics Tools for Marketers