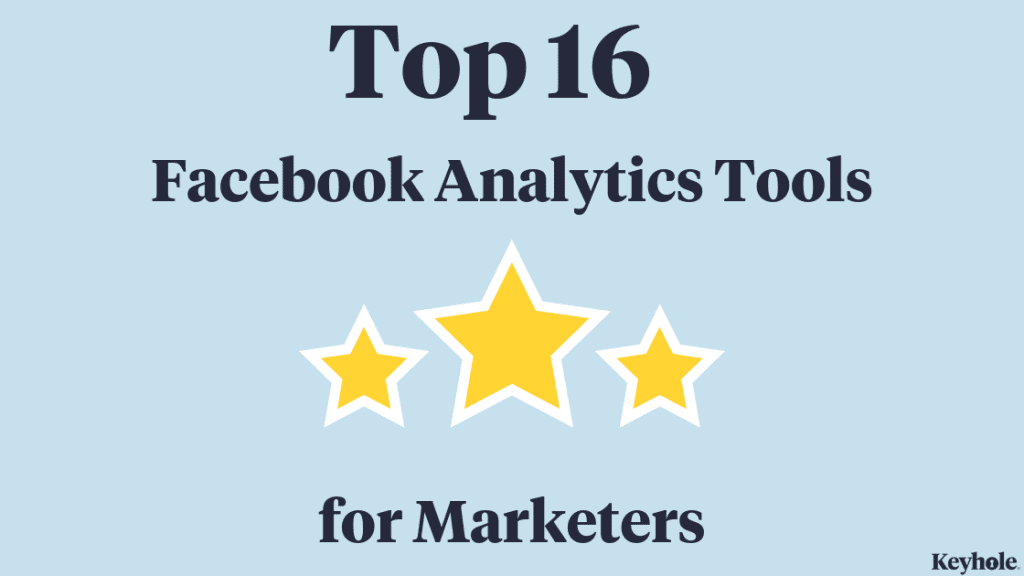 Updated on November 2020: this new Facebook Analytics tool list covers now 16 tools
If you're thinking about neglecting Facebook in your marketing strategy… think again! Here are some reasons to change your mind:
However, it is nearly impossible to take full advantage of the marketing opportunities that facebook offers without being able to obtain and analyze the right metrics on the platform.
And for this you need a Facebook analytics tool. But which one?
A range of Facebook analytics tools competes for the same market, forcing marketers and community managers to decide between similar products.
It's difficult to avoid this decision – essentially every brand and business has target markets active on social media's most popular network. Thankfully, diverse costs and capabilities can make it easier to choose.
So, what are the best Facebook analytics tools for 2021?
Looking at prices and differentiating features, learn about the top 20 Facebook analytics tools:
Jump Links to the 16 Facebook Analytics Tools:

1. Keyhole
2. Brand24
3. Brandwatch
4. Buffer
5. Mention
6. Cyfe
7. Facebook Insights
8. Oktopost
9. Quintly
10. Rival IQ
11. SharedCount
12. Social Bakers
13. Sotrender
14. Sprout Social
15. Sumall
16. Unmetric
1. Keyhole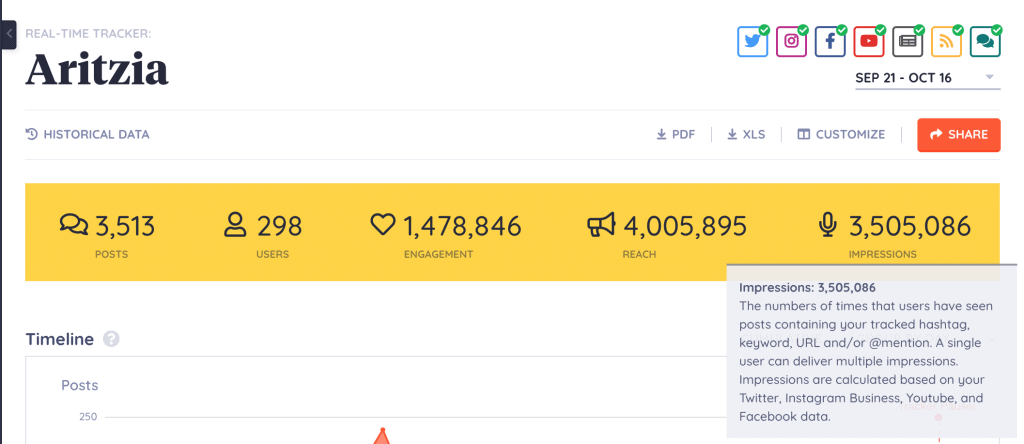 Use Keyhole to get data and optimization strategies for any public Facebook page, whether it belongs to you or a competitor. Inputting the page's name will reveal metrics surrounding fan growth, engagement by post type and best times to post based on engagement. A unique feature, the tool also calculates the ideal length of your updates by character count.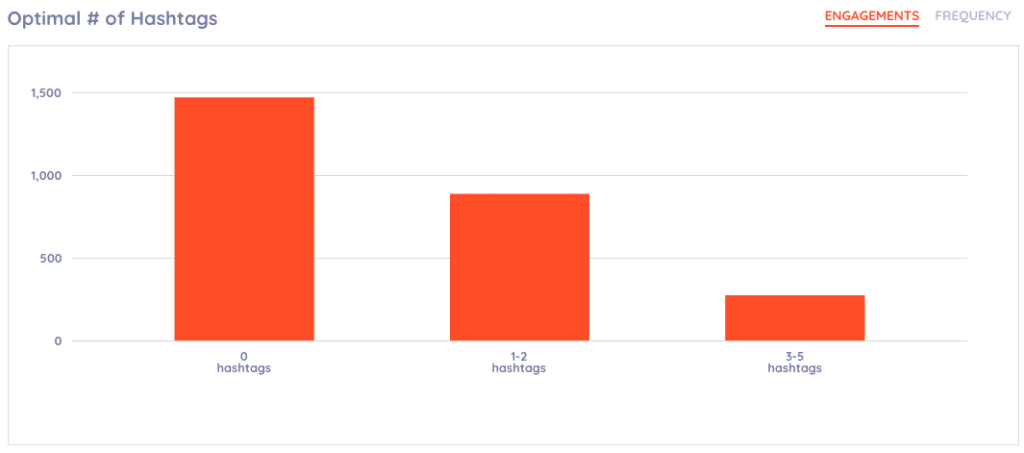 To better understand your own page or the competition's strategies, you can export these data points — and more — in PDFs and Excel spreadsheets.
Give Facebook account tracking with Keyhole a shot here
Price: Starts at $49 USD per month
2. Brand24
Try Brand24 to track metrics surrounding conversations across Facebook.
It gives a stream of your company's mentions, but the tool's analytical value lies in the measurement of these mentions. For example, it quantifies sentiment and the influence of individual users. It also has a discussion volume chart, illustrating spikes and drops in mentions.
This helps you visualize the popularity of events and social campaigns.
Price: $49 – $399 USD per month
3. Brandwatch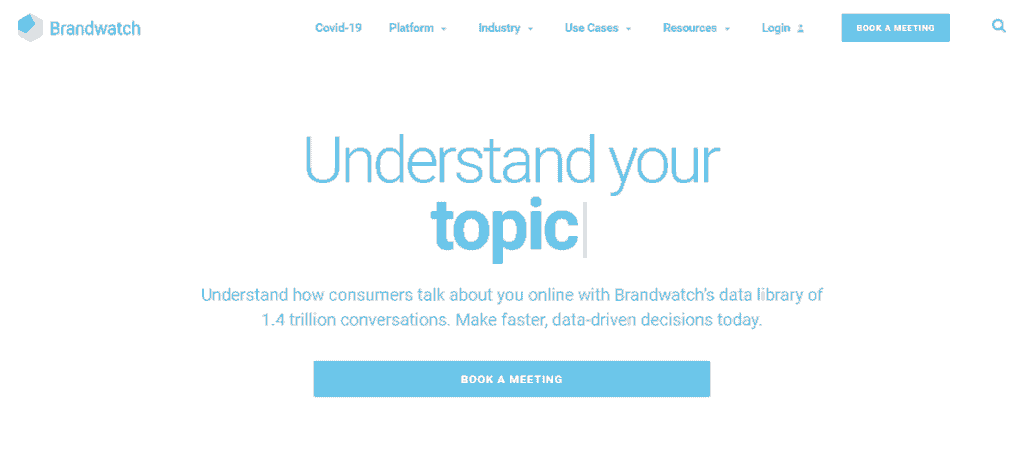 Use Brandwatch to analyze a page's fan base.
Able to track data pertaining to any public page, the tool offers audience analytics such as gender, location, profession and interests. Along with mention volume and sentiment, the tool monitors what audience members are sharing to uncover popular topics.
You can use this information to inform your Facebook content strategy, possibly giving you more ideas to post about.
Price: Plans begin at $1,000 USD per month – according to PC Mag
4. Buffer
Try out Buffer if you need a scheduling tool with complementary analytics.
Buffer informs your Facebook strategy by offering basic post metrics, such as engagement. Based on this data, it identifies your top post each day. To replicate its success, you can model future updates on its content type and posting time.
Price: It's most basic plan starts at $15 USD per month and the price increases based on needs.
5. Mention
Sign up for Mention to access its library of historical data, which updates every minute.
In a variety of charts and graphs, it illustrates page analytics such as sentiment, engagement and demographic information – ranging from age to ethnicity. Like some other tools on this list, you can access data for any public page.
Price: $29 – $450+ USD per month
6. Cyfe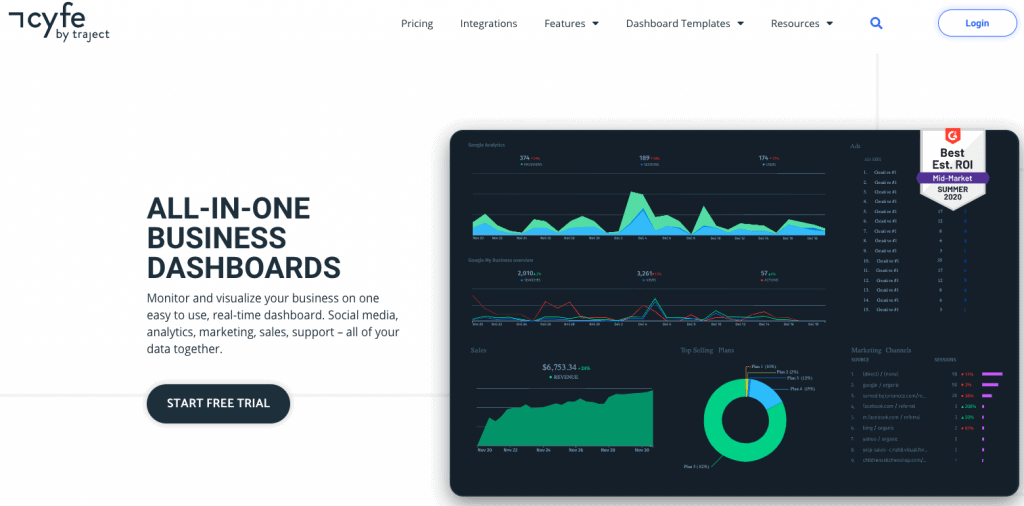 Consider Cyfe if you want a customizable analytics dashboard.
Along with finance and general web metrics, you can add and remove more than 50 Facebook widgets from your dashboard. These widgets track page metrics, post stats and demographic data. For example, you can see how your fan base has grown and engaged with you, as well as information such as their interests.
Price: Free – $89+ USD per month for a premier suite
7. Facebook Insights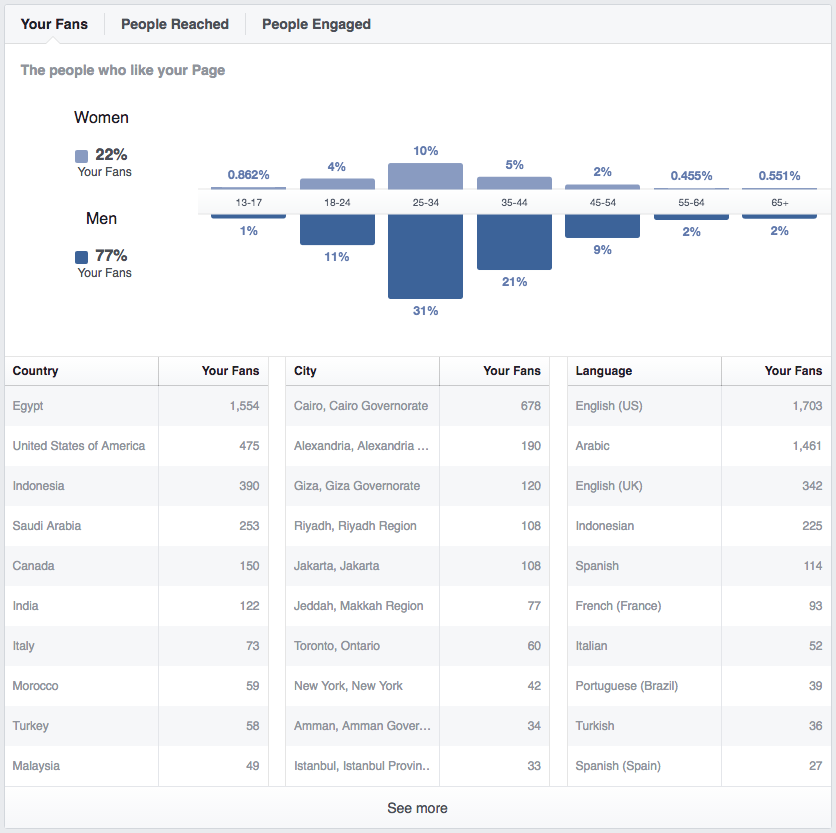 Stick with Facebook Insights if you're uncomfortable using or paying for a third-party tool.
Available for each page you manage, it has basic – yet essential – metrics such as page likes and actions. Differentiating between paid and organic, you can get standard post data like reach, impressions and engagement. It also offers fan demographic information, including gender, location and language.
Due to its range of metrics, some tools on this list integrate with Facebook Insights instead of offering unique data points.
Price: Free
8. Oktopost
Quantify the financial impact of your social media strategies using Oktopost.
The tool tracks conversions while identifying channels and messages that drive financial actions on your website. For example, it allows you to confidently say "this new customer came from our latest Facebook post."
Oktopost also uses engagement data to pinpoint the best posting times, allowing you to publish through its dashboard.
Price: Contact Oktopost for custom pricing
9. quintly
Try out quintly to measure your pages against competitors.
You can access Facebook Insights through the tool, which will allow you to start comparing and contrasting pages. It visualizes stats — such as engagement — from these accounts in single graphs. These sorts of features make quintly a go-to tool for competitive goal setting.
Price: Starts at €300 Euro per month
10. Rival IQ
Use Rival IQ – another competitive benchmarking tool for Facebook – to track opposing brands and measure your performance against theirs.
Prioritizing growth, the tool records how audiences change on weekly, monthly, quarterly and annual bases. By giving you access to historical data, you can correlate audience size fluctuations to major events and business cycles. This pinpoints when rival are expanding their fan bases.
Price: $199 – $499 USD per month
11. SharedCount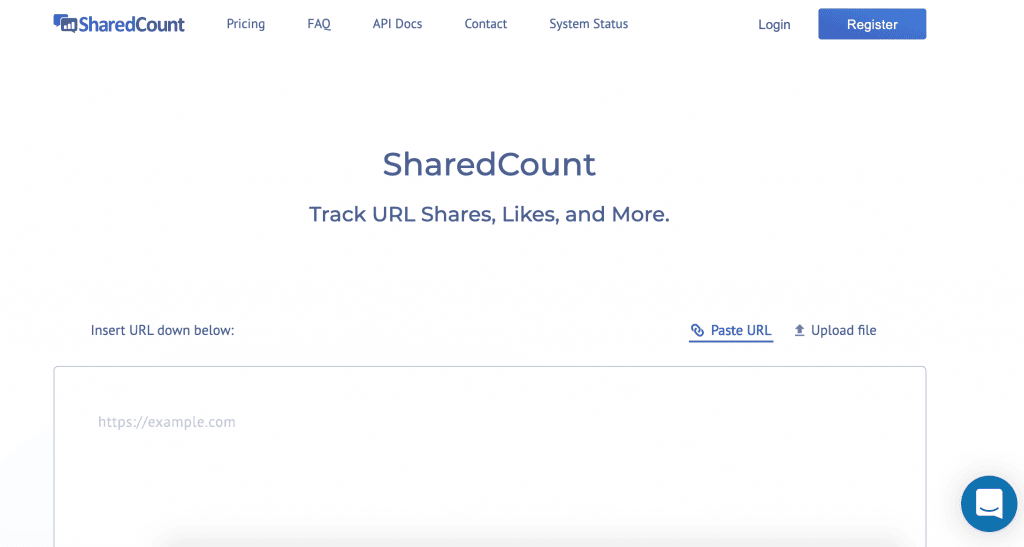 Take SharedCount's name literally.
Answering more than a billion requests per month, the website tracks the social like, share and comment counts of content pieces. To see these stats, simply paste a URL into the search bar.
Price: $40 – $640 USD per month
12. Socialbakers
Try Socialbakers if you need a comprehensive dataset above all else.
The features include custom benchmarking and competitive analysis, allowing you to create groups to track your Facebook performance against. The tool also differentiates between paid and non-paid content when measuring post performance.
For companies with a worldwide presence, Socialbakers can segment data by individual brand and country.
Price: from $200 USD per month
13. Sotrender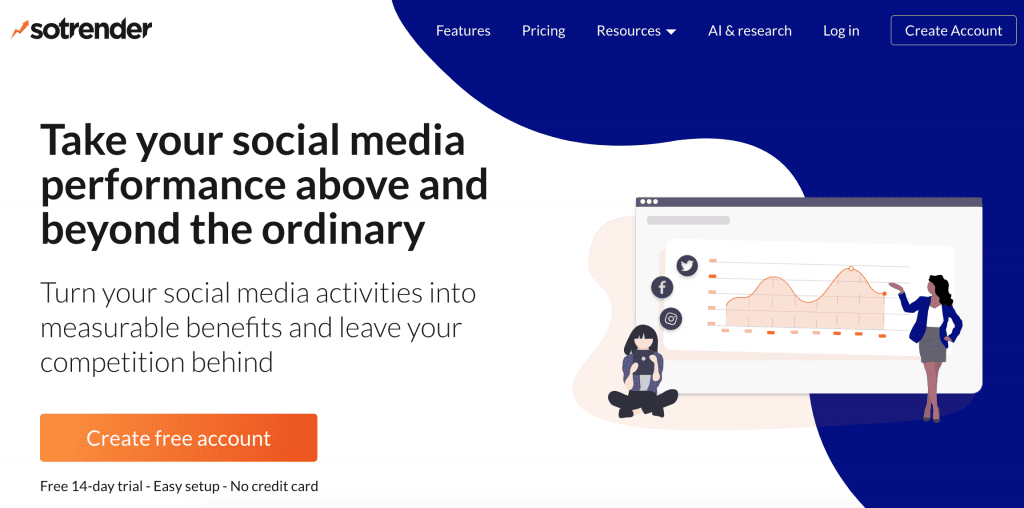 Collect metrics from any public page in a single dashboard with Sotrender, allowing you to measure your performance and research competitors.
On top of audience demographic information, the tool offers data such as post reach and impressions. You can see how these metrics vary between update types, including ones that have photos, videos and just text. Using the numbers it tracks, Sotrender makes suggestions about when to post and which kinds of media to use.
Price: $70 – $390 USD per month
14. Sprout Social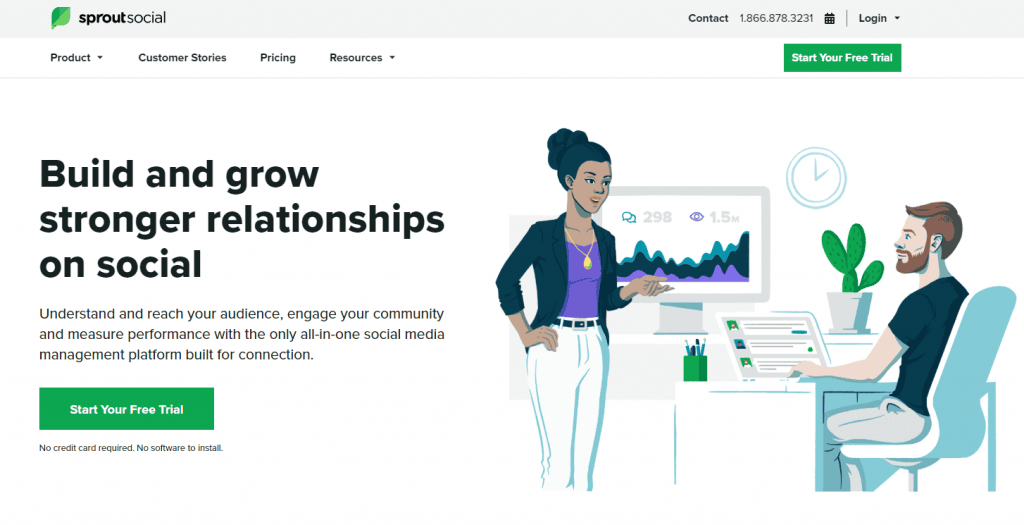 Choose Sprout Social to monitor the numbers behind different Facebook pages in one dashboard.
It also offers an inbox that brings messages from all pages into a filterable stream, you can access data visualizations for post metrics such as impressions and engagements. The platform also tracks page data, including fan growth. You can export these analytics to PDFs and CSVs.
Price: $99 – $249 USD per month; agency plans vary.
15. Zoho Social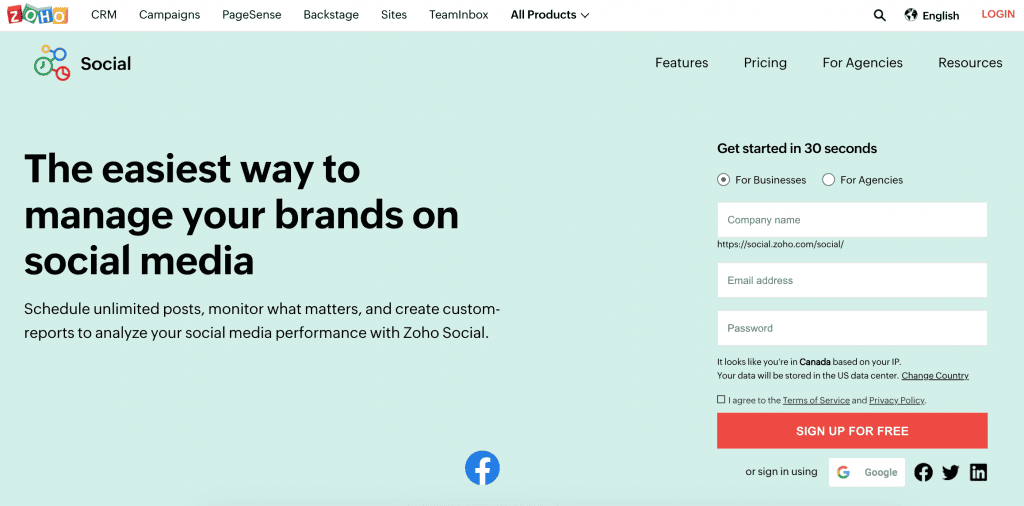 Although it's primarily a scheduling tool, if you are looking for simplified analytics on a budget, Zoho Social is the tool for you.
This tool can give you an idea of your audience, where they're from and what kinds of content they like. It also allows you to track conversations that are relevant to your brand.
The platform also allows you to customize and schedule reports.
Price: $10 – $25USD for individuals and upwards of $200 USD for agencies
16. Unmetric
Use Unmetric to guide your growth strategy through its reporting and historical analysis features.
Containing Facebook Insights data, it emails you Excel and PowerPoint reports based on the frequency you set. The metrics can be up to four years old, helping you find out how well past strategies worked for you and your competitors.
Unmetric also separates paid from organic numbers when analyzing posts for standard metrics such as engagement.
Price: Custom pricing starting at $1,000 USD per month.
The Final Verdict About these Facebook Analytics Tools
Some platforms should appeal to you, but the choice ultimately depends on:
Getting features that help grow your Facebook footprint

Measuring the metrics you value

Staying within your budget

Receiving a positive user experience
Use this list of 16 Facebook analytics tools as your guide to, at the very least, simplify the research and decision processes.
---
Keyhole is a real-time conversation tracker that provides keyword and hashtag analytics for Facebook, Twitter, Instagram and YouTube. Get started for free.