Latest Social Media Updates 🗞️
1. Meta is testing a carousel display of suggested Threads to increase engagement. This move comes as Meta aims to revitalize the dwindling usage of Threads by integrating it within the Instagram app. Was making Threads it's own app the right choice?
2. X is set to collect users' biometric data, including education and job history, for identification and verification purposes. Aimed at ensuring the platform's safety and security, it will come into effect on September 29.
3. LinkedIn is testing the removal of hashtags from its platform. Many users have received notifications from LinkedIn support about this potential change.
HIGHLIGHT
Worldwide, the traffic bump from the launch of Threads' web app was only 3%, indicating that the increase in website traffic was minimal.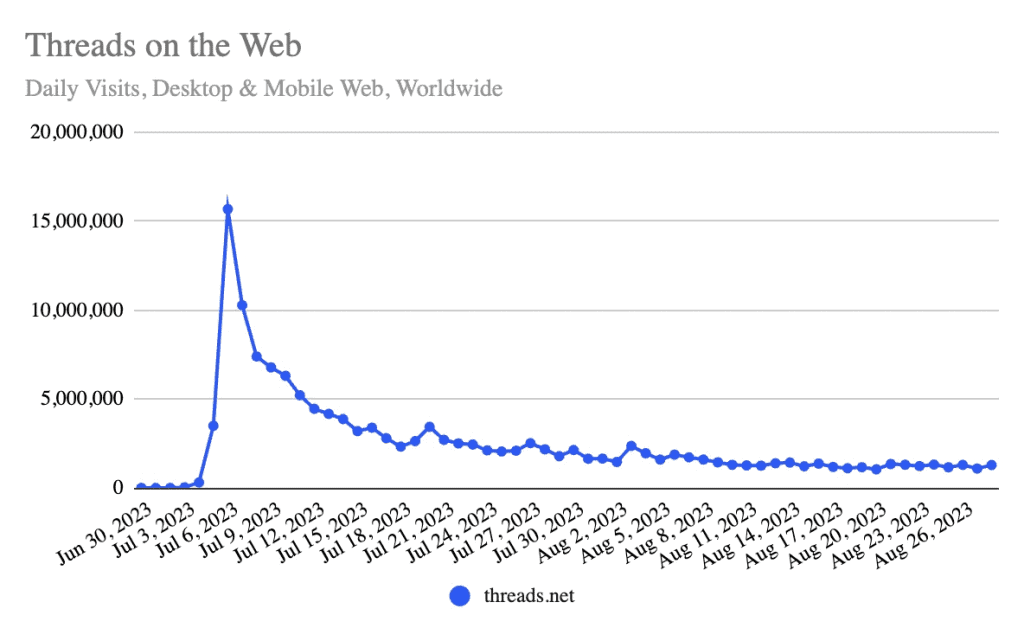 Despite an initial spike, overall usage and daily active users have declined, suggesting that the web launch catered primarily to existing Threads users.
Gold Nuggets & Resources🖊️
1. 2023's Top 6 YouTube Analytics Tools for Tracking Video Metrics
2. 10 Most Used Emojis On Social Media
3. How To Create Facebook Polls To Grow Your Business In No Time
Research or Recap: New Historical Twitter Data feature pulls from '15 to now, to your inbox 📨!
Search ANY hashtag, keyword, or mention from Twitter's archives, during any date range. With Keyhole's unrestricted access to Twitter's API, researchers, marketers, and brands can request a one-time data pull at a competitive rate. Analyze past trends, revisit old campaigns, or gauge historical social sentiments.
👉Try Our Twitter Historical Data Feature!
ChatGPT Prompt Idea (copy this for later 😉): Generate [number] CTAs for a recent launch of an ebook on [topic]. The audience comprises [target segment]. The ebook consists of [information about the ebook].
Case Study 🎉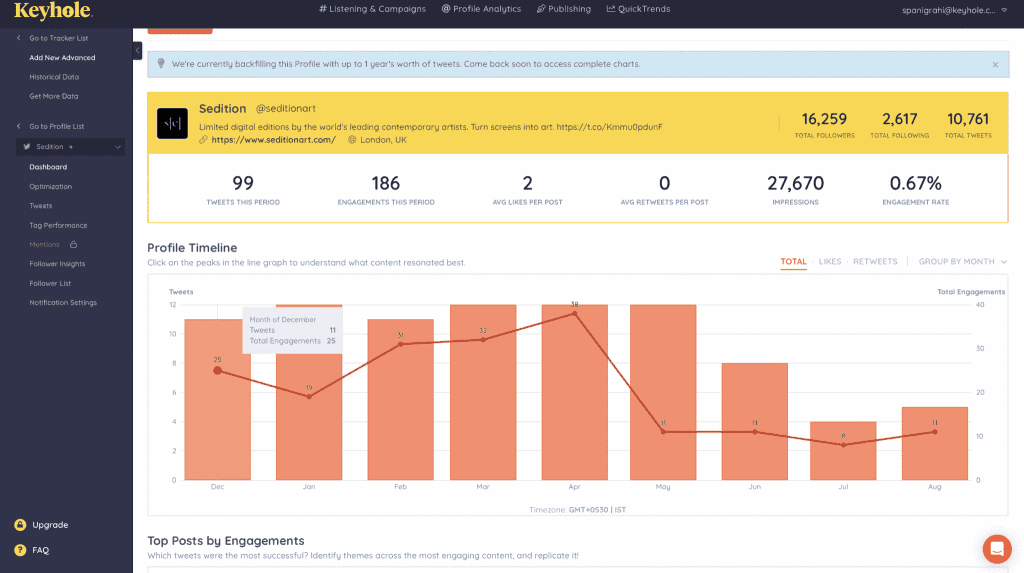 BACKGROUND
Sedition is a UK-based company that works with the world's leading contemporary artists and allows every art lover to enjoy, buy, share, trade, and gift art on blockchain.
In July 2022, Sedition also launched NFTs at the World Blockchain Summit Singapore. During their NFT launch event, Sedition wanted to track its success rate. Let's see how they did it.
PROBLEM – STUCK WITH VANITY METRICS 😤
Sedition couldn't track anything beyond the usual likes, comments, and follower counts. If there were physical events that gave them additional visibility boost, it went unaccounted for.
They also generated campaign reports manually based on their manual observation. Overall, the process was cumbersome and inefficient.
KEYHOLE TO THE RESCUE!
Sedition found Keyhole was the perfect tracking tool. They added multiple social media profiles and could compare the performance of each one under one roof.
They also monitored event-specific social media trackers and generated automated reports. Sedition also used the functionality of Keyhole to compare the reach of various social media posts.
RESULT🎉
After using Keyhole, Sedition was able to make a connection between the increase in engagement and the launch of their NFTs in Singapore. They could visually see the real-time SPIKE in metrics that trackers collected during the event.
With Keyhole monitoring the performance of each campaign, post, profile, and relevant tracker, Sedition could run multiple experiments and know what yielded a higher ROI.
Want to see your campaigns in real-time? 🔍 👉 Read the full case study
On The Rise: Major League Baseball ⚾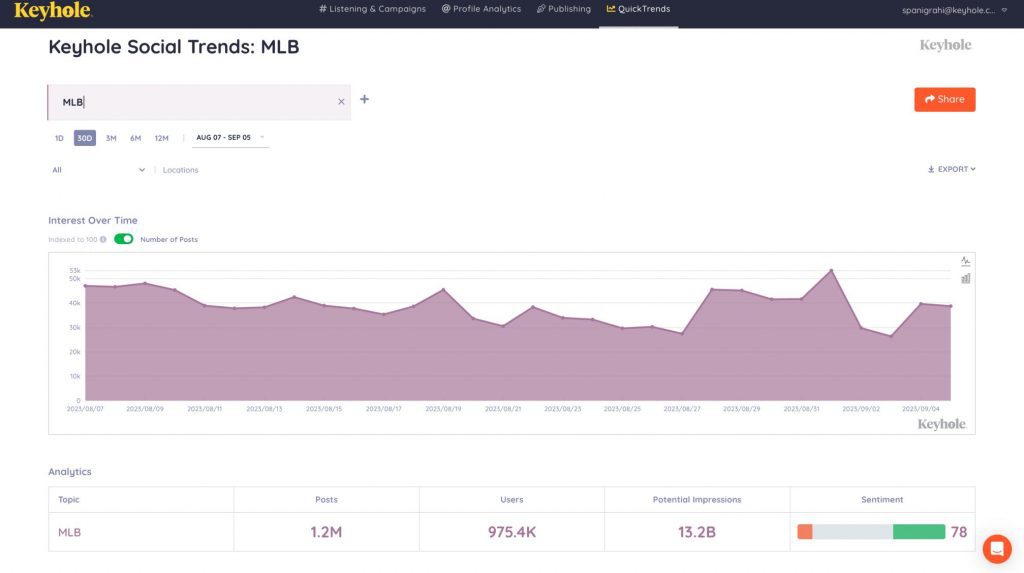 Major League Baseball just released the 2023 schedule, and it's packed with a whopping 162 games for each team. Take me out to the ball game(s) anyone?
Each team tackles a mind-boggling 46 interleague games. The cherry on top? A four-game home-and-away series against their arch-rival from the other league. It's a clash of titans that will shake the very foundations of the game.
So grab your lucky cap, settle into your seat, and get ready for the rollercoaster ride of a lifetime. The 2023 MLB season is here, so get ready to see these charts explode!
We tracked MLB trends where you can spot the visible anticipation!
Total number of posts shared: 1.20M
Total posts shared at peak hour: 53.30K
Total impressions: 13.20B
Sentiment Score: 78
Top trending posts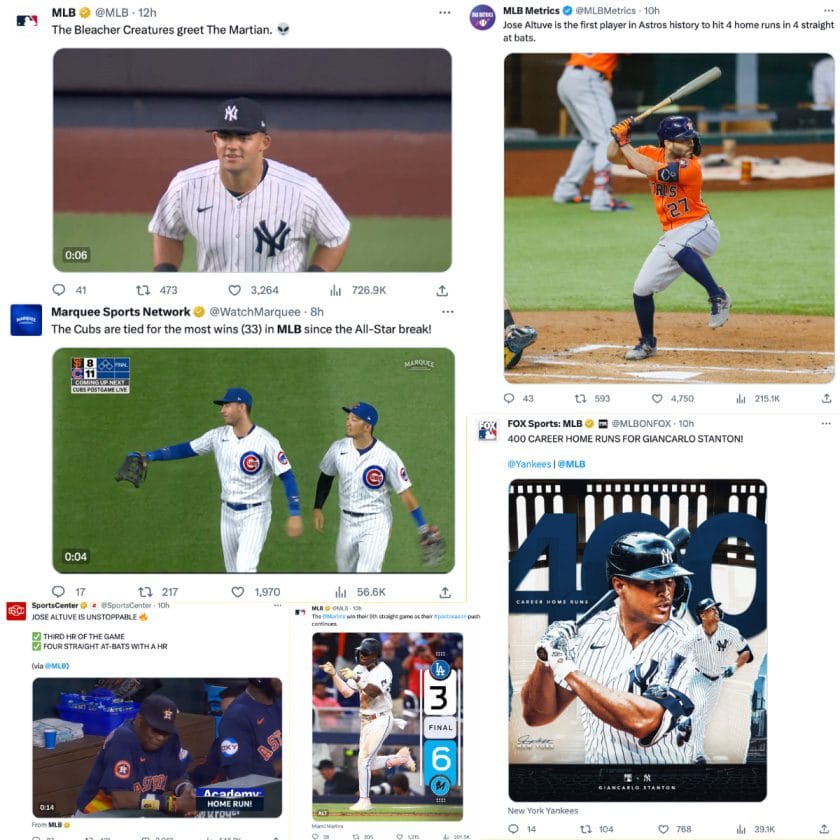 Must-see Campaign 👀
L'Oréal Paris: Painting The Town Red Literally
Tweet Tip ✨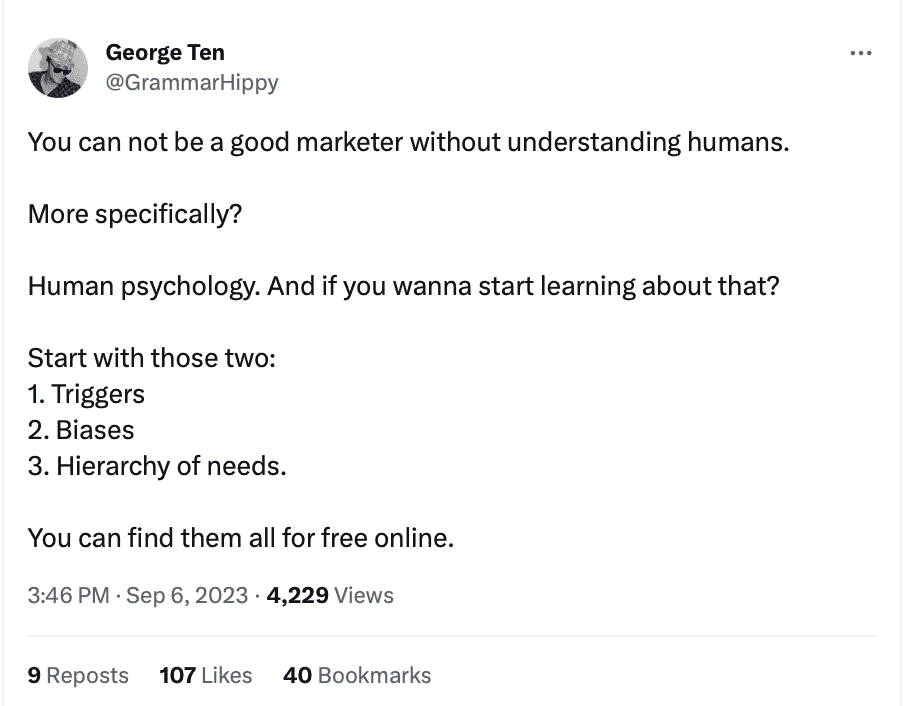 By George Ten
Meme Squad 💪
Fresh stock for meme-loving marketers:
Lovin' it? 💛
Share Social Media Keynotes with your favourite coworkers & friends and let them enjoy these handpicked insights as well. Follow us on social media for more exclusive Keyhole content.