Latest Social Media Updates 🗞️
1. Elon Musk just spilled the beans on X's latest update – monthly payments to fight bots. No word on the cost or timeline yet, but X's track record indicates the change is coming soon.
2. TikTok is getting real with AI-generated content. They're adding labels to show when videos and photos are made using AI tools. Plus, they're renaming effects with "AI" in the name and making creators do the same.
3. Meta is levelling up its verification game for businesses! They're expanding their paid verification program and even adding a combo package for Facebook and Instagram pages. 
HIGHLIGHT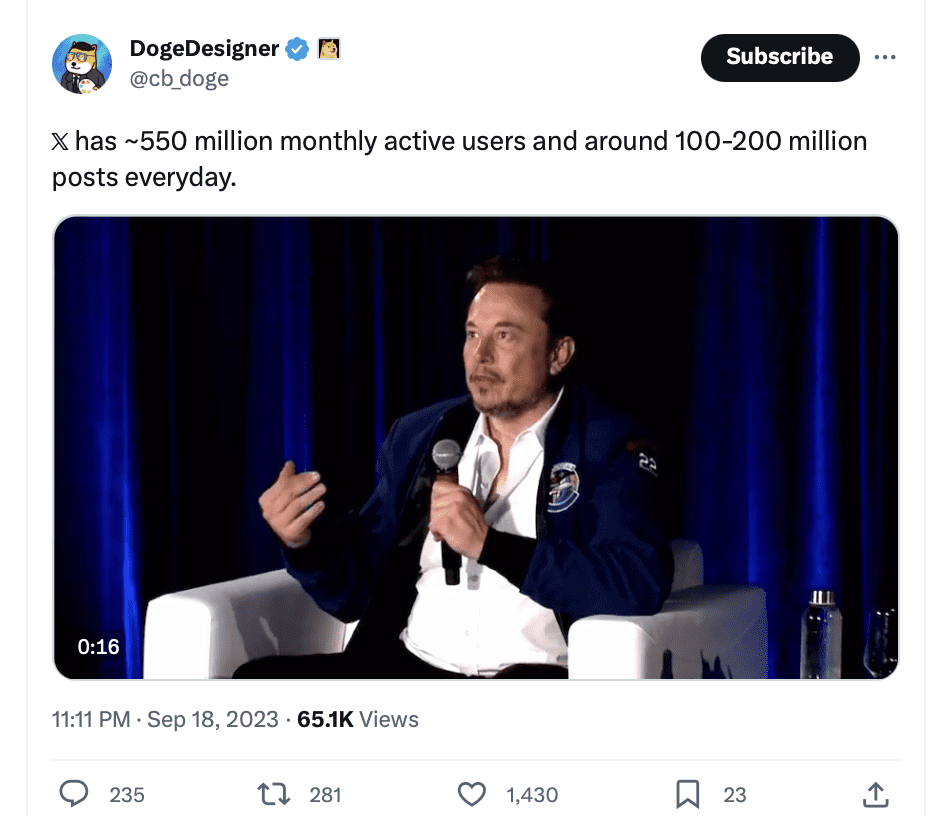 Turns out Elon Musk revealed that X users are sharing fewer posts per day compared to the number of tweets people used to send.
In fact, the post count has dropped by a staggering 400%. Some think it's because X cracked down on bots, while others believe it's because users are becoming more cautious about publicly sharing content.
Gold Nuggets & Resources🖊️
1. How To Manage & Improve Online Brand Reputation in 2023 (Guide)
2. How To Find Trending Hashtags On Instagram In 2023
3. 2023's Top 11 Social Media Management Tools For The AI Age
Access to All of Twitter's History + No Account Required = Limitless Marketing Insights 🙌
Discover hidden insights from Twitter trends and conversations without spending hours on manual research. Export any #hashtags, keywords, or @mentions in the history of Twitter with Keyhole's historical data tool.
Oh, and it's all delivered straight to your inbox in raw data & PDF form. Try it out!
🔗 Request Twitter Historical Data
ChatGPT Prompt Idea (copy this for later 😉): Generate [number] campaign ideas on [popular trend] for a [your brand niche]. The audience comprises [target segment]. The brand focuses on [information about the brand].
WEEKLY TRENDS FOR YOU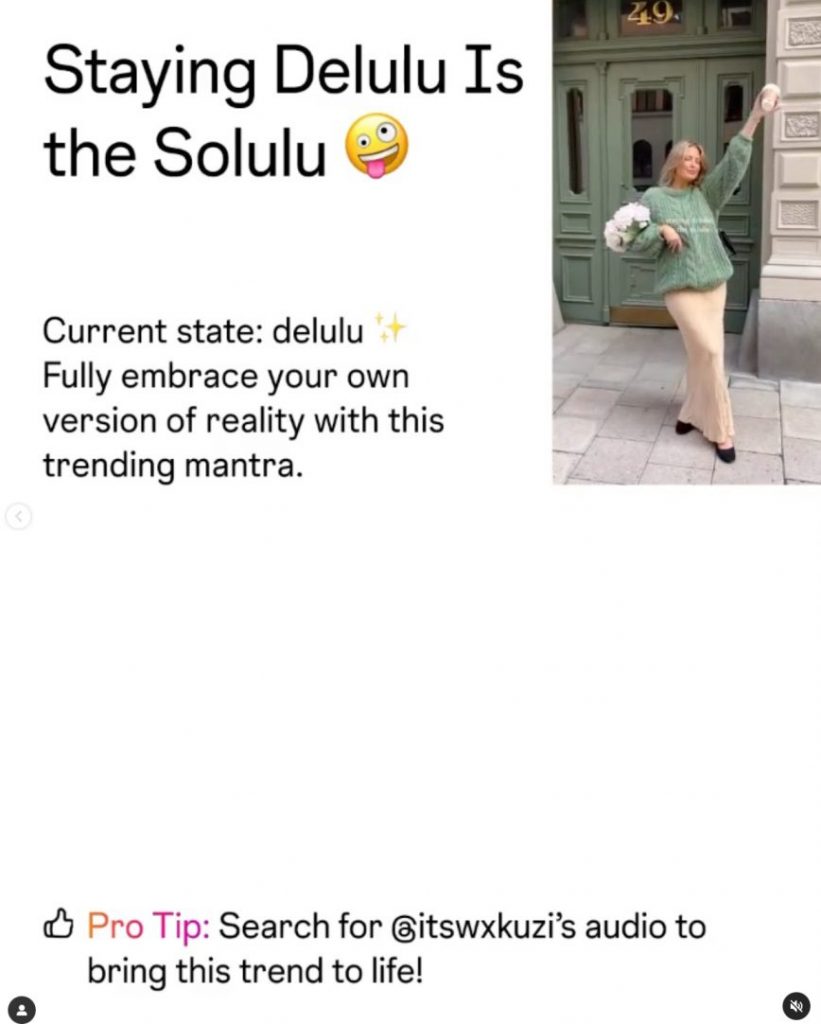 Case Study 🎉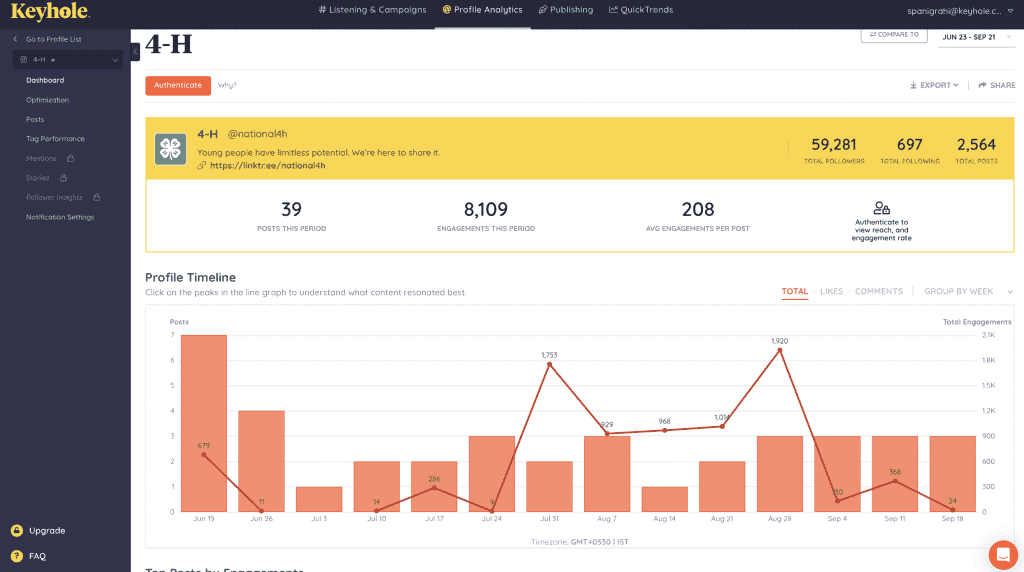 BACKGROUND
4-H Council is America's largest youth development organization. It has empowered more than 6 million youths already with rigorous skill training.
To spread awareness, 4-H Council runs multiple campaigns throughout the month. In order to find the most successful ones, they require a few data points to prove each one's ROI.
NO REAL-TIME INSIGHTS, THOUGH!
The marketing team at 4-H Council did the manual digging to get the required data points. They used to check every change in the number of followers or engagement received on their campaign posts by tracking hashtags or profiles directly.
Due to manual tracking, the numbers were highly inaccurate. Even after the hard work, the data seemed incomplete, failing to give real-time insights. They also had a tough time participating in user discussions due to a lack of automation.
KEYHOLE TO THE RESCUE!
After adding all branded hashtags and their official social media profiles to Keyhole, the team could focus more on the engagement of each campaign.
They could even find potential opportunities to spread awareness and add more contextual insights as they watched each campaign's performance closely in a detailed manner.
With Keyhole, they can generate accurate profile reports and measure the overall growth in followers and engagement. It's equally easy to share them with their stakeholders.
RESULT🎉
After using Keyhole, 4-H Council could run high-quality campaigns. Now that they are able to track the kind of responses their campaigns are receiving, they can focus more on conveying the message the right way and engaging with their followers without any delay.
This speed in promptness has led them to reach more volunteers, universities, and youths who can contribute and benefit from the 4-H Council development programs.
Want real-time insights into your campaigns? 🔍 👉 Read the full case study
Burning Man: Hot, Muddy & Stranded Festival Goers🔥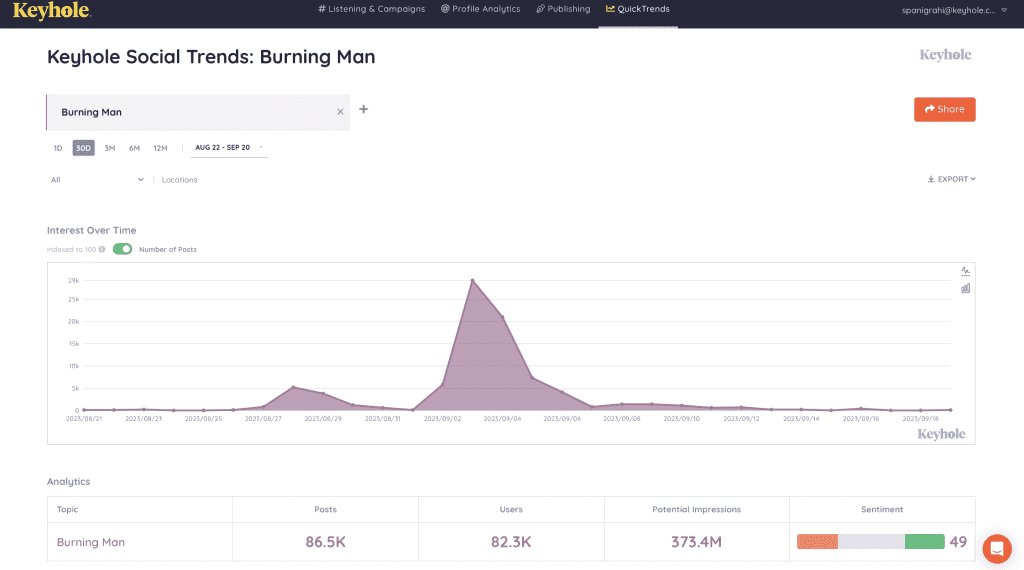 In case you haven't heard, Burning Man is the wild desert event where you can't buy or sell anything, and a giant effigy of a man goes up in flames at the end.
People from all walks of life or levels of fame show up, but it's all about that old-world communal living vibe. Enterprising attendees do find ways to bring their luxuries though…
Despite the potential for brands to get in on the action, Burning Man has remained ad-free and iconic. So why the spike in conversation this year?
When torrential downpour and flooding hit the festival, een Diplo and Chris Rock had to hitch a ride from a fan. Others had to make the key decision: wait…or walk through the mud🐌
Bottom line: Burning Man is a humbling experience no matter who you are, and it won't be commercialized.
We tracked the Burning Man keywords across social with Keyhole, and here are the results!
Total number of posts shared: 86.50K
Total posts shared at peak hour: 29.20K
Total impressions: 373.40M
Sentiment Score: 49(Positive: 27%, Neutral: 46%, Negative: 28%)
Top trending posts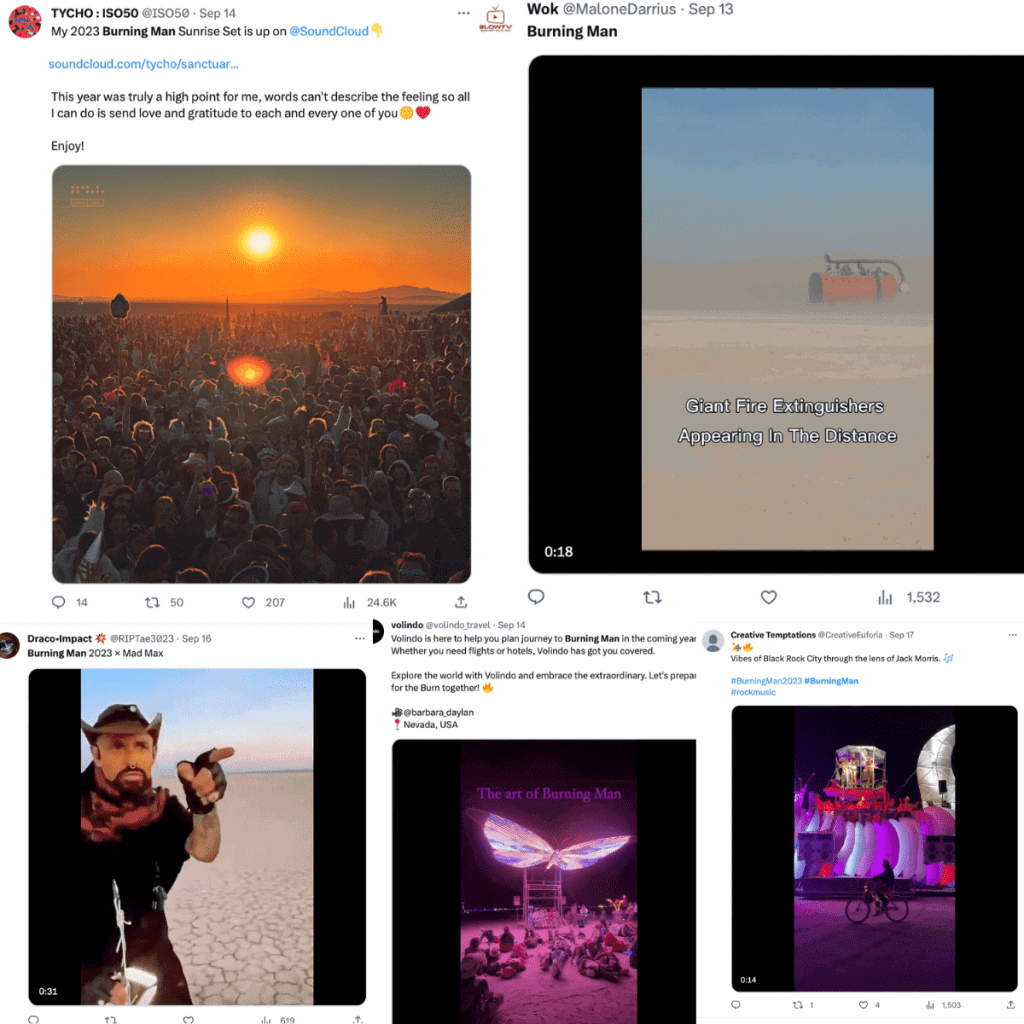 Must-see Campaign 👀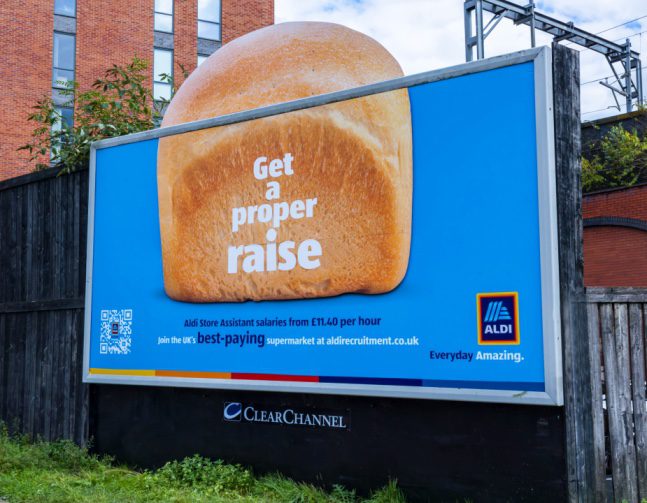 Aldi's Campaign for Jobseekers
Tweet Tip ✨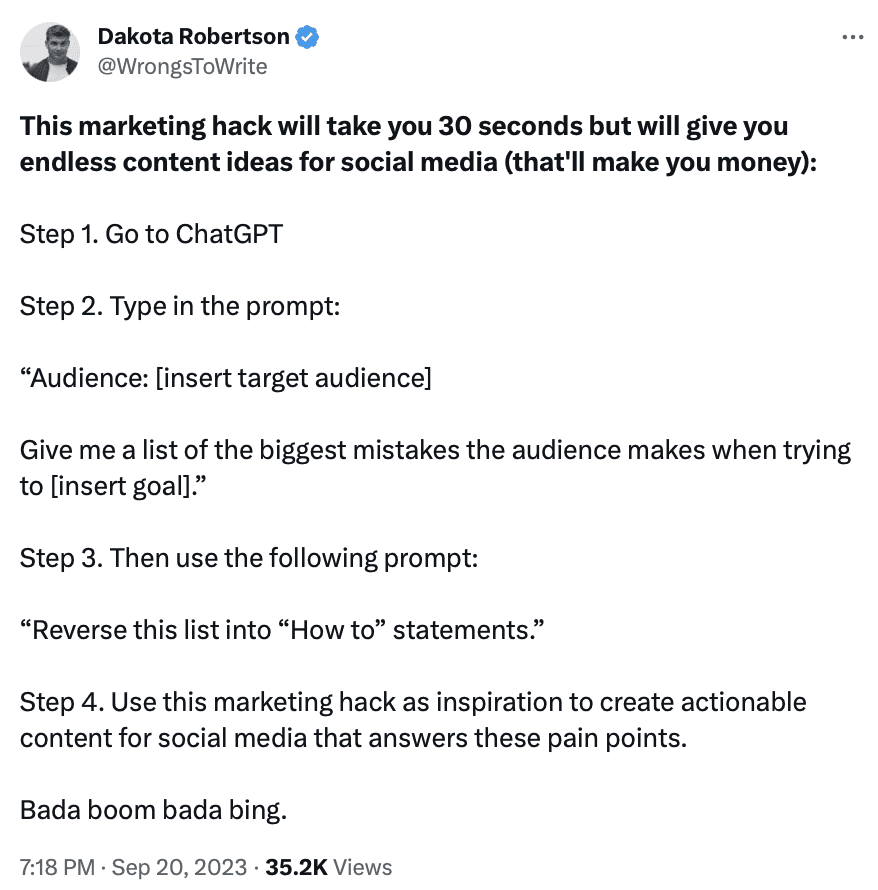 Meme Squad 💪
Fresh stock for meme-loving marketers:
Lovin' it? 💛
Share Social Media Keynotes with your favourite coworkers & friends and let them enjoy these handpicked insights as well. Follow us on social media for more exclusive Keyhole content.