Latest Social Media Updates 🗞️
1. Instagram's "Threads" app already has over 10M users under 7 hours of launch. It uses your Instagram handle, so pick up where you left on IG, and post using a Twitter-like interface.
2. Twitter has blocked unregistered users from viewing tweets. Also, verified accounts are limited to reading 6,000 tweets a day, while unverified are limited to just 600.
3. TikTok is discontinuing "TikTok Now" after less than a year. It was an in-app feature and standalone app that mimicked BeReal.
HIGHLIGHT

Gold Nuggets & Resources🖊️
1. 70 Instagram Statistics You Must Know In 2023
2. How To Track & Analyze Competitors On TikTok
3. Influencer Marketing ROI: Calculate ROI And Maximize Your Social Impact
ChatGPT Prompt Idea: Give X social media campaign ideas for a brand-new feature launch for [your brand/tool]. The target audience for this campaign is [demographic details]. Add launch information.
Case Study 🎉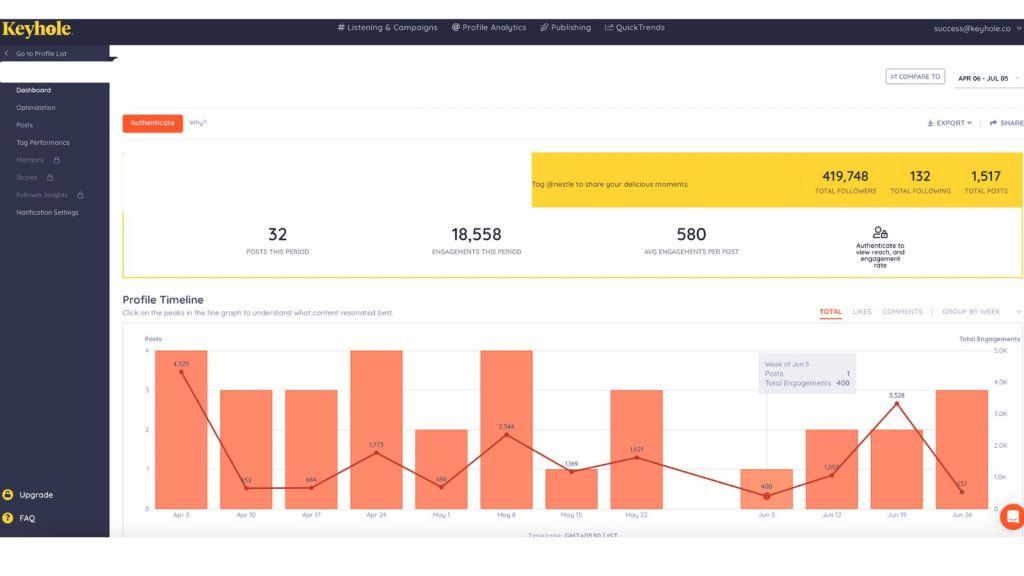 BACKGROUND
This brand is one of the world's largest food and beverage companies that launches a wide range of products, from baby food to healthcare nutrition. With 30,000+ employees across 31 states, the conglomerate in the US runs campaigns throughout the year.
PROBLEM
The marketing team grouped their product releases in series and followed a chaotic routine. It was pretty tricky to capture the real-time insights manually while managing:
Outreach to local influencers promoting each series
Being in constant touch with every influencer for metrics of their promotional posts
Repeating the same process for each different location
Since the team was working remotely, each member needed help collaborating. Without a cohesive system, the reporting wasn't up to standards. They needed clean, actionable data!
PROCESS
With Keyhole, grouping influencers' locations and series-wise campaign became surprisingly easy. They could even analyze sentiments and the overall response to their campaigns in a specific location.
What about the reporting? The embeddable, shareable, live-updated dashboards make reporting the easiest part.
RESULT🎉
Not one, but all team members saved several hours each day previously spent on influencer monitoring. The remote team became more efficient with Keyhole's shared access. Now it's easy for the marketing team to scale their campaigns and prove higher ROI to decisive boards.
Want to replicate their success? 👉 Read the full case study
Barbenheimer 🔥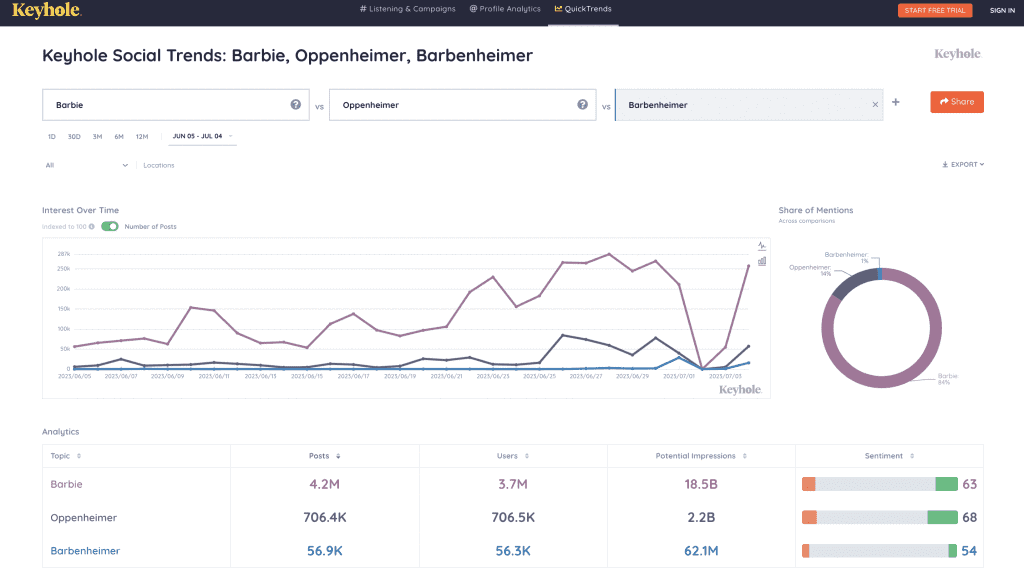 Barbie and Oppenheimer are set to go head-to-head on the same day, creating a frenzy of excitement. The internet has dubbed this "Barbenheimer" clash, igniting a wildfire of hilarious memes.
Fans are taking sides, speculating which movie will appear on top. Even the Wikipedia pages dedicated to these films have added a special section for Barbenheimer.
We decided to track this overwhelming response, and here are the results!
Total number of posts shared: 4.2M vs. 706.4K vs. 56.9K
Total posts shared at peak hour: 286.60K vs. 84.50K vs. 28.70K
Total impressions: 18.5B vs. 2.2B vs. 62.10M
Sentiment Score: 63 vs. 68 vs. 54
Top trending posts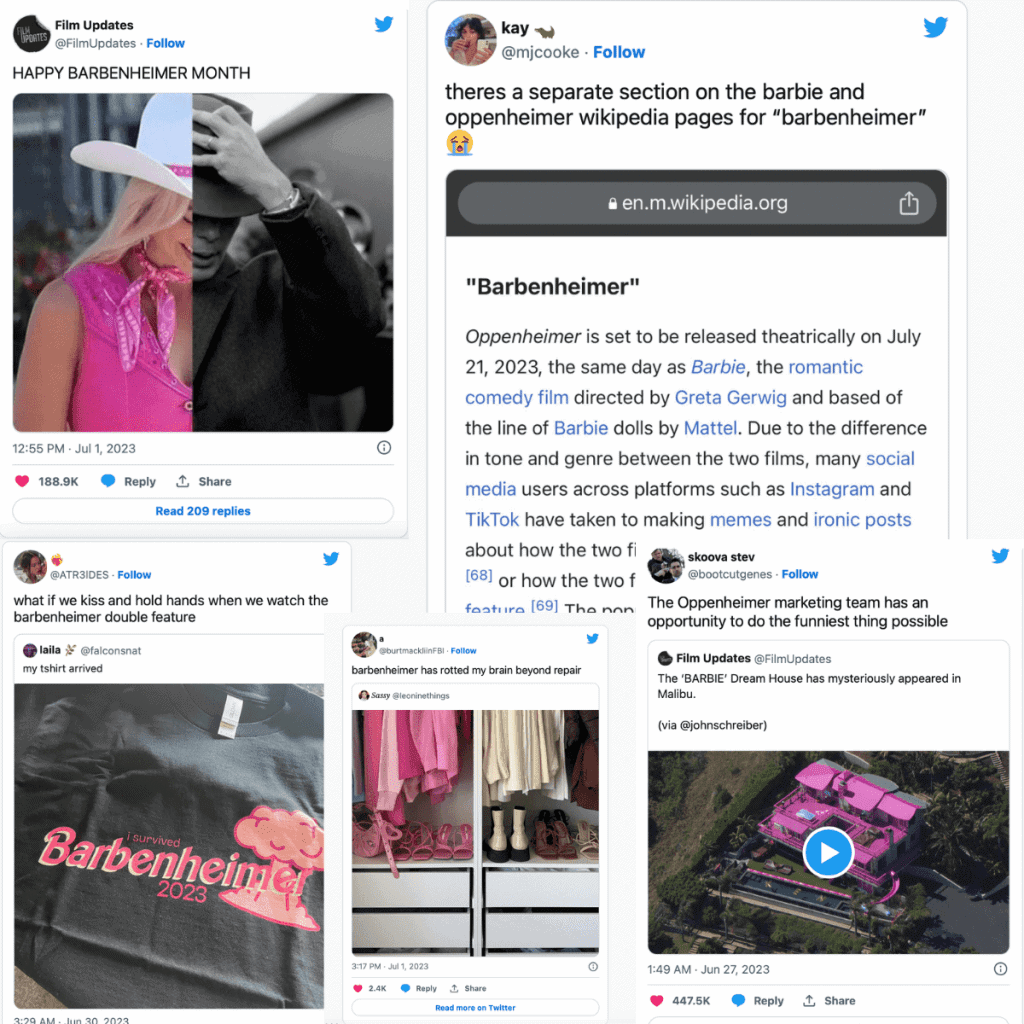 Must-see Campaign 👀
Tweet Tip ✨

Meme Squad 💪
Fresh stock for meme-loving marketers:
Lovin' it? 💛
Share Social Media Keynotes with your favourite coworkers & friends and let them enjoy these handpicked insights as well. Follow us on social media for more exclusive Keyhole content.