With so many social media analytics tools that focus on different stats, it's hard to figure out which metrics matter.
Some of the most important ones are often ignored in favour of "vanity metrics" – numbers that don't help guide your marketing decisions, but are easy to track.
To make strides in your social approach, it helps to dig deeper into underlying data.
To start, monitor these five social media metrics:
1. Click Through Rate (CTR)
CTR measures the number of people who click through to your website after seeing your post.
It's common practice for marketers to A/B test headlines and calls-to-action (CTAs) on web pages to track CTR, but not as many do the same with social media posts.
For those not familiar with the concept of A/B – or split – testing, it's a way to compare two versions of a marketing piece.
For example, you could send different renditions of an email message to 100 people. The one that yields the highest CTR wins, and will be sent to your remaining contacts.
You can test:
Why This Social Media Metric Matters:
Based on the results of a few tests, you can start determining the best posting practices for getting clicks.
The Tool: Twitter Analytics
Twitter is the ideal platform for A/B testing posts.
Repeating tweets is normal. Only a tiny fraction of your audience is online at a given time. And depending on how many people they follow, your followers' timelines are packed with tweets.
After conducting a few split tests, just click the option to view each tweet's activity metrics:
Then compare the CTR for each tweet.
2. Response Rate to Prospects and Customers
Social media users sent 21% more messages to business accounts in 2015 than 2014, according to research by Sprout Social. And 40% of these messages, including complaints and questions, require a response.
This data shows that community managers are increasingly valuable, as they directly deal with current and potential customers' problems.
Why This Social Media Metric Matters:
If you seldom track metrics related to issues community managers solve and questions they answer, you lose insights into your overall customer service approach.
After all, you'd know to restructure your strategy if half of client issues went unsolved. And if an interaction as painful as this one happened, you'd have to take action.
The Tool: Hootsuite Core Analytics
Whereas the majority of social media analytics platforms focus on external data, Hootsuite Core Analytics also deals with internal metrics.
To measure the performance of your team and individual colleagues, you can track stats such as messages sent and issue resolution time.
3. Sentiment
Sentiment may seem like a superficial social media metric at first, but it can prove valuable.
It's measured by monitoring messages and relevant keywords, sorting them into emotion-based categories. For example, some categories could be sad, angry, happy and appreciative.
Why This Social Media Metric Matters:
You can glean useful information by analyzing posts talking about your brand, services and sector. This is especially true when you have a large enough sample size to confidently say "wow, people love aspect X of our industry but hate aspect Y."
Based on sentiment analysis, you can come up with small ideas worth further investigation, like:
Launching events or campaigns your audience would likely enjoy
Replicating services or products that your key markets appreciate
Altering how you position your brand based on what people say about your competition
The Tool: Social Mention
Think of Social Mention as a search engine with a complementary social media analytics suite. You can access a stream of user-generated content from more than 100 platforms just by typing a keyword.
It records sentiment through a positive-to-negative content ratio, along with a look at neutral posts on the right side of your screen:

4. Network Referrals
As well as promoting your brand and engaging key audiences, your activity on social media should drive traffic back to your website.
You can measure network referrals to see how well you're doing.
Normally, referral traffic is defined as visits to your website from sources other than Google. When someone clicks a link to your website on Instagram, it's a referral.
Why This Social Media Metric Matters:
Website traffic generated from social media is often a guiding metric in overall marketing strategies because:
Noticeable changes can indicate whether or not your content meets your audience's needs
You can see which shared URLs drove the most traffic, indicating what your social market wants to learn about
For some news and content-based organizations, analytics firm Parse.ly says Facebook alone drives more traffic than Google
The Tool: Google Analytics
Used by marketers worldwide, Google Analytics is the top choice for analyzing website traffic – including network referrals.
Find your key stats by clicking Acquisition > Social > Network Referrals: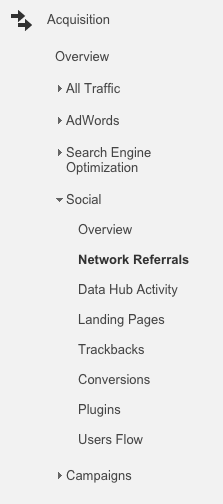 From here, you can see which network drove the most sessions, page views, pages per session and more metrics.
You can also dig deeper to see how individual links performed on each platform:

5. Assisted Conversions
You've probably tracked conversions from social media when running targeted campaigns, but your social media activity can also help collect assisted conversions.
What's an assisted conversion?
If a social platform plays a role in the conversion path, except the last interaction, it gets an assist.
For example, someone clicks a Twitter link to your site, leaves and then comes back a day later to convert.
Here's a sports analogy to clarify – numbers 9 and 22 get the assists, but 21 scores the conversion:
Why This Social Media Metric Matters:
The assisted conversions metric gives you another look at how your customers behave and meet the goals you've set for them.
By analyzing assisted conversions from each social network, you can plainly see which ones impact your online success and which ones need new strategies in terms of what you post and how you advertise.
The Tool: Google Analytics
Stick with Google Analytics and find this metric through Conversions > Multi-Channel Funnels > Assisted Conversions: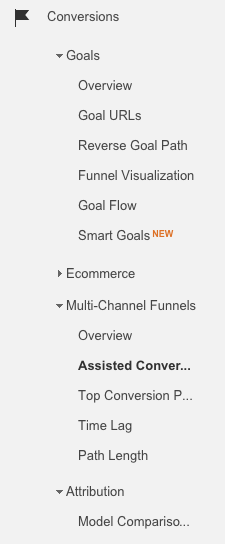 You can see how social media compares to other assisted conversion sources. What's more, you can look at the assisted conversion value from each social platform to learn which ones are most profitable:

Assisted conversions, network referrals, sentiment, response rates and split tests results may be under-analyzed, but they certainly matter with regards to building a strong marketing strategy.
Set and meet goals based on them to get a leg up on your social competition.
---
Keyhole is a real-time conversation tracker that provides keyword and hashtag analytics for Twitter and Instagram. Get started for free.