Updated on January 23rd, 2020.
More than listening to what customers are saying about your brand or industry in the social sphere, this one question is important:
What do you do with what your customers and prospects say on social media?
Jump Links:

5 Social Listening Best Practices:

1. Pick a Successful Competitor to Imitate
2. Determine When to Engage an Ongoing Conversation
3. Have Relevant Departments Go All In
4. Carefully Consider Your Choice for a Social Media Listening Tool
5. In the End, How Much is Social Listening Doing For You?
Hearing what customers say on social media is one thing, but understanding how to use their conversations to your brand's advantage is another.
500 million tweets are sent every day. That's ~6,000 tweets per second.
And that's just Twitter.
A prospect could tweet something as simple as "I need a black shoe right now" and get the attention of seventy of her followers engaging with the post.
What would happen, if you as a shoe brand (for instance) chime into that conversation with a link to your black shoe — including a discount coupon?
Here are five social listening best practices that can make a huge difference in your business:
1. Pick a Successful Competitor to Imitate
When you learn from people who are already doing well, you're in essence skipping the mistakes they made before getting to where they are today. You can avoid most of mistakes they made.
On learning from competitors, PR expert Gini Dietrich says:
"Analyze your competitors' marketing—see which efforts work well, and understand why stakeholders like them: What is their primary messaging? Why does or doesn't it work? How do people respond to the company's overtures online? Is word of mouth positive or negative? Why?"
Businesses perform better at social listening when they ethically learn from competitors who are already doing it right.
Piecing together their strategy is like scoring a free cheatsheet. Visit their platforms to see how they're doing their social media — responding to feedback, joining industry conversations, and so on.
Fashion company Topshop, for example, is a good brand to learn social listening from. And of course, there are several other brands out there that are awesome at this.
While many other fashion brands only only take advantage of world-renowned events like Valentine's Day and Christmas, Topshop takes advantage of other smaller festivals or events — especially in entertainment and fashion space.
When conversations about #EEBAFTAs (the hashtag for British Academy Film Awards) were trending on Twitter, Topshop joined in.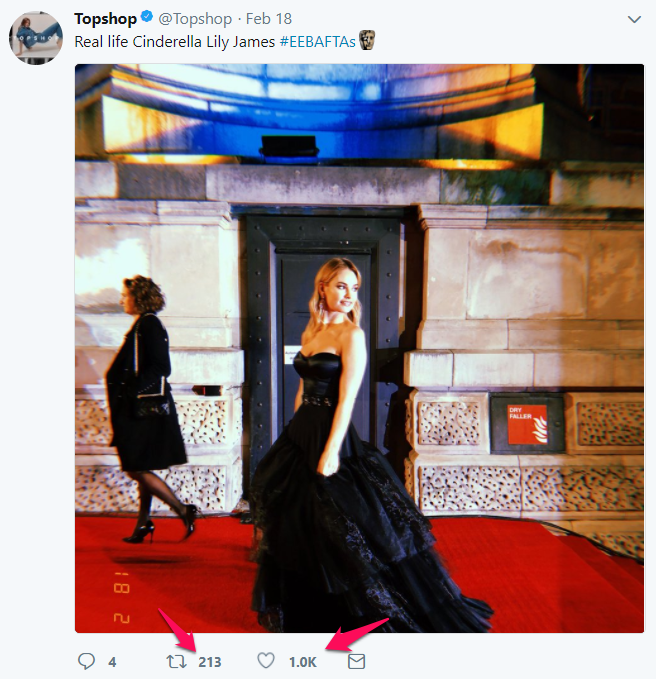 Remember, this is an event many other fashion brands don't value as much as they do more popular events. Well, Topshop decided to participate in the conversation on Twitter and their engagement rate soared; one of their tweets with the hashtag became the most popular on their timeline.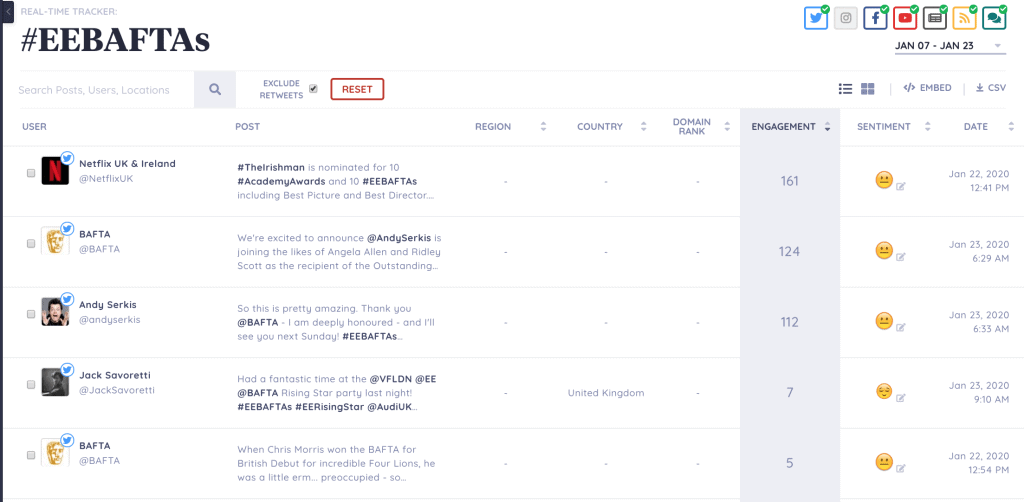 So, when looking for brands to learn your social listening strategy from, companies like Topshop are good examples to learn from. They look at other industry-related events that most of their competitors aren't looking at and take advantage of them.
There are hundreds or even thousands of other brands you can learn from. Do your research on brands doing social listening well in your industry and see how you can learn from them.
But what if you step into a lively conversation and get a slap in the face? You need to know when to enter an ongoing conversation on social media.
2. Determine When to Engage an Ongoing Conversation
Social media is built on conversations, and consumers want to be talked to, not sold to.
Social media marketing guru Carlos Gil put it more succinctly:
"Talk to your audience, make conversation, build relationships. Consumers are people and they don't want to be sold to, they want to be engaged so engage them."
But it's not just getting into conversations with prospects that's important, you also need to know when and when not to engage them.
Ever gotten into a conversation and then realized you shouldn't have? Or maybe your timing was just off?
When to enter an ongoing conversation is crucial.
It determines whether or not you'll be getting any benefits from your social listening efforts or not. It determines whether you'll get bashed or praised for joining a conversation. Avoid regret. Pick and choose your times to engage.
Here's a few examples of typical conversations, and how to engage them:
Customer Service Queries
Customer service related queries require your immediate response.
Customers get angry all the time for different reasons, and you want to ensure they don't stay angry. Or they need to ask questions before buying from you.
In any case, you want to respond to customer service requests fast.
"Netflix is known for its superior online customer service. That is due in large part to a corporate culture that empowers employees to act quickly"
– Rebekah Radice, Founder at RadiantLA
More than half of US consumers have bailed on a transaction or not made an intended purchase because of a poor service experience.
An Ongoing Conversation About a Government Policy
Trying to take advantage of a social media conversation about a government policy that hurts people is an example of a potentially bad time to enter a social media conversation (depending on your stance).
For instance, following a ban from the US president last year, people from Muslim-majority countries were banned from entering the US. Taxi companies weren't happy about this, and so they all went down the JFK airport and stopped pickups from working.
Amidst this commotion, Uber saw it fit to join the conversation and advertise their service, in theory helping stranded passengers. The turn out was bad. #DeleteUber became a thing on the Internet with many users posting how they weren't happy without Uber's position on the ban:
If you're not going to sympathize with people who find a particular policy disturbing, it's best to stay away from conversations like this.
When to Keep Quiet or Simply Apologize
Sometimes it's best to remain silent — when saying anything at all will make a situation bad on all sides. Depending on the vitriol being spread, you may just want to pretend you didn't hear a thing.
A smart rule of thumb is to only get involved in conversations when you know you won't get burned or miss out on significant benefits.
For example, these conversation scenarios are clear enough to know whether or not to chime in:
An angry customer is egging people on and you feel you might be baited into a fight – Do not chime it.
You feel tempted to speak ill of a competitor's product. – Do not chime in.
You feel tempted to market your Spring bouquets on Christmas Day (making you look like an extraterrestial)- Do not chime in.
You will literally miss the party if you don't get into a conversation on time — like tweeting about Valentine's Day on February 15 – Chime in!
You won't get burned for marketing your Valentine's products on Valentine's Day – Chime in!
These are just a few examples. Think up a few you want to avoid or join.
But it's still not always this straightforward, right?
Sometimes it can get really dicey and you won't be sure whether or how to respond to feedback in the sometimes volatile social arena. Everybody's watching, remember?
And bad news travels fast.
For example, one Clayburn Griffin mentioned Cap 'n Crunch on Twitter, saying…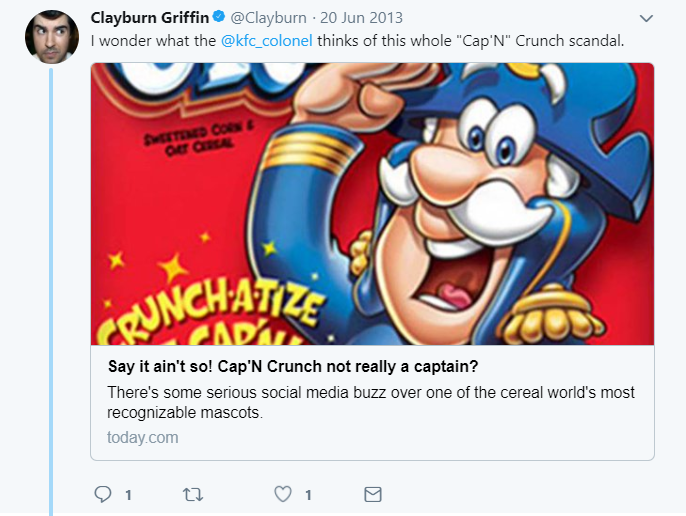 Cap 'n Crunch probably wasn't sure what the outcome of their clapback would be. But they took the risk anyway. As it turned out, it worked for them. Cap 'n Crunch's tweet clearly got more love than KFC's.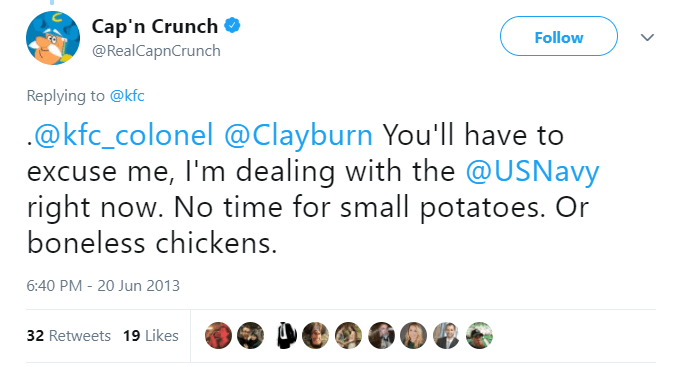 Should you do the same if you were in this situation?
Speaking about the reason for their clapback, Andrew Cunningham from Huge (which managed digital for Cap 'n Crunch) said: "KFC came at us pretty hard, and at that point we had full license to zing them back."
Sometimes it isn't rocket science to know when to enter a conversation. Sometimes it is. A smart rule of thumb, however, would be to only respond to conversations that clearly CAN BE handled. And apologize when occasion demands.
Another good social listening practice is to have your social media team collaborate with relevant departments in your organization to provide accurate information.
3. Have Relevant Departments Go All In
Social media is clearly not a secondary channel for marketing anymore, it's the main channel today.
And if that's the case, then it's worth having all relevant departments in your organization collaborating on it.
When an issue is brought up by a customer that your social media team doesn't have enough expertise to handle, have them link up with the relevant departments that can provide apt feedback or information.
62% of customers say competent service reps play a huge role in a happy customer experience.
Service reps can't be competent if they aren't fed the right information by relevant departments. So departments in your organization need to collaborate with your social listening efforts.
Customers hate it when they reach out to your customer service via social media and don't get a satisfactory response. Or when you tell them to send an email to get an issued solved. Nothing beats you giving them the right response right from social media where they contacted you.
"I have for 10 years—long before Facebook was even on the map—called myself a 'relationship marketing specialist.' And I love that term because to me it transcends the medium. It's all about people doing business with people."
— Mari Smith, Top Facebook Marketing Expert.
And remember, it's social media — everybody's watching.
This doesn't mean your programmers, finance people, and other staff need to abandon their roles all the time to respond to customer complaints on social. But they can play a huge role in assisting your social media managers with the relevant information they need.
An open communication line between the social media team and relevant departments can work wonders here.
That said, your entire social listening effort, however, is nothing without a good social monitoring tool.
4. Carefully Consider Your Choice for a Social Media Listening Tool
Social media listening tools help you analyze what's been said about your brand and industry on social media.
There are many social media monitoring tools out there, which makes choosing the right one a challenge sometimes. But you need to find the right one for your business anyway.
An inefficient social listening tool will make your social marketing efforts unnecessarily hard and frustrating.
If, for example, your tool can't help you sort out the different sentiments in your social mentions, it's going to be really hard to start scrolling through the many mentions you get to get the one(s) you're looking for.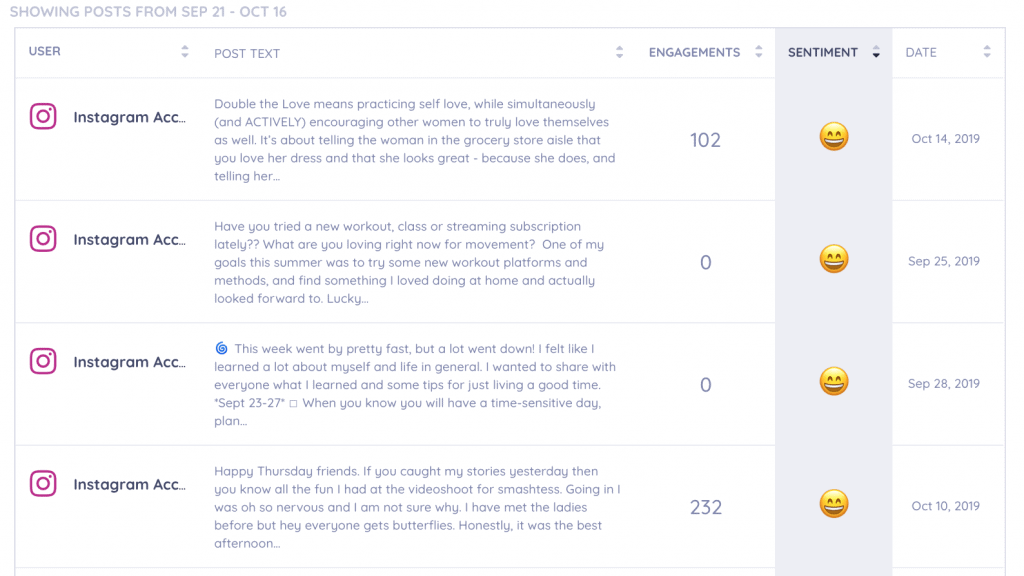 Social conversation monitors have different capabilities. Some provide basic functions while others offer more advanced features. You want to pick the one that offers the functions that matter to your business.
5. In the End, How Much is Social Listening Doing For You?
You need to track metrics that matter. Otherwise, it'd be all for nothing. And there are lots of things to track, but you need to spot the ones that really matter to your business.
A few things to track:
Sentiment: How many mentions about your brand are favourable or otherwise.
Popularity: How many mentions are you getting per day, week or month?
Influencers: Who are the influencers talking about you, how many are they and what are they saying?
Most engaging topics: Which topics get the most likes, replies and reposts? Knowing this will help you understand where to focus your social listening efforts.
What you do with what you're hearing about your brand is critical in this age where it feels like social media is controlling the world. Use the strategies in this piece to make the most of what's being said about you and your industry.
---
Keyhole is a real-time conversation tracker that provides keyword analysis and hashtag analytics. Get started for free and conduct social listening for your brand.