Everyone wants more Twitter followers and higher engagement, and it isn't hard to see why. Globally, more than half of a billion (with a B) users are engaging in the microblogging service. So how can YOU increase follower engagement? What does the data say?
Quick Sprout aggregated Twitter engagement data from various sources and published a great infographic around this topic. Most importantly, it was based on hard data! Here's a summary of the insights they included.
Companies of all sizes use Twitter to engage with potential and current customers, including international news, sports, entertainment and Fortune 500 companies. 75% of all businesses are using the site to drive revenue, customer service, and improve the experience of current and potential clients.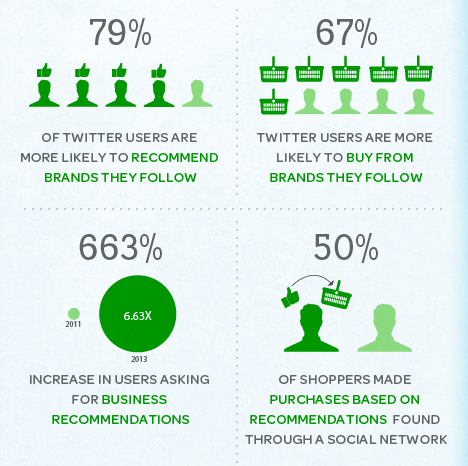 Not only is Twitter massive, it's addictive: 79% of Twitter users are more likely to recommend brands that they're following, and 67% of users are more likely to make a purchase from a brand that they follow. Half of all shoppers have made purchases based on recommendations they've found through social media.
So how do we grow our followers and tap into this massive potential market?
TIMING IS EVERYTHING! DECIDING WHEN TO TWEET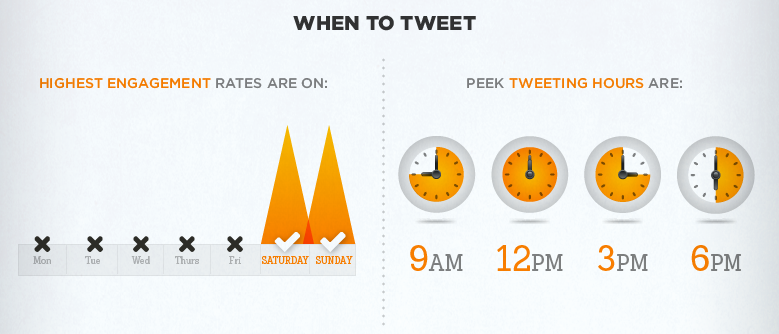 Surprisingly, the highest engagement of Twitter posts happens when fewer people are working: the weekends. Saturday and Sunday offer the best opportunity for your post to be seen and retweeted to other potential customers.
Time of day is important too. Peak tweeting hours are 9:00am, 12:00pm, 3:00pm, and 6:00pm, though this may vary based on your niche. You wouldn't tweet something targeting schoolchildren at 9:00am while they're in school. You'd tweet something targeting their parents, who spend the money.
OKAY, BUT WHAT DO I SAY?
Knowing when to tweet is important. Knowing what to tweet is the difference between success and failure.
Tweets that include images have a 200% higher engagement than those that do not
People are 21% more likely to respond to questions than they are statements. Start asking questions
Tweets containing links have a retweet rate of 86%. 92% of engagement comes from link clicks
Keep it concise! Engagement is 17% higher for tweets with less than 100 characters
THE UNWRITTEN RULES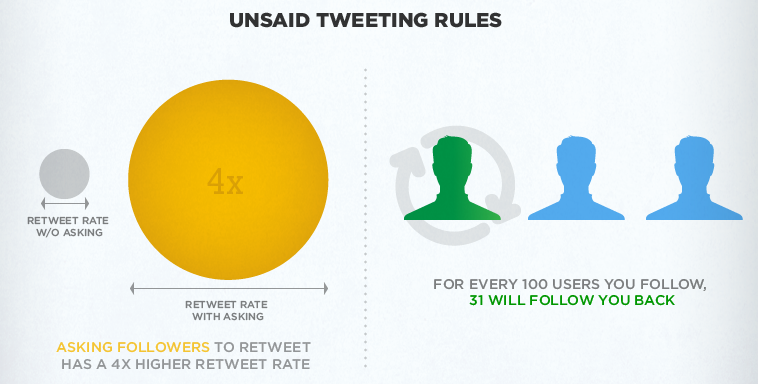 There are a few quick and dirty rules when it comes to acquiring Twitter followers and increasing tweet engagement.
Ask and you shall receive! By asking followers to retweet something, your tweet will receive 4x the amount of retweets than not simply asking.
Follow to be followed. For every 100 people who you follow, around 31 will follow you back. Keep in mind that aggressive following is frowned upon by Twitter's TOS agreement.
TURNING FOLLOWERS INTO CUSTOMERS
If you look around the web, there are literally THOUSANDS of people who will offer you Twitter followers cheap: $5 for 1,000 followers might seem like a good investment, but we'd much rather have 100 followers that care about my tweets than 1,000 that don't — wouldn't you agree?
Why is that the case? Here are a few things that high Twitter engagement leads to: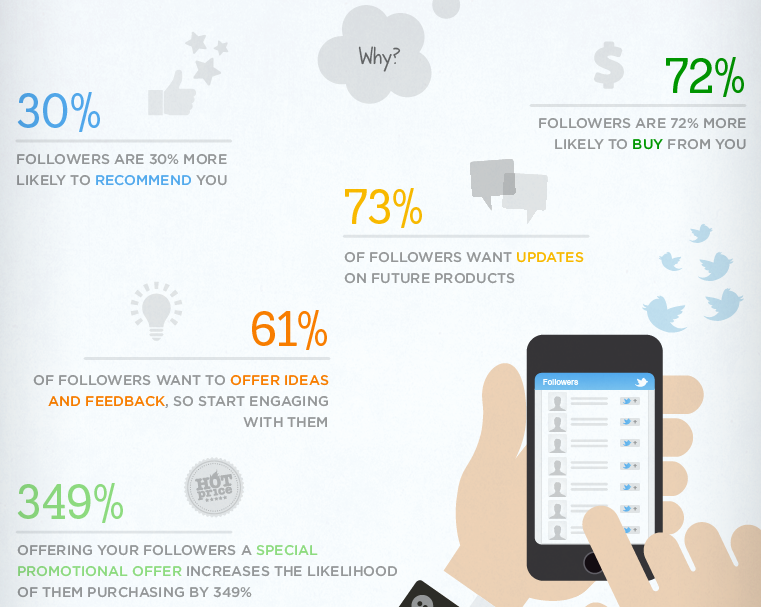 Advocacy – Followers are 30% more likely to recommend your brand or business
Sales – Followers are 72% more likely to make a purchase from someone they follow
Recurring Business – 73% of your followers are interested in new products that you might be developing
Ideas – 61% of Twitter followers are willing to offer feedback and ideas to improve your products (or to create new ones.)
Offers – By offering your users a special promotion, the likelihood of making a sale increases 349%
Twitter is a vast land of opportunity, and your new clients are out there. Stand out from the crowd by being engaging with your followers, giving them what they want at the times that they'll see it, and working to form human relationships with them, turning them into customers!
All in all, lots of little changes can lead to big results!
You can view the full infographic by visiting Quick Sprout.
---
Keyhole tracks Twitter conversations in real-time. Try it now!